"A New Normal" is a series of opinion pieces about the way we live now.
Michelle Hong was hanging out with her roommate when her stomach started to hurt. It was close to 2 a.m. The freshman had stayed up late working on homework and sharing stories.
She decided to go to bed knowing she had to get up in six hours. But as the minutes passed, the pain got worse. She thought about going down to a vending machine to get some ginger ale. Then she started coughing, ran to the bathroom and threw up.
"I think it was a mix of stress and that I didn't eat dinner," said Hong, who studies in the College of Health and Human Sciences.
Earlier that day, she had taken a trip to Chicago with her dad where they ate dim sum, but she said she wasn't doing well in her calculus class, and she missed her high school friends. She hadn't been talking to them much lately, and she was having some trouble making friends on campus where barely any in-person events are happening. Everyone seemed busy.
When she tried to ask questions about her online calculus lectures, she said her professor was so inundated with requests from other students that she sometimes wasn't available to talk to Hong until after a quiz's due date.
She's not alone.
If I felt motivated enough (which I never do), I could spend 14 hours a day sat in front of a computer working and still not finish everything I need to. Which isn't necessarily a change from normal life in college – except it used to be easier to deal with. I spent time at The Exponent office with my friends, walked to classes, met with student organizations on campus and returned to my kitchen table only for dinner. WALC's reading room used to be a spot I could actually make progress on assignments, but this semester, too many students sit too close together there for me to feel comfortable.
My anxiety skyrockets each time I think about graduating in the middle of a pandemic. It feels like I've been helping a different friend through a breakdown every other week.
It's easy for these experiences to feel isolating. So I started looking for people to talk to who aren't my friends. Were other people feeling this way, too?
Online work gets complicated
James Le said he gets around 50 emails every day. His computer tells him that he spends 12 to 14 hours a day in front of a screen.
Keeping track of everything that's online is "a new skill you have to develop during this time," he said.
A senior in the Polytechnic Institute, Le said his classes have been termed hybrid but take place mostly online. He has to watch lecture videos outside of in-person class, which he said adds significantly to his workload.
"I know that they're trying to help, but then usually the videos are longer than the normal lecture time," he said. "The other thing is that when they talk over the videos, they tend to speak faster for some reason, so the amount of information they try to give to you is more than normal."
Hong said she likes online lectures because she can pause them to take notes at her own pace. But Le said pausing consumes even more time, and he already finds it harder to concentrate on videos than on in-person lectures.
"I don't know if it's just me," Le said, "but it's really hard for me to follow the lectures on video because they just give two-hour or one-hour, thirty-minute videos, and you have to sit there and stare at the screen."
Isha Paranjape, a junior in the College of Engineering, agreed it's hard to stay motivated staring at a computer when it's so easy to pause the lecture and turn her attention elsewhere.
"Last semester I would study outside with my friends or just be working with a group of people," she said. "That would help a lot because we would work off of each other and be reliable for each other. We would make sure everyone finishes whatever they're supposed to be finishing. But now, if I'm just sitting in my room alone, and I have my phone next to me..."
When he has questions, Le said it seems like professors don't have enough hours in the day to accommodate all their students. Some professors provide supplemental links to online materials, but Le said usually his only resource is the lecture itself.
Hong said though she still asks questions at in-person recitation sessions, it can be stiflingly awkward when no one else speaks or seems interested.
The students were sympathetic to their professors, but Hong said the lack of resources makes her feel like she doesn't get the support she needs to fully understand the material. To her dismay, her last exam grade proved her right.
A lot of the emails Le gets are Brightspace notifications, but some are emails to professors and groupmates whom he has no choice but to contact online. Twice this semester, his group members haven't responded at all, and he's had to complete work by himself. And if you actually get on Zoom together, Paranjape said it's hard to be as productive as you would be in person.
"I miss the interaction with people," Le said. "Going to class you don't just see the people; you see them talk, you see things going on. But now, if you just sit at home in your room all day long staring at a computer screen — yeah, that's pretty stressful."
Nicole Divinagracia, a freshman in the Polytechnic Institute, said the cancellation of breaks makes her feel like she's expected to be able to work without stopping all the way until Thanksgiving. (Though the administration did announce Tuesday an optional Reading Day on Nov. 4, ceding to pressure from the undergraduate student government and the faculty senate.)
So far, she said, she's found it's not a sustainable pace.
"I feel if I'm not working on something 24/7, then I'm doing something wrong," Divinagracia said. "Because I feel like I have to always, always work just to kind of keep afloat. And it's certainly taken a toll on my mental health, and it's starting to breach my physical health, as well.
"Because my sleeping schedule? Ha ha — who's she?"
Pandemic as chronic stress
One of the University's methods for monitoring the mental health of its students is through Student of Concern reports, which peers or professors can file when students seem absent, lonely or otherwise unhealthy.
Asked how many Student of Concern reports had been submitted this semester in comparison to prior semesters, Dean of Students Katie Sermersheim said her office has "seen an increase."
"While many of the reports are from faculty reporting attendance concerns of students, other increases in SOC reports are attributed to quarantine and/or isolation of students and subsequent needs or challenges associated with these safety measures," she wrote in an email.
She said the increase could also be due to the fact that the office has been advertising the report more than usual. She did not respond to a follow-up request for exact numbers.
Assata Gilmore, president of Purdue Student Government, said Oct. 14 that preliminary results from a mental-health survey still being sent to students support what individuals have been telling her and me: Overall, our mental health is worsening.
Ninety percent of 609 respondents marked a three or below on a question that asked them to rate their mental health, saying it ranged from "extremely poor" to "so-so." Only 1.6% of students said their mental health was "excellent," Gilmore said. To a question that asked them to compare their mental health this semester to last fall, 39.3% reported their mental health was "much worse."
Two professors say the pandemic alone could be enough to add to everyone's stress levels. This ever-looming crisis, according to psychology professor Julia Chester, is increasing what's called the "allostatic load" on our stress systems. The added load makes it difficult for the system to respond to a stressor as robustly as it should.
Chester uses a rubber band as an analogy for how the stress axis, an element within the stress system, responds to chronic stress.
"You want to be flexible. You want it to be able to stretch over and over and over. And every time you stretch it, that's your response to a stressor," she said. "But with chronic stress situations the elasticity is reduced, and it's more brittle. And with enough pressure and enough stress you might actually break the rubber band."
That stress response is helpful in the short term, said Elliot Friedman, a professor of human development and family studies. Our brains are designed to notice challenges in the environment that could damage us physically or psychically, and the stress response focuses our brains on activities that will get us out of trouble. For example, it makes us more perceptive of our physical environment.
But the response also shuts down our abilities to concentrate or think deeply, he said.
"You don't want to be thinking about your retirement when a bus is about to hit you," Friedman said. "You want to figure out the quickest and most efficient way to get out of its way."
Things go awry when a stressor doesn't go away.
"We are still responding as if there's a very, very immediate threat, because that's what the systems are designed to do. But now the threat is constant and ever-present," Friedman said. "So we're responding in the same ways, but they're not really helping us."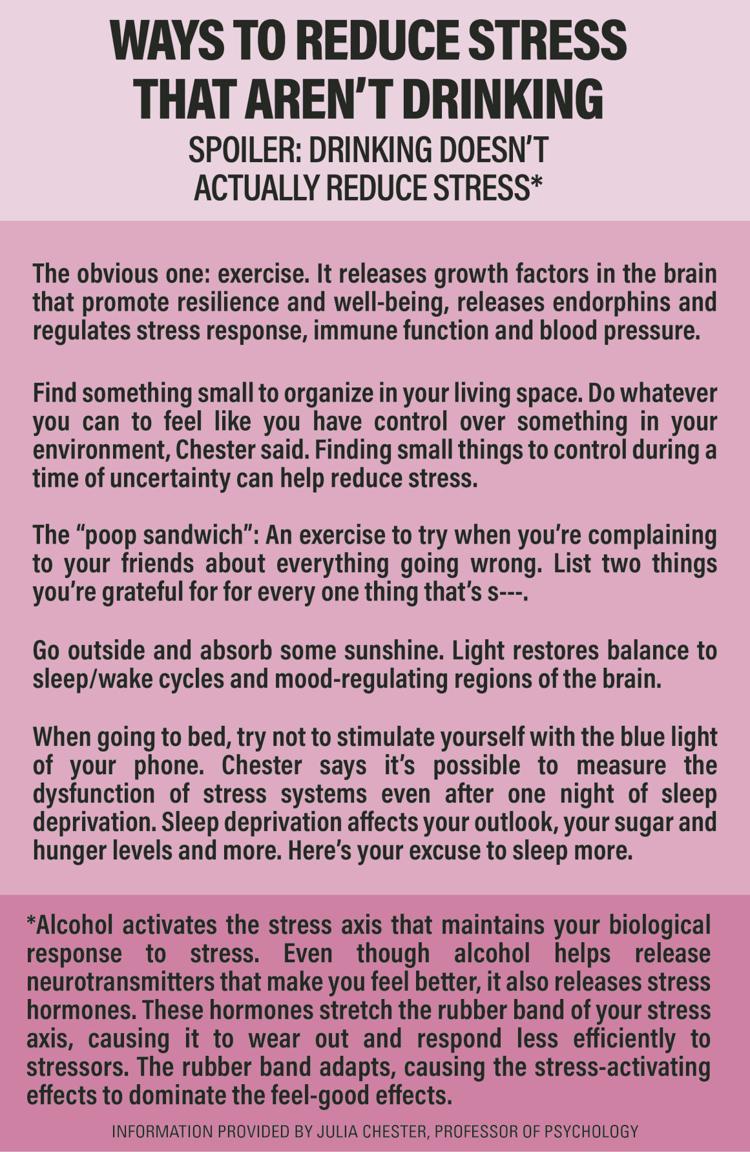 He said three factors in particular make the pandemic stressful: It's hard to predict, hard to control and the threat can feel very intense.
We don't know who might be walking around transmitting the virus. We might feel less in control, he said, if we think the federal government has failed to adequately mitigate the virus' spread. And though cases tend to be milder in younger people, the illness' potential to cause long-term organ damage is not yet fully understood.
"The lack of knowledge, I think, and the sense that it's out there and it's not being controlled very effectively and we don't understand it," he said, "is all a recipe for feeling this constant level of danger — some level of danger. And whenever we sense danger, we are vigilant."
The stress the pandemic causes individuals also depends in large part on personality traits, Chester said. Optimism, openness to experience, psychological maturity, temperament and other traits contribute to our varying levels of resilience. Our sense of self-efficacy, or how well we are able to cope with a stressor, also plays a part.
And the virus, Friedman said, makes resources that help increase our self-efficacy — like social contact and emotional support — hard to access and at times socially unacceptable.
"These are exactly the kinds of things that are much harder to take advantage of now," he said. "Students are not in classes where they can hear each other laugh, or talk to each other about their misgivings. And they can't turn to the person next to them and say, 'I didn't get that. Do you have notes on that?'"
Keep reaching out
Freshmen coming to campus for the first time bear the brunt of pandemic-induced isolation.
Hong has found it hard to make friends other than her roommate. Her fellow dancers in the Purdue Contemporary Dance Company seem busy, and she said those who attend floor events at Hillenbrand Residence Hall stick to people they already know.
Divinagracia said she didn't become close with anyone until she stumbled on a Reddit post mentioning a Groupme "for lonely people." She's since begun hanging out with people she met there.
"That Reddit post was like my saving grace," she joked, with a tinge of earnestness that made it seem like she wasn't really kidding. "I don't think I would be able to hold on much longer if I didn't meet them, to be honest."
Before then, she said the lack of organized in-person gatherings, coupled with a bottomless pile of homework, complicated attempts to meet people.
"As a freshman you come in with rose-tinted glasses and you're excited, but at around my second or third week … I just felt really, really crippling, paralyzing loneliness," she said. "It was just really hard being alone all the time."
Friedman said life as we're coming to know it may not be all doom and gloom. He thinks our stress will decrease as we grow accustomed to our new habits and develop a sense of mastery over them. And he said Purdue's low positivity rate should build confidence.
"As we move through the semester successfully without massive outbreaks, it increases the sense that we do have this under control," he said. "This sense of danger around us could ease a little bit, as students get a hang of being online and managing the different demands."
But he reminded those who feel overwhelmed or burnt out to take care of themselves.
"I trust students. Students are incredibly resourceful and creative, and so I imagine they're finding ways to get what they need," he said. "But I would just say … try to reach out to other students, reach out to professors, just to talk about what's going on and see what can be adjusted, if anything."
The students I spoke to said their friends were helping them relax, even if their minds were never completely free from the threat that's dominated our lives for nearly eight months.
"As much as I love hanging out with my friends — literally, hanging out with my friends is the highlight of my whole week — there's always that little fear," Divinagracia said. "Am I gonna get sick? Am I already sick? Am I just asymptomatic and I'm spreading COVID to my friends?
"But even though COVID has soured the overall experience as a freshman, it hasn't really taken away the quality time that I have with my friends."