How are queer love, migration and Blackness surveilled?
How can intimacy serve as a tool for protest and disobedience?
How can we continue to elevate Black, undocumented and queer Latinx voices in our community?
These were the questions posed last Monday evening during "Illegal Intimacy," a poetry reading with Alán Pelaez Lopez co-sponsored by the Purdue Latino Cultural Center, the LGBTQ Center and the Native American Education and Cultural Center.
Pelaez Lopez is a transgender, Mexican, Afro-indigenous poet and artist. Pelaez Lopez, who uses they/them pronouns, is the author of "Intergalactic Travels: poems from a fugitive alien" and "to love and mourn in the age of displacement."
During the event, more than a hundred people virtually convened and experienced Pelaez Lopez's subtle mix of humor and vulnerability, both in character and in writing.
Pelaez Lopez began the event by expressing their gratitude toward the audience and sharing personal details about their heritage, multiple identities and life as a result of these factors. They gave a small presentation that offered the audience insight into the events that inspired their work and the process they went through while writing and publishing it.
"I've been writing ever since I can remember," Pelaez Lopez said. "I was writing because I had to do something to survive. I felt lonely. I felt unloved. I felt that the burdens of illegality were too much for those around me to bear."
Having once illegally immigrated to the U.S., Pelaez Lopez took this opportunity to talk about how that affected them and their relationships, especially with regard to their overlapping identities.
Intersectionality is a framework used to understand how aspects of a person or group with multiple identities are affected by modes of discrimination and privilege. These aspects include gender, race, religion and sexuality, among others.
"I have been organizing with undocumented Black immigrants, particularly queer and trans migrants in detention, since 2010," Pelaez Lopez said, "At this point, I have more close friends that have been deported than I have in the U.S. They are the reason I do what I do."
"I want the world to love us and hold us" was the topical phrase displayed multiple times on the screen as Pelaez Lopez read a poem, between choked sobs, about what it "truly" meant to be "illegal" and "undocumented." Throughout the poem, they highlighted multiple victims of police brutality and detailed how these events marked Pelaez Lopez's upbringing.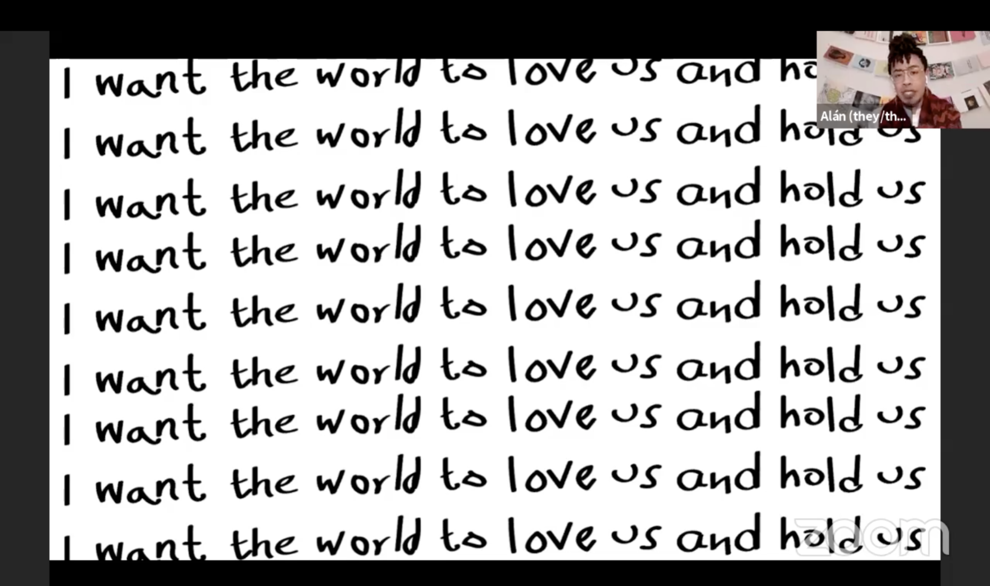 The speaker's unconventional poetic style and the rapport they created with the audience set this event apart from traditional poetry readings. Halfway through, Pelaez Lopez held a Q&A that created a safe space for audience members to share their own experiences and reflect on all that was said throughout the evening. Afterward, the audience actively expressed their support and admiration for the speaker and their writing.
"Based on the level of engagement during the event as well as feedback that we received, we consider Monday's event a huge success," said Juan Robles, program coordinator for the LCC.