10 a.m., Sunday
The grand total was revealed. PUDM has raised $1,065,610.23 in the past year.
9:30 a.m., Sunday
Participants formed the "Dream Big Circle" around the entire gym moments before the reveal of the grand total. Many linked arms and swayed to the music.
Before revealing the total amount raised by #PUDM, participants join together in the "Dream Big Circle." pic.twitter.com/YjRziNqP3Y

— Jackie Le (@Jackaalzz) November 10, 2019
9 a.m., Sunday
Though PUDM members seem to be keeping up the energy, others seem a bit more tired, like Juliet. #PUDM @purdueexponent pic.twitter.com/TTXKAdj3V5

— Jackie Le (@Jackaalzz) November 10, 2019
8:46 a.m., Sunday
Kids who are part of the Riley Children's Hospital sang along to tunes such as "Imperfections" by Céline Dion. Other performances include PUDM members singing the theme song to "Friends" on the ukulele. 
8:15 a.m., Sunday
The Pink Track was announced as the winning team for the "Color Wars." 
"I've only been on one track, but I think each track is just so incredible," said Katy Zaloudek, a freshman in the College of Engineering.
Zaloudek said participants apply to be part of the PUDM Morale Committee and get placed in a color track. Members of the Morale committee wear tie-dyed shirts while members in different color tracks wear specific colors.
"It's just like, a smaller family within a huge group," she said.
7:15 a.m., Sunday
Crowd members took a knee and the room fell silent as Tyler Trent's parents, Kelly and Tony Trent, spoke about their son's battle with cancer and the importance of programs such as PUDM. 
As his parents held back tears, so did members of the crowd.
"Purdue is a really, really special place for Tyler," Kelly Trent said. 
This year, PUDM will be raising $10,300 to contribute to the Tyler Trent Cancer Research Endowment.
6:45 a.m., Sunday
One of Purdue's improv comedy groups, The Crazy Monkeys, cracked jokes and played "Fast Facts" with the crowd. The game had the audience shout random topics for the comedy group members to share fast facts about. Topics ranged from croutons, "Shrek" and cargo shorts.
5:30 a.m., Sunday
The "Wicked Weiner," or Kirsten Adams as she's more commonly known, is a freshman in the College of Agriculture. She was inspired to dress up as a hot dog wearing a witch hat from a Vine, in vein with the Morale Dance, which includes several memes.
For Adams, the dance marathon's goal to raise money for the Riley Children's Hospital strikes a more personal note than just general philanthropy. Her brother and her cousin were past Riley patients.
"Riley has always had sort of a soft spot in my heart ... giving me kind of my life with those family members," she said. "What they do at Riley is awesome and I recommend anybody to see a part of it or contribute to it in any way they can."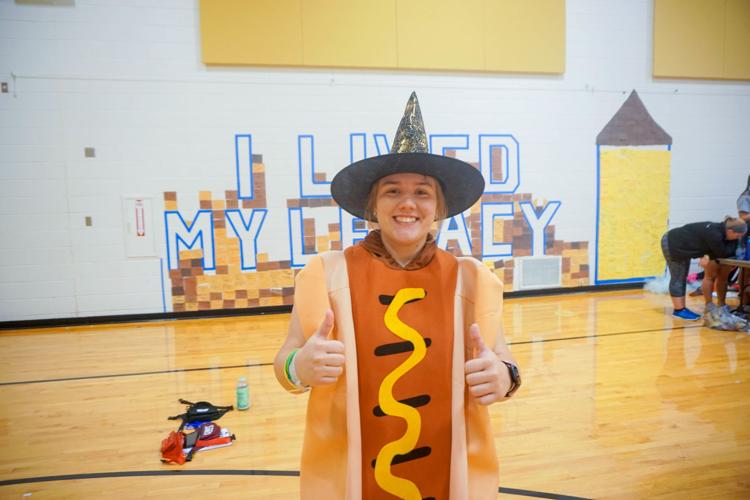 4 a.m., Sunday
Maddie Wellington, a freshman in the College of Education, is keeping her energy up with "caffeine and Cheez-Its." She and Morgan Spanopoulos, a freshman in the College of Engineering, are part of the group from Phi Mu participating in the marathon.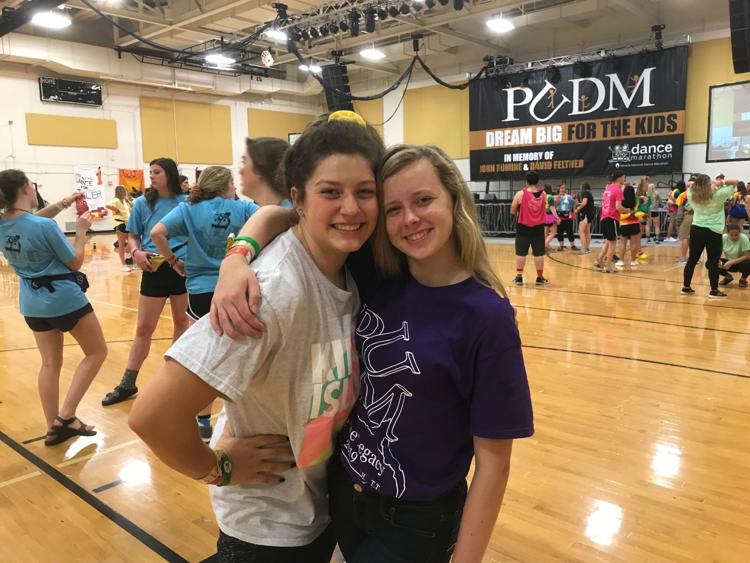 "I've had enough caffeine — my body's fatigued but mentally I'm here, so that's all that matters," Spanapoulos said, laughing.
She said the key to keeping energy up is changing shoes.
3 a.m., Sunday
PUDM participants learned new sections of this year's Morale Dance, learning dance moves to snippets of songs like the Jonas Brothers' "Sucker," "Love on Top" by Beyonce and "All Star" by Smash Mouth.
1:40 a.m., Sunday
Nine hours into the event, PUDM organizers on stage revealed the amount of money raised just since the start of the dance marathon: about $58,000. This doesn't include the total raised in the past year, which has hit as high as over a million dollars in recent years.
1 a.m., Sunday  
The national marrow donor program "Be The Match" surpassed its goal of signing up 400 new donors. The program saw over 500 dancers sign up before 1 a.m. Sunday, compared to about 350 total last year.
11:55, Saturday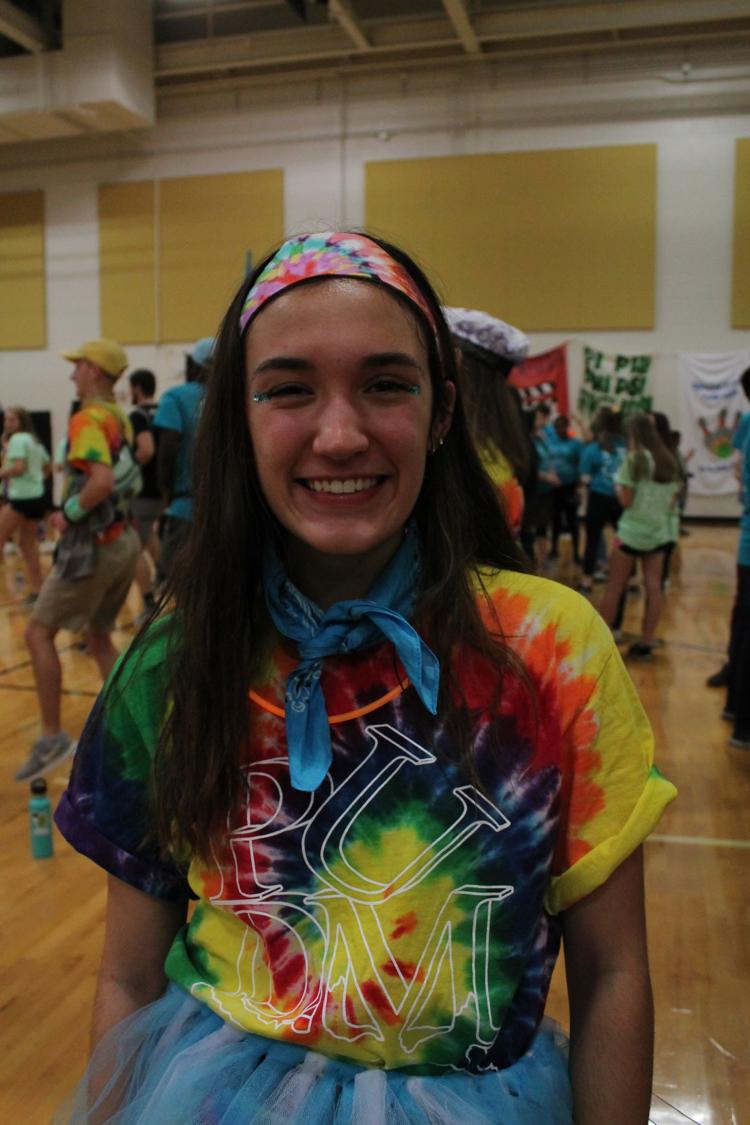 10 p.m., Saturday 
Dancers moved to the gym to learn another section of this year's Morale Dance.
11:10 p.m. marks another round of learning this year's Morale Dance — if you listen closely, you might hear a reference to the Nickelodeon show "Drake and Josh" about halfway through! pic.twitter.com/zK8J7wotZH

— Alex Weliever ❄️ (@WeliWhatEver) November 10, 2019
10 p.m., Saturday
Students took a knee to hear from from Marizel and Tim Justice, the parents of Riley kid Maddy, who died of leukemia six years ago. Marizel spoke about why she tells Maddy's story and why she's at Purdue tonight.
"It's the same reason ... why all of you have dedicated your time, your energy and your hearts," said Marizel Justice, the mother of a Riley kid. "Because kids cannot do it alone. We have to be their voice. I do it for the kids." (Photo by Gracie Pike | Staff Photographer) pic.twitter.com/bTgIObFhYU

— Purdue Exponent (@purdueexponent) November 10, 2019
8:45 p.m., Saturday
PUDM participants are staying awake this evening in part thanks to group activities, including a "Simon Says"-style game that involved running from one side of the gym to the other and forming small groups while following directions.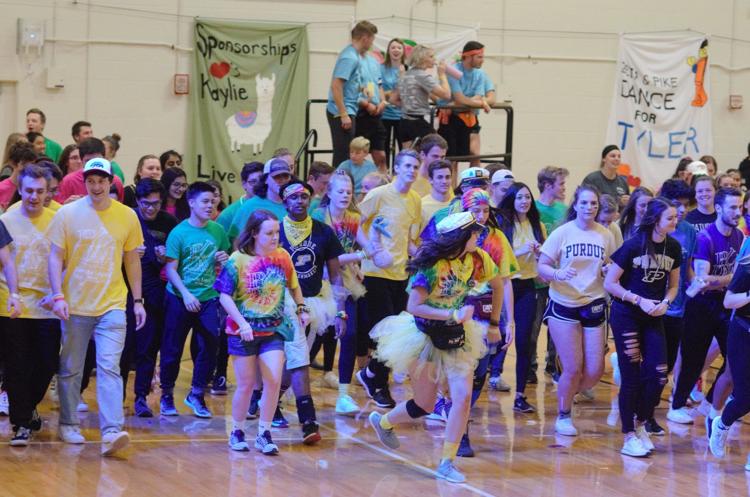 8:15 p.m., Saturday
Andrew Stallings, the dance marathon coordinator for Riley Children's Hospital, spoke to PUDM participants about how their contributions help the hospital. He said that PUDM is Riley's largest annual donor and that the money raised goes toward the Herman B. Wells Center for Pediatric Research, the Riley Child Life Program and new this year, the Tyler Trent Cancer Research Endowment.
7:20 p.m., Saturday
Families of children at Riley Children's Hospital gave their testimony in the feature gym of the Córdova Recreational Sports Center. Matt Quinn shared the story of his son, Owen, who was diagnosed with a form of cerebral palsy, and was treated at Riley.
"We felt like they saw us as real people going through real issues — not just a patient file," Matt Quinn said.
6:10 p.m, Saturday
Students learned dance moves to various songs, cheering each time the bell — which signifies when $100 is earned — was rung.
PUDM participants dance along to a mix of different songs. pic.twitter.com/bTUkweSK9e

— Sean (@seanthereporter) November 9, 2019
5:15 p.m., Saturday
Bruce Barker, the "Piano Man," who plays at the Neon Cactus in West Lafayette, played songs such as "Africa" by Toto, "Sweet Caroline" by Neil Diamond and "Piano Man" by Billy Joel as the crowd clapped and sang along.
Bruce Barker, known as the "Piano Man," is now playing "Africa" by Toto. pic.twitter.com/xNERjg32Sq

— Sean (@seanthereporter) November 9, 2019
4:45 p.m., Saturday
Parents of a former Purdue student who faced Hodgkin's Lymphoma spoke to the crowd about their son's experience fighting cancer. They advocated for a program called Be the Match, which allows individuals to donate marrow to those with leukemia and lymphoma. Students can register for Be the Match while at PUDM.
4 p.m., Saturday
Purdue University Dance Marathon, an 18-hour marathon to raise money for Riley Children's Hospital, launched this afternoon, with a speech from Savannah Bratcher, the president of PUDM. Bratcher said 1,800 students are participating.