Several new food trucks on campus are struggling after contracts they signed with Purdue and Aramark were broken or left unfulfilled, the owners allege.
"They haven't given me a Point of Sale for nearly a month now," said Matt Bestich, owner of the Guac Box. "That's a blatant violation of the contract I signed."
Bestich, who operates his food truck around the Greater Lafayette area, said he's had difficulty attracting students due to a lack of University advertisement and Aramark not allowing him to regularly accept meal swipes.
"I was told that I would be able to take meal swipes consistently," he said, "and then last Friday after lunch they called me and said that I couldn't take them for dinner."
Bestich said Purdue's lack of interest in compromising with food truck owners speaks to a larger trend of the University opting to work with large contractors rather than local businesses.
"Purdue has the opportunity to help the entire community, but they've consistently hired outside contractors and chosen not to help out local businesses," he said.
Aramark said the food trucks are subcontractors, but didn't respond to questions from The Exponent regarding allegations made by food truck owners that Aramark hadn't fulfilled its end of the contract.
"Aramark partners with the University to operate the retail spaces on campus. ... and the food trucks are subcontractors that we manage," said Karen Cutler, the vice president of communication and public affairs at Aramark.
As of Sunday afternoon, Purdue Dining and Culinary did not respond to multiple requests regarding the alleged issue.
Darci Truman, a sophomore in the College of Liberal Arts, said that the food trucks on campus seemed inaccessible.
"I didn't even know that there were food trucks on campus," she said. "That is definitely something I wish I'd known earlier."
Her comments mirror the grievances of the food truck owners, several of whom say they're struggling to gain a foothold due to a lack of promotion from the University.
This is in part because the Food Truck Park, situated just north of the Armory, has not had its location advertised by Purdue, owners say.
"I ended up having to send kids to The Daily Bite, because they were the only ones that could take meal swipes," Bestich said.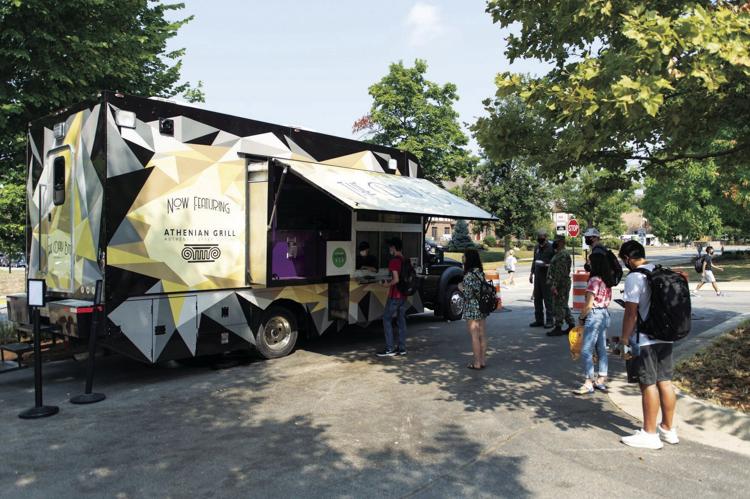 Bestich was not alone in his complaints. Ahmad Athamneh, the owner of Grilled Chicken and Rice, also expressed difficulties regarding his contract with Aramark.
"On my contract they asked for 20% of my total sales, and I didn't negotiate because I thought the amount of business I would get from students would make up for the money they were asking for," he said. "But Aramark never came through on their side of the deal."
Athamneh said that the contract he signed with Aramark included development of the food truck park, provision of electrical outlets and promotion of the businesses.
"Out of all the things that they promised, they only delivered the electrical outlets," he added. "And sometimes even those don't work."
Both Bestich and Athamneh said their Point of Sale documents, which allow merchants to prepare invoices and dictate whether or not the businesses can take meal swipes, were absolutely necessary for their businesses to function. Not receiving them, they said, along with a lack advertising, has contributed to losses in revenue.
"I've lost nearly $20,000 that I could've made had I been in downtown Lafayette," Bestich said.
They both stressed the potential of the food trucks to fill the void left by the restaurants that closed in the basement of the Purdue Memorial Union. Aramark bought the retail portion of Purdue Dining earlier this summer, leaving the PMU basement empty while the company works to populate the area with new businesses.
Meanwhile, students say they wait in hour-long lines to get meals at dining halls and other more conventional locations.
Scarlett Higgs, a sophomore in the College of Agriculture, said the long wait times on residential campus discouraged her from getting food.
"I wait nearly 30 to 45 minutes every time I go to the dining court," she said. "I can't do that when I'm trying to grab lunch between classes."
Athamneh said his food truck can serve almost 200 kids in under two hours.
"We're simply better equipped to handle traffic faster than the dining halls," he said. "I always knew that we were going to be a temporary replacement for the Union. But I was hoping that the University would look at how well we're doing and decide to keep us around for a while.
"That won't happen if they can't keep up their end of the contract."
"I would honestly love to work with the University," Athamneh added. "Purdue means a lot to me and being part of the community is a wonderful opportunity. But I can't do that if Aramark continues to take us for fools."