Nearly a year after the death of a Purdue student who taught the campus and the country how to tackle a devastating illness with humor, passion and relentless positivity, his family and friends are asking questions about what it means to live a grateful life to the fullest.
"Some could say that to a certain degree we're all in hospice care," his father said recently. "So why can't we live grateful lives?"
Tyler Trent's love for Purdue sports and his efforts to raise money for cancer research were heard around the nation in 2018. But he was also a fan "as entertaining as the match," one friend said last week. Another called him a "walking knowledge book." He was a pro at Mario Kart and Monopoly, and yet at times "an enigma."
The thin, bespectacled sports fan first caught the attention of campus when he camped overnight outside Ross-Ade Stadium as a freshman. He had driven up from Carmel, Indiana, after a round of chemotherapy for osteosarcoma. But Tyler also participated in numerous campus organizations, including the Riley Relations committee for the 2017 Purdue University Dance Marathon and The Exponent. He was the first student member of Purdue's Center for Cancer Research Advancement Board, and was twice named an honorary captain of the football team.
He died on Jan. 1 of osteosarcoma. The Tyler Trent "T2" Memorial Gate at Ross-Ade Stadium was unveiled in October to memorialize his effect on campus.
His father, Tony, told a local audience this fall that the family hopes to continue to spread Tyler's message and raise money for pediatric cancer.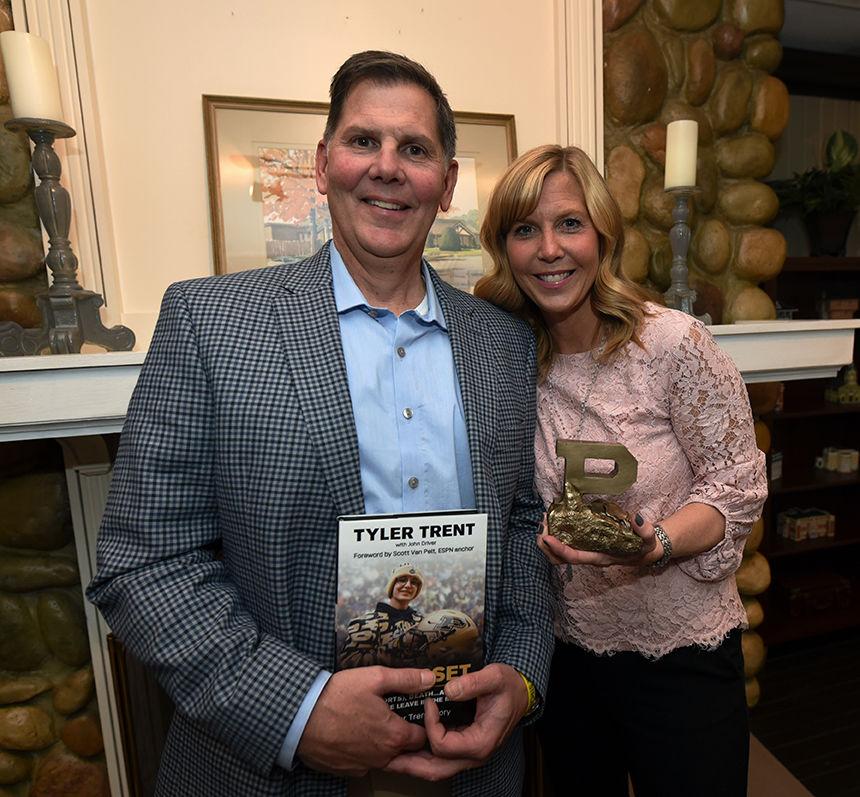 He also tries to share some of the lessons he and his family learned from Tyler and his public fight against cancer.
He spoke of the family's difficulties coping in the aftermath of Tyler's diagnosis, particularly his worries about one of Tyler's brothers, whom he didn't name.
"Can I tell you, the hardest thing a father even has to do is tell their kid they have cancer," Tony said. "Not only that, but just dealing with his brothers, dealing with my wife and the devastation that comes from seeing your child live the way he had to live."
Tyler left Purdue for hospice care at his home in Carmel partway through the fall 2018 semester, his sophomore year. But he returned to campus for the Ohio State game in October, though he had woken up with a migraine that morning, to watch Purdue win the biggest upset of its season.
Later, he was flown to the Music City Bowl game on a private jet with the help of the Indianapolis Colts, and wheeled onto the field to watch. That game was on Dec. 28, just a few days before Tyler died.
Tyler's childhood friend Anni Osborne described Tony and Kelly Trent as family, although she hasn't seen the Trent family as much in the past year.
"I think it's hard for them to see the kids who are his age, still living life," she said, "and realizing that their son's not going to be able to do that, not gonna be able to share any experiences or not have the same opportunities."
But Purdue helped Tyler feel as if he had purpose in life, Tony said. Jackie Ham, one of Tyler's friends and a junior in the College of Liberal Arts, said Tyler "lived, breathed Purdue." For her, part of Tyler's impact is explained by everything he invested in when he was here.
"He just liked a bunch of different things," she said. "And I think when he liked something, he put all of his energy into it and made himself good at things that people might not even think that they're good at."
And while Tyler invested himself in all his daily activities, Osborne said he also invested himself in the people he met.
"If there was somebody who he knew was going through a rough time or was new to campus or something, he went out of his way to connect them with people who he thought could do some good," said Osborne, a junior in the College of Health and Human Sciences. "I can't tell you how many times he was like, 'Hey, can you meet up with this person? They need a friend.'"
Osborne grew up living seven minutes away from Tyler. Her family still lives in the same house. Their families were friends, and she's never not known him. Since she was little, she said, Tyler's care for other people has been evident.
"There were a bunch of people that we kind of grew up with and they were all boys except for me," she said. "And they wouldn't often let me play with them, but Tyler always made sure that I was included. He always made sure that I could be there to have fun and play with everybody."
And though Tyler's memorial on campus hangs on a gate at Ross-Ade and some of his friends say some of their favorite memories come from going to Purdue games with him, they also say what they learned from him reaches far beyond Purdue sports.
Ham said Tyler, as someone who lived a life as full and carefree as he could, would want others to do the same.
"Because you never know what day is going to be your last day," she said. "So why would you wait in your room and wait for your day to come? That's not what Tyler wanted. He was always out, always doing something, always trying to make an impact. He was living his life to literally the fullest he could — until a couple days before he died. And I think he'd want people to do the same.
"You might be going through something and you might think, 'This is so terrible and so hard,' but why would you let that stop you from doing the things you love, being with the people you love?"
Kyle Gujral, another of Tyler's friends and a junior in the Polytechnic Institute, said he thinks now about living life more joyously.
"The biggest thing is, of course ... you always gotta be joyous in everything you do," he said. "And all the time, because you don't know what's coming next. In every action and everything you do, there has to be purpose. ... You have to be caring."
Ham said Tyler also reiterated to her the importance of appreciating the little things in life. The day after her 20th birthday party — which Tyler attended and where he soundly beat everyone at Mario Kart — she thanked him for coming. He replied by thanking her for inviting him.
"He was like, 'No, Jackie, thank you so much, because people don't treat me the same now and it meant a lot that I could come and that you wanted me there,'" she said. "The little things in life are so important. Tyler just wanted to be at a football game."
Almost a year after that first Ross-Ade campout, he predicted Purdue's upset against Ohio State. Tony said he had predicted that win before the season even started. Later that year, Tyler published an autobiography titled "The Upset," of which Tony said 17,000 copies have been sold. The Purdue Center for Cancer Research established the Tyler Trent Research Endowment in his honor, and $1,010,116 was raised for the endowment by the end of October.
Tyler received numerous awards before and after his death, including the Sagamore of the Wabash — one of Indiana's highest honors — the ESPN Humanitarian Award, the National Football Foundation's Patrick Mackey Courage Award and the Disney Spirit Award. He also received his associate degree from the Polytechnic Institute.
Tony said that since Tyler's death, he's begun to occasionally give talks to help raise money for foundations that donate to cancer research. Specifically, he asks audiences to donate to the Hamilton County Foundation, where, unlike at Purdue, all the money raised goes toward pediatric cancer.
"We love Purdue, don't get me wrong," he said. "But that entire fund doesn't go to pediatrics, and we want it to go to pediatrics."
Pediatric cancer research is underfunded, and, Tony said, "We wanted to impact people's lives, because if you don't talk about it, it never gets fixed."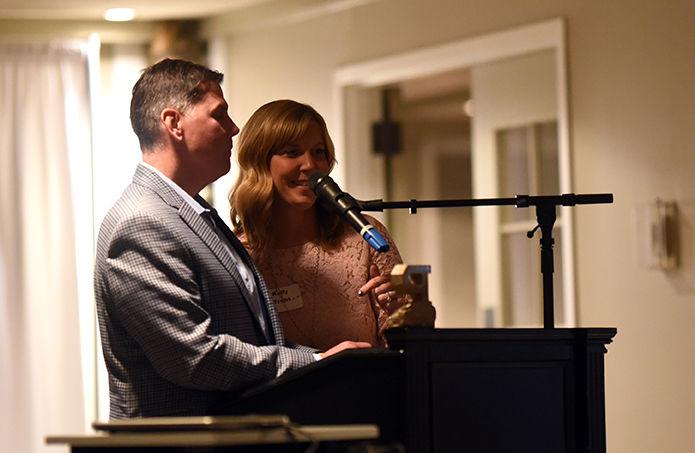 Tony said the family continues to receive support.
"Since he's passed, I mean just the whole thing of — like, every player came to his celebration of life," he said. "That doesn't go unnoticed by Kelly and I."
One of those players was former Purdue quarterback David Blough, who spoke at Tyler's celebration of life service and now plays for the Detroit Lions. Over the course of fall 2018, he and Tyler grew close. Blough has announced in a recent Twitter post that he is wearing cleats with Tyler's likeness and hashtag on them.
My cleats. OUR Cause.#BoilerUp @TheVFoundation #MyCauseMyCleats pic.twitter.com/KckBJDbkGg

— David Blough (@david_blough10) December 3, 2019
Osborne cried when she first heard about the cleats, she said later. But she wasn't surprised Blough and Tyler became good friends.
"(Tyler) kind of had that effect on people," she said. "Making them feel, again, included and loved."
Ham said she thought that with this act, Blough showed how much of an impact Tyler had on him and helped bring Tyler's story back into a national light.
"It's small, but it's something that really sticks and resonates with me, because he puts on those cleats every day or so when he goes to practices or plays a game, so he'll always remember Tyler. And I really do think those small things keep people alive in memory. And — it's like that song — memories create memories and then those memories will bring back somebody and bring back feeling.
"A little kid watching that is going to be like, 'Who's Tyler Trent?'"
With that question, Tyler's example of how to live might continue to inspire.
Special projects reporter Ryan Chen contributed to reporting.