7:00 p.m. — Purdue Memorial Union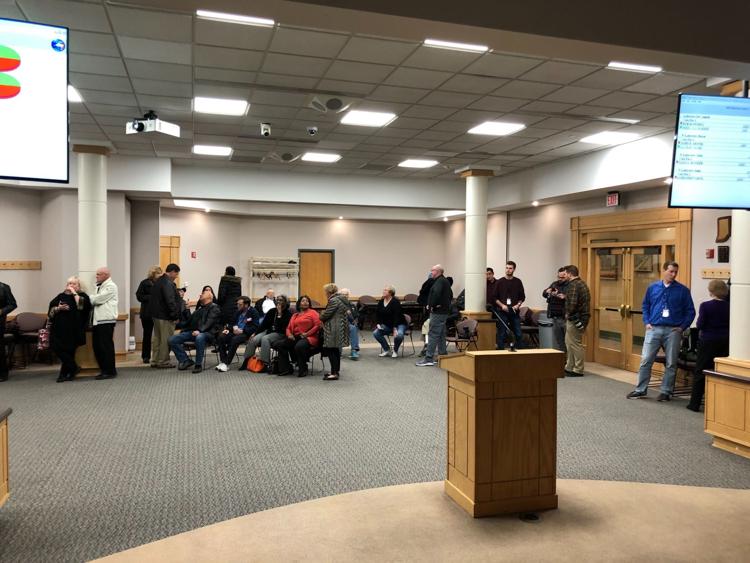 6:00 p.m. — Purdue Memorial Union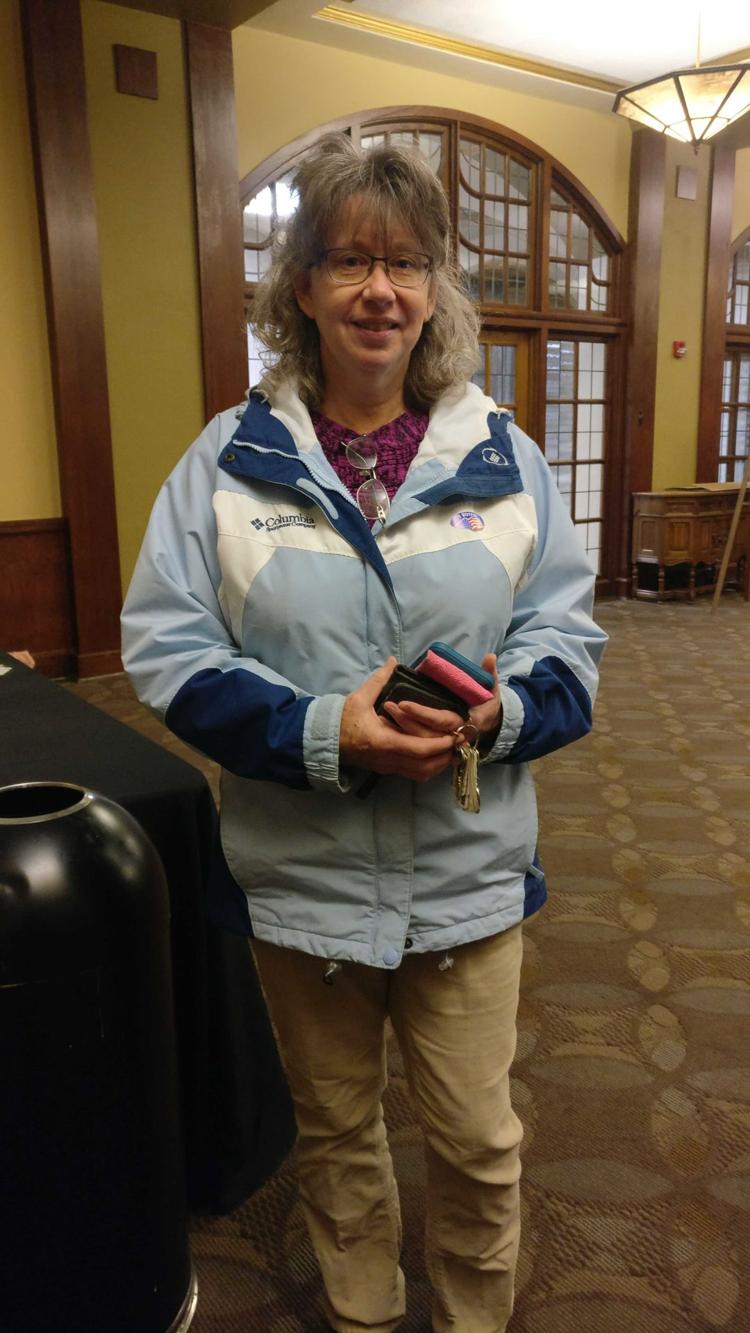 703 people voted at the PMU by closing time said Liz Roush, voting supervisor for PMU.
Pam Applegate, a worker at a title company, was the PMU's last voter. She emphasized the importance of voting.
"It's important to get out to vote, to at least have a say," Applegate said. "Because afterwards, you don't."
5:50 p.m. — Purdue Memorial Union
An out-of-state student from Connecticut, John Douglas LaBerge was turned away from the PMU voting location because he did not have an Indiana ID.
"I came here and they said do not have a valid voter ID," said LaBerge. "Apparently, I needed an ID for the state of Indiana, even though I definitely asked around the time I was registering to vote here if I would need an ID."
Liz Roush, supervisor for the PMU voting location, said that he could have voted had he brought his passport or arrived before 5 p.m. to be shuttled to the ID office.
However, Laberge was glad he found out about the new policy in this election.
"I'm glad I did it now and can vote here next year," he said.
"That would have been way worse."
5:00 p.m. — West Lafayette Intermediate School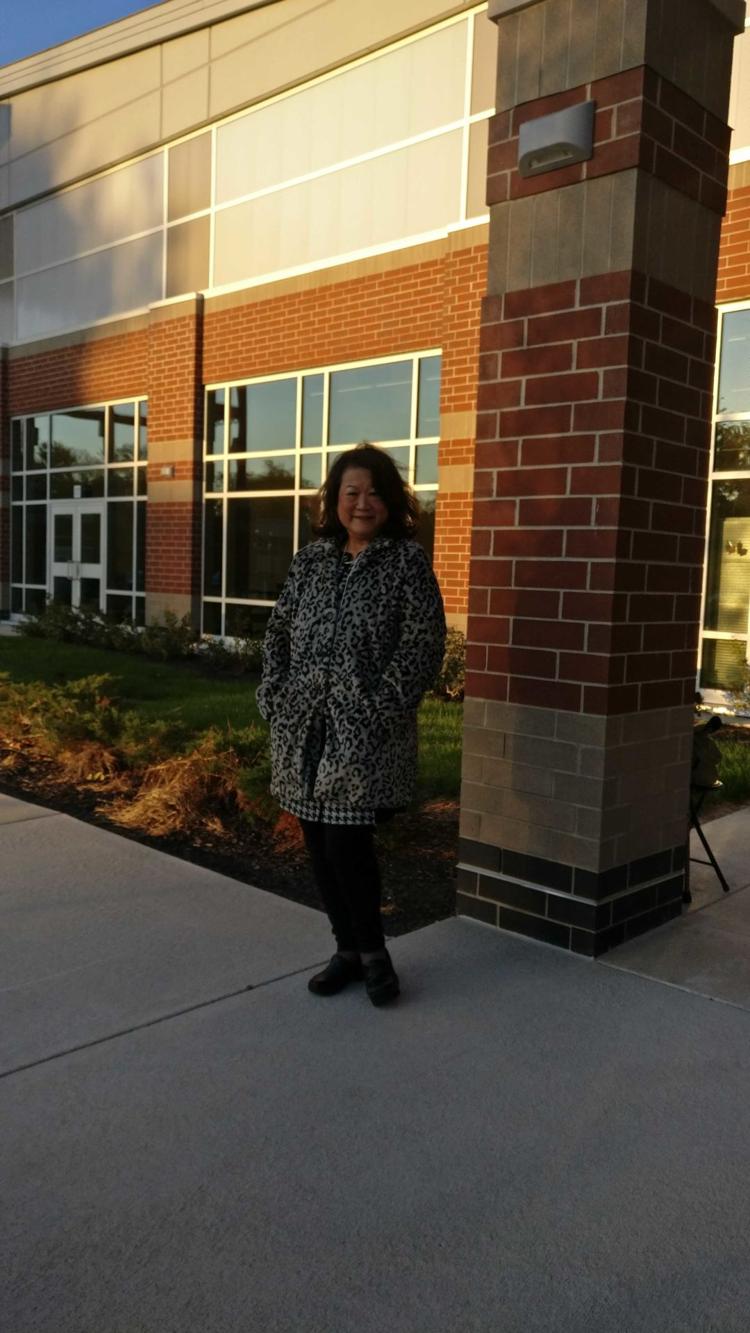 Around 200 people have voted at the West Lafayette Intermediate School, said site supervisor Theresa Kruszewski. 
Norris Wang's sister, Eleanor Wang, was outside the school attempting to get some last-minute votes for her brother.
"I would like to hope that he's going to be successful," she said. "I know that there is a competition but it's good to have a race, to give people the opportunity to choose. My brother has been a long-term resident of West Lafayette and of District 6, and he has been a prosecutor and a magistrate."
4:26 p.m. — West Lafayette Fire Station #3
In the area's northernmost polling station, voters have been consistently turned away because their addresses are technically located outside of West Lafayette city limits.
Volunteers estimated they had been forced to deny over 100 people throughout the course of the day. With two hours remaining to vote, their overall vote count was approximately 450.
Volunteer Jessica Collins said the issue occurred so frequently at the fire station because of its location on the outermost limits of the city's District 5.
"A lot of people are confused because their address says 'West Lafayette' but they're unable to vote," Collins said. 
People turned away in this fashion displayed a variety of reactions. One man simply threw up his hands and walked out of the building without further comment. Another woman reacted with disbelief directed at the poll's crew of volunteers.
"Oh really, I don't have a mayor," she said as poll workers explained the Tippecanoe County commissioners governed her at the executive level. "I'm lacking a mayor!"
Another issue that arose was the lack of parking in the lot adjacent to the fire station. The capacity is approximately fifteen cars, which prompted volunteers to park their vehicles in the grass to accommodate for additional voters.
"We've all been talking about how parking is probably not going to be sufficient for next year," said volunteer Rita Gerst.
The 2020 election will likely feature a higher turnout because constituents will be electing county, state and federal representatives. It is uncertain whether an addition will be made to the station's parking lot or if voting will be held elsewhere.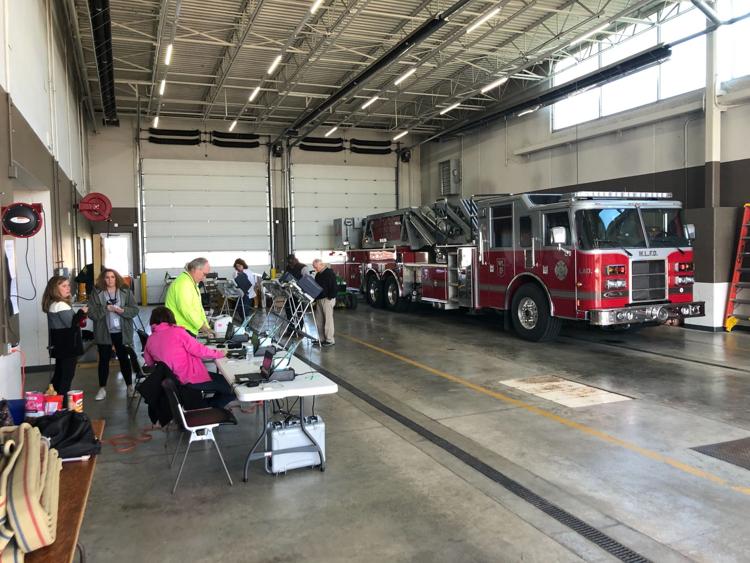 2:40 p.m. — Purdue Memorial Union
468 people have voted at PMU, said Liz Roush, supervisor for the PMU voting location. Among them was Shannon Kang, city council candidate for District 3.
Kang said she felt the voting process was pretty smooth, despite being an out-of-state student.
"It was just the whole ID issue that was really it," she said. "But I just filled out the paperwork."
After voting, the student candidate said she felt optimistic, regardless of the outcome.
"Whatever happens today is what happens and I think it'll be a good day either way," she said. 
12:36 p.m. — Tippecanoe County Building
Max Walling, an information technology employee for the city, said everything is "functioning very well."
"This is probably one of the best starts to an election that we've had since I've been here," Walling said. 
Setup of the new voting machines obtained this year went quickly, he said, but he acknowledged some issues with older technology still in use. The older machines are expected to be phased out ahead of the 2020 primary elections.
"The problems that we did run into this morning were about 50% user error and 50% it being new equipment," Walling said. "So we didn't know what to expect."
The poll workers were not doing what they were supposed to and what they were trained to do, Walling said. 
"They panicked and kind of lost their way," he said. "So, we got there, gave them a little bit of comfort, helped them through it, showed them what they were doing wrong, worked with them ... and now, they're a bit more confident."
A little over 4,000 individual votes were collected by around 11:30 a.m., according to Tippecanoe County Clerk Julie Roush. During the last municipal election, over 4,000 early voter submissions were collected, compared to roughly 2,136 early voter submissions this year, Roush said. 
11:53 a.m. — Federated Church
Voters waited in line as volunteers for the Tippecanoe County Board of Elections attempted to resolve minor technological difficulties.
After presenting identification and having their address confirmed by a computer system, each voter has the candidates for their district loaded onto a voter access card. That card is then plugged into the voting machine and their choices are recorded onto the card's chip.
One woman who preferred to remain anonymous said that the information presented to her on the voting machine was for the wrong district.
"My councilperson wasn't on the ballot," she said. "It was a different candidate."
The issue was resolved by the volunteers working at the polling station. The station's lead volunteer, Maurine Ramsey, said she followed protocol and called the County Board of Elections office to verify the woman's legitimate address.
"I had them verify that was her ballot," Ramsey said. "I called downtown to verify because I can only do so much here."
Ramsey also assisted voters who were experiencing complications at the voting machines. The crowd at the church was mainly comprised of older people, and she said they sometimes require assistance when pressing buttons or interpreting the summary of their decisions. Attendants can offer nonpartisan assistance to voters struggling to cast their ballot.
"You see me staying on the other side of the machine so I can't read what they're doing," Ramsey said. "I can tell them to place my finger where they want it to be, because a lot of older people press really hard or have larger fingers."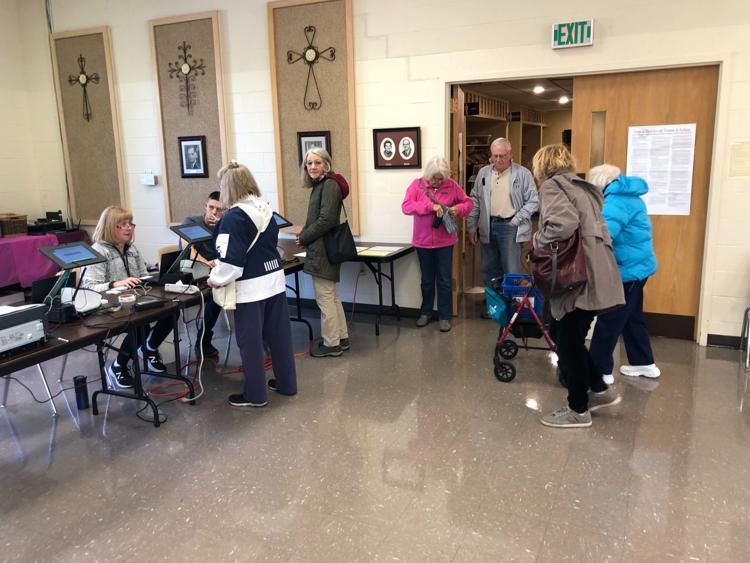 11:30 a.m. — Purdue Memorial Union
Around 200 people have voted at the PMU polling location, said Liz Roush, voting supervisor for the site.
One voting machine is not working, but Roush said this has not affected voting.
"I have one that's not calibrated right," she said. "We just took it off line, so it's not working right now. Other than that, we've been fine. I've made the Election Board aware of it and they should come out and fix it. But it's a matter of handling priorities, and it's not affecting people coming into vote."
In addition, Roush wants voters to be aware that this is a municipal election, not a county election.
"There are people that don't realize that this one is a municipal election," she said. "And so I have people who live in the county that don't have anybody to vote for. So it comes up and says they don't have a ballot."
That being said, Roush said that the PMU location is taking votes from Lafayette and Battleground, in addition to West Lafayette.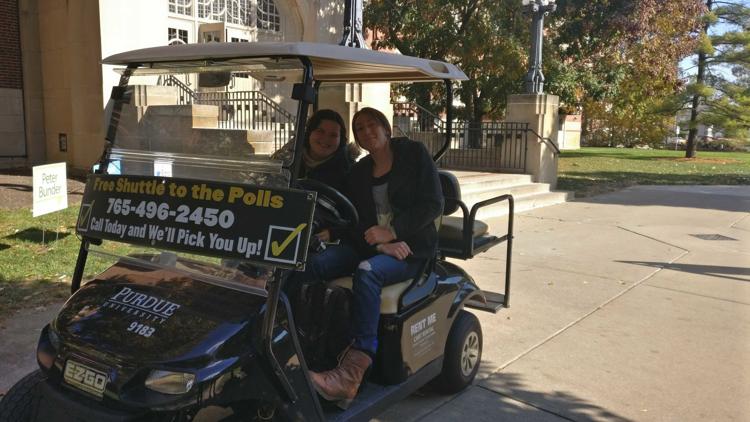 9:45 a.m. — Purdue Memorial Union
Independent mayoral candidate Zachary Baiel and his family rode their bikes to the polling station this morning. Baiel and his partner Anne brought their two children Emmaline and Hieronymus along to watch their parents vote.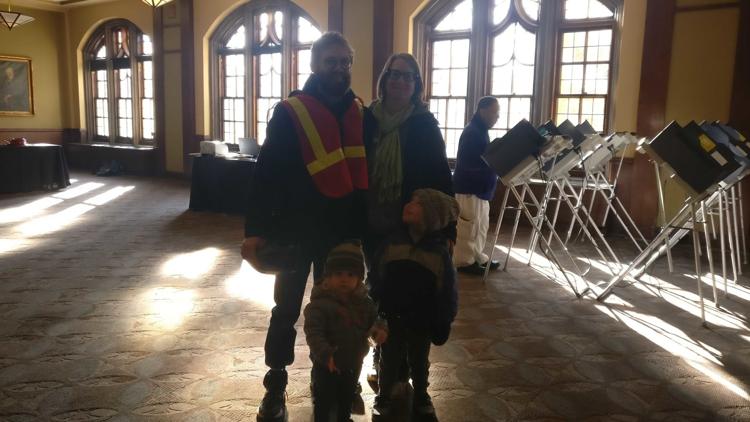 9:40 a.m. — West Lafayette City Hall
Mayor John Dennis cast his ballot at the city hall polling station.
Fresh out of a Public Board of Works meeting, the Republican incumbent mayor interacted with Board of Elections officials and joked about whether they'd be able to identify him without issue. His cheery mood seemed to suggest a confidence in the likelihood he'll serve a fourth term despite being challenged by Independent candidate Zachary Baiel.
Dennis said he was unbothered by the appearance of a contestant's name next to his on the ballot.
"That's not weird," Dennis said. "That's the democratic process."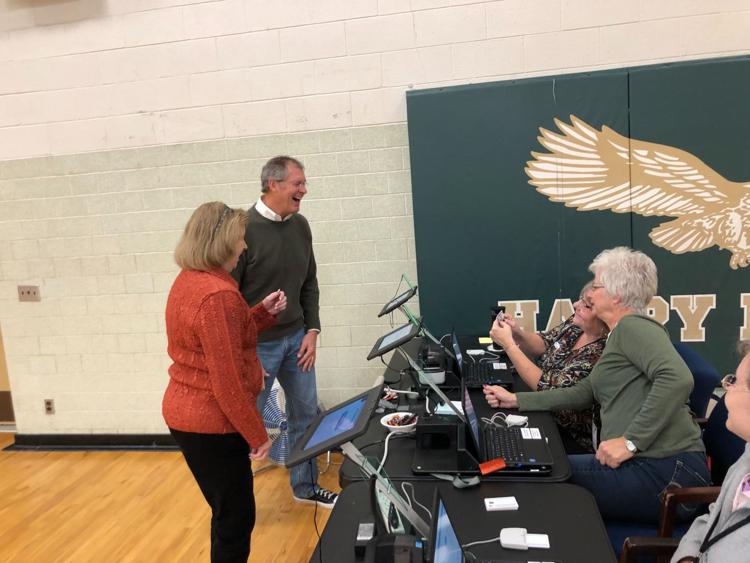 9:15 a.m. — Purdue Memorial Union
About 100 people had voted at the Union as of 9:15 a.m. according to voting officials.
8:36 a.m. — West Lafayette City Hall
On the morning of Election Day, Tippecanoe County Board of Elections officials turned away three voters because of technological malfunctions. 
One voter, Carlos, drove from West Lafayette City Hall to West Lafayette Intermediate School to cast his ballot. He viewed the malfunction as a serious matter.
"That's the worst thing that can happen on Election Day," he said.
He emphasized the need for voting to be as convenient as possible.
At city hall, the problem originated in the computer system used to search voters in the Board of Elections database. The iPads used to sign people in were not responding and the attendants expressed frustration with unresponsive computer mice.
A voting machine was functioning improperly at the WL Intermediate School and had to be shut down after three voters received errors after trying to vote. Some IT experts from the Board of Elections office have been circulating the city to solve technological issues, which have also been documented at the Federated Church and Purdue Memorial Union polling stations.
Tippecanoe County Clerk Julie Roush confirmed that some of the voting machines, or electronic pollbooks, were malfunctioning at Tuesday morning's Board of Elections meeting.
"There are brand new e-poll books," she said. "So there were some interior IT issues."
She also said clocks on some of the machines reset this morning, adding to the technical difficulties.