A student sits outside of Harrison Hall Tuesday afternoon with a plastic bag full of food, ready for lunch. Out of the bag he pulls a large Styrofoam takeout box with an entree; another smaller box with his dessert; a Styrofoam cup holding a salad; a plastic fork, spoon and knife, all sealed in plastic; a paper cup; and a paper straw.
This amount of packaging is used for the meal of one of 600 students John Gipson, director of summer session, said are living and dining on campus.
The University doesn't plan on long-term use of disposable materials moving forward, Director of Dining Operations Azrielle Nunnally said.
"Dining & Culinary will not use the Styrofoam containers in the fall," Nunnally wrote in an email. She said Purdue has ordered recyclable containers to use in early August.
Nunnally did not elaborate Wednesday evening on the amount of Styrofoam containers Purdue Dining has used, or what materials will be used for its new containers.
Frannie Kelly, a junior in the College of Engineering, said that while the switch to recyclable containers is better than using Styrofoam and plastic, these materials are still not great for the environment.
"It's like doing the bare minimum," she said. "It's better waste, but still waste."
Each student will eat at least two of these meals a day, six days a week for the time they are at Purdue, according to Jotham Escarpita, a freshman in the Polytechnic Institute. Escarpita and a group of Summer Start students said they noticed they are producing a large amount of waste since coming to campus.
"There's literally garbage up to the ceiling," Escarpita said, describing the state of his floor's trash room in Earhart Hall, where residents dispose of waste in their dormitory.
Jonah Johnson, a freshman in the Krannert School of Management, said he felt he couldn't do anything to decrease the amount of Styrofoam and plastic students use when dining.
"The only way to decrease waste is to stop eating," he said with a shrug.
Amelia Chaille, a senior in environmental and ecological engineering, also noticed this issue, which she said led her to start a petition on Change.org urging Purdue Dining to switch to using biodegradable containers.
Chaille said she lived on campus last semester after the dining courts moved to takeout-only meals, so she was already concerned at the amount of waste accumulated from the small portion of students still dining on campus in the spring.
"I didn't consider how much worse it would get this upcoming semester with everyone returning," she said in an email, "until some of my friends and I were talking about the waste building up in the dorms due to the Styrofoam containers."
She said it was then that she decided to make the petition and send it in several group chats, hoping they would be able to cause some sort of change.
As of Wednesday evening, the petition had 48 signatures.
Linda Prokopy, professor of forestry and natural resources at Purdue, cited more environmentally friendly ways Purdue could conduct its dining operations, such as providing students with reusable straws and utensils. She said Purdue Dining could also use recycled cardboard or compostable materials for takeout boxes instead of Styrofoam and plastic.
"Styrofoam is the cheapest option," Prokopy said, "but that doesn't mean it's the right thing to do."
Prokopy said that while she suspected the University will work with Purdue Sustainability when deciding what materials to use for its takeout options, based on its current methods, she doubted the department had been consulted prior to this decision.
Michael Gulich, director of campus planning and sustainability, did not respond to The Exponent for comment as of Wednesday evening.
Kelly, also president of the Purdue Sustainability Student Council, said the organization's executive board met Tuesday night to discuss the amount of eco-unfriendly materials being used on campus.
She said she was alerted to the trash accumulated on campus by a video shared on social media of one of the garbage rooms in Earhart. The video depicts trash cans overflowing with Styrofoam containers, plastic bags and other waste. 
"We weren't surprised that (Styrofoam) was being used because of the pandemic," she said, but the PSSC immediately took action by reaching out to Purdue Dining to use more sustainable materials.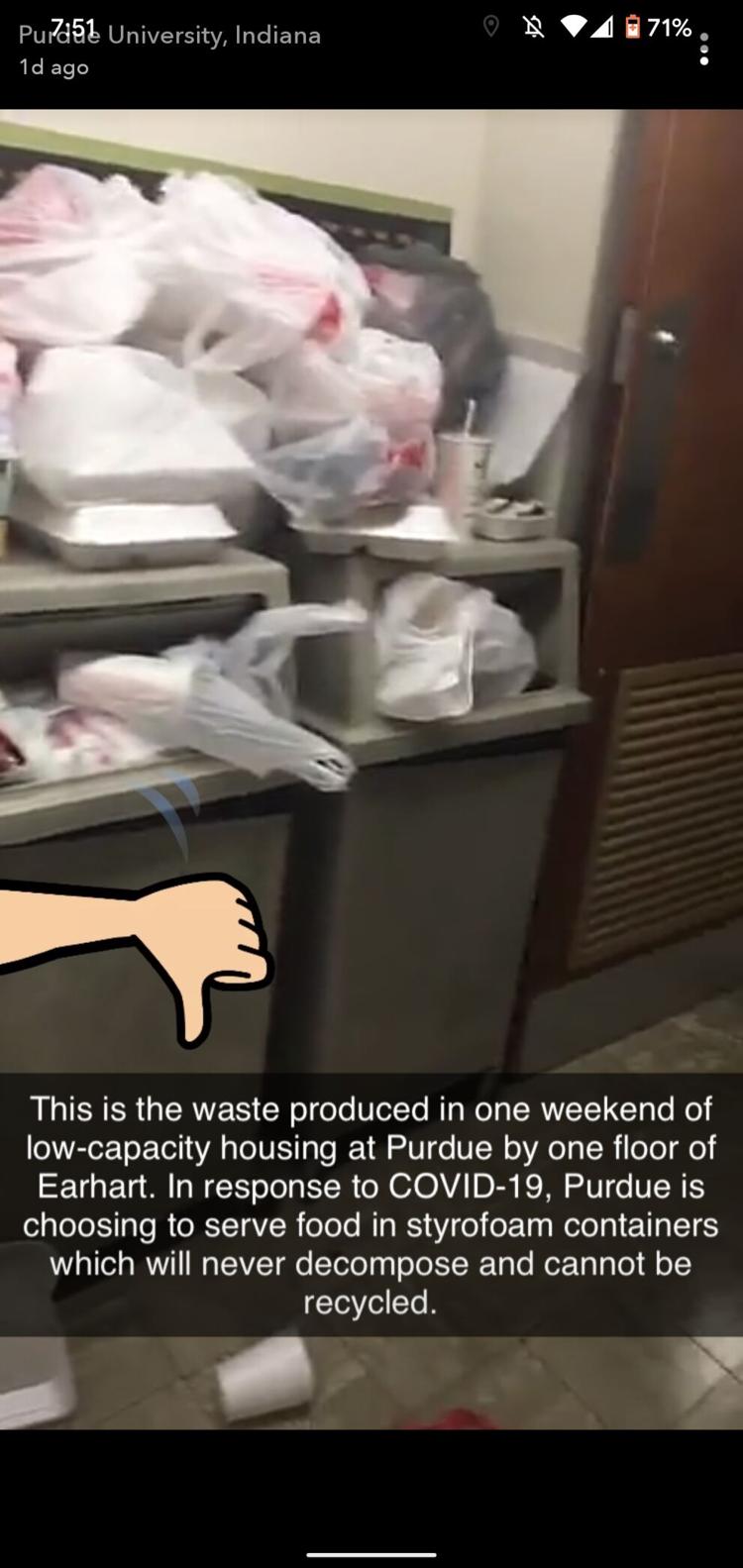 More than just students are noticing a rise in the volume of trash they produce, though. Street Commissioner Ben Anderson said the West Lafayette Street, Sanitization and Recycling Department also has noticed a large increase in waste around the city.
"Looking strictly at garbage that we pick up curbside," Anderson said, "we're close to about 200 tons more than we had at the same time last year."
David Henderson, utility director at the West Lafayette Wastewater Treatment plant and mayor's liaison to the West Lafayette Go Greener Commission, described the uptick in trash as a "byproduct" of the pandemic, what he said he hopes is a temporary issue.
"It's a difficult spot, it really is," Henderson said, explaining that people have to decide between using reusable products and possibly increasing chances of exposure to the virus, or damage to the environment by using single-use or recyclable products.
Henderson said that, although the increase in single-use plastics and Styrofoam containers is definitely a problem, the commission has not yet discussed potential solutions.
Kelly offered advice on reducing waste, saying there are still actions people can take to remain environmentally conscious while also preserving their health.
"There's this notion that you can't use reusable containers during the pandemic," she said, "but there's not a big risk as long as they are properly washed."
Prokopy also stressed how important it is that people not forget the state of the environment during the confusion of the pandemic.
"We need to be more strategic," she said. "Coming right behind the pandemic, or simultaneous with the pandemic, are all of the impacts of climate change, which are going to be even more devastating."