Sen. Bernie Sanders of Vermont knew his audience well.
"My own personal feeling is we should end all student debt," Sanders said at the Tippecanoe County Amphitheater Friday.
The crowd, made up largely of students, met his statement with a roar – the most animated reaction of the night.
Sanders came to the amphitheater as one of his stops on a tour of the Midwest.
Sanders was greeted by a standing ovation and chants of "Bernie, Bernie, Bernie." Some audience members near the front waved in attempts to get his attention.
Once the cheers died down, Sanders asked for a moment of silence to honor the "losses and sacrifices made in Afghanistan."
He went on to talk about the dangers of COVID-19 and climate change, the need to increase taxes on billionaires and the importance of the $3.5 trillion infrastructure bill awaiting a vote in the Senate.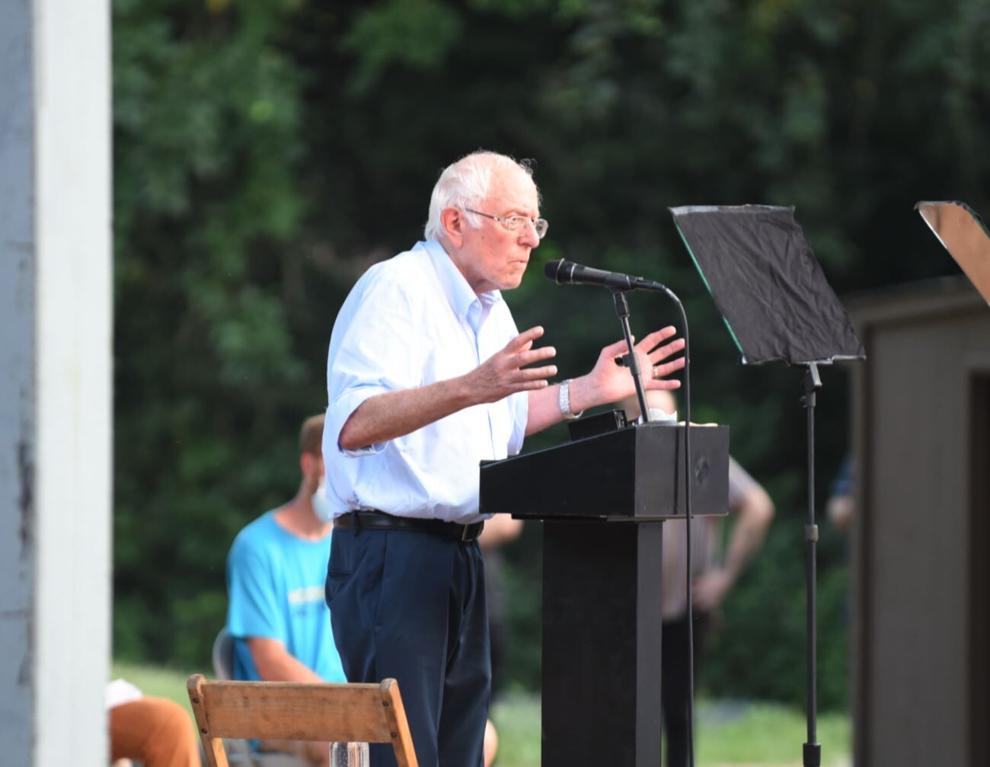 Sanders read off a teleprompter for most of the evening.
After an hour, Sanders invited five speakers seated on the stage to talk.
Purdue Student Body President and city council member Shannon Kang was among the speakers. She talked about addressing the climate crisis and her journey through getting involved in local politics.
"Maybe I'll see you in the Senate one day, Bernie," she said to Sanders.
Later in the lineup, Greater Lafayette resident and West Lafayette-area father Cody Kenny drew vocal responses from both the crowd and Sanders. Kenny, a self-proclaimed "trailer-park boy," talked about his lifelong struggles with poverty.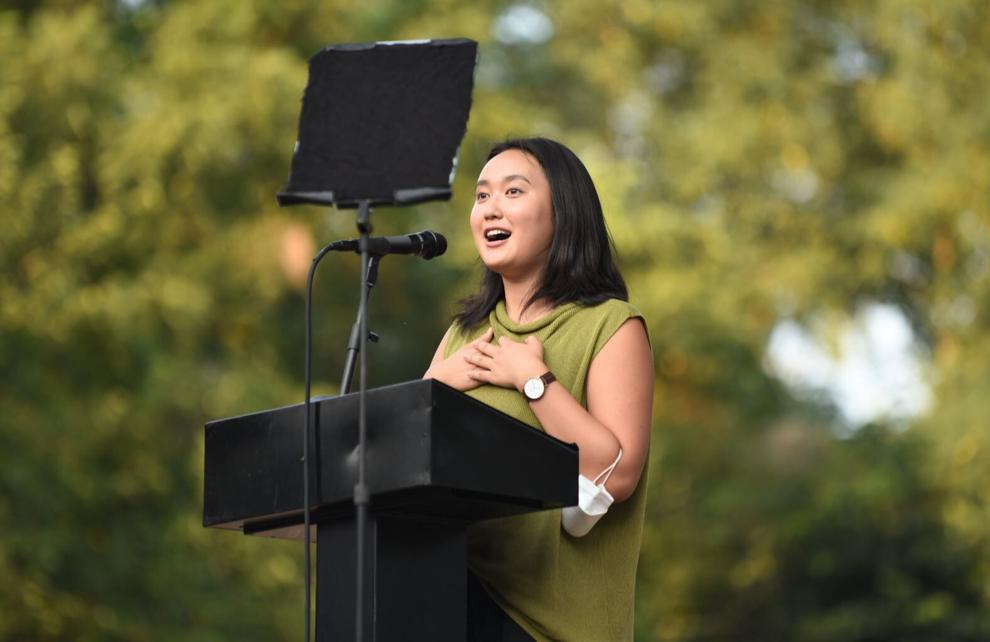 It wasn't until he began receiving the COVID-19 assistance payments that he could afford new hockey equipment for his son and feel dignity among the other parents, he said, tears welling in his eyes.
Members of the crowd stood up to cheer for him, and Sanders thanked him for telling his story — one that is true for many across the nation but not often told, he said.
Once the panel was over, the question and answer session between Sanders and the audience began.
Sanders took a handful of questions from audience members, often guiding questions back to the range of how he will handle opposition to the infrastructure bill he champions, how to get involved in politics and whether climate change and mental health provisions are included in the bill.
Opposition is not something he will back down from, Sanders said, but Senate rules can get in the way of passing bills he supports.
He went on to urge everyone in the crowd that was interested to get involved in the local politics to champion their communities, rather than just setting their sights on big positions like governor or senator.
Climate change and mental health are addressed in the infrastructure bill, he said. The only topic someone asked about that wasn't in the bill was student debt forgiveness.
However, Sanders said he will continue to support those policies in future bills.
Still, there are appropriations in the bill that make higher education more accessible, he said. It would make two-year community college free and allow those credits to be transferred to four-year institutions.
Outside the scope of the infrastructure bill is the relaunch of the Civilian Climate Corps in Biden's American Jobs Plan.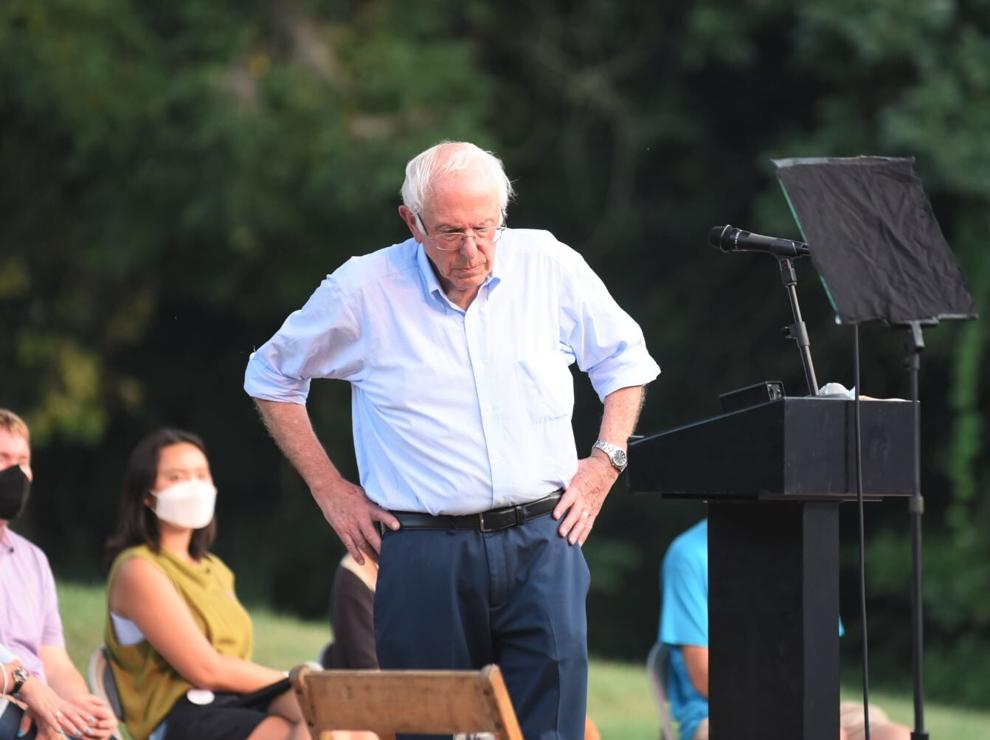 Similarly to the original Civilian Conservation Corps created by President Franklin Roosevelt following the Great Depression, the revamped CCC would employ newly graduated students to address climate change while providing them "a livable wage and significant educational benefit," Sanders said.
People of all persuasions from across Indiana made the trip to see the progressive Vermont senator.
Among the first to arrive were members of the Confront the Climate Crisis group. West Lafayette Junior and Senior High School students Rahul Durai and Lily Shen, along with a dozen other members of Confront the Climate Crisis, a state-wide climate action group, began waiting outside of the amphitheater at 3:30 p.m.
The group is composed of high school students who fight for climate justice in the state of Indiana, Durai said. "Senator Sanders is a key leader in the fight for climate justice, so we are inspired to see a person who has inspired us."
Over 150 student volunteers from cities around Indiana make up the climate action group. The group began in West Lafayette, and through word of mouth and social media, they expanded state-wide.
"We are working for state-wide legislation for this year's legislative session," Shen said. "We're really pleased with the amount of climate justice initiatives Bernie has put into the budget resolution."
Not all groups came in support of Sanders, though.
Americans for Prosperity, a group founded in 2004 that opposes President Joe Biden and Sanders' spending plans, according to its website, took two charter buses to the event following a rally.
They brought with them a large, plastic pig reading "Pull the pork," and a few members were dressed in blow-up pig costumes. People of all ages and all over Indiana came as part of the group.
Their chants of "Go home, Bernie," "Hey, hey, ho, ho, socialism's got to go" and "Stop the spending spree" rang throughout the amphitheater.
"We came here to show Bernie Sanders that Indiana is a red state," Fort Wayne resident Makenna Garza said. "He needs to leave. We're not here to spend more money on things not involved in infrastructure."
Members of the group said they were given a space outside the amphitheater to protest, but they were not allowed into the actual event.
Tippecanoe County Police Captain Robert Hainje said anyone with a reservation could get a seat in the amphitheater.
Turning Point USA, a non-profit organization that, according to their website, identifies, educates, trains and organizes students to promote freedom was another group of protestors present before the town hall began.
Our Revolution, a group that endorses progressive candidates, was another vocal group at the event.
West Lafayette resident Kelly Gordon, a member of the group, said it was important for her to go to the town hall to "show support for someone in politics who hasn't tried to take anything from (her)."
Gordon began her work in activism during the 1960s and 1970s at civil rights marches, she said. The Women's March, especially, left its mark on her and made her feel she had been complacent.
She teared up comparing her presence back then to today and the pull she feels to continue her activism.
"(The 2016 election) sucked the air out of the room," she said, choking up. "Maybe now we've been asleep a bit. I don't think I was paying attention too much."
Outside the amphitheater, a line around a quarter of a mile long wrapped into the parking lot as people waited to be waved through by TCPD officers. In the 90 degree heat, a collection of water bottles multiplied on a table outside the entrance since they were not allowed inside.
Over a dozen TCPD officers worked security for the event. At least two officers at both entrances to the amphitheater used metal detectors to search guests.
Hainje said while the TCPD was notified that around 150 protesters were coming from Americans for Prosperity, he said they didn't expect a lot of trouble.
Stay Outside, a musical duo from Marion, Indiana, performed as the crowd filtered into their seats.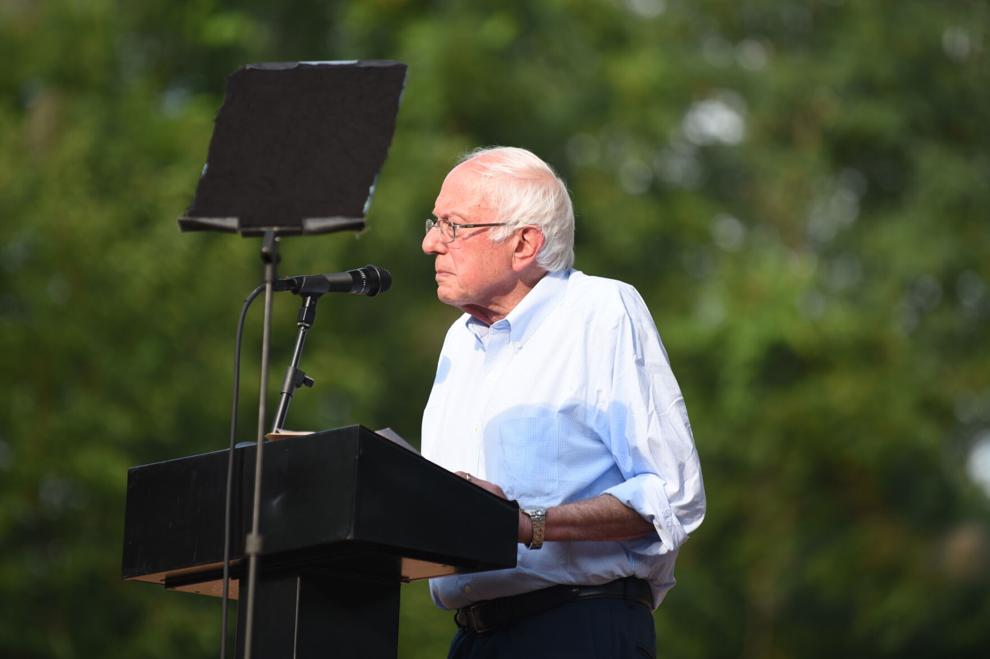 With only minutes left before the town hall began, fewer than 20 seats remained empty and groups of individuals struggled to find where to sit as people awaited Sanders. Those who could not get seats inside the amphitheater crowed the grassy area around the edges.
According to Sanders' team, the final audience count for the event was 2,328. As Sanders introduced local guests to speak, however, some members of the crowd left. One of the people leaving said they needed to get on the final bus transporting Purdue students back to campus.
RSVP forms audience members filled out prior to the event stated masks were required in both indoor and outdoor spaces. However, only a portion of the crowd abided by that rule. While no volunteers from Sanders' team enforced the mandate, the team themselves followed it.
As the band equipment was cleared and chairs and a podium was set up for the town hall, the Sanders team was delayed around 30 minutes because of "the nature of public events," volunteers said.
A plane paid for by Americans for Prosperity began flying before Sanders came out circled overhead for the duration of the event with a banner behind it reading "STOPTHESPENDINGSPREE.COM."
Liam Quaas, a junior in the College of Science, said he resonates with Sanders' stance on climate change.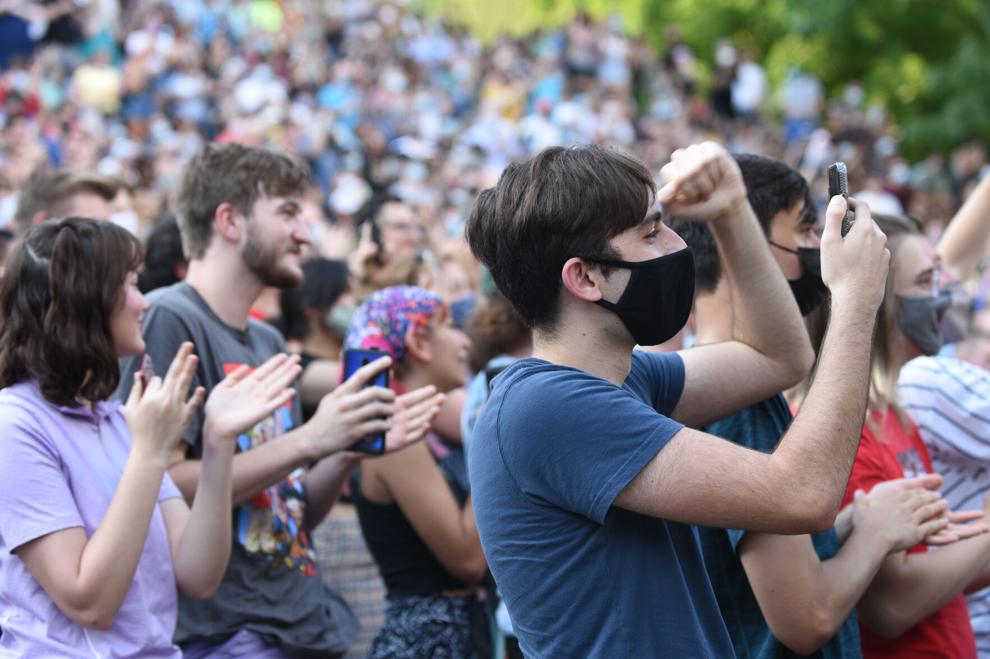 "I'm an environmental biology major, so (the infrastructure bill) is a big step for climate change," Quaas said. "Instead of just words.
"We came for Bernie," he said. "He says what he means. He's so honest."
Quaas' friend Caleb Neal, a junior in the College of Liberal Arts, was of the same opinion.
"I love Bernie."
- Additional reporting by Nidhi Shekar and Emily Primm, Campus Editor and City Editor