More than 30 rising seniors at Purdue Polytechnic High School arrived on campus Sunday and will live in residence halls until Aug. 7 to acclimate to the college experience before becoming the high school's first class of graduates in Spring 2021.
Purdue President Mitch Daniels addressed the students in a large classroom in Wilmeth Active Learning Center Wednesday afternoon while wearing a mask and standing behind a Plexiglas barrier. Daniels spoke prior to a course on SAT and ACT preparation.
"We don't come in to interrupt your education, we come in because of how important you are to this University," he said to the students. "You are extraordinarily important as pioneers. You have led the development of your high school and now there are two others."
The students attend the Indianapolis high school, which enrolled its first class in 2017 and is the first of three Polytechnic high schools to open around the state. The second opened in Broad Ripple in 2019 and the third will open this fall in South Bend.
Purdue sponsored the public-charter schools because administrators observed too few students of color and first-generation college students taught at public schools in Indiana's largest cities who were meeting the necessary academic criteria to be admitted to the University, Daniels said.
And for students who earn sufficiently high test scores, the recruiting market among universities is competitive, he added. The Polytechnic high schools aim to create a pipeline to Purdue that it can foster and grow as enrollment increases at the schools.
"We can't wait at Purdue," Daniels said. "If we want to have a more diverse student body, if we want to improve access for low-income students of all kinds, we had to do something unusual.
"If just this group came to Purdue, we would double the number we get out of Indianapolis."
Data posted as part of Daniels' open letter to Purdue in January show that less than 3% of students who graduated from Indianapolis Public Schools were enrolled at Purdue in Fall 2019.
Only 4% of low-income students and 4% of underrepresented minority students at IPS passed both portions of the 10th grade ISTEP test last year. About a third of the nearly 115 rising seniors at the Indianapolis Polytechnic school meet Purdue's admissions standards, according to the open letter.
Bringing the students to campus early is meant to further their chances of success upon arrival to Purdue or another university, Daniels said. Another element of that mission is the hands-on, STEM-oriented coursework that Polytechnic high schoolers receive.
Kayla Owens, 17, said she spent elementary school and middle school in the IPS system.
"I didn't feel like I was challenged enough," she said. "They didn't really welcome my creative thought process."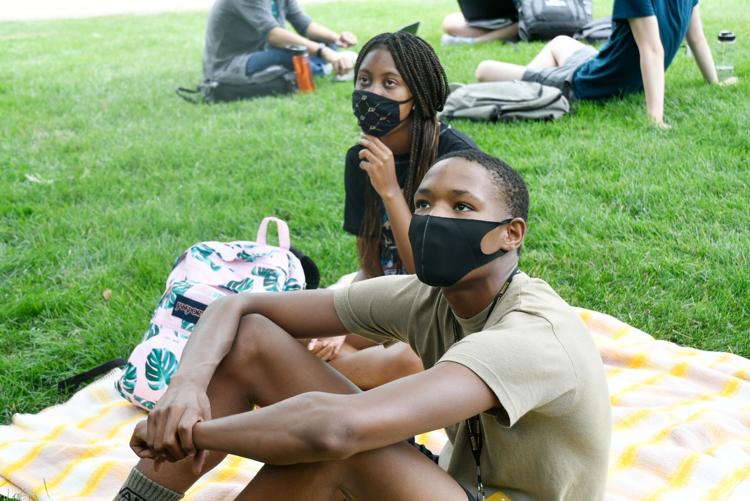 Alongside the small-school environment that she enjoys at the Polytechnic high school, she says the hands-on learning, which involves designing, building and testing prototypes, has allowed her creativity to bloom.
The curriculum translates directly into a course she's enrolled in this summer at Purdue, called Design, Thinking and Technology. She's wanted to attend Purdue since she was in middle school, she says, and membership in the high school grants her direct admission to the Purdue Polytechnic Institute if her test scores meet University standards.
PPHS students can choose one of three university-level courses for the summer at no cost, a Wednesday press release states. The rising seniors can earn up to three credit hours in technology, management or communications.
Current undergraduates will serve as peer mentors for the high schoolers, Director of Summer Session John Gipson said. The objective is to give the students a head start on their university education, he said, in hopes of ensuring their success when they arrive as freshmen.
Brian Robinson, an incoming junior from Indianapolis who studies robotic engineering technology at Purdue, is mentoring the group of students and has spent the first few days doing campus tours.
He described the jarring experience of returning to an unfamiliar campus environment two weeks ago, being tested for the virus and preparing to lead high schoolers through mask mandates and social distancing guidelines, as well as coronavirus tests of their own.
"Everybody who signed up, signed up before COVID," Robinson said. "But a lot of (mentors) did drop out, so they asked me personally ... if I could help do the training and if I would be willing to come on campus."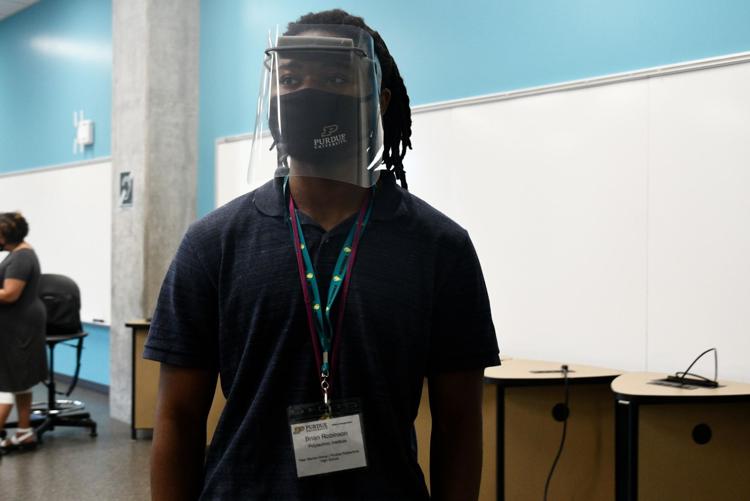 Robinson was shocked when he learned mentors would be sharing dorms with a roommate, he said. But speaking from behind a mask and a plastic face shield, Robinson said the layers of precautions in place quickly became evident and he now feels secure.
For Robinson, the Polytechnic Institute's accolades speak for itself: No. 1 in the nation for engineering technology, No. 1 in the nation for women in technology and a soaring job placement rate, he said. The mission to recruit more students of color is the next step in advancing the school's acclaim, in his eyes.
"I'm coming from a school where I'm the only black person in my class," Robinson said of his time at Mt. Vernon High School, just outside Indianapolis. "And at Purdue, which is numerous times larger, knowing I'd be one of maybe three or four people in my class, that was something that's a small difference but it's a big difference to me."
Most of his professors have been people of color, he said, which adds another layer of comfort and encourages him to approach them with questions. He noted the National Society of Black Engineers and the Minority Engineering Program are spaces for students of color to connect.
The Office of Diversity and Inclusion, along with the Purdue Polytechnic Institute, is jointly funding the high schoolers' month-long experience, according to the press release.
About half of the students in the classroom on Wednesday classify as underrepresented minorities, a group that in recent years has eclipsed 11% of the University's total student population, according to data posted by the ODI.
But the number of black undergraduate students gradually decreased during the past decade and slipped below 1,000, or less than 4% of undergraduates, in 2016, the last year for which data is available.
"We are trying to make this place as welcoming and as successful as possible at offering opportunities to students everywhere," Daniels said to the high schoolers. "And we started these high schools because we were not satisfied with where we were. We thought we could open doors to young people, possibly some of you, that might not have been open otherwise."
To address financial inability to pay tuition at Purdue, Daniels started the Purdue Polytechnic High School Scholarship fund in January with a $10,000 donation from him and his wife, Cheri. About half a million dollars sit in the fund today, Daniels added.
As he ended his speech, the president asked students who intended to be at Purdue a year from today to raise their hands. Nearly every student in the room put their hand up.
"Of all the different things we've tried — Purdue Global, income-share agreements — this is the one we've just gotta find a way to make work," he said afterward. "And that's why the success of this cohort of young people is extremely important."