Update: Qingyou Han and his company were sentenced to two years of probation, among other punishments, during Monday's hearing. Read the full story here.
A federal prosecutor will recommend a 57-71 month sentence during a court hearing Monday for retired Purdue professor Qingyou Han.
Han and his wife, Lu Shao, were indicted by a grand jury in July 2018 for allegedly defrauding the National Science Foundation into giving their company, Hans Tech, $1.3 million in grant money. Han pleaded guilty to the criminal felony offense of wire fraud in October 2019 in the U.S. Court for the Northern District of Indiana, where he will be sentenced Monday morning.
The 2019 plea agreement was contingent on Shao pleading guilty on behalf of Hans Tech to participating in the wire fraud, but she will not face criminal charges.
Han, formerly a professor of mechanical engineering technology and the director of the Purdue Center for Materials Processing Research, and his wife used NSF grant money to pay off their mortgage and purchase a second home, among other allegations.
The professor, 61, is listed as an "official retiree" in the Purdue directory, and acknowledged in court documents that he cannot keep his job as a convicted felon.
Hans Tech was the recipient of multiple grants from the NSF's Small Business Technology Transfer and Small Business Innovation Research programs. Much of the company's research dealt with the strengthening of lightweight metals for use in the aerospace, defense and automotive industries, according to grant-award abstracts in the NSF's database.
According to a Purdue webpage on Han, he oversaw the metal-casting labs in Michael Golden Laboratories and Shops, as well as research relating to the production of metals. During his time at the University, Han received the 2017 Light Metals Subject Award and was awarded more than $300,000 in grants.
Han and his wife, 53, are accused of using NSF funds to purchase a house located at 3120 Bowfield Way in West Lafayette in October 2007. Shao purchased the house in her name for $116,000, according to court documents, and signed a lease with herself as the landlord for $3,000 per month.
It was later revealed that over $150,000 of the NSF grant money the company received was used to pay "office rent" at the location of the Bowfield home.
Han and Shao did not inform the NSF that Shao owned the home. They also did not inform the NSF that they were married, or that Han was running Hans Tech behind the scenes, according to a 2019 press release from the U.S. Attorney's Office for the Northern District of Indiana.
"Had that information been revealed to NSF, rental payments for the property would not have been allowed," the indictment reads.
The couple's two children, who were minors at the time, also received salaries of $24,000 for their supposed roles as secretary and technical assistant during one of the funded research projects, court documents say.
A trial was initially scheduled for October 2018 but was later rescheduled to March 2019. However, the 35-day government shutdown at the beginning of 2019 further delayed the hearing, and the trial was postponed to July and August 2019.
Han and Shao went on to face new counts of fraud, filed in federal court in July 2019.
The new indictment replaced the original, adding one mail-fraud count for Han and two for Shao, and includes the government's intent to seek forfeiture of the money it contends was spent illegally. The couple's new court date was set for Oct. 21, 2019.
On Oct. 18, 2019, the defendants entered a plea deal for the counts of wire fraud in connection with the misused funds.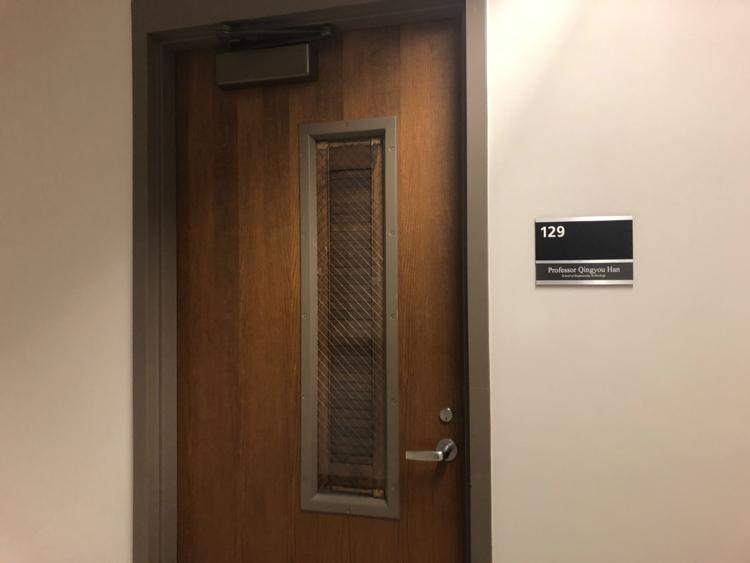 "We are aware of the plea agreement that was entered today in the federal court at Hammond and understand that sentencing will be carried out early next year," Purdue spokesperson Tim Doty said in an email at the time.
In the plea deal, Han agreed to plead guilty to a count of wire fraud for a wire transfer of $75,000 made from the NSF to a bank account held by Hans Tech.
Han said the money paid to one of his daughters was to fund her college tuition.
Shao told investigators their elder daughter started conducting research for the company while in high school and continued in a consulting role when she left for college. In return for working at Hans Tech, Han said the elder daughter would have her entire college tuition paid for.
"So she (did) everything I ask her to do, that's the time kept there," he said about work records. "And the pay, you know, whatever and then, use towards their education."
Shao told investigators her elder daughter's contributions to the projects made the payments legitimate. The daughter worked substantial amounts on a paper involving grain refinement, she said.
"She (was) actually pretty much involved in this, and she did a lot of the work involved in this project," Shao said to investigators regarding the more than 160 hours her daughter reportedly worked on the project about dissimilar metals, according to the documents filed earlier this week.
Han also admitted in transcripts that he wrote and submitted all proposals from Hans Tech under Shao's name.
In court filings on Nov. 12, the defendants' daughters and head of the school of engineering technology at Purdue, Ken Burbank, submitted letters of support to Judge Philip Simon, who will preside over the hearing Monday.
Han also submitted a letter to the judge in which he takes full responsibility for his wrongdoing and pleads for a decreased sentence in order to continue his research.
"I respectfully request your leniency in your sentencing providing opportunities for me to work with the manufacturing industry," the letter reads. "I hope to rebuild my own self-respect after recognizing what I have done."