The annual Spring Works dance concert performed by the Purdue Contemporary Dance Company will take place virtually May 1-2.
Because of the pandemic, this year's concert will include original works created for film and not for the stage, according to a Purdue News press release.
The Purdue dance company at will perform seven new selected works by dance faculty and student artists, the release said. The dances each use original sound and lighting produced by students in the Patti and Rusty Rueff School of Design, Art and Performance.
Registration for each show is available online through the Purdue Ticket Office or by calling the Purdue box office at 765-494-3933. Tickets are $14 per viewer for adults and $11 per viewer for students, the release said. Performances and registration deadlines are:
May 1 (Saturday) – Show at 7:30 p.m. Viewers must register by 3 p.m.
May 2 (Sunday) – Show at 2:30 p.m. Viewers must register by 11 a.m.
Faculty member Carol Cunningham-Sigman created a dance film that "reflects her own human experience while dealing with COVID-19."
The film entitled "Periphery" shows two individuals going through their day — in an elevator, in a corridor and outdoors, adhering to mask wearing and the physical boundaries placed on them because of the pandemic.
"Dancers express feelings of indifference, isolation, frustration and hope as they travel through the variety of environments together," the release said.
Faculty member Kathleen Hickey created a piece called "Planes of Being."  This dance, inspired by the "interplay of bodies moving within a city," uses a dynamic movement vocabulary including spirals, gesture and stillness, while dancers are in an ever-changing geometric relationship, per the release.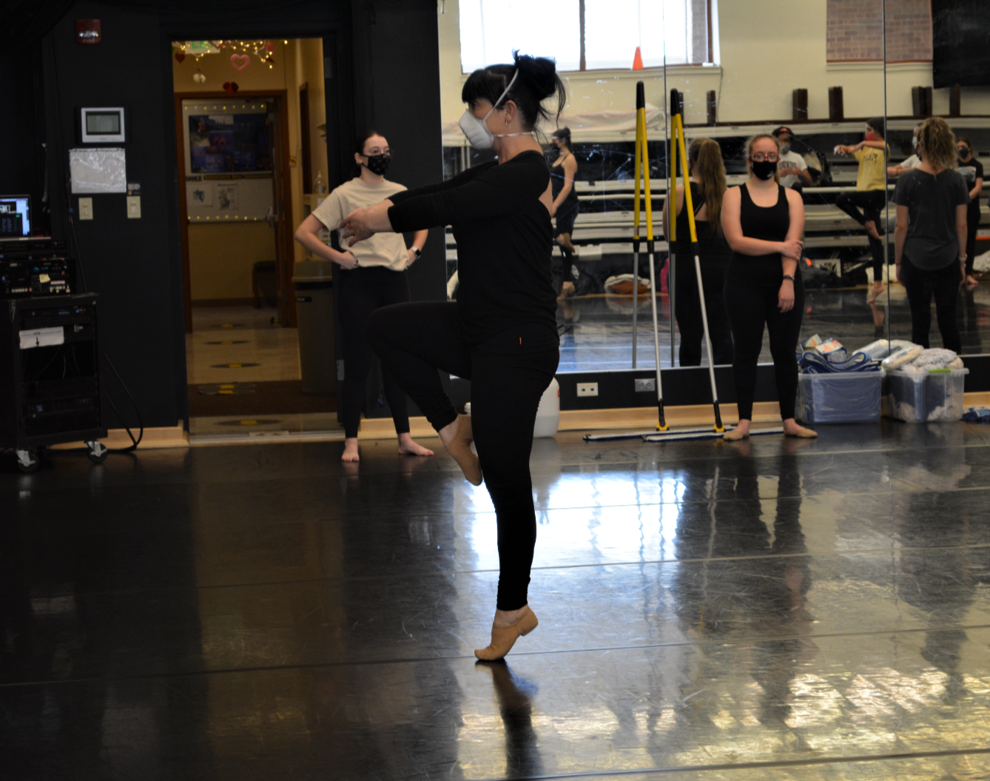 Faculty member Petur Iliev has created "Eclectic Edge," a ballet for five dancers. The work explores a carefully developed collection of different styles, challenging the dancers to the edge of their technical and physical abilities, according to the release. Through duets, trios, quartets and quintets, they unfold the music and the space freely and seamlessly.
Faculty member Renee Murray, in "A Movement of Jubilation," abstractly expresses the collective joy one experiences at a large public event. Dancers find fleeting connections with each other through expansive, brisk movement, the release said.
Senior Madison Hinton's work, "Recovery Driven Apprehension," illustrates the daily anxieties experienced by people with eating disorders. Hinton is a student choreographer this semester, graduating with a major in special education, a concentration in reading, and minors in learning sciences and dance, according to the release.
The piece by senior Jet Terry, titled "Starving Artist," dives into what goes on inside the mind of a performer. This includes the highs and lows that a performer faces on a daily basis. Terry is majoring in acting with a minor in dance.
Lauren Weglarz's piece, "Astrophilia," is inspired by the feeling of looking at the night sky and exploring the different elements of space, according to the release. She is a graduating senior majoring in corporate communication with minors in organizational leadership and dance.