Coffee shops around Purdue are usually more like libraries, chock-full of students on laptops, shuffling through stacks of papers or reading. The caffeine craze will look different this fall as local cafes limit the number of customers in shop.
But between a new store with space-themed blends and long-time staples adjusting to the times, the area's coffee culture is evolving.
Copper Moon Coffee
Mitch Monroy, manager of Chauncey Village's newest coffee shop, has been investigating in the Village for the past few months.
"My interesting thing is when I go to a coffee shop, I'm usually going for a bit of an investigative trip," Monroy said. "I'm feeling out the experience. People are drawn to a specific place because of its culture, its energy, its vibe."
What the Copper Moon Coffee manager noticed at Greyhouse Coffee Supply Co. and Vienna Espresso Bar & Bakery are staples of a successful college-town cafe: Varieties of flavored drinks, fast internet and ample space to sprawl out with laptops and notebooks. Greyhouse set a tone for chic food options with its macaroons, Monroy said.
Monroy envisions the new shop as a place where business professionals or students can sit for a meeting or interview, a concept driven home by the sleek design and minimalist space-themed decorations.
The standout feature is the Modbar, which enables baristas to prepare brews as if they're science experiments, tweaking temperatures and extraction levels to regulate bitterness. Monroy "nerds out" when describing it.
"Anything that a regular espresso machine does all on its own inside, it's all covered up," Monroy said. "With this particular equipment, it allows the barista to really showcase the coffee by programming anything you want.
"It looks sexy, honestly."
The shop's half-moon counter allows baristas to interact with customers on all sides, a feature Monroy hopes makes for memorable interactions and customer retention. But the shop is new, and advertising during a year in which people are reluctant to gather inside may temper the shop's success this fall.
Copper Moon's first step was to launch a branding and packaging campaign that pays homage to Purdue as the "cradle of astronauts," creating art for its bags of coffee grounds that shows an astronaut lunging for a coffee cup in space. Its new blends bear space-themed puns, such as "Blast Off" and "Bean Me Up."
Monroy says free coffee-tasting classes are set to begin this fall, designed to attract customers and teach them to taste the differences between dark, medium and light roasts, and to highlight Copper Moon's bean-to-cup sourcing.
Copper Moon hopes to ingrain itself in the local scene by working with nearby shops to serve customers in creative, outdoor events, its manager said.
"As any business, we're in this stage where we're like, 'OK, what does life look life with COVID?'" Monroy said. "The more we can talk with other businesses, the more we can help each other out."
Vienna Espresso Bar & Bakery
Tucked into a nook between the brick facades of Greyhouse Coffee Supply Co. and Vienna Espresso Bar & Bakery is a brick patio with five black metal tables and assorted chairs, shaded by a tree.
It's here, over the steady hum of a nearby air conditioning unit, where debate happens and community is built, Vienna owner Issam Mustaklem said Tuesday. One Vienna regular sipped his cold brew as smoke from the cigarette he held wafted around him, legs crossed in faded blue jeans and sandals, as he listened intently to Mustaklem.
"They all sit out here, and I'll join them all the time," Mustaklem said. He's owned Vienna, the oldest cafe in Chauncey Village, for nearly two decades. "I'm all for the betterment of everything, whether it's politics or social justice. I don't always agree, but I listen."
Mustaklem, 59, said the culture of community brings people back to Vienna, but the coffee gets people in the door. He's been using the same supplier for decades, who crafts Vienna's espresso beans exactly to Mustaklem's custom standard.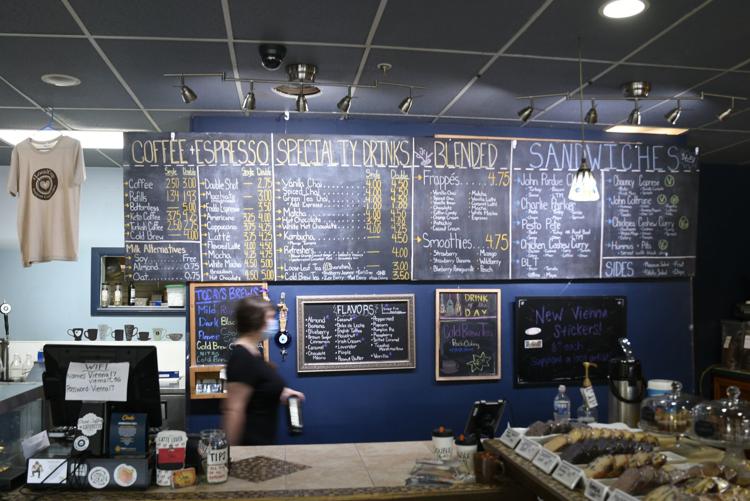 His cafe is casual, even cluttered, he acknowledges. Menu items are scrawled in round, sloping letters in multiple colors on a chalkboard that spans the length of the front counter. Two well-used couches sit in a corner away from the cafe's main area, surrounded by books with worn covers and dusty board games.
"I cannot compete with Greyhouse in terms of ambiance," he said, "but I can compete with coffee."
Muharrem Mane, a 39-year-old research scientist in the School of Aeronautics and Astronautics, studies on the patio almost daily, he said as he sipped his coffee, computer resting on his lap. He's been a regular since 2005; he often completes minor work chores for Mustaklem, like sweeping cigarette butts from the patio.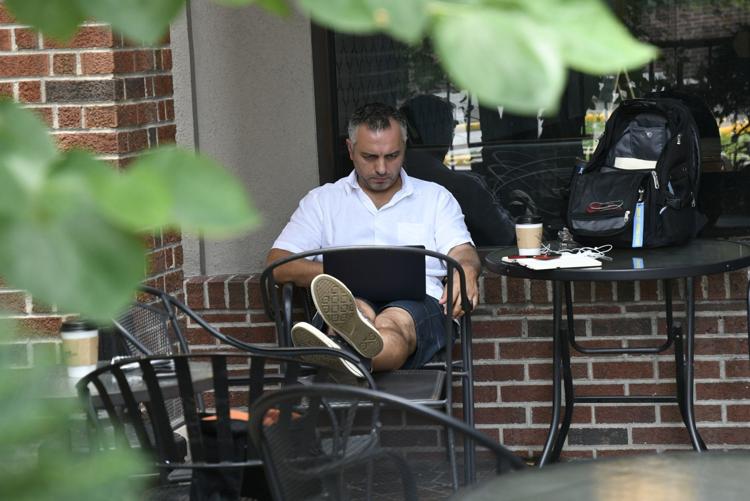 "I don't think there's any coffee better than here," he said as he rolled tobacco into tissue paper, licking the edges to seal and then light his cigarette.
Many customers who stroll through the courtyard into the cafe are addressed by first name. Mustaklem says his motto, "When you're here, you're family," has kept him successful during years spent next door to Greyhouse, one of the largest coffee shops in West Lafayette. Vienna relies on word-of-mouth advertising and nothing else to attract new customers, he said.
His 11 employees have been loyal to him the past few months as he's shut down in-person dining, depleting revenues. He paid them out of pocket during a financial struggle in late March, he said, because "I don't have employees. They call me dad."
Minutes after Mustaklem took his mask off to speak more easily, a barista came into the courtyard with eyes wide and pointed at his mask. She demanded he wear it. He rose to walk over to talk to her, smiling and nodding in jest.
"He treats us literally like his children," said Ali Williamson, who's been a barista for seven years. "He has literally given the clothes off his back to people."
Williamson was repaying his compassion, Mustaklem says; she wants him to be safe. He sat back down with his N95 mask and tugged the loops around his ears, eyes sparkling, his smile hidden.
Greyhouse Coffee & Supply Co.
Alison Wisthuff, owner of Greyhouse Coffee & Supply Co., rolled and cut the dough for her shop's homemade doughnuts the morning of July 2. She dipped them in frying oil and left them to cool, part of a routine that she says defines her mornings at the cafe.
"Doughnuts are made in house, everything from scratch, fried fresh every morning," she said. "Almost all the ingredients for the crepes are made from scratch. Pretty much every ingredient that goes into a drink is made from scratch, as well."
The vanilla syrup, for instance, is made by heating simple syrup, chopping a vanilla bean in half and dropping it in the hot syrup to steep. It's an easy process, Wisthoff says, but it lends a resounding freshness to Greyhouse's flavored lattes.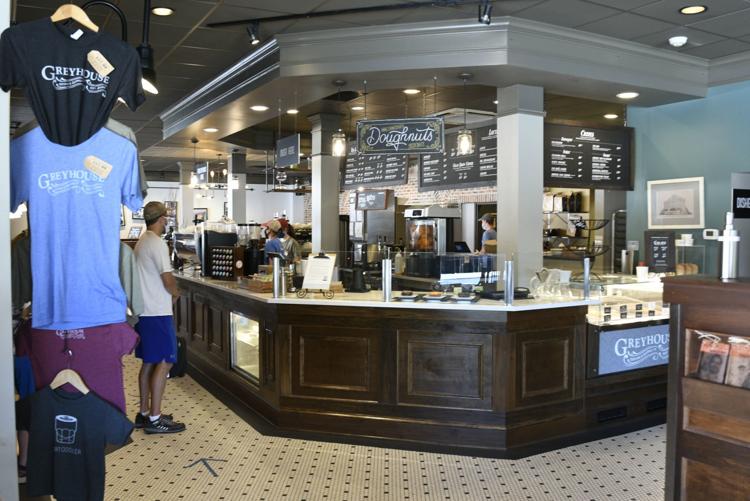 Wisthoff has worked for Greyhouse since 2008, when she graduated from Purdue with a degree in hospitality and transportation management. The shop undertook a massive expansion around 2017, she said, widening the seating area and the kitchen to allow itself room to prepare more of its pastries and crepes in house. Wisthoff became manager when it reopened in 2018.
Greyhouse satisfies cravings for sweets with specialty drinks like its creme brulee latte, Wisthoff said, prepared with a custard base, espresso and finished with a shot of caramel. Peanut butter, banana slices and nutella are folded into golden-brown crepes. Pale green mint creme and brown swiss chocolate gelato add to an array of colors in the shop's gelato bar.
She frequented Vienna Espresso Bar & Bakery as a student, she said, and having been the new cafe in town, she encourages customers to try the newly opened Copper Moon just two blocks down Vine Street. The cushioned chairs, quaint porcelain mugs and antique decor in Greyhouse create an environment she's confident people will return to, she said.
"If you have a great experience, if you enjoy the coffee, if you have a great conversation with a staff member," Wisthoff said, "that's what makes you want to come back."
Fuel
A tongue-in-cheek sign is perched next to Fuel coffee shop's register, meant to draw customers' eyes to the fountain soft drinks the shop offers.
"What do you make of that?" the sign teases, marveling at the price of $2.25 for 16- to 24-oz drinks. "Has Muncie frozen over?"
The cheeky signs haven't been beaten down by the cruel reality of the coronavirus. Rather, the shop has leveraged its humor to create signs enforcing its mask-wearing mandate, brightening the moods of customers and employees who aren't offended by the requirement and leaving the rest to seethe.
"If you're in staunch disagreement (with) our mask policy," a sign on the door this summer reads, "please feel free to return when our mask policy better suits your preference."
Other signs echo the tone to encourage hand washing. Quoting Nelson Mandela, "It is in your hands to create a better world for all who live in it" is posted above a bathroom mirror. Fuel adds, "Please wash them thoroughly before attempting to do so."
"We're kinda smart-asses at heart," co-owner Tim Butzen said.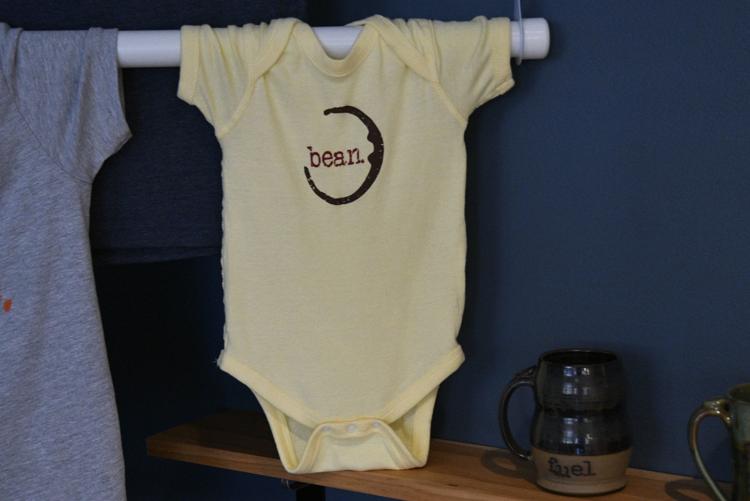 Butzen started the shop with fellow owner Colleen Mathews in 2014, he said. Mathews had been a barista at a Lafayette coffee shop, KD's Coffee, until it closed down and was converted to Fuel.
The change has been more than nominal, Butzen said. The shop initially focused on coffee, with a light selection of baked goods and frozen muffins. Now, an array of grilled paninis, egg sandwiches and sweet breakfast specialties decorate the menu, most made from scratch.
"We always wanted to do a restaurant-type thing," Butzen said, adding that he and Mathews have a combined 50 years of experience as cooks and restaurateurs. "It's all we know."
Butzen's preferred item? A stack of buttery streusel pancakes, topped with apple, blueberry or a mix of bananas and walnuts, drizzled over in maple syrup. The streusel is sprinkled on top before the pancake is flipped and flattened, Butzen said, creating caramelized, crispy edges.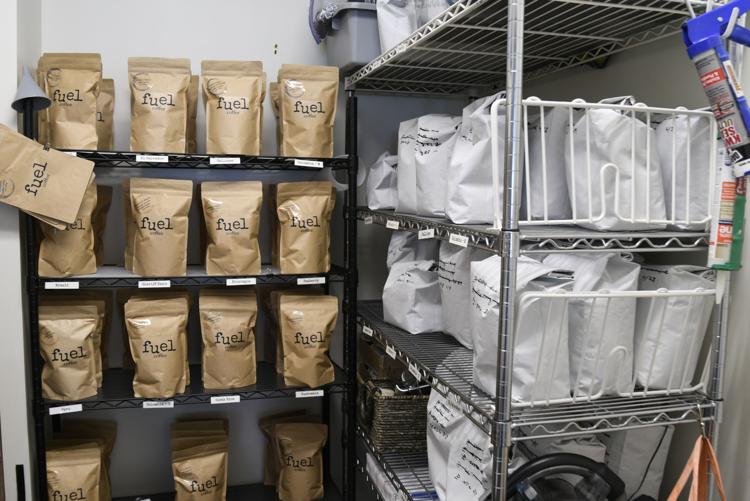 The shop roasts its own beans in its own commercial roasting unit — Mathews' garage. The raw beans are shipped from the east coast in 150-pound bags, slung over Butzen's shoulder, then roasted and packaged for sale as different blends of beans or for use in one of Fuel's coffees.
Butzen says one of its home blends, Harpy's Espresso, makes for a rich, creamy and complex taste.
"We specialize more in dark-roast blends," he said, "which are more flavorful and have less caffeine."