Freshman Anthony Pellicane said he plays spikeball and ultimate frisbee with others to stay active and meet new people around campus. Alex Bolinger, another freshman, said he and friends have enjoyed casually tossing a football or frisbee around in their spare time.
Both students might technically be in violation of the Protect Purdue guidelines.
Sports like ultimate frisbee often become physical during heated moments as players bump into one another. In spike ball, participants can easily come within 6 feet of one another as the ball bounces unpredictably. If students aren't wearing masks or social distancing when outside with groups of people, they may be violating the pledge, according to official Protect Purdue guidelines.
Pellicane, who is in exploratory studies, said he feels entirely safe while playing, regardless.
"I feel safe because I know the guys wouldn't be out here if there was any risks (of spreading the coronavirus) involved," he said. "I know we're all smart enough, and I know we're all adults. I don't think any of us are selfish that come out here."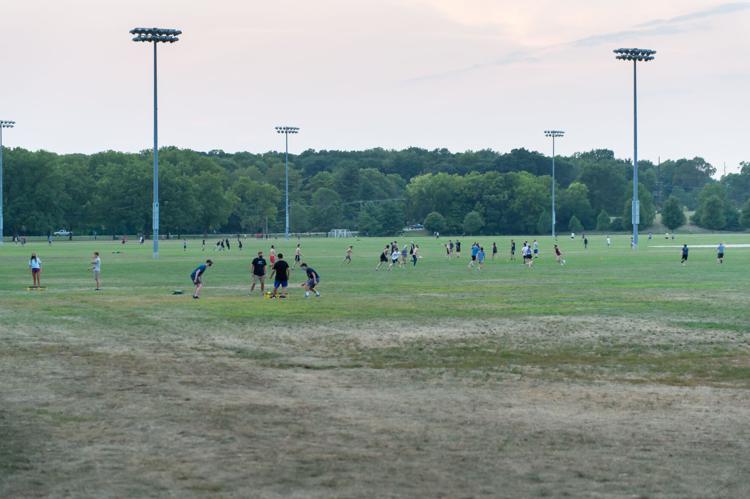 According to the Protect Purdue Plan, these activities could subject to punishment from the University. While the Protect Purdue Pledge puts extra emphasis on social distancing while inside classrooms, being outside does not grant immunity to students who aren't wearing masks.
"Regardless of the size of private gatherings, students are required to follow all components of the Protect Purdue Pledge and other safe health protocols, including masking and maintaining safe social distance," Purdue spokesperson Tim Doty said in an email.
Doty did not specify whether touching the same equipment or balls would fall into "other safe health protocols."
Pellicane believes he and other students should be allowed to play, despite acknowledging that sports can create close-contact environments.
"Looking at it from a realistic standpoint, I can see the reasoning why they would want to shut it down," Pellicane said. "But I feel like if there is enough rules around it and we are following those rules, I feel like we should have the ability to still play."
When others feel as though someone might be violating the pledge, they can report incidents to the Office of Student Rights and Responsibilities. The dean of students acts as a link in the chain from the Purdue University Police Department to the OSRR.
"(When we are called about a violation) we will go and observe it and send it to the dean of students," PUPD officer Geoffrey Carlson said. "That's not a law that's being broken, so that all goes back onto them."
Officers from the Lafayette Police Department and the Tippecanoe County Sheriff's Office have also been on campus within the past week, helping to patrol the thousands of students arriving for Boiler Gold Rush and in-person classes.
"If someone called the Lafayette Police Department about an event on campus, we would refer them to the Purdue police," said Scott Swick, an LPD officer working on campus Sunday.
Swick, himself not wearing a mask while patrolling, said that police would likely not respond to calls about social distancing or mask-wearing but instead only "go to reports of criminal activity."
While the police will not actively seek to enforce social distancing guidelines or mask mandates, an FAQ on the Dean of Students' website cites potential punishments ranging from a written notice to a summary suspension. No further information is given on which type of violation might elicit more or less severe responses. Rather, each violation will be reviewed on a "case-by-case basis."