Update: On June 23, Purdue announced the student had been expelled from the University. See Tuesday's story for Purdue President Mitch Daniels' rationale.
A student who sent racist imagery into a group message and posted a TikTok video where he pretended to run over protesters with his vehicle is the subject of investigations by Purdue and Purdue University Police Department.
An incoming sophomore in the College of Agriculture, who The Exponent will not name because he faces no criminal charges, sent to a group chat on Wednesday an image with Hitler's face edited into the middle that read, "How can you tell if a black man is well hung? You can't fit your fingers between the rope and his neck." 
Under the username "hoosierdaddy23," he was part of an Instagram group chat named "ACAB," short for "All Cops Are Bastards." In response to a message reiterating the group chat's title, the student, who is white, responded by saying, "If all cops are bad then that just means all black people are n—."
Purdue spokeperson Tim Doty said in an email on Friday that the appropriate offices had been notified of the social media posts. Doty indicated that Purdue will not punish speech posted onto students' personal social media accounts. 
"While the views expressed are obviously highly inconsistent with the values and principles we believe in at Purdue, we also are committed to freedom of expression and do not control what people post on their personal accounts," Doty wrote in an email, "nor can we punish their speech, no matter how offensive or vile.
"Bigotry, racism and hate are the antithesis of what Purdue University stands for and are not welcome here."
Hunter Spalding, an incoming sophomore in the College of Health and Human Sciences, was added to the chat Wednesday night and identified the username. He didn't know anyone else in the chat, though he noted the vast majority were black, including himself.
He and the student had once been acquaintances, Spalding said in an interview, the two sharing a joint Instagram account for a brief stint and hanging out a few times. After identifying him, Spalding contacted a resident assistant at Cary Quadrangle who informed PUPD.
"They were some of the most hateful, racist things I had ever seen," Spalding said of the messages. "It was just beyond my understanding that someone I used to associate with could be saying these things.
"It felt like he was attacking us because of the color of our skin."
A PUPD report shows that an officer arrived at Cary to speak with the resident assistant, who had reported the racist meme as a suspicious incident, shortly after midnight Thursday. The officer later spoke to Spalding in the early hours of the morning and informed him the incident is being investigated.
PUPD Captain Song Kang said the student is off campus and officers have sent him messages requesting an in-person interview. Though Kang said as of Friday the student is not being investigated for criminal behavior, that could change with the admission of new information.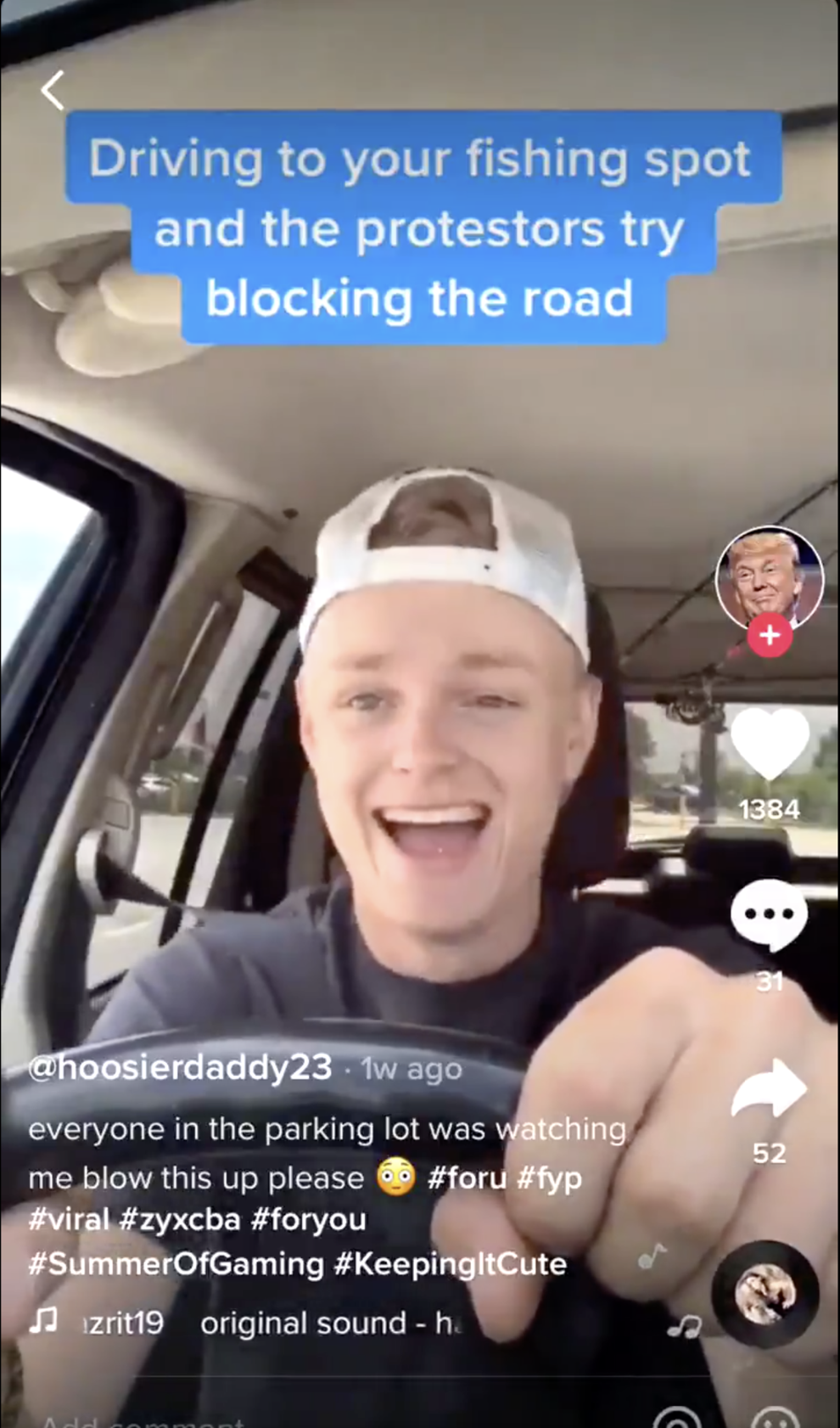 Students on Twitter mobilized to encourage users to report a video the student posted on TikTok last week, in which he mimics the action of running over Black Lives Matter protesters with his vehicle, captioned, "Driving to your fishing spot and the protesters try blocking the road."
One tweet linking the TikTok video and encouraging users to file complaints approached both 1,000 retweets and 1,000 likes as of Friday afternoon.
Spalding said a representative of the Office of the Dean of Students told him during a phone call that the office was flooded with calls and emails from students, faculty and alumni denouncing the racist behavior. Spalding has filed a Student of Concern report as well as a Hate and Bias report to the University.
Purdue Bass Fishing Club President Sam Ryan confirmed in an interview that the student had been removed from the club, writing on Twitter that the student did not represent the club's beliefs.
That night and the next day, the student began messaging Spalding and other members of the group chat in an attempt to justify his messages and defuse the anger directed at him, Spalding said. He shared a screenshot in which the student apologizes and says, "You're not getting the whole story!"
"He was trying to prove that he wasn't racist because he had black friends," Spalding said. He added that he has declined to talk to the student.
Spalding shared screenshots which show the student saying he was unexpectedly added to the group message and is not racist.
He wrote that the killing of George Floyd was "murder" and that Officer Derek Chauvin and the three others who have been charged were deserving, but drew a distinction to the killing of Rayshard Brooks by an Atlanta police officer, calling the latter "completely fair."
"I just think it's funny that y'all think you should get away with everything when you do something wrong," he wrote in a message to the chat, adding his belief that efforts to change racism's permanence in society are futile. "Then y'all think cops are really bad because they are doing their job."
The student did not respond to requests for comment made Friday morning and appears to have deleted most of his social media accounts.
Though he knew the two held disparate political beliefs, Spalding said the student's racist comments were a "slap in the face."
Since the student had spent time around people of color, Spalding had hoped he would stand up for him during a period in which racial tensions have spiked because of several instances of white police and civilian violence against black people.
On Thursday night Spalding spoke to John Gates, vice provost for diversity and inclusion, who he said informed him the University will not take action. Gates, however, encouraged students to maintain pressure on administrators, Spalding said.
Spalding plans to write a two- to three-page letter recounting the incident and arguing against the breadth of Purdue's freedom of expression protections. 
He plans to speak to Purdue Student Government President Assata Gilmore Saturday about strategies for handling futures instances of racism.
"When does freedom of expression cross the line of racism, hate, bigotry?" he said. "With diversity comes differing opinions, but this has to be a space where people feel safe."