An extra-large Mad Mushroom pizza sat on a Rawls Hall table remained untouched for over an hour as around 20 impassioned students spoke to one another, some in Ukrainian and others in English.
The Ukrainian Student Association called an emergency meeting Thursday night to discuss ways they can help people in Ukraine, in light of the Russian invasion that began less than 24 hours prior.
Nataliya Semchynska Uhl, a linguistics professor from Kyiv said her son, a 42-year-old political science professor at Kyiv University, is ready to stay and fight.
"He said it's our land, and we need to protect it even if we die, which breaks my heart," Uhl said. "He said he doesn't want to show Putin that Ukrainians are scared; (they would) rather die than leave or surrender."
Uhl said she wants Russia's territorial ambition to end before more ordinary people suffer.
"My kids and my grandkids still live in Kyiv, and their building was shaken by the explosion," she said. "(The Russians) probably shot more than 100 missiles last night."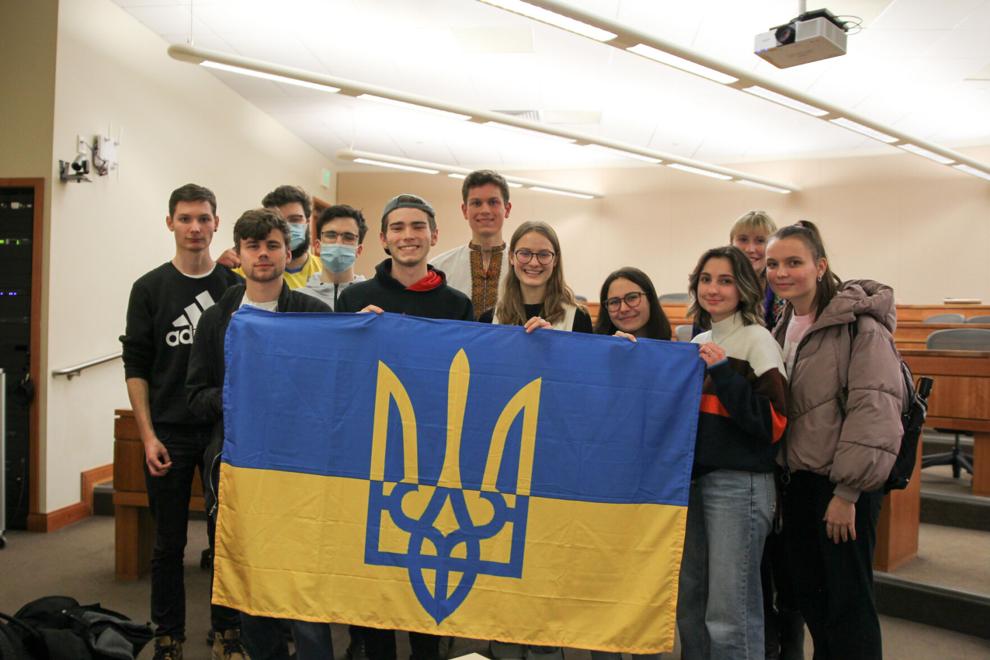 Ukrainian student, who is also president of the Russian Club, Sasha Marcone sat at the front of the meeting. Marcone is Ukrainian, and while she has some loose familial ties to Russia, the Russian Club is not exclusive to students from there. She said there are students from all over the region in the club, and the political climate surrounding Eastern Europe has changed in recent years.
"My great grandpa lived in Donbas, (Ukraine)," she said. "He passed away a few weeks ago. It's sad, but I'm almost grateful he doesn't have to live through what's happening."
Donbas is the eastern region of Ukraine at the center of a separatist movement backed by Russia and where Russian troops first crossed into Ukraine on Tuesday. Russia recognizes the area as part of its own territory, not part of Ukraine.
Association president Ksenia Lewyckyj said there are many ways American college students can contribute.
"We can donate to raise money for humanitarian causes, and we can also call local officials and demand that they impose more sanctions on Russia, and that they send more military aid to Ukraine," the junior in the Krannert School of Management said.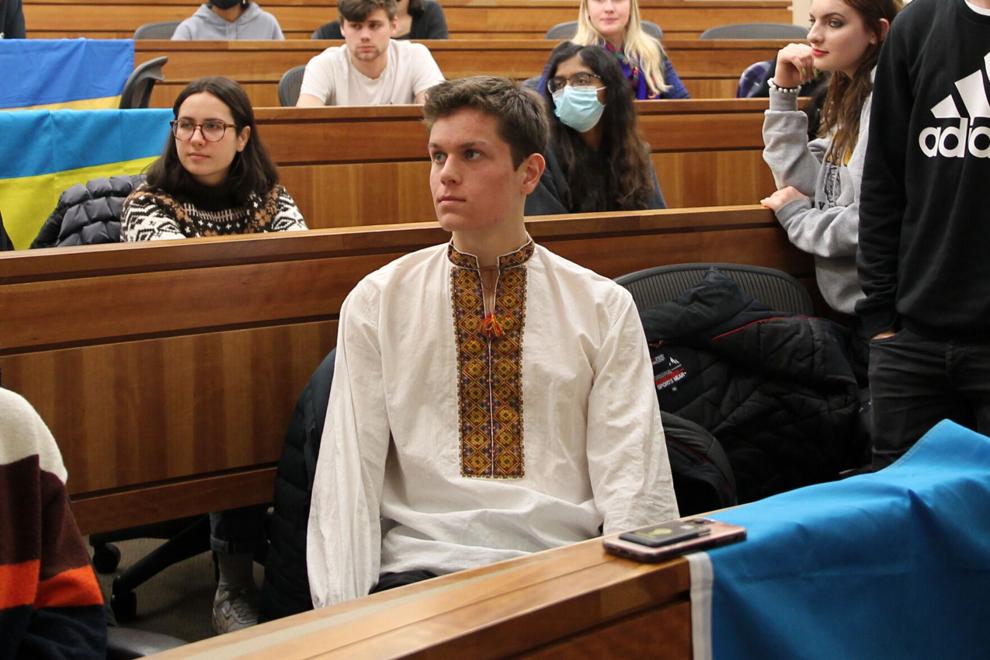 Not everyone at the meeting had direct relationships to Ukraine but still came to show their support.
Ella Chianis is compiling a collection of research about Ukrainian history and its relationship with Russia.
"The way that I can best help is compiling all of these documents (about Ukraine), making it easier for other people to get informed," the freshman in the College of Science said. "(I'm) looking back through the history of Ukraine as a nation and then focusing on the Russian-Ukrainian aggression."
She said spreading awareness is the best tool at students' disposal.
"As college students, I know a lot of us can't donate and don't have a lot of time on our hands," she said, "but just taking the time to inform yourself and inform others, trying to get the word out, helps spread it to more people who could potentially have more resources than we do."
The group spent part of the meeting reflecting on the situation and their fears for Ukraine.
"Why is this happening?" Lewyckyj asked. "It's because Putin is a murderous dictator, and he has no regard for any international customs.
"He won't be deterred by logic or reason, and he's just attacking innocent people who have done nothing to provoke him."
Lewyckyj rebuked Russia's claim that Ukraine was born out of Russia.
"Ukraine didn't appear after the collapse of the Soviet Union," she said. "Ukraine has always had its own identity, culture and language. We've watched Ukraine fight to remain independent (against) so much Russian aggression. Ukraine is a peaceful country, and they're not trying to initiate war."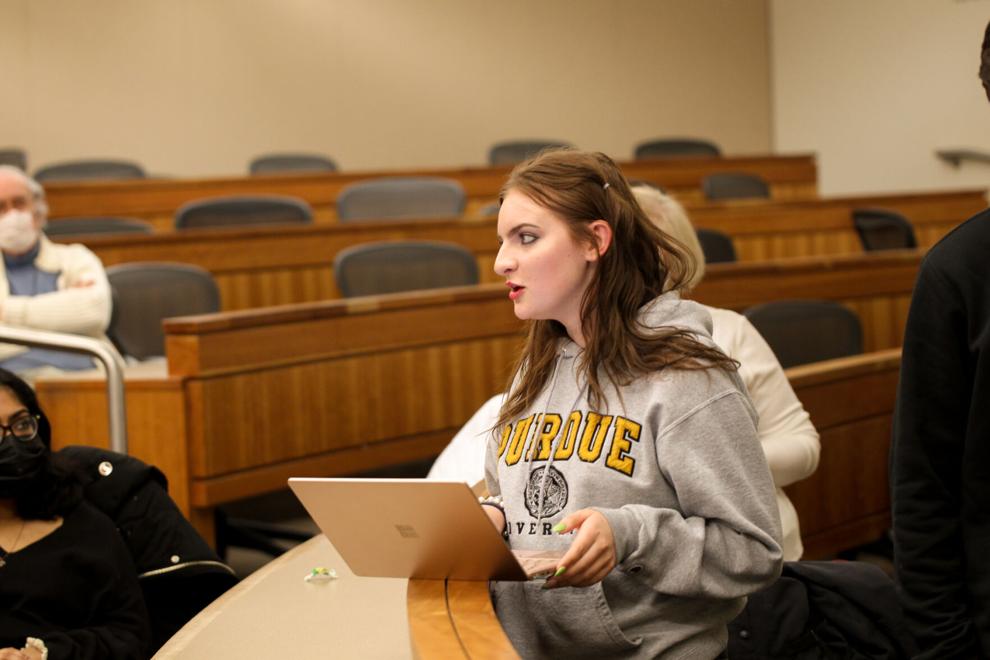 Uhl compared Putin's actions to that of Adolf Hitler.
"(The way) Putin is playing this out, he is repeating exactly how the second world war started," Uhl said. "Remember, Germany pretended that Poland invaded. We know how devastating the second world war was."
Mattei Jacks, a junior in the College of Engineering and a second-generation Ukrainian American, wore a Ukrainian folk costume called a Vyshyvanka to the meeting. He said it's the type of traditional clothing people would sew while chatting and relaxing in their home villages after a long day of work hundreds of years ago.
"It's a symbol of pride wearing it," he said. "Ukraine has pride and loyalty. They don't give up easily."
Additional reporting contributed by Managing Editor Emily Primm.