When President Donald Trump was elected, Aparna Puri started working at an immigration clinic operated by Lafayette Urban Ministry. She had been volunteering with progressive groups such as Greater Lafayette Immigrant Allies, but said the president's hateful anti-immigration rhetoric triggered her sense of urgency.
"I was like, I'm going crazy, I need to actually do some work," said Puri, who is 58 and has lived in the area since the 1980s. "I was looking for a job that would validate my values and my beliefs. ... It literally prevented me from going insane after Trump won the presidency.
"It was a life-saver for me."
And on an atypically warm and sunny Saturday afternoon this November, Puri lined up outside of the Tippecanoe County Courthouse with about 20 fellow supporters of president-elect Joe Biden to celebrate the Associated Press' projection that he will become the 46th president of the United States.
The prospect of Trump leaving office is only the base of Puri's excitement, she said. Puri immigrated from India and is celebrating the victory of Kamala Harris, who made history Saturday in being the first Black and Indian woman to be elected vice president.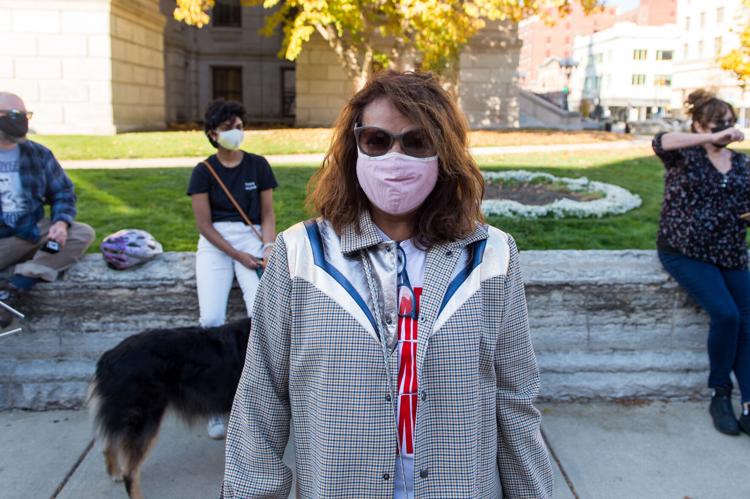 "Being an immigrant myself, to me this was very, very personal," she said. "Cultural differences are to be valued, but they should also bring us together. In the end, our family stories are all the same."
With a couple-hundred ballots that remain to be counted in Tippecanoe County, the Democratic Biden-Harris ticket beat out the incumbent Republicans Trump and Vice President Mike Pence by only 422 votes. This county was one of five in Indiana to vote for the president-elect, though Trump won Indiana with nearly 60% of the vote.
Participants celebrated Saturday, but the focus for several Democratic politicians and political strategists was also how to reconcile a presidential win with losses in most major local races.
Monica Casanova, a Democratic candidate for one of three Tippecanoe County Council at-large seats, received more than 28,000 votes but still finished in fourth place. Three Republican men, two incumbents and one newcomer, beat Casanova and two other female Democrats.
"We were overly optimistic," she said as she sat outside near the courthouse. "We thought there was gonna be a big blue wave."
Casanova, 41, moved to Greater Lafayette from California when she was 14 in 1993. She is the daughter of Mexican immigrants who left the West Coast in search of work and prosperity amid an economic recession.
Casanova had hoped to be the first Latina woman on the county council, she said. Despite not achieving that goal, she said she hopes her candidacy was compelling for other women who seek political office in the future in Tippecanoe County.
The mother of two girls had been in a meeting with the Latina Coalition for Wellness and Education around 11:30 a.m. when members' phones started buzzing. News networks were sending push notifications. The group at the North End Community Center in Lafayette began talking excitedly: Biden had won the presidency.
Casanova said she feels as if she is able to breathe again.
"We're in the middle of a pandemic, with an administration who has abandoned us, who has left us to die," she said. "And the ones who have suffered the most are the ones who always suffer the most: the ones who are disadvantaged either because of socioeconomic status, or they're Black or they're brown, or don't have legal status."
"I am hoping that this win will be a life-saver for all of us," she added.
Euphoria mixed with relief on the sidewalk near the courthouse.
Vidhya Iyer, 56, banged a wooden spoon against a pan. She organized the celebration when her children who live in Philadelphia, where heavily Democratic votes helped to deliver Biden the presidency, told her everyone was dancing in the streets.
"The first thing that I felt, after that, is that I could breathe. I could breathe," she said. "For my kids, for women's rights, for just feeling safe as a woman of color."
Susan Schechter, a Democratic candidate for Tippecanoe County Council, honked horns and beat on cowbells. Her 4-year-old dog Uke jumped around and barked unceasingly, capping off honks from passing cars.
Two men walked by after leaving Digby's Pub to circle the celebration. One yelled, "Trump nation!" The other shouted expletives at the Biden supporters, prompting them to flip middle fingers in retaliation.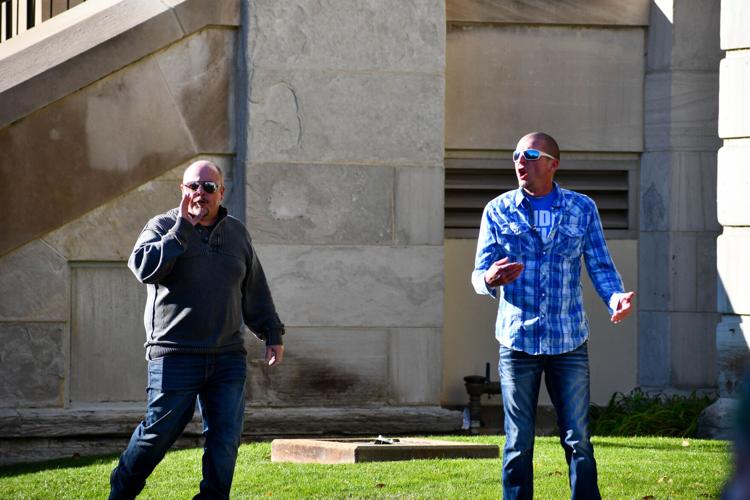 Another man who wore a veteran's hat strolled by with his walker, saying he feared now that Biden won there would be "stabbing" and "killing" in the country. A gray SUV with "Vote Trump" in white paint on its window passed by, its passenger showing a thumbs down out the window.
Fittingly, division was on Joe Mackey's mind Saturday before anyone confronted the group of supporters. Mackey, a Democrat who lost his race for Indiana District 4 in the U.S. House of Representatives to a Republican incumbent, said he fears the deep rifts within the country.
"The stakes are still high. Nothing is settled. We won the presidency, but we're still a divided country," Mackey said. "And that's the biggest problem we face as a nation."
Trump received more than 70 million votes in a historic election where more Americans cast ballots than ever before. The president still refuses to concede the race as of Saturday evening. This shows that division won't magically disappear, Mackey said.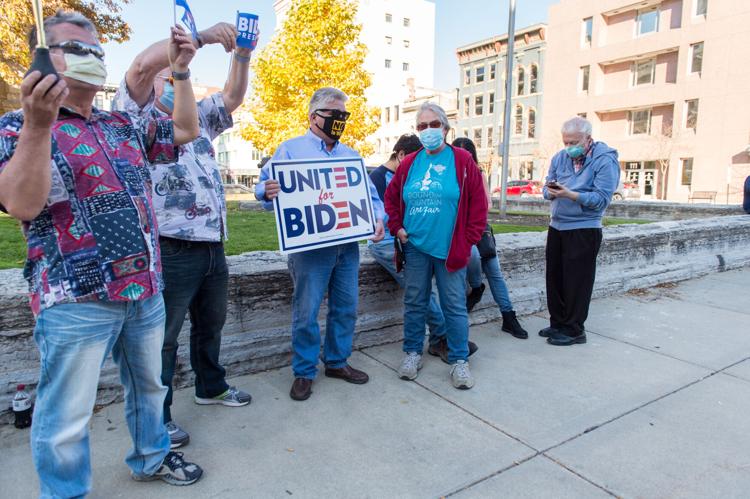 He said he hopes Biden appoints a bipartisan cabinet and furthers his message of being "A president for all Americans" to begin to alleviate the vitriol that has permeated political life in our nation.
"The president can initiate a healing process," he added. "But it is up to I think all of us to heal each other."