Cries of "Black lives matter" rang through the streets of campus Friday afternoon, culminating with about 35 people making a stand on the steps of Hovde Hall of Administration.
A week ago, the four founders of the newly established "Black Lives Matter at Purdue" Instagram page discussed what changes they want to see and how they can help, Amira Haweit said in her speech on the steps.
Haweit, a freshman in the College of Agriculture, said the protest was inspired by the April 20 conviction of Derek Chauvin, the former police officer who killed George Floyd last May. A jury found Chauvin guilty of second-degree unintentional murder, third-degree murder and second-degree manslaughter.
The protest was the first BLM protest at Purdue in recent months. Students held multiple protests on campus in August and September, but they dwindled as the first semester reached its conclusion.
Fewer students attended today's protest compared with the fall's gatherings, which saw hundreds of students crowd the Engineering Fountain.
Protest attendee Abrianna Kidd said she doesn't think lower turnout to the protest is representative of support for the movement.
"People just get busy with finals and studying," the freshman in the College of Science said. "I think everyone got busy with college because we're all in college. It's a rough life."
One of the co-organizers, Abigail Haluska, agreed.
"There's a misconception that this has died down," Haluska said, "but we wanna reinforce the fact that Black lives matter, they still matter and they always will matter."
Haluska said she believes it's important to continue protesting to remind Purdue administration that the movement is ongoing.
"We really wanna press on the Purdue administration that we're not gonna back away," Haluska said.
The organizers came prepared with a list of demands, which they disseminated to the rest of the group via flyers.
The group demands that Purdue:
Mandate implicit bias and inclusion training for faculty, students and staff.
Increase recruitment and retention of students with marginalized identities.
Increase hiring and retention of students with marginalized identities.
Increase funding for the School of Interdisciplinary Studies.
Implement guidelines and more enforcement for hate crimes and acts of racism on campus.
Continue to dedicate time and resources to making campus a more inclusive space for all.
Kidd said she believes the goals are easily attainable for Purdue administrators.
"I definitely think they're reasonable," she said. "Think of all the things that get posted on Brightspace that we have to do to remain students here at Purdue. It could just be another one of those modules — it's not difficult."
Kidd said she hasn't noticed concrete action from Purdue in response to the movement.
"I don't think they've responded really at all," she said. "Not that I've seen. They might say we condemn it, but there's been no action."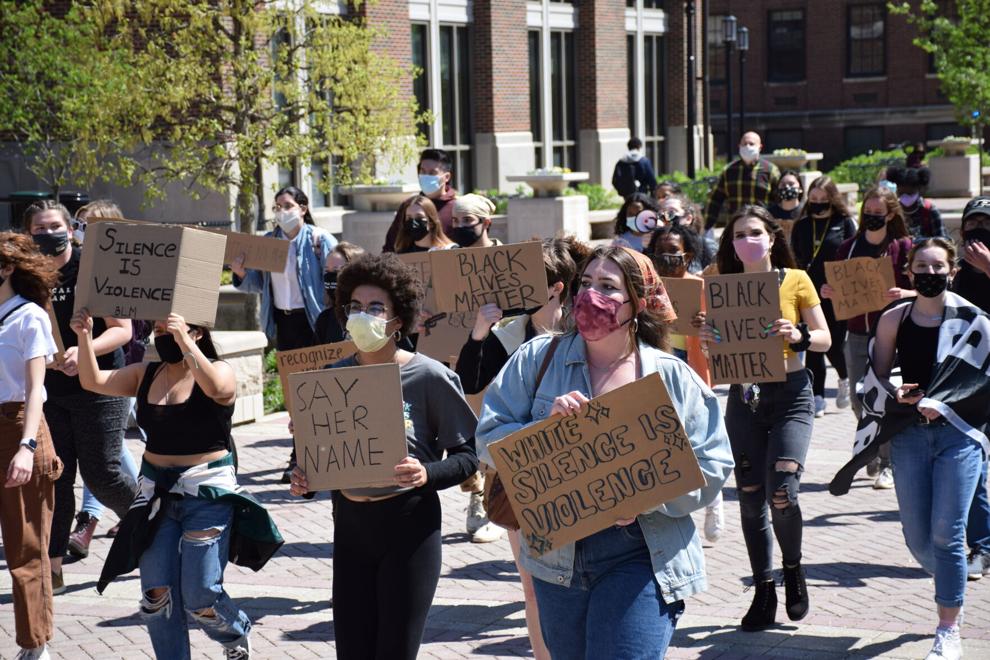 Purdue hosted multiple panel discussions on diversity and equity throughout the year as part of the Pursuing Racial Justice Series, which was put on by the Division of Diversity and Inclusion. The University has also created an Equity Task Force, a group of officials led by trustee Don Thompson that gathered input from student leaders to increase enrollment of Black students and retention of Black faculty, among other goals.
One of the organizers and speakers at the event said she thinks the Pursuing Racial Justice events are not sufficient to create change.
"You can talk about diversity all you want," Nira Grynheim said. "There's diversity everywhere — that tree has a bunch of diverse, different types of leaves on it. But what are you going to do with that?"
Grynheim said she is a member of a student group on campus called Minorities in Agriculture, Natural Resources and Related Sciences.
She warned against hyper-focusing on diversity, as it can bring more attention to the ways in which people are different. Instead, she said Purdue should focus on inclusion and the things that unite people.