A third student has won the annual Tyler Trent Courage and Resilience Award for his determination to lead a thriving, independent life in the face of a condition that causes progressive deterioration of one's muscle mass.
Purdue President Mitch Daniels selected Kyle Albertson, a senior in the College of Agriculture who is set to graduate May 15, as the newest recipient of a scholarship in its third rendition after Trent's death from osteosarcoma on Jan. 1, 2019, according to a Purdue News press release.
Alberton was diagnosed with congenital muscular dystrophy at 9 months old. The disease, which is caused by genetic mutations, gradually weakens people over time through the degeneration of voluntary muscles.
The Fowler, Indiana, resident uses his wheelchair, his cellphone and his computer's mouse with the assistance of technology. Through seeking out specialists and completing the proper training, Albertson added an improbable item to that list: his van.
"Ever since I was 13, all I dreamed of was being able to drive," he told Purdue News. "For over six months, my mom and I would travel to Louisville for training until I got my 50 hours of drive time in and could take the driver's test.
"Five days shy of my 18th birthday, I got my driver's license — all after a two-plus-year battle for someone to give me a chance to prove myself."
He drives a modified van with a joystick, which functions similarly to the device he uses to operate his wheelchair, according to the press release.
An agribusiness major with a concentration in management, Albertson excelled professionally during his time at Purdue.
He started his own agricultural drone-service business, becoming the first licensed drone-spraying contractor in Indiana, according to the release. He had two summer internships during which he earned experience in drone usage before starting his own company.
Albertson's use of drones began as a personal interest, he told the agricultural economics department for a profile. But with ample time in isolation last spring, he listened to a podcast about innovation in agriculture and heard about an Iowa drone company that piqued his interest.
By July, Albertson Drone Service officially opened for business. He said he plans to develop the business following graduation.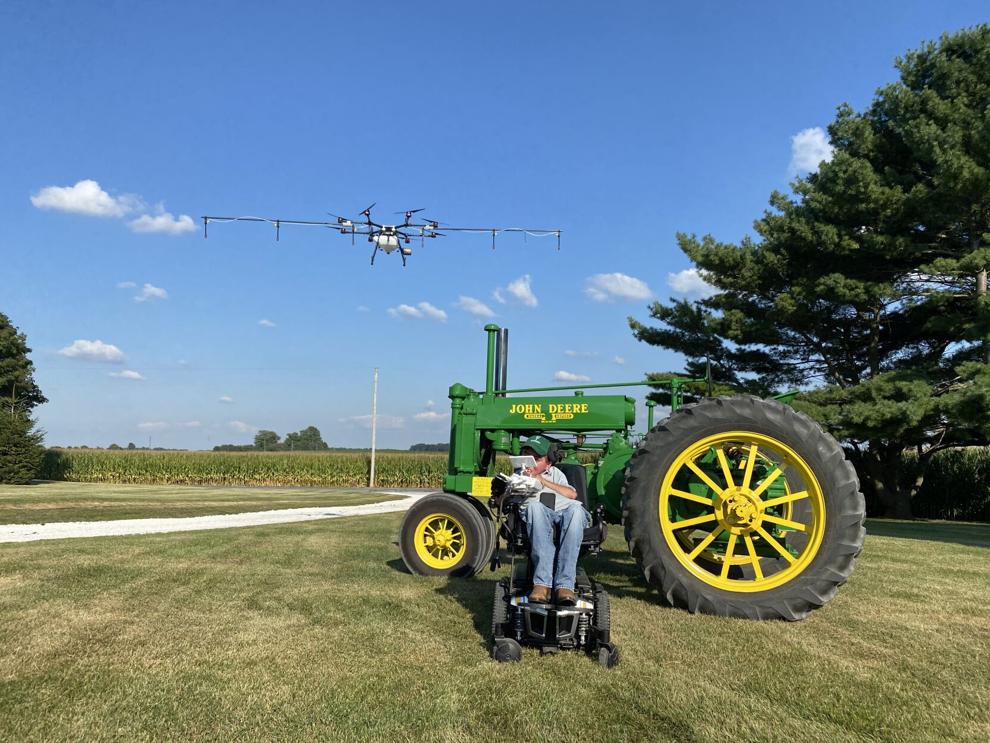 "I had an interest in finding ways to get cool pictures from different angles," he said, "and that morphed into monitoring crop health, and then that moved to managing pests by applying pesticides with drones."
The Tyler Trent award is given to undergraduate students who have encountered severe physical limitations or similar adversity in their pursuit of higher education, according to the release. A committee of Honors College students chooses five nominees for the annual award, and Purdue's president selects the winner.
Trent's death at age 20 in 2019 rocked the nation and particularly the sports world. His legacy at Purdue is marked by his football fandom and his fundraising for cancer research, which inspired the creation of organizations like the Tyler Trent Cancer Research Endowment at Purdue and a similar research fund at Riley Children's Hospital.
Sean English, now a junior in the College of Liberal Arts, was the inaugural recipient of the Tyler Trent award in 2019, two years after he lost his leg after being struck by a car. Last year the award was given to Kamryn Dehn, whose physical complications forced her to relearn to walk.
"Kyle's mental toughness and ability to achieve the fullness of life, in spite of the obstacles, represents everything that the Tyler Trent award stands for," Daniels said of Albertson. "He defines a Boilermaker: a person who overcomes genuine adversity and leads others by example."