It's not hard to believe that Purdue Airport is the second-busiest airport in the state for those who spend time around campus and are used to seeing planes soaring above.
Airport operations supervisor Chris Morris said the airport falls behind only the Indianapolis International Airport.
While many of these flights are piloted by students at the School of Aviation and Transportation Technology, there are several other ways to fly over campus. Students who aren't in the professional flight degree program can still receive their pilot's license through Purdue Aviation, who, despite its name, is not owned entirely by the University.
Purdue Aviation offers training for flying and many of its customers tend to be Purdue students, said Roger Turrell, the night manager at Purdue Aviation. The facility is partly owned by Purdue Research Foundation, Purdue's nonprofit arm, Turrell said. Although Purdue Aviation is technically separate from the University, Purdue Aviation provides some airplanes and staff that help the school.
Connor Hansen, a sophomore in aerospace engineering, said he earned his license last summer at a municipal airport in Minnesota.
"I was working basically the entire summer to get it," he said. "I got it at the end of July."
Hansen said he drew his interest in flying from his father, who has several model airplanes at home.
"That's what I had to look at as fun toys," Hansen said. "It's a part of me."
Once students earn their pilot's license, they are able to take their friends and family on flights, Hansen said.
"After I got my license I took up some family members and some friends around the local area," Hansen said.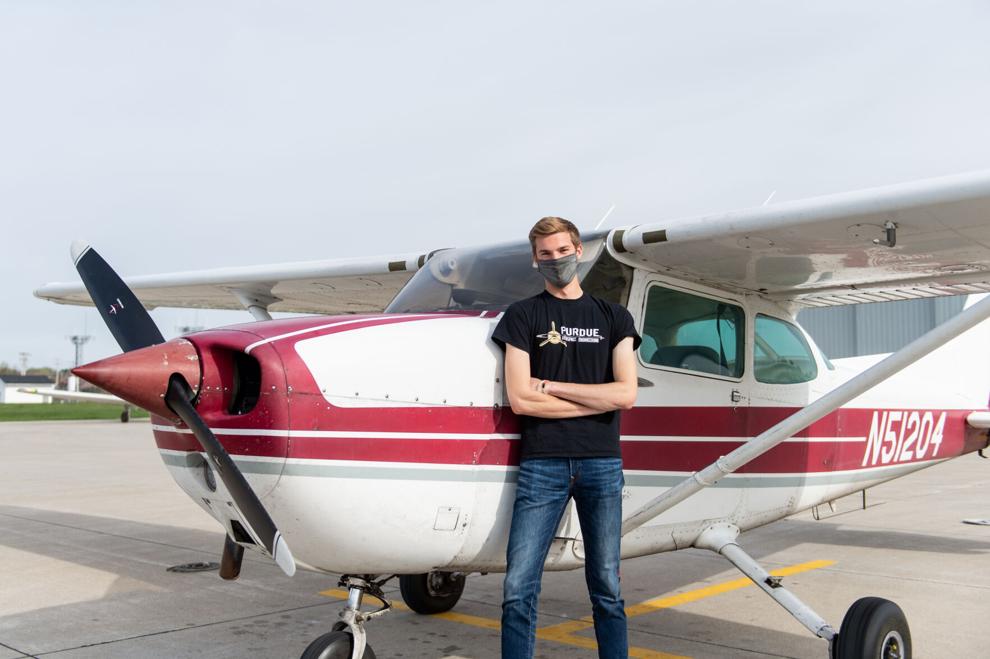 There are a couple of ways students can take others on a flight with them. They can either rent an aircraft from Purdue Aviation or join Purdue Pilots, the aviation club on campus.
Each organization has its own specific rules on who is allowed to fly its aircraft. Hansen said he had to take a lesson before being able to rent an aircraft from Purdue Aviation's fleet.
"You have to do at least one (lesson) to get checked on the plane. I spent over an hour with an instructor here," Connor said. "Every airplane is a little different."
The process for renting an aircraft at Purdue Aviation has a few steps.
"You first look at the weather to see when, roughly, it is OK. This is all visual flying," Hansen said.
Purdue Aviation has stricter restrictions on the type of weather its renters can fly in than PPI does, according to the club's website.
Pilots then need to pick a time. Hansen said it is easier to find an available time to fly in the morning. The pilot also needs to make sure they are up-to-date on the requirements and licensing necessary to fly a plane. The pilot may then need to check through other safety protocols.
Before takeoff, the pilot needs to make sure they have enough fuel for all of their passengers, a purchase they must make on their own. Renting an aircraft from Purdue Aviation can range from $100-$200 for a two-hour session, according to its website.