A recent report on climate change has reaffirmed the need for rapid emissions reduction to keep annual temperature average from increasing by more than 1.5 degrees Celsius.
Such high emissions has prompted students, professors and others to try to lower their carbon footprints.
The Intergovernmental Panel on Climate Change released its sixth physical science assessment report in early August, sharpening the scientific consensus on climate impacts and increasing clarity on the ways climate change is already affecting the world, Jeffery Dukes, professor in the College of Agriculture and Director of the Purdue Climate Change Research Center, said.
"Many of the events that we are seeing can be linked to climate change, and the climate is already changing. Those changes are in many, many cases caused by human emissions of heat-trapping gases," Dukes said.
For some, this report simply reaffirmed something they already felt they were seeing in their communities.
Mason Merkel, a senior in the College of Engineering and a member of West Lafayette Students for Climate Action, said he's already observed signs of climate change in his own life.
His internship this summer in Wisconsin was hit by a powerful thunderstorm that left the building damaged and flooded, something that an employee of the business said had never happened in the 30 years he had worked there.
"Its impacts are not just something that you see in the news," Merkel said. "It impacts every individual."
While individuals are beginning to feel the effects of climate change, there is also greater awareness of how the actions of individuals contribute to the issue: a concept known as a carbon footprint.
The emphasis for addressing climate change should be on policy solutions and technological innovation, Dukes said, but some of the solutions can still stem from everyday people.
"Individuals' decisions are important when we start making them collectively," Dukes said.
One important focus of policy, he said, should be to make it easier to reduce one's carbon footprint. In Indiana, for instance, people don't have much freedom in how their energy is produced.
"We have one of the dirtiest energy mixes in the country because we have so much coal," Dukes said. "Every time we flip a switch, every time we turn on the blender, open the refrigerator door, maybe use an electric dryer, you name it, we're using energy that is likely to be coming from burning coal."
Indiana's heavy reliance on fossil fuels makes it the eighth largest emitting state in the United States, according to the Indiana Climate Change Impact Assessment, limiting people in their ability to reduce emissions beyond a certain point without wider societal change.
Three Greater Lafayette community members — one student, one professor, and a Lafayette resident — reflected on their household carbon footprints.
Each person's estimated carbon footprint was calculated using a program called Cool Climate developed by the University of California, Berkeley.
This tool considers vehicle use and miles per gallon, frequency of air travel, average monthly electricity use and average natural gas consumption.
It also explores the greenhouse gas emissions associated with the person's diet, as well as their consumption of non-food goods and services, which constitutes all remaining month expenditures.
Student: Mason Merkel
Merkel's carbon footprint is lower than average for his zip code and income level provided by the Cool Climate database, which is mostly due to his low level of energy consumption, his lack of air travel and his off-campus apartment that lacks air conditioning.
Merkel, like other Purdue students, has gone his entire academic career at Purdue without air-conditioning.
"When you're not so comfortable inside, you go outside and you experience everything that the planet has to offer," Merkel said.
Living without air conditioning allowed him to find cheap dorm housing and now allows him to save a significant amount on his electricity bill, something he said was an unexpected benefit.
Air conditioning accounts for 12% of home energy expenditure on average, according to the U.S. Energy Information Administration.
Merkel's transportation emissions stem mostly from his driving, as he didn't use much air travel. As an Indiana native, he drives to and from campus each semester, so most years he never sets foot in a plane.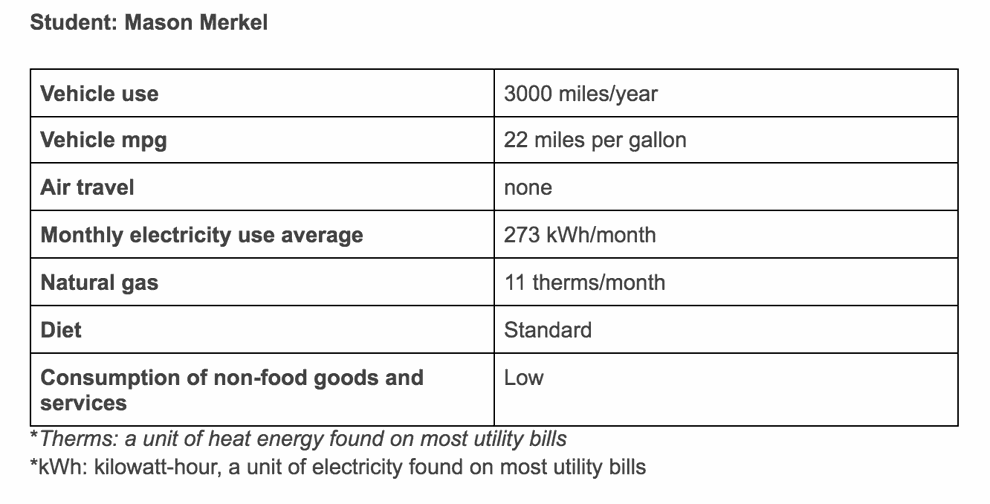 Merkel's strategy to reduce his emissions has been to calculate his carbon footprint, reduce where he can and purchase enough carbon offsets each year to become carbon neutral. A carbon offset is created through projects that reduce greenhouse gas emissions or remove them from the atmosphere.
For example, Merkel purchases some of his offsets through the Afognak Forest Carbon Project in Alaska that plants trees and maintains existing forests to generate carbon offsets.
Offsets like these can be purchased and used as a credit to subtract from one's carbon footprint.
Carbon offsets purchased by Merkel help him negate some of his contribution to climate change by investing in projects that remove greenhouse gases from the atmosphere.
Dukes cautioned that carbon accounting is very complicated, and that offsets do not guarantee that emissions are negated. However, for those who have done their best to limit their carbon footprint, they can act as a partial solution.
"You've just got to recognize that (carbon offsets) are not perfect," Dukes said, "and that what you really want to do is minimize the offsetting that you have to do by minimizing your carbon footprint."
Professor: Jeffery Dukes
Dukes said he's been thinking about climate issues since he was in his twenties, and has made an effort to make changes to his lifestyle.
"For me, I think in a typical year, air travel is going to be one of my biggest sources of emissions," Duke said. "This last year, that's been different because I've been doing a lot less travel."
Some of the air travel he typically does is related to his work on climate change. Dukes said he knows researchers who fly to the Arctic to study permafrost, which is permanently frozen soil in colder regions predicted to release large amounts of greenhouse gases if permitted to thaw.
This example highlights how some emissions from flying are necessary and ultimately helpful for addressing climate change.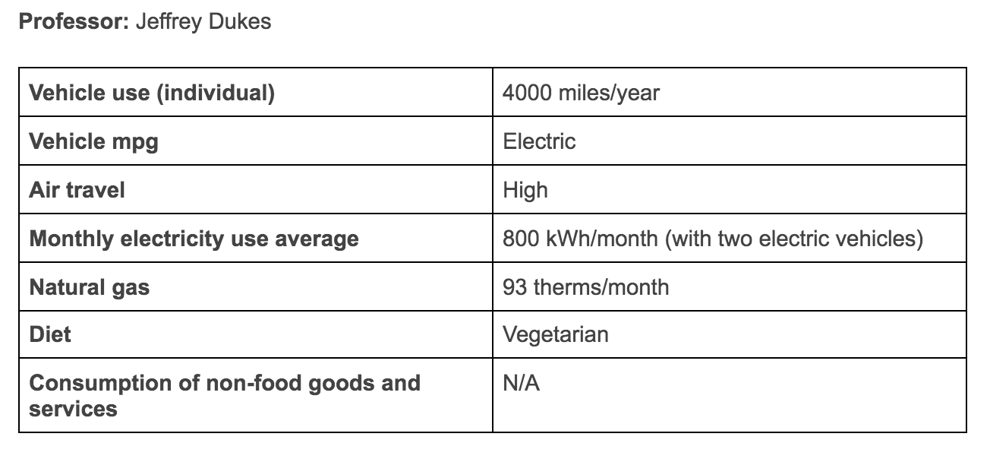 Air travel makes up the bulk of emissions for transportation, as he has taken steps in his personal life to cut down on his carbon footprint, like biking to work and driving an electric vehicle.
He also has been a long-time vegetarian, a diet he has adhered to since college and one he adopted primarily for climate reasons.
Meat and dairy production emits significant amounts of methane, an especially potent greenhouse gas, Dukes said.
"For me, it was pretty easy," he said. "So I just stuck with it."
For all of the changes he made to help address climate change, there have been other benefits. Replacing appliances with the Energy Star version (an energy efficiency certification) and replacing light bulbs with more efficient LEDs has resulted in a smaller energy bill.
Dukes also said he sees the biking he does and his vegetarian diet as important ways of maintaining his personal health.
"I never want to be telling someone how to live their life, I want to be showing them," Dukes said. "If they want to know, I'm happy to show them or talk to them about what I'm doing, why it works for me and why I like it."
While Dukes is mindful of his carbon footprint, his larger contribution to climate change mitigation is his work with the PCCRC, his research and educational roles as professor, and his service as a member of the U.S. Commodity Futures Trading Commission's Climate-Related Market Risk Subcommittee.
Community member: Steph Silva
For Steph Silva, Lafayette resident and Operation Manager at People's Brewing, reducing her carbon footprint is a hobby.
While she said climate change is a serious and overwhelming problem, she sees her individual efforts as something more enjoyable.
"I think it's a fun learning experience," Silva said. "And I can't take it too seriously, I absolutely cannot, because the onus is not on the individual."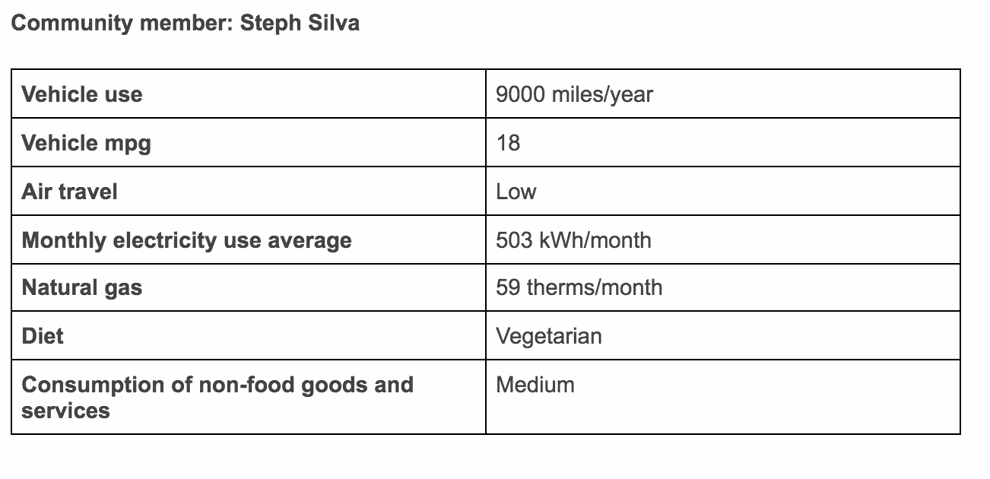 Silva defines individual action as whatever one can do based on their income level, amount of spare time and other resources at their disposal.
Silva said she was surprised at how much of her carbon footprint stemmed from travel, as she didn't see herself as someone who drives a lot.
The 6 mature trees on her property absorb 31 to 48 pounds of carbon dioxide annually, which represents only a small fraction of her total.
"It's interesting that (the trees are) not doing that much," Silva said. "It's only making so much of an impact."
In addition to maintaining her mature trees, Silva tends a small vegetable garden, composts, and has planted some new trees. At work, she manages a vegetable garden and said she has helped make People's Brewing a more bicycle-friendly business.
She also has taken it upon herself, like Merkel, to purchase similar carbon offsets to help reduce her impact further.
"For me, it's about as much as my water or trash bill," Silva said. "It seems like something I can afford to pay."
Small steps
While discussing carbon footprints won't halt climate change, Dukes said the process of calculating carbon footprints shines a light on just how deeply reliant on fossil fuels the different aspects of our society are.
"It really shows how challenging it's going to be to get to a climate-friendly society," Dukes said. "There's so many different areas that we need to work on."
Editor's Note: This reporting is supported by Carbon Neutral Indiana, a nonprofit helping "individuals and businesses clean up their carbon footprints."