The pandemic didn't stop Chauncey Village's newest coffee shop from opening Monday morning, though the Lafayette-based cafe is taking extra steps to keep its customers and employees safe.
A sign outside the doors of Copper Moon Coffee asks customers to "maintain a safe orbit" from others inside the space-themed cafe.
Located within the Hi Vine apartment complex on Vine Street, the cafe hopes to bring back a warm and welcoming environment to the service industry, according to the location's manager.
Mitch Monroy said the cafe's opening was a little more challenging than expected. Monroy, who goes by they, said many of its employees, also Purdue students, went home when classes were moved online last semester and haven't yet been able to return.
"Our original intent was to open last Monday," Monroy said, "but a lot of things are kind of more up in the air."
Monroy also addressed Copper Moon's policies regarding COVID-19. They said members of staff undergo daily temperature checks and answer a series of health-related questions before each shift.
The coffee shop also has stickers on the floor to encourage customers to maintain proper distancing, extra masks to offer customers and prepackaged food and baked goods.
Copper Moon operates with a "mod bar," Monroy said, which allows baristas to perform multiple tasks at once.
"It just removes extra steps from the barista, where they can really focus on customer service and the equipment itself will turn off once it reaches our recipe (for a given drink)," they said.
In addition to allowing baristas to spend more time with their customers, Monroy said the cafe has a hand-held point-of-sale register system for table-side services. Monroy said they hope this will encourage customers to sit down and hang out, while emphasizing the social aspect of coffee.
"We have high hopes for this place," Monroy said. "We intend to really involve ourselves in the community, maybe have some music at some point." They said they would like to bring in local artists or even have open-mic nights in the future.
This community-centered aspect is a common theme for the cafe. Monroy said the location's current hours, 8 a.m. to 6 p.m. daily, are flexible at this point and can be modified depending on the demands of its demographic.
"If we see students want somewhere to go later, we'll adjust our hours to make sure we're open later," they said. "If we see people want somewhere open earlier, well, then we'll adjust to that."
Shreya Ilango and Tanvi Bhardwaj, recent electrical and computer engineering graduates, stopped in Monday to check out Copper Moon's opening day.
"We live around the corner," Ilango said, "and it was nice to finally see it open." She said they wanted to support the local business on its first day, especially as she knew it must have been hard trying to open amid complications due to COVID-19.
"And it's definitely adorable," she said, commenting on the café's open bar, astronautical art and decorations.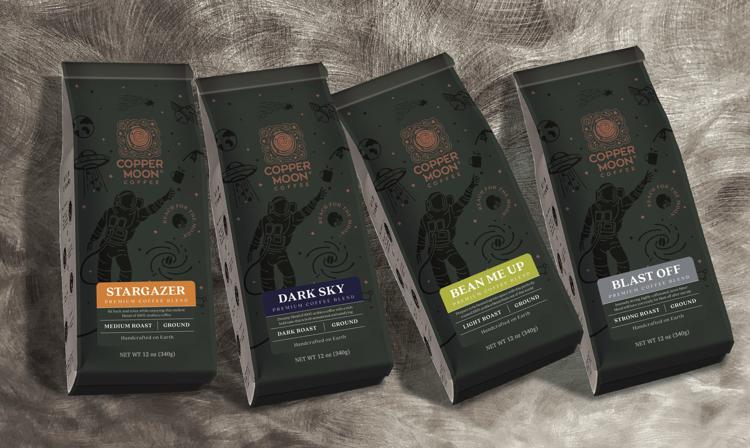 Mitchell Kouns, a graduate with a degree in professional flight, also stopped by on Copper Moon's first day. He said he had seen billboards advertising the new location, and one of his friends told him the café was opening.
The Hi Vine storefront isn't the first Copper Moon to be located in West Lafayette, and it won't be the last, either. Another location has been serving in the Burton D. Morgan Center for Entrepreneurship in Discovery Park since 2018 according to a Purdue press release. Two other locations are set to open within the next year; one in the Agriculture and Biomedical Engineering Building in December, and another on Sagamore Parkway in January, per a 2019 University Request for Proposals and Monroy, respectively. According to the RFP, the new Purdue location will accept both cash and Dining Dollars.
Monroy said the cafe is still training employees, and they hope to hire more members of staff in the coming weeks.
"I think it's a fun experience to really just get to taste coffee, and learn so much (about the difference between blends)," Monroy said. "I keep telling everyone just to stay calm and brew on."