Tyler Trent can be described in any number of ways, each more astounding than the last.
Purdue sports superfan. Writer for The Exponent and The Indianapolis Star. Graduate of the Polytechnic Institute. Author of his own autobiography, "The Upset," set to be released in March 2019. Honorary team captain of several Boilermaker football games. Recipient of the highest award a Hoosier civilian can earn, the Sagamore of the Wabash. Namesake to a scholarship, endowment fund and his own bobblehead.
Perhaps the best way to describe the late Trent's legacy, however, is through the words of one of his close friends, whom he met through Purdue University Dance Marathon.
"I think Tyler is like almost the ideal person (who went) to Purdue," said Jackie Ham, sophomore in the College of Liberal Arts. "I think his legacy is just going to be Mr. Purdue."
Trent died Tuesday, ending his fight with osteosarcoma, a rare bone cancer he was first diagnosed with in 2014. The Carmel, Indiana, resident was 20 years old, and had returned from watching the Boilermakers lose to the Auburn Tigers at the Music City Bowl four days before.
In the past year and a half, Trent made an unforgettable impact on campus. His work as the first student member of Purdue's Center for Campus Research Advancement Board helped bring national attention to the center. He attended PUDM in 2017 as a "Riley kid," and told his story of battling cancer. Trent was also featured in an ESPN College GameDay feature in October, and his updated-daily Twitter account jumped in followers by the thousands — about 54,000 as of Dec. 29.
Trent's autobiography, "The Upset," got its name from Purdue's astonishing football victory over Ohio State on Oct. 20, which Trent predicted in the ESPN special aired earlier that day. The book is subtitled "Life, Sports, Death, and the Legacy in Between The 'TYLER STRONG' Story." Proceeds from sales made on Trent's website will be donated to cancer research, according to the site.
Thank you to everyone that has purchased my book. I'm humbled you have joined the movement to UPSET CANCER. You being #tylerstrong gives me joy. Once you purchase the book, tag me & I will do my best to like your post & retweet as a thank you. https://t.co/xEKOvBBhQ1 pic.twitter.com/8LafN4BWez

— Tyler Trent 🚂 (@theTylerTrent) December 29, 2018
Trent will be remembered by many for his work in bringing the need for cancer research to national attention, both through his time in PUDM and as a member of the CCR Advancement Board.
"He's a reminder," said Alan Karpick, fellow CCR board member, "why we should do things and why we should try to … have the best research possible at Purdue."
Trent was a devout Christian, and often quoted Bible verses in tweets and messages to his followers. He also had a tattoo of an ichthys made of a sideways cancer ribbon on his ankle, along with symbols that mean "God is greater than my highs and lows" to him.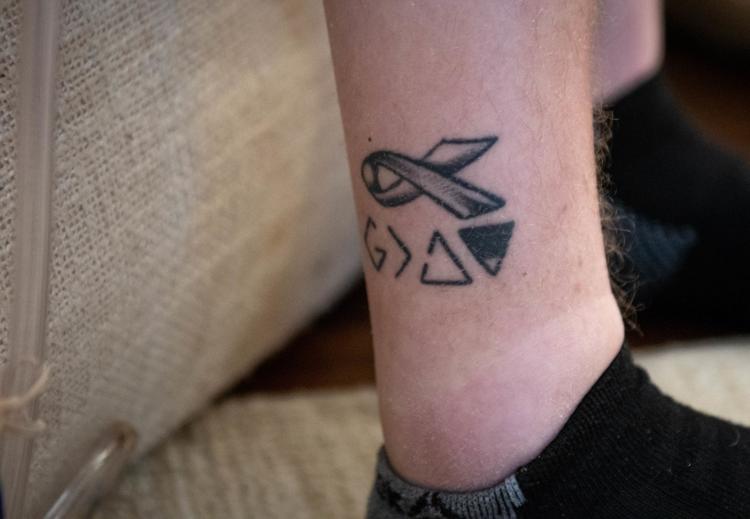 Sometimes the hardest days are the most important days.

— Tyler Trent 🚂 (@theTylerTrent) December 20, 2018
Heaven has another great Boilermaker tonight. Thank you, Tyler, for all you taught us and the inspiration you left us.

— Mitch Daniels (@purduemitch) January 2, 2019