Purdue University Residences is no longer allowing students who did not sign up for the initial interest phase in October sign housing contracts for the 2023-24 year.
UR sent an email Thursday night to students who logged into the university housing portal after the first interest phase — which ran from Oct. 12 to 23 — telling them that on-campus housing is at capacity.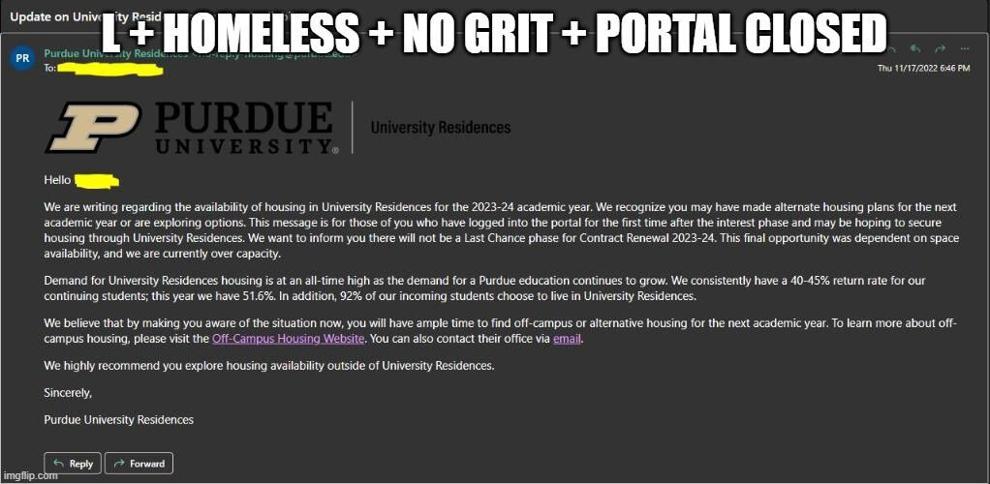 "Demand for University Residences housing is at an all-time high as the demand for a Purdue education continues to grow," the email reads. "We believe that by making you aware of the situation now, you will have ample time to find off-campus housing for the next academic year."
Over 92% of incoming freshmen have opted to live on campus, according to the email, and there is a 51.6% renewal rate this year, compared to the typical 40-45%.
In the interest phase, students showed their intention to renew their dorm contract and filled out the housing application, the UR website reads, which isn't binding until March 1. Those who filled out the application were randomly assigned a slot to choose a building and room based on their year, and assignment choices were first-come-first serve.
Slots for juniors and seniors opened Nov. 1, and for freshmen and sophomores on Nov. 9, according to the website.
Any students who missed the initial interest phase but are looking to live on campus are "SOL," as one Reddit user put it. Those who didn't mark "yes" or "maybe" when asked in the housing portal if they plan on returning to on-campus housing could try to secure housing in the "last chance" phase, which was set to open Dec. 5, space permitting.
But UR is at capacity, the email sent to students reads, and the website notes in the "last chance" section that "all allocated space for contract renewal has been reserved."
Some students who did secure housing said they didn't get much of a choice.
A screenshot posted to the Purdue University Class of 2026 Snapchat story on Tuesday showed the housing portal saying there were no options left and to check back later.
Ava Shanehsaz and Isabelle Do got a quad in Benchmark Apartments, an apartment complex several blocks southeast of the Rawls Hall, but they said apartments were all that were left.
"It was really stressful leading up to it," said Shanehsaz, a freshman in the College of Exploratory Studies. "There were a lot of people (saying), 'There's nothing left.'"
By the time their slot came around, she said only five apartments were left that would fit their group of three people. The only dorm availability was for one person, said Do, a freshman in the Polytechnic Institute.
Giselle Hart said her only option was an eight-person unit, which fits two beds in each of the four rooms, in Aspire Apartments. The freshman in the College of Liberal Arts, who said she joined the Army Reserve to pay for college, said she can't afford the apartment.
"Purdue expects me to pay more than three times what I am currently paying," she said.
Director of Administration Mike Shettle hasn't responded to a call or email for comment as of Sunday afternoon.
- Additional reporting contributed by staff reporter Kaita Gorsuch