The Indiana public access counselor ruled in The Exponent's favor Monday that Purdue violated the state's public records law when it failed to provide large portions of public documents in two instances last year.
The records in question were the contract between Aramark Corp. and Purdue regarding the University's retail dining operations, and the terms of a settlement agreement between Purdue and a former student-athlete expelled after he was accused of sexual assault.
The Exponent requested the Aramark contract on June 2 and received a heavily redacted copy more than five months later, on Nov. 12.
Similarly, The Exponent requested on Sept. 8 the settlement agreement between former football player Brandon Roberts, who sued after he said he was wrongly expelled for alleged sexual assault in 2017, and Purdue. That request was denied in full on Nov. 19. Purdue cited the Family Educational Rights and Privacy Act in withholding the amount it paid to Roberts in its settlement of the federal lawsuit.
Purdue justified its heavy Aramark redactions on Dec. 18 by saying the contract, along with accompanying technical documents, contains "trade secrets."
These reasonings aren't supported by Indiana Code, according to PAC Luke Britt.
"It is the opinion of this office that the Purdue University violated the Access to Public Records Act," Britt wrote in an advisory opinion released Monday. "Purdue should review its redactions of the food service contract and provide the substantive portions of the settlement agreement in question."
The Exponent filed a PAC complaint with Britt's office on Dec. 10, arguing that portions or the entirety of both documents should be provided to reporters as part of their public records requests.
A Purdue spokesperson did not respond by mid-afternoon to an emailed request Monday morning for comment and clarification of when updated documents might be provided to The Exponent.
The Exponent requested the records for several reasons, though no reason is necessary when asking to review public documents that are already public.
Purdue has been the subject of several complaints to the public access counselor in recent years, and Britt has repeatedly ruled that the University should provide more information that it initially does.
In a 2020 ruling between a Purdue employee and the University, Britt pointed out how often Purdue takes an inordinate length of time to respond to requests, especially because it employs only one point person to handle records requests.
"Like other state universities, Purdue undoubtedly receives a significant number of public records requests," Britt wrote in his formal opinion. "Unlike other state universities, however, Purdue is the subject of a disproportionate amount of complaints filed with the public access counselor. Many of these complaints involve the timeliness issue."
Aramark and Purdue
The Aramark contract represents the agreement between Purdue and the private company providing retail dining services to the University for a price, as Purdue privatizes more of its standard operations. The contract was approved on June 25. As a public university receiving taxpayer support, records explaining Purdue's dealings with third parties are considered public under law and available to review.
Purdue provided a document so heavily redacted that 78 pages of the 192-page contract are completely blacked out, including all sections detailing the cost of the agreement to both Purdue and Aramark. The University argued that "Aramark had designated certain portions of their proposal and the contract as confidential" under Indiana public records law that protects trade secrets.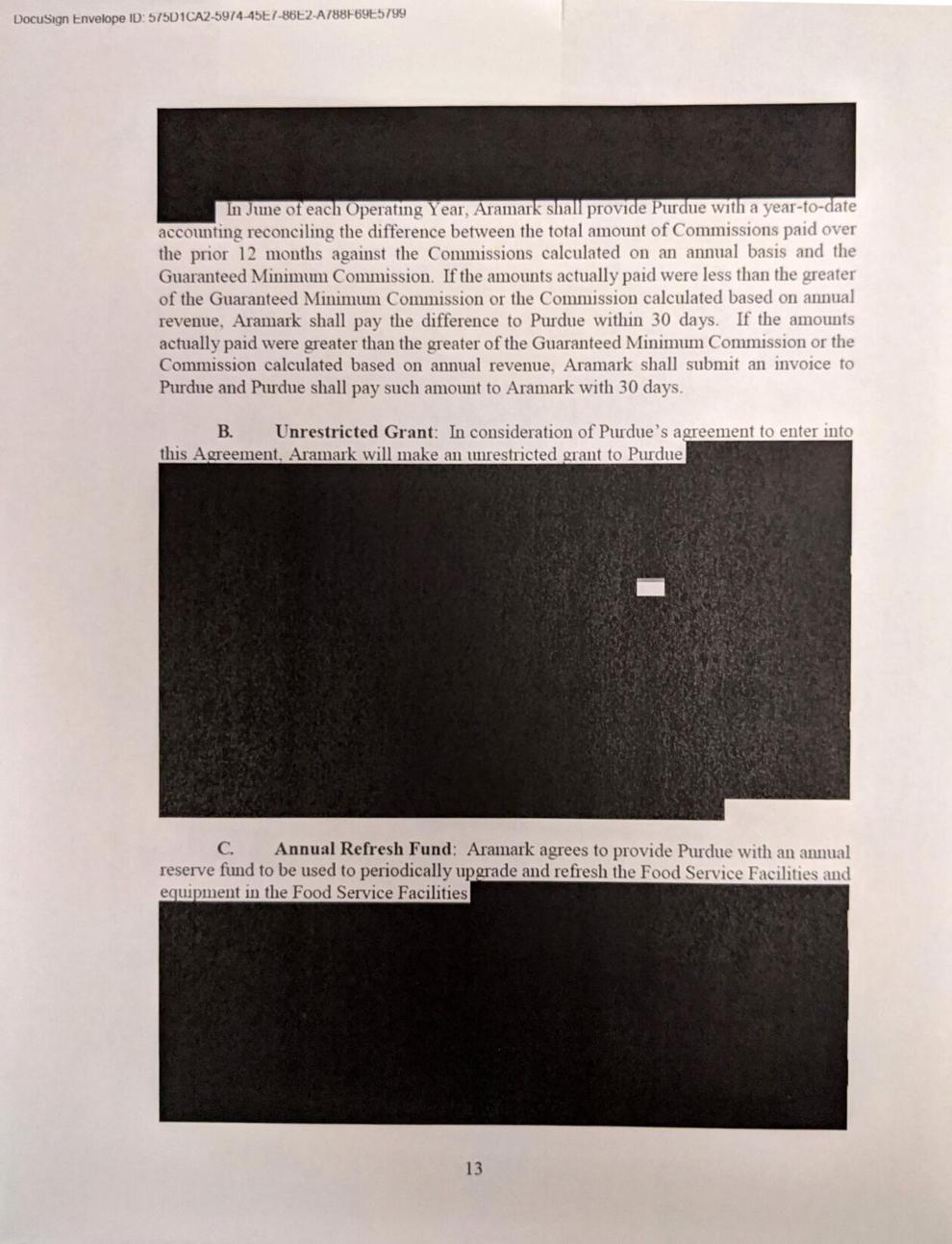 "This financial proposal is designed specifically for Purdue University, through using levers Aramark employs across its enterprise," Purdue's initial response to Britt after the December complaint reads, "and it therefore derives independent economic value from not being generally known to others, specifically to Aramark's competitors who would obtain economic value and unfair market advantage from its disclosure.
"After reviewing the materials and justification, Purdue agreed that the four characteristics of a trade secret were met."
Britt, whose job since becoming public access counselor in 2013 has been to review complaints and possible violations of public records and open meetings laws, disagreed.
Referencing Purdue's general practice of reaching out to vendors to ask whether any "sensitive proprietary information" should be redacted in documents, Britt writes that third-party recommendations should be scrutinized by public agencies.
"A private sector contractor, likely unfamiliar or even dismissive of APRA," Britt says, "may naturally be territorial of all of its information and not just the material that is truly secret under the law."
A public agency should not "simply take the third party's word for it," he adds.
"What is clear, however, is that the extension of public resources is always disclosable," Britt said. "The bottom line of a contract and its substantive terms between a public agency and a private third party should be revealed without question."
Britt questioned the confidentiality of a "rote" and "ordinary" food-services agreement. Though per unit pricing might qualify as a trade secret, he says nothing in the agreement would describe secret patterns or strategies Aramark uses to gain a competitive advantage.
"State contracts rarely do," Britt writes. "Aramark should have known full well that engaging in an agreement with a public university would create public documentation. Such is the cost of doing business with a public entity."
Brandon Roberts v. Purdue
In a similar vein, public resources also help to pay settlement agreements. Britt said that any financial terms in a settlement must be disclosed.
Purdue argued that providing the settlement record would violate FERPA. The agreement was reached in the U.S. District Court of Northern Indiana after a year of litigation between Brandon Roberts, the former football player, and Purdue.
"This record is not a court document," Purdue argued to the PAC in December. "It details several aspects of the student's past and current status as a student at the university."
Britt quickly dispatched Purdue's reasoning in his explanation of why FERPA did not warrant Purdue's withholding of the settlement agreement.
Though FERPA works to keep educational records confidential, he said the federal act cannot be used to withhold the financial settlement of a public-facing court case.
"Notice was given to the court of the settlement agreement in July 2020 with the student's name in the caption," Britt writes, the italics his. "The pleadings in the case are publicly available and presumably contain much of the information contained in the agreement.
"This office is overwhelmingly confident that the USDOE would not consider it a systemic practice of violating FERPA if settlement agreements stemming from publicly facing litigation are disclosed pursuant to a public records request."
Britt said FERPA is "famously misapplied in an inappropriate manner" by schools and universities. He said that while some redactions may be needed to protect a student's educational privacy, the mere involvement of a student does not make such a document off limits.
Purdue should provide to The Exponent the substantive portions of the settlement agreement, Britt said.