A crowd of people, some dressed in brightly-colored outfits, others waving rainbow flags, stood packed in a small room. They ate food from a charcuterie board the size of a dining table and drank punch while listening to an array of speakers talk of diversity and inclusion. A glowing neon sign of Madonna flashed overhead.
Hundreds of attendees gathered in Hicks Undergraduate Library Friday afternoon to attend the opening ceremony of Purdue's new Lesbian, Gay, Bisexual, Transgender, and Queer Center.
The event saw lines of people stretching out of the door and up the stairs of the library waiting to get in, with even longer lines of people waiting for food or to talk to some of the many speakers of the afternoon.
"Looking around this room, I see friends of the LGBTQ Center, family, allies, campus partners and champions," said Lowell Kane, one of the speakers at the event and the Director of the LGBTQ Center. "Truly a project of this magnitude doesn't come together overnight, and it involves a veritable army of amazing, hardworking and dedicated people."
The opening of the LGBTQ Center's new space comes after the Center closed the doors on its original location in Schleman Hall last November. The new location, outfitted with study spaces, a computer lab, meeting rooms, lounges and a kitchen, is about three times larger than the original space, according to Kane.
"This seems like a place where students will be able to be authentically themselves," said Allan Gray, an academic advisor for the Krannert School of Management. Allan said he attended the event to see if the center would have the facilities necessary to accommodate LGBTQ students on campus.
"I'm gonna promote this to my students. It seems like a place where people can just come to hang out."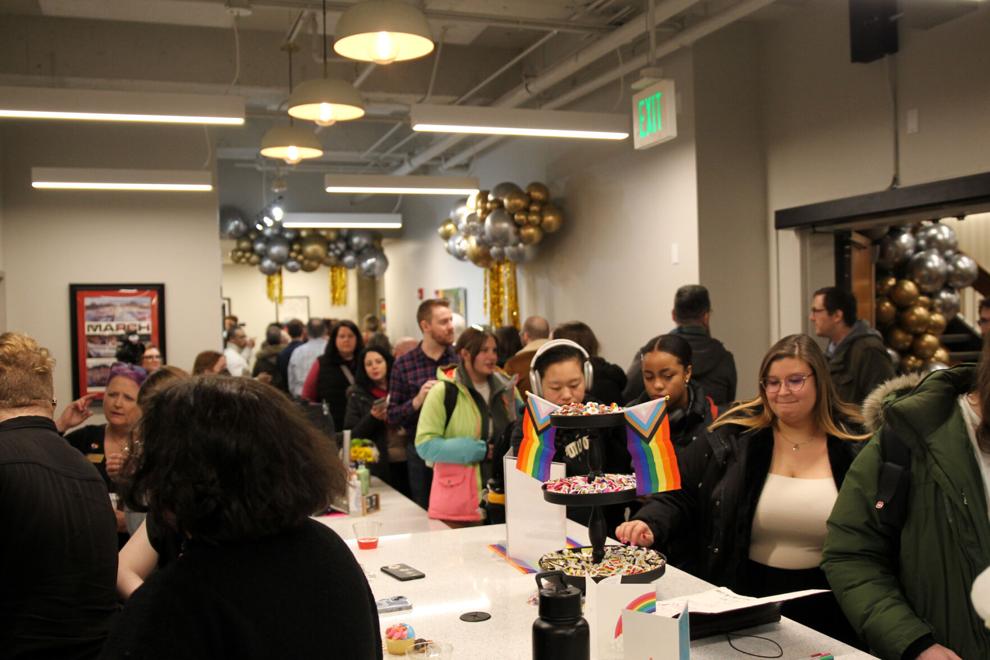 During the event, food and drinks were provided to attendees, including rainbow cupcakes, punch and a charcuterie board.
Several notable speakers made appearances at the ceremony, including Provost Patrick Wolfe.
"Here at Purdue, we're all about 'giant leaps'," said Wolfe. "The opening of this new center is definitely a giant leap. I wouldn't have missed it for the world."
In his speech to the crowd, Wolfe reflected on the history of social issues at Purdue, noting that Purdue was one of the last Big 10 universities to construct an LGBTQ Center when it opened in 2012. Wolfe said he believes Purdue has come a long way since then, however he thinks there is still room to grow.
"I think it's very important for us to create a welcoming, inclusive community with a strong sense of belonging for everyone," Wolfe said after his speech. "I think we should never want to be content. We never want to sit back and rest on our laurels. But I do think we have a lot of positive momentum."
Another notable attendee was Purdue Police Chief Lesley Wiete, who said she made an appearance at the event as part of a tour of every cultural center on campus.
"It's important to have a center like this on campus," Wiete said. "It's all about inclusion and bringing everybody together."
Many students who attended the event said they were excited for the opening of the new center, expressing appreciation for the facilities available and the size of the space.
"(The center) is fabulous," said Ailin Fei, a graduate student in the College of Health and Human Sciences. "It's in a really great spot. I felt like the last one was hidden, like you'd have to go on a hunt to find it. But this one is right out in the open."
Rachel Zhang, a graduate student in the School of Hospitality and Tourism Management, agreed.
"This is going to be a great safe space for students with different identities," she said. "It's so very important."
Kelsey Chapman, the Program Manager of the center, said she has high hopes for the new location.
"This will be a place where anyone, regardless of identity, can stop by to hang out, meet new people, and work," she said. "The new space was thoughtfully designed and created for the LGBTQ community here. It marks a new chapter for LGBTQ students at Purdue."