As a Puerto Rican living in Tippecanoe County while he attends Purdue, Juan Matos said he had to make an intractable choice when he registered to vote.
He could register in the U.S. and vote out the president whom he watched toss — as if shooting a basketball — paper towels into a crowd of Puerto Rican residents devastated by Hurricane Maria. Or, he could maintain his registration in Puerto Rico to choose an elected replacement for former Gov. Ricardo Rosselló, who resigned in 2019 when leaked messages revealed he had encouraged supporters to "beat up that whore," in reference to a Puerto Rican-born politician.
Matos, along with 82 other Puerto Rican students enrolled this fall according to the Purdue Data Digest, cannot do both.
Because Puerto Rico is a U.S. territory and not a state, the more than 3 million American citizens who live on the island cannot vote in federal elections. Puerto Ricans living in the mainland U.S. can register to vote in local, state and federal races, according to political science professor James McCann, but they must forfeit their right to vote absentee in island races.
That distinction does not exist for students from a U.S. state who go elsewhere for college. They can remain registered at home to vote absentee for their state's governor as well as the president.
For young Puerto Ricans who one day hope to return to the island and care deeply about the fortunes of family members left behind, the choice is wrenching.
"That is my dilemma. I don't know which problem to assort my attention to, because I really do want for Puerto Rico to have a better government," said Matos, a junior in the Department of Public Health from San Juan, Puerto Rico. "But I'm also aware that the presidency is also a very important position — especially right now.
"I'm just in a very difficult spot."
Speaking on Oct. 2, three days before the deadline to register to vote in Indiana, Matos said he leaned toward registering in Tippecanoe County.
"Regardless of whether I choose who is going to be the governor," he said, "they have a limit. And the limit is the U.S. government. Because we don't have total control of our island."
The Puerto Rican government controls most internal affairs, while the U.S. has jurisdiction over the island's external interactions.
He reasoned a vote for Joe Biden would hold more weight than the candidate he supports for governor of Puerto Rico. But the day after the Oct. 5 deadline passed, Matos said he'd had a change of heart.
The Puerto Rican Independence party candidate, Juan Dalmau, represents a legitimate challenge to the island's well-established two-party system, Matos and five other students interviewed said. And a dismal presidential debate pushed Matos away from the U.S. political scene, he said.
Matos plans to vote for Dalmau by absentee ballot. "People are really being fed up with this whole corruption between the two parties," he said, "and I want to be a part of that."
Young people like Matos have registered in swaths to vote for Dalmau or another independent candidate, Alexandra Lúgaro, as a rebuke to the binary choice Puerto Ricans have faced for decades, the students said.
"The young population is tired of those bipartisan systems," said Isabel Patiño Mejía, a sophomore in the School of Mechanical Engineering. "Because whatever the party, they have a history of being corrupt in power, of mismanaging the federal funds that are provided to us. They have a history of nepotism."
Current Gov. Wanda Vázquez Garced was appointed after a de facto replacement for Rosselló was ruled to have assumed office unconstitutionally. Garced is part of the New Progressive Party, a misnomer based on the U.S. definition of progressive; she endorsed President Donald Trump for re-election on Tuesday.
Despite Garced having lost her primary election bid in August to another veteran New Progressive politician, the students fear the election of any establishment candidate will stall progress.
Voters 65 and over, which comprise over a fifth of the island's population according to the U.S. Census Bureau, are expected to support the New Progressive Party or the Popular Democratic Party — blue or red.
"I wanna make a statement to old people, basically," said José Guzmán-Payano, a senior in the School of Mechanical Engineering who plans to vote for Lúgaro in Puerto Rico, where he's taking classes remotely at his home in Cayey.
The governor's endorsement of Trump raised alarm among younger Puerto Ricans, Guzmán-Payano said.
The likely target is hundreds of thousands of Puerto Ricans who moved to Florida following what Guzmán-Payano and others see as a botched relief effort in the wake of Hurricane Maria. Trump catered to this group on Sept. 18 by announcing that the Federal Emergency Management Agency will direct $13 billion to aid the island's recovery.
"There's a lot of Puerto Rican support for Donald Trump," he said, "more than I wish there was."
Statehood is a quick fix, but an imperfect solution
Patiño Mejía's home city of San Juan, the Puerto Rican capital, was the site of weeks of massive protests outside of the governor's mansion in July following the leak of his derogatory text messages. If not for her summer job in sales for a local marketing company, she said, she would have taken to the streets.
"But I felt like I was at the protest because whenever I drove to a client's house, I just couldn't get there because it was totally blocked," she said, describing hundreds of cars at a complete standstill on major highways.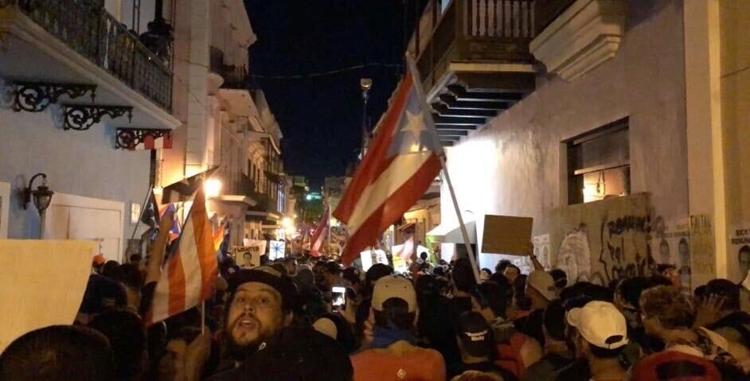 A mass movement among young people and celebrities to obtain voter identification cards, coupled with the surge of support in polls for the independent candidates, had inspired her to vote in Puerto Rico, she said.
That was before she learned her registration in Tippecanoe County stripped her of the ability to select leaders to further her vision of island politics.
The deadline to register in Puerto Rico was Sept. 15, three weeks before the last day in Indiana. She became aware she could not vote both against Trump and for Dalmau, her favored Puerto Rican candidate, after the deadline.
"I feel so useless," she said. "If you vote in the presidential elections it almost feels like you're abandoning your nationality. We are Puerto Ricans at heart."
"We should be able to vote in the presidential elections and for the Puerto Rican governor," Patiño Mejía added. "We're affected by both of these governments."
She and other students describe the process of applying for a voter registration card as more tedious than signing up to vote in the U.S.
Andrea Gonzalez, the president of the Puerto Rican Student Association, said when she returned to her hometown of Guaynabo from April to June, the election offices were shuttered to prevent the spread of the coronavirus. The offices opened later in the summer, Gonzalez said, but she had already left. The prospect of bad customer service made her wary of applying online.
"If it was open it would have still taken a long time to get it because everything in PR also takes time," she said. "I had to renew my license and it took me an entire year."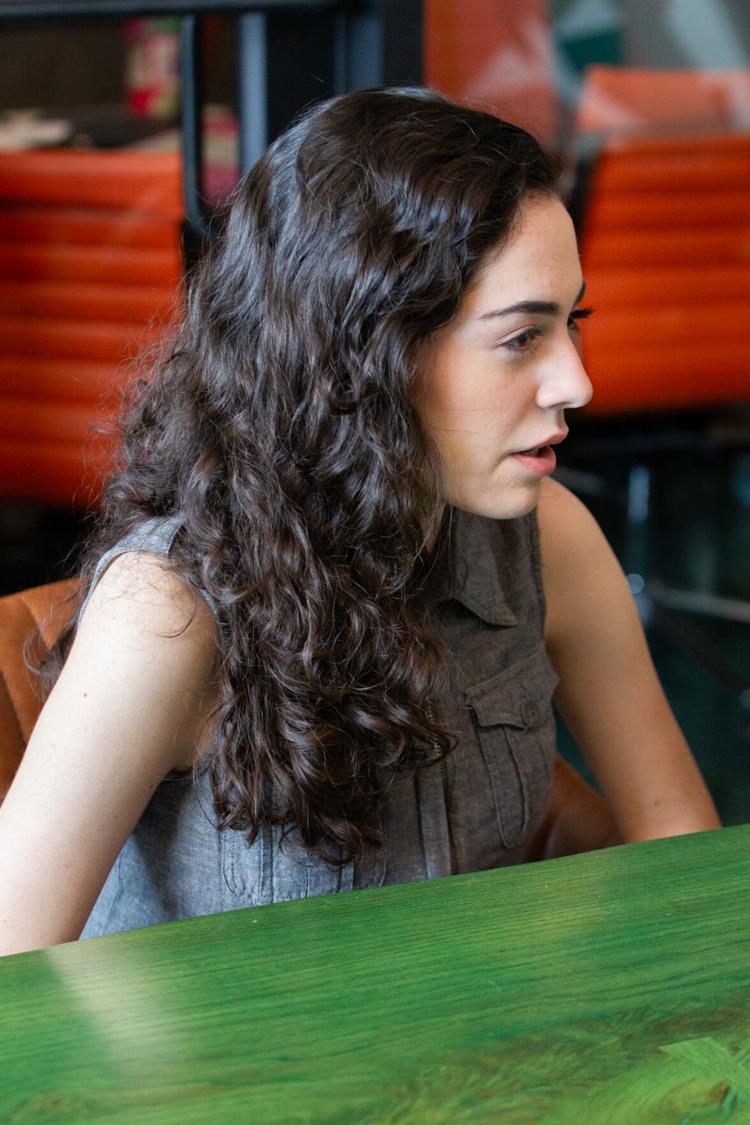 Pro-statehood beliefs, which would allow Puerto Ricans to vote in both island and federal races, are part of the political mainstream in the commonwealth. The current governor leads the pro-statehood party.
Patiño Mejía said she doesn't want Puerto Rico to become a state, though. She feels the island's lack of representation is unfair, as evidenced by a resident commissioner that is sent to Congress to advocate without the ability to vote on legislation. But her ideal remedy is not statehood; she just wants to vote for federal office.
"I'm not interested in becoming a state because the U.S., the president, does not want us," she said. "I don't want to be part of a state of a country where they don't want us."
The existence of negative sentiment toward Puerto Ricans took campus by storm when Guzmán-Payano had his U.S. citizenship wrongly rejected in an event that garnered national attention.
When he walked into a CVS pharmacy store in October 2019 to buy cold medicine using his Puerto Rican ID, a store clerk refused to make the sale. The clerk denied Guzmán-Payano's identification as an American.
He then showed his U.S. passport, allowing the opportunity to chalk up the mistake to ignorance, he said at the time. The clerk rejected that, too, and demanded he show proof of legal immigration before permitting him to buy the medicine.
Around 40 students gathered outside of CVS in early November to protest the injustice and the University's lack of an official condemnation of the clerk's actions.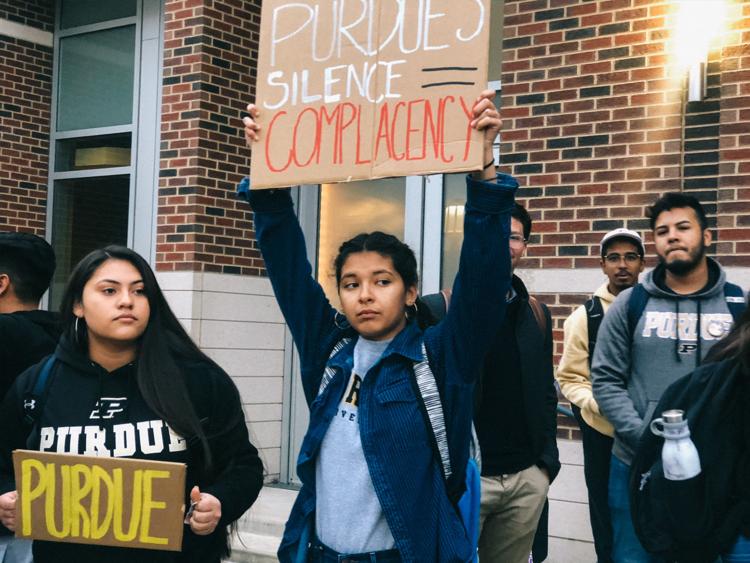 "I regret not making some kind of statement at the time of the CVS incident that precipitated the impromptu dialogue and therefore the misunderstanding," Purdue President Mitch Daniels, under fire for other clumsy remarks perceived as disparaging toward Black students, eventually said. "It would have been possible to express the genuine concern we all felt without condemning prematurely any individual or local business establishment before the facts were known."
Guzmán-Payano and fellow Puerto Rican students attend classes in a country run by a president who has repeatedly invoked insulting labels for members of the Latinx community, the students noted. Many said that breeds an untenable climate in a conservative state such as Indiana.
Several said the emotional toil has led them to question how long they want to live in the mainland U.S.
"Everything that he stands for, for me, is just despicable," Patiño Mejía said of Trump.
When asked whom he would vote for if he were registered, Carlos Santiago, a junior in the Polytechnic Institute from Guayama, Puerto Rico, said "Anyone that's not Trump, because of his ideology as a human being."
Coupling these sentiments compounds the frustration Guzmán-Payano feels at his inability to vote against the president, he said.
"I want him to not be re-elected because of all the division that's been going on," he said. "We go there to get a good, decent education. And we're paying a lot of money, so we expect to be treated well. And, you know — that happens.
"I really hope that he doesn't win."