INDIANAPOLIS - A sea of umbrellas protected against rain, then sunshine, then rain again outside Purdue Polytechnic High School as 103 seniors walked across the stage to receive their diplomas Friday.
"It's been a journey," graduating senior DeAnthony Carter said. "I'm glad that we're here and get to experience it.
"I'm super excited to come to Purdue."
Carter opened the ceremony by singing the national anthem as students and their families watched in admiration. He is one of 40 graduating students, known at Purdue Polytechnic as "techies," who will attend Purdue University in the fall, out of 48 who were admitted. Twenty-one more graduates will attend other four-year colleges, and seven will go to Ivy Tech. 
"I've been in Indianapolis my entire life," Carter said, "so I'm excited to experience dorm life, those college classes, and just a change of scenery."
Carter learned about Purdue Polytechnic in middle school, when representatives set up a table in his cafeteria, he said. With a bit of pushing from his mom, Carter made the decision to enroll and never looked back.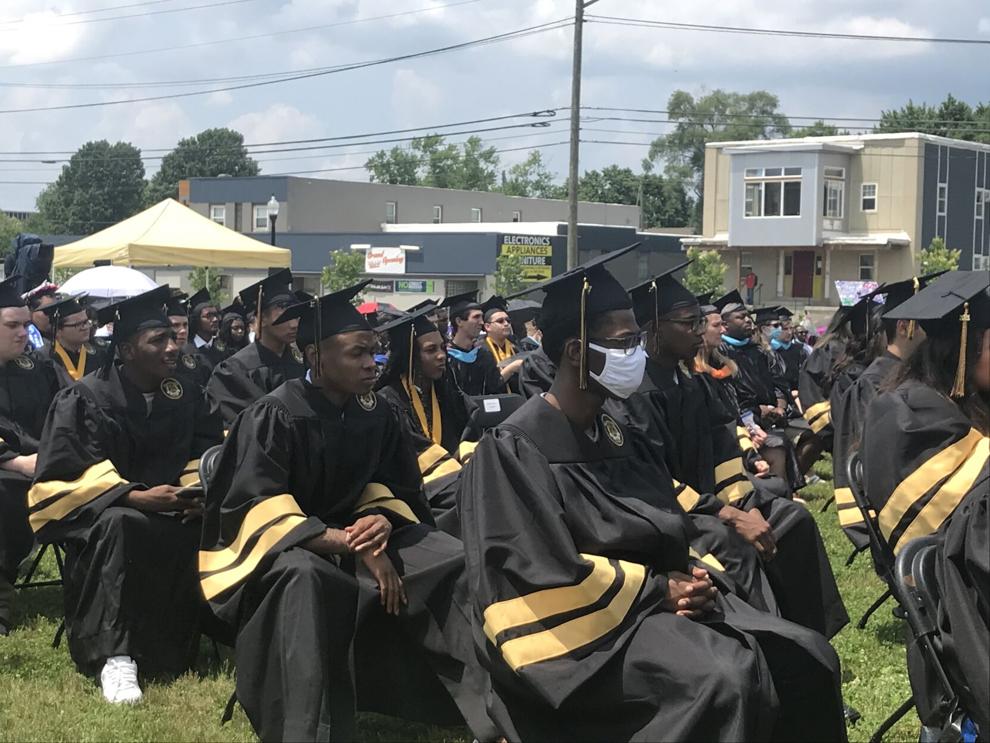 Purdue Polytechnic was initially founded as way to serve underserved and underrepresented groups, and encourage minority enrollment in college — specifically Purdue. 
"We made some promises four years ago to families," Head of School Scott Bess said. "It's nice to say we kept the promise."
Carter is one of 20 minority graduates who will attend Purdue in the fall. Of those heading for other colleges and universities, 60% are minorities.
Indianapolis high schools, Bess said, have sent an average of five to 10 students of color to Purdue each year. With just one graduating class, Purdue Polytechnic has more than double that figure. 
"That is my life mission," Principal Shatoya Ward said. "My life's mission is about providing access and opportunities to those who may have not had it. When you say you have a diverse school, you see it in the population of our high school."
The graduation ceremony featured speeches from graduating students, faculty, who are called "coaches," and Purdue President Mitch Daniels. Family and friends alike cheered as students shared their experiences at Purdue Polytechnic and their aspirations for the future. Daniels spoke of how proud he is the school was successful in its mission: graduating minority students who otherwise would not have had the opportunity. 
As students walked across the stage, they were handed a diploma by a staff or faculty member of their choosing, whomever they thought has had the biggest effect on their life.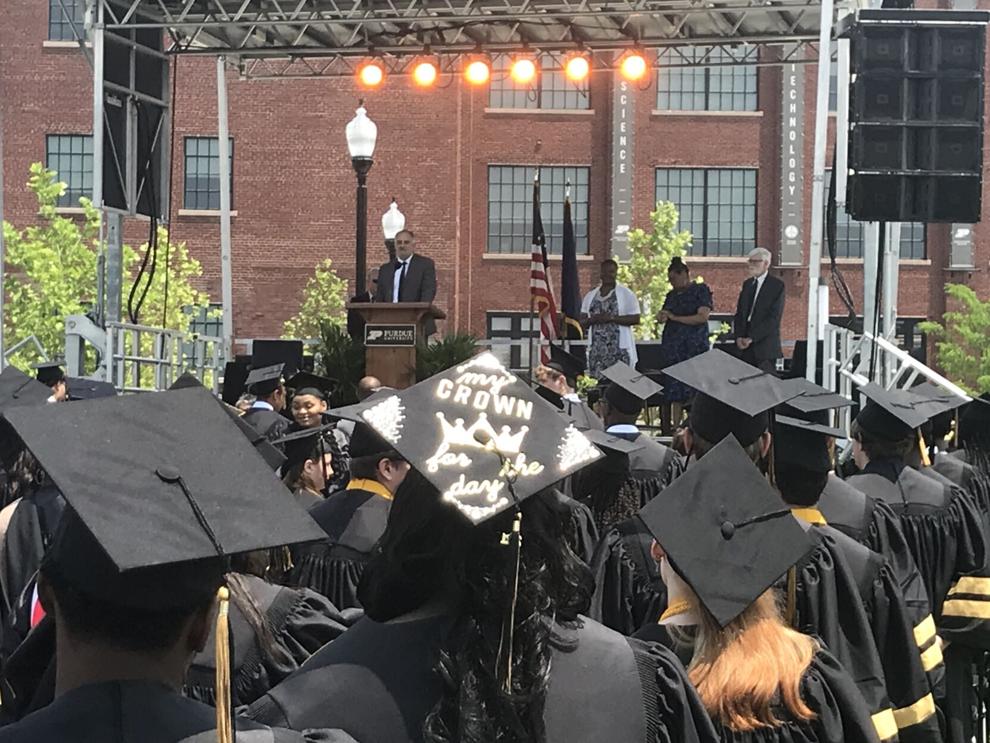 Students at Purdue Polytechnic receive a more unusual education experience than those at a standard public high school. Students can choose their own courses and create their schedules to cater to their needs.
In addition to standard classwork, most of the students' workload is made up of STEM-based collaborative projects and hands-on work. Students can move at their own pace and make real-world connections that can aid them down the road — something that students of underserved communities may have a harder time doing.
"The projects that we did gave us a little bit of touch to industries," graduate Jairo Garcia-Cruz said. "Unlike any other students, we have the opportunity to reach out to companies. I have a handful of people in my pocket that I can reach and email to give me opportunities." 
Garcia-Cruz said the biggest difference between Purdue Polytechnic and a local public high school is the independence he experiences as a student. 
The school's population is roughly 60% minority students, Bess said.
"It was definitely a different experience coming here," graduate Katie Johnson said. "Everyone's from a completely different background. I met a lot of people that I wouldn't have otherwise had I continued to go to public school."
Johnson plans to follow in her father's footsteps in attending Purdue. They will be studying simultaneously; her father is pursing a doctorate in technology.
Purdue Polytechnic has two locations in Indianapolis and one location in South Bend. Daniels said before the ceremony that he wants to expand farther across the state, giving opportunities to students in other communities. 
Although Carter said he believes the school has done a good job helping those students enter college and preparing them for careers, he isn't so sure about Purdue's fast expansion.
"I just felt like it was rushed," he said. "They didn't take time to actually perfect their approach to our learning system at the time.
"Every year we're getting closer to perfection."
Perfection, in Carter's mind, is the continuation of serving students' needs and making them feel heard — something he said the school has already done.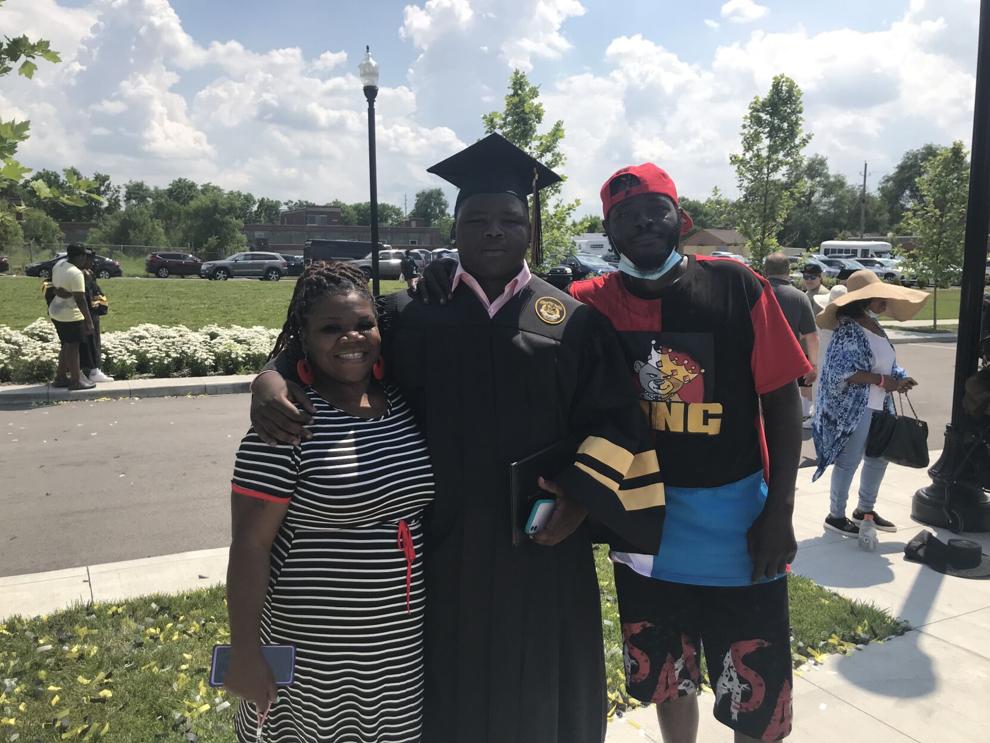 Ward said the school's mission should be taken as far as possible.
"We're reinventing high school," she said. "There's a lot of strategies we use to that aid our students to solve complex problems in our community. We hope to make an impact as far as we can go. As we open up schools or we partner, that for us is just spreading the impact."
Carter's smile, along with the smiles of so many others, radiated as he received his diploma, completing the last step in his high school career.
Confetti fired into air as the first graduating class moved their tassels to the right and embraced one another in celebration. 
6/11/21 Purdue Polytechnic High School Graduation