The head of Purdue's aviation school was venting his frustrations to two colleagues over a phone call last week. The University's partnership with a for-profit company that occupies a hangar at the Purdue Airport, he said, had become exceedingly difficult.
His primary complaint with the private partner, Purdue Aviation LLC, is the Purdue aviation alumnus and high-profile donor who owns half of it: Scott M. Niswonger.
"My No. 1 issue is Scott being a pain in my ass," Tom Frooninckx, interim department head for the School of Aviation and Transportation Technology, said with an exasperated laugh. He repeated the same phrase later in the phone call.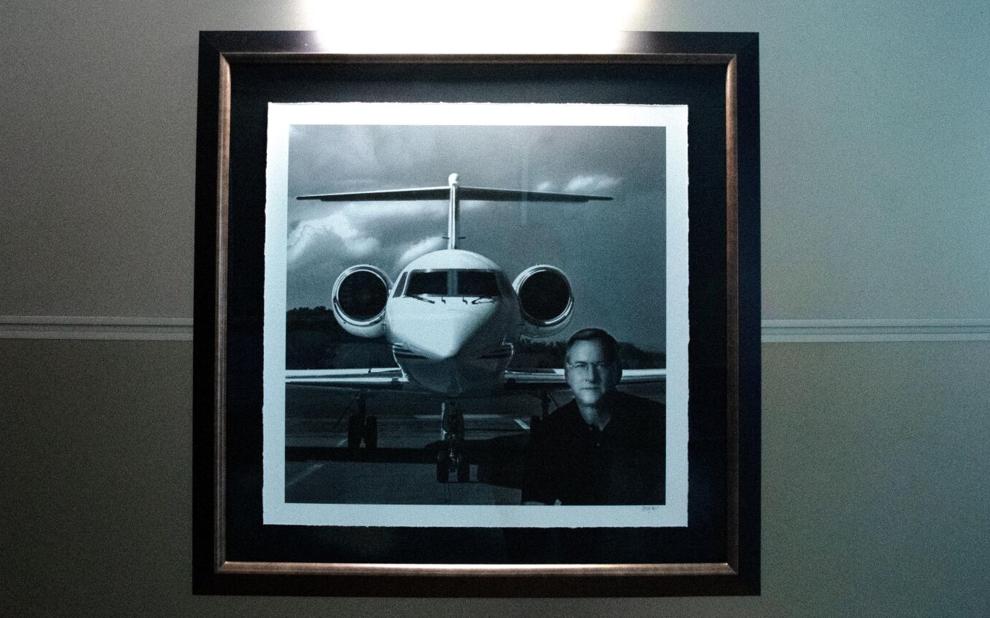 The conversation, which the Exponent verified with a person who had firsthand knowledge of the talk, consisted of the Purdue Airport manager, Adam Baxmeyer, and high-level administrator Rob Wynkoop listening to Frooninckx describe perceived oversteps by Purdue Aviation and Niswonger.
The department head said during the call that years before, Niswonger tried to persuade SATT to buy a fleet of aircraft from a manufacturer he favored. Frooninckx mentioned an email the donor had sent in early April, in which he chided the aviation school's leadership for being slow to outsource more of its flight training to private entities — like the one he half-owns.
"It's just causing — I don't want to call it untenable," Frooninckx said in the call. "It's just frustration and difficulty."
Frooninckx and Polytechnic Institute Dean Gary Bertoline, whose college oversees SATT, later confirmed with The Exponent that Niswonger had sent an email urging them to privatize and wanted the aviation school to buy favored aircraft. But they denied that Niswonger was obstructing the public-private partnership, saying he had not done anything wrong.
"As a businessman, isn't he supposed to try and make money?" Bertoline said in the later interview, referring to Niswonger's hope that SATT would outsource more flight training to Purdue Aviation. "This is a public-private partnership, OK?
"In the business side of our society, they're here to make money."
Asked to explain why he called the donor a "pain in my ass" in the phone call, Frooninckx said he "certainly can't comment."
Niswonger's part in the 2015 decision to purchase for-profit Lafayette Aviation, change its name to Purdue Aviation and enter into a public-private partnership with the University's flight school is at the heart of growing alarm raised by a small but fervent band of alumni and former professors. They believe he hopes to fully privatize and eventually run Purdue's flight program, a development which they fear would sacrifice the integrity of the esteemed professional flight degree.
Who is Niswonger?
The name Niswonger is ubiquitous at the Purdue Airport.
The 1968 Purdue aviation technology graduate donated $4.6 million to fund the creation in 2004 of what is now the Niswonger Aviation Technology Building. A portion of that money went toward the renovation of the same hangar formerly used to house Amelia Earhart's plane.
Five years earlier, his name was added to the Holleman-Niswonger Simulation Center after he made a $1.5 million donation. SATT's Niswonger Scholarship program has funded flight students' educations for nearly 25 years.
After graduating, he did a stint as a corporate pilot for the CEO of a home electronics company before starting his own cargo airline, General Aviation Inc., in Tennessee in 1973. From there he would become the vice president of a global cargo airline; the co-founder of a second and third company, both of which record sales over $1 billion today; and a member of the boards of directors of powerful companies in the aviation, financial services and health-care industries, according to The Niswonger Foundation's website.
Some alumni and former faculty say Niswonger's role as a renowned, wealthy alumnus has led to an improper relationship in which he attempts to sway decision-making within the flight program. When two former department heads did not comply with his wishes, the dissenters allege, they were subsequently removed from their positions.
"When students come to Purdue, they are kind of groomed into believing that the program has received a lot of its equipment, a lot of its buildings, a lot of its funding from Scott Niswonger," said Andrew Hoyler, a 2017 graduate who received money through the donor's scholarship program and who is now a lecturer leaving this summer. "When I was a student, I thought Scott Niswonger was a great person."
But Hoyler now says students "have been lied to."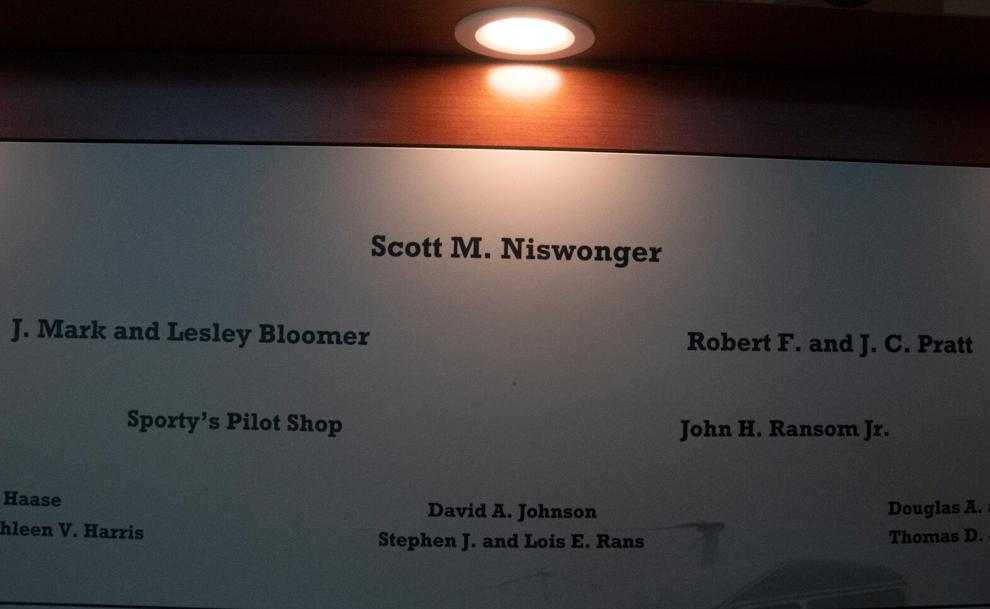 This account is based on interviews with a half-dozen aviation alumni and current or former employees, as well as documents written by a half-dozen former faculty provided to The Exponent. All unite around the demand to whoever will listen — University officials, local legislators Sheila Klinker and Ron Alting, and even former Vice President Mike Pence — that Niswonger's influence should be extricated from the aviation program.
At stake, in their view, is the esteemed reputation of Purdue's flight school and, potentially, the safety of students.
The deal, in the dean's words
Niswonger's business Purdue Aviation is housed in Hangar 8 at the Purdue Airport south of campus. It functions as a fixed base operation, or an FBO, meaning it provides fuel sales, aircraft maintenance and flight training, in addition to renting aircraft.
Bertoline said the public-private partnership was conceived when officials in the School of Aviation and Transportation Technology realized it could recruit more pro-flight students if the University partnered with a working FBO.
Niswonger expressed interest in the idea and, in April 2015, purchased a 50% stake in the business through a company he owns, SkyNight LLC.
Money to buy the other half was invested by McClure Park LLC, which is wholly owned by Purdue Research Foundation, a nonprofit that finances grants, acquires property and promotes entrepreneurship on the University's behalf. Niswonger also sits on the board of directors at PRF, a conflict of interest which the nonprofit lists in its federal tax filings.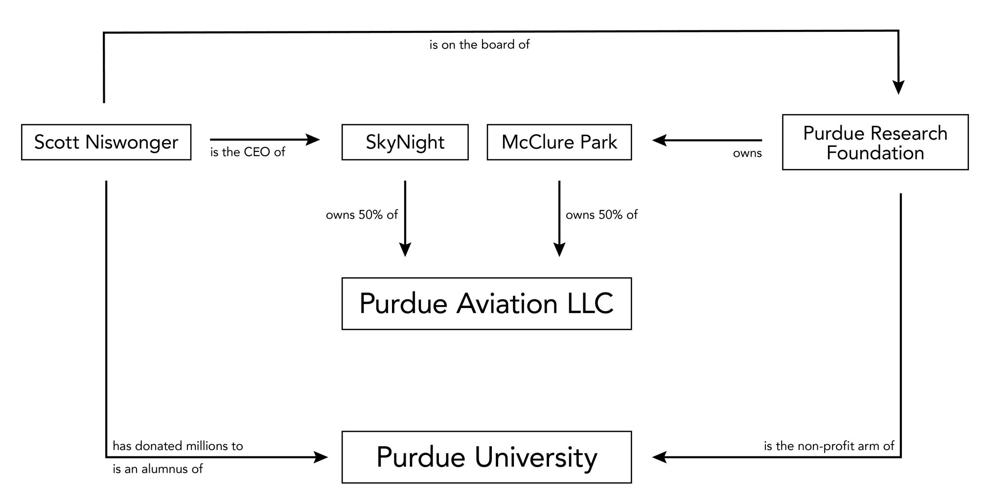 In what Bertoline described as a 10-year payment plan similar to a loan, half of the annual revenue Purdue Aviation generates will flow to PRF to pay off financing it provided to purchase the other half of the FBO.
Documents detailing parts of the agreement obtained by The Exponent show that once Purdue Aviation fully pays off the money provided by PRF to fund the business, SATT will be deemed a half-owner, replacing PRF. But Purdue's non-profit arm will remain the "owner of record, as Indiana state entities are not allowed to directly own equity," according to the documents.
A portion of the other half of profits the FBO generates was set to funnel into Purdue's official aviation school, SATT, Bertoline said. But this spillover revenue has not materialized because of the dean's decision to pay off debt to PRF more quickly, leading Frooninckx to privately lament that SATT seems not to be benefiting from the deal.
"This is not right," he said in the phone call with his two colleagues. "We've done our part ... I should have got a check for $200,000 a couple of weeks ago, and instead PRF got it. It's a mystery."
In the later conversation with The Exponent, Frooninckx said he was "venting" during the call because he wishes the flight program could reinvest excess revenue immediately, rather than use it to pay off debt earlier. The dean said he made the decision to pay off more debt than initially planned to avoid accumulating interest.
"Financially it's totally legitimate to pay off your debt earlier, right, you save in interest. So there is long-term goodness with doing that," Frooninckx said, "but that doesn't mean guys like me don't whine and complain behind the scenes."
Beyond Purdue Aviation's function as an FBO, Bertoline said the University's professional flight program began sending 10 to 20 students a semester to Purdue Aviation for flight training and instruction. The move came in response to burgeoning demand for pilots in the U.S.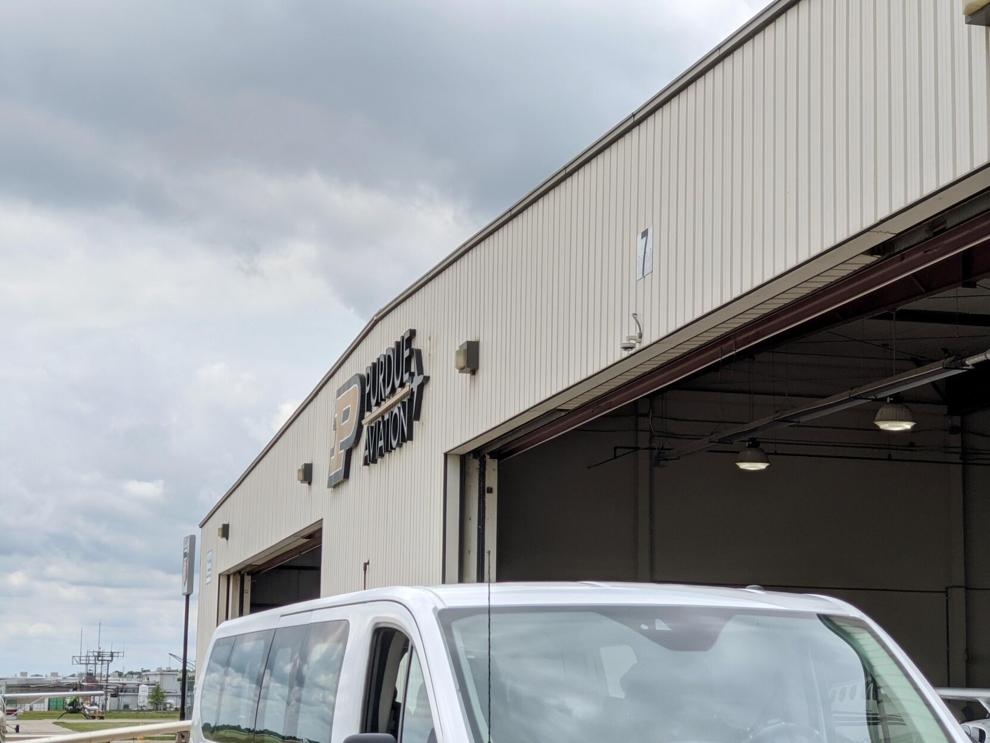 Where SATT had been able to accept only about 70 of its 800 annual applicants, it now accepts 80 to 90 and sends the additional students, generally while they're underclassmen, to the private company for flight hours. Those students still receive traditional instruction through the University, Bertoline said.
Bertoline and Frooninckx initially denied to The Exponent that Niswonger had privately pushed them to outsource additional operations. But when The Exponent quoted Froonickx's comments in the phone call, they acknowledged Niswonger had sent an email criticizing their lack of haste.
Frooninckx said he had "never made a decision that was different than what I would make with or without Mr. Niswonger in the mix." Despite his adamant private statement that Niswonger is his "No. 1 issue," he told The Exponent he does not feel Niswonger is an obstacle to a better relationship between the University and Purdue Aviation.
Niswonger did not respond to three phone calls and voicemails The Exponent made to The Niswonger Foundation on Thursday and Friday of last week. The head of the foundation did not respond to two emails in the past week detailing alumni's concerns.
"He didn't buy half of Purdue Aviation to see it lose money," Bertoline said of Niswonger. "By the way, the more Purdue Aviation money they make, the more we get — that's the point of a public-private partnership."
Donor involved in choice to pay his company
But alumni note that the public-private partnership between Purdue and Purdue Aviation creates a potential conflict of interest between Niswonger's role with PRF and his role as the CEO of a business to which PRF pays money.
Niswonger is one of 16 members of PRF's board of directors, according to the foundation's federal tax forms. The board meets quarterly to manage the business and affairs of the nonprofit, while also prescribing and enforcing its policies.
The filings show that in fiscal years ending June 2018 and June 2019, PRF paid Niswonger's company SkyNight nearly $900,000 for "use of a Nextant Jet on behalf of Purdue University." That jet is used to fly University personnel including Purdue President Mitch Daniels, according to Frooninckx.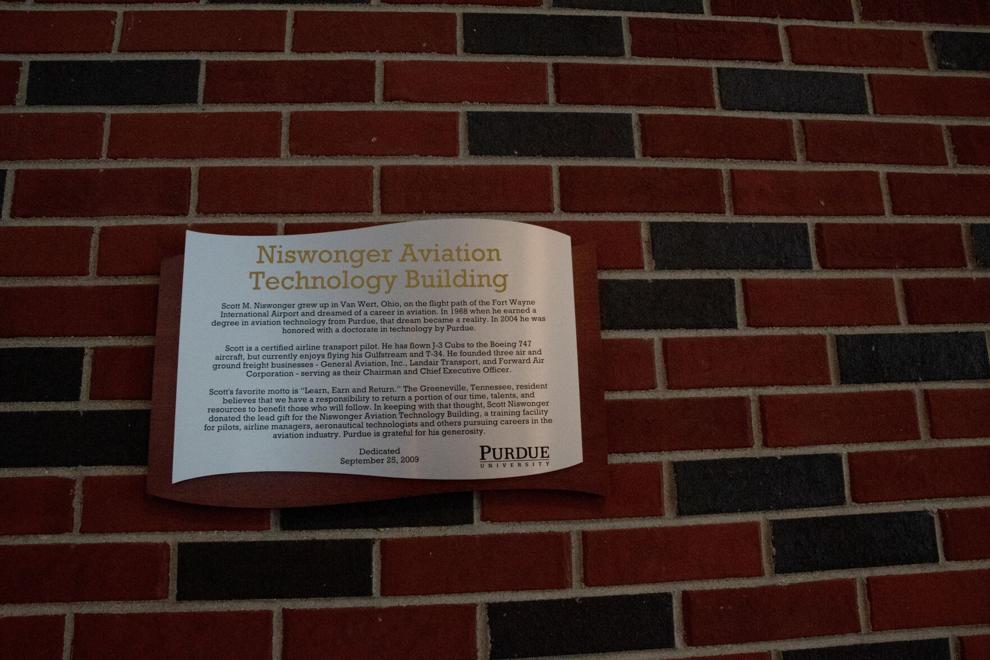 The contract means the donor is on the board of an organization that decides to pay his company $36,800 a month. SkyNight is the only company listed in the section of the tax form where PRF notes potential conflicts of interest.
"When the president's office wants to fly, the secretary calls Purdue Aviation," Frooninckx said in the private call with his colleagues. "I mean, SATT has zero involvement. As an organization we have zero involvement with the Hawker taking executives."
Purdue spokesperson Tim Doty said PRF owns one plane and leases another. For decades, he said, University personnel have traveled in planes owned by outside entities because Purdue's flight-training planes do not carry enough passengers or sufficient fuel for interstate flights.
"Purdue Aviation has no role in providing these flights," Doty said. But a plane is leased from SkyNight, Niswonger's company that owns half of Purdue Aviation, and Frooninckx's comments directly contradict Doty's.
Purdue listed its Phenom 100 jet, which it previously used to fly personnel, for sale on GovDeals.com in June 2020. Hoyler said the removal of the jet coincided with the removal of a training program that was highly anticipated by pro-flight students: a chance to earn valuable jet-flight hours.
"Students came here for that exact program, and then being told in a town hall … 'The jet program is done, and there's nothing we can do about it,'" Hoyler said. He said the program's removal was blamed on a former department head.
Alumni worry that Niswonger's eventual goal is to move beyond favorable contracts with Purdue-affiliated organizations. They believe he aims to fully privatize the University's flight program, a development that "makes it appear that he is using Purdue University resources — through Purdue Aviation — for his personal gain," according to a presentation they created to gain support for their cause.
The same presentation about the conflict of interest calls for the dissolution of Purdue Aviation and for PRF to divest its interest in the company. It also says Purdue should require Niswonger, a high-dollar donor, to maintain an "arm's length" from Purdue business, citing the University's own policy on charitable donations.
"A gift associated with a private benefit," the policy states, "will generally be deemed not to be in the best interest of the donor and the University and will not be accepted on behalf of the University.
"There must be a distance between the donor and recipient such that the recipient does not receive benefits that are otherwise not available to colleagues of similar status and interest."
Bertoline said "unequivocally" that Purdue would never fully privatize its professional flight training. He attributed the unease about the University's working closely with Purdue Aviation to a general resistance to change.
"This is a different world. Public-private partnerships are gonna become much more common in higher ed, and alumni don't understand it," he said. "And by the way, I also have deep respect for our alumni. I mean, they went through this program, they know how high-quality it is.
"I understand their concerns," he added. "I just wish they would come to me."
Does Niswonger's influence affect personnel?
A rift between Niswonger and SATT's former department head reportedly widened when the time came to choose a new fleet of aircraft for the pro-flight program, alumni said and five professor emeriti wrote to Bertoline in early 2020. Both groups said a "toxic" relationship led to that leader's demotion at the beginning of last year.
Niswonger advocated for the school to purchase Cessna aircraft, Frooninckx confirmed, while SATT preferred planes made by the manufacturer Piper. Purdue has a fleet of nearly 20 Piper planes, according to the pro-flight program's website.
But the PRF document obtained by The Exponent shows a 2018 proposal by Purdue Aviation that claims the business could save SATT hundreds of thousands of dollars by leasing a new fleet of training aircraft and taking over the school's maintenance operations.
In June 2018, SATT issued a request for proposal for the selection of "a supplier/manufacturer that can satisfy Purdue University's need to lease a new fleet of training aircraft," the document reads.
Purdue Aviation responded with a review, aided by a third-party investment company, of how its profit-sharing agreement with SATT could bring the department more money. The business also proposed cost-saving measures like outsourcing all of SATT's aircraft maintenance work to Purdue Aviation, thereby eliminating all of the school's maintenance costs.
"Under the assumption that 100% of the (Purdue School of Aviation and Transportation Technology) maintenance costs could be eliminated," the proposal reads, "the base year net cost savings to PSATT would be $615,666."
In the documents, Purdue Aviation "asserts that it can maintain the fleet at 30% of the cost that would be incurred by" SATT. The proposal uses both Piper and Cessna aircraft to estimate saved maintenance costs, though the company vouches for the purchase of 20 Cessna training aircraft and two Piper aircraft.
"Look, he's an aviation expert, he knows a lot about the aviation industry and the business side," Frooninckx told The Exponent, "and he felt a different kind of aircraft" — Cessna — would be better.
"That's the bottom line," the department head added. "Yeah, he was trying, he had an opinion, he was offering that, and we accepted his opinion. But we didn't accept his decision, and we went a different direction."
But Hoyler, five professor emeriti and one current aviation employee, who requested anonymity for fear of retaliation, said the disagreement led to the demotion of a revered leader for reasons never disclosed to staffers.
Now-professor Manoj Patankar served as head from 2017-20, according to public records. Based on accounts from alumni, professor emeriti and current or former employees, Patankar was a sound leader of the school who brought stability and progress following mid-decade struggles.
In a letter addressed to Bertoline in early 2020, professor emeriti detailed a toxic relationship between the donor and the school prior to Patankar's appointment as department head.
Patankar hired faculty to strengthen the school's weaker degree programs and provided technology to bolster the aviation school's teaching, the five former professors wrote following Patankar's demotion. He also advocated successfully for a full-time safety manager at SATT.
The renewed success of the school in the past several years was due to "the vision, leadership style, ability, integrity, and tireless efforts of Dr. Patankar," they wrote.
"We cannot conceive of a more ill-timed," the letter reads, "or ill-posed decision for the future of aviation education at Purdue."
Patankar declined to comment.
The former professors felt Niswonger's agenda and the growing financial relationship between Purdue and his company were threatening the school's reputation. Economic pressures had begun to supersede the incentive to provide high-quality education, they wrote.
"Allowing economics, driven by individuals outside of Purdue (however well meaning)," the professors wrote, "to distort or circumvent SATT values debases our product."
A continuation of the financial conflicts would "poison" industry perception of the school and be "catastrophic," they said in the letter to Bertoline.
The dean acknowledged in the interview with The Exponent that the previous department head was widely held in high regard. He wouldn't share his rationale for the demotion, saying that he cannot comment on personnel matters.
"I make my own decisions," Bertoline told The Exponent. "That's all I can say."
Faculty and alumni said they were upset by a similar lack of explanation at the time of the firing.
A year after the most recent SATT head was demoted, the school is still looking to hire a new permanent leader — the third since 2017.
Alumnus issues safety complaint
Alumni worry Niswonger's goal to further privatize the University's flight training program would also make way for lowered safety standards in an effort to maximize profits.
"Every hour they're not flying is an hour they're losing revenue," Hoyler said.
Another aviation alumnus, David Pieper, says an employee in the airport's parts department has told him there's cause for concern with regard to Purdue Aviation's maintenance records.
"It's been observed that they've come over and used expired parts," the 1973 maintenance technology graduate said. Hoyler voiced the same allegation.
Pieper, a Columbus, Indiana, resident who said he visits campus a few times a year, says concerns have circulated among aviation alumni that the planes used by Purdue Aviation may be generally less safe than Purdue's in-house fleet.
Using old, expired parts and completing inspections poorly increases the possibility of aircraft experiencing error and parts failure, Pieper said.
The alumnus sent a formal complaint to the FAA, asking it for a general inspection of Purdue Aviation. Pieper said the organization indicated it needed more details on alleged misconduct before it could investigate further.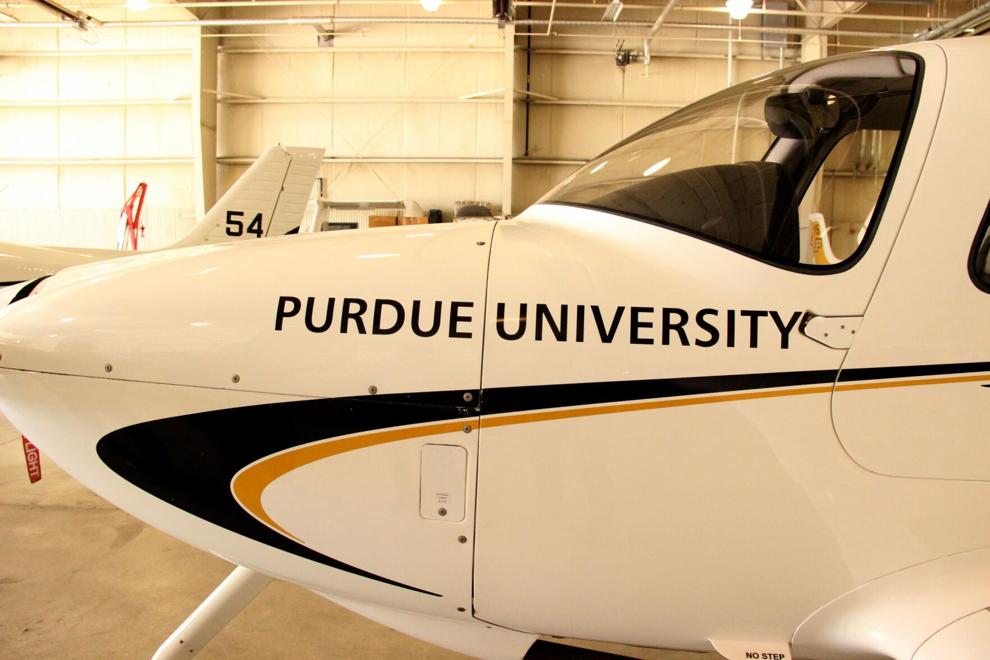 "Example: using shelf life expired consumables or using a part awaiting overhaul and/or repair to keep an aircraft available for flight until such time a new or replacement part arrives," reads his letter, dated June 10 of last year.
Frooninckx said in his private conversation with colleagues that "we think that our maintenance is a little bit better, and we think that our instruction is a little bit better."
But Bertoline says safety is "baked into" the system of opening an FBO like Purdue Aviation, because the business already has to comply with a raft of FAA regulations.
"They would have to adhere to quality standards," the dean said. "If you know anything about flight, and flight safety, under FAA guidelines, you just cannot just start up a training program. You can't do this ad-hoc.
"I just can't believe that it would be a safety problem. I just can't see that."
Jeff Pittard, president of Purdue Aviation, said he was unaware of safety concerns mentioned by alumni and referred The Exponent to Frooninckx. Pressed further for comment, he said, "Purdue Aviation LLC is a private entity and we keep our information that way."
What FAA records show
The Exponent requested all complaints and subsequent investigative records compiled by the FAA's Flight Safety District Office in Indianapolis from Jan. 1, 2017, to present day.
The FAA documented 155 records concerning Purdue Aviation's flight school and repair shop in total. Most records denoted satisfactory inspections of the aircraft housed within Purdue Aviation, or marked where inspectors commented on flight instructors' lesson plans.
One of the longest entries dates back to 2016. The log entry records a host of issues FAA inspectors found in Purdue Aviation's safety program manual, a recurring problem detailed in comments starting in February 2016, when the business sent a letter of intent to the FSDO over its plans to achieve a particular FAA certification.
"The manual is willfully inadequate," read the comments dated March 18, 2016. "The manual fails to ensure the aircraft are even properly maintained, offering very little procedures for most policies."
The entry details the many updates inspectors relayed to the FSDO throughout 2016. Problems ranged from minor formatting issues, like font size and paragraph indention, to serious questions of responsibility, like defining how "airworthiness" is ensured for individual planes.
Eventually, on Dec. 19, 2016, the records indicate that an FAA inspector reviewed the safety and procedure manual and determined the manual was satisfactory.
The University announced two months later that the FAA had approved Part 141 flight school certification for Purdue Aviation. The certification meant that the business could begin adding services and helping students earn pilot's licenses sooner than it previously could have with its Part 61 flight school certification.
Later in 2017, FAA inspectors recorded other "non-conformances" within Purdue Aviation's repair station.
"Multiple parts located in the part storage area do not have proper traceability or identification to a company record associated with the purchase of the part," records dated Aug. 3, 2017, read. "Additionally, the parts room is not secured and personnel working on aircraft under their personnel certification have unrestricted access to repair station parts inventory."
The deluge of comments from the FAA lessened over time, the documents show, and Purdue Aviation continually updated its manuals and teaching materials. Some records detailed small problems in the order that material was taught.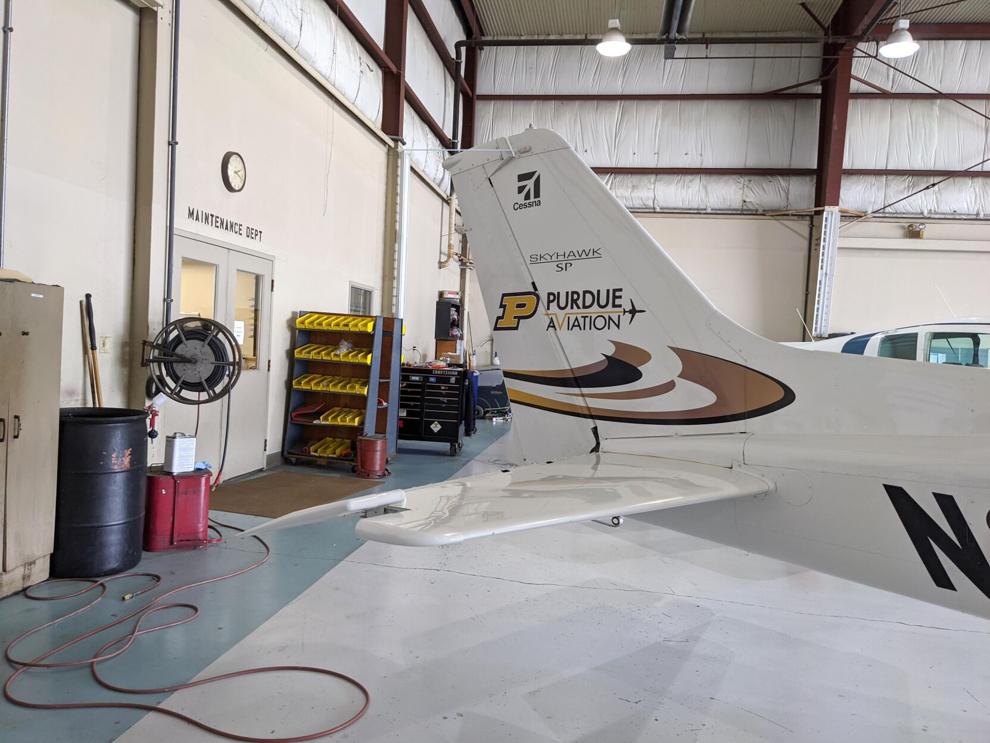 Other FAA records detail a few plane crashes and an emergency landing conducted by Purdue Aviation pilots and students since the business's opening.
In January 2016, SATT announced it would receive a brand-new Cessna 172 Skyhawk plane.
In August of the next year, a Cessna of the same make and model lost power, forcing the pilot to complete an emergency landing in a field near the Wabash River. The plane was owned by Purdue Aviation. Neither the pilot nor the passenger was harmed, and the FAA later investigated the cause of the emergency landing, according to previous Exponent reporting.
The FAA's Aviation Safety Information Analysis and Sharing database doesn't record a crash report for that emergency landing. But the database does record several other crashes sustained by Purdue Aviation-owned aircraft.
On Sept. 21, 2020, the landing gear of a Cessna 172 collapsed, according to the database. This led to a system failure when the instructional aircraft was in an "undefined" phase of flight.
The plane was damaged substantially, per the report, though no other details as to what caused the landing gear to retract are given in the report. No injuries were recorded.
Another Purdue Aviation-owned Cessna bounced twice on the runway and sustained substantial damage to its engine frame in September 2019.
The solo pilot, a 20-year-old student, had recorded just 33 hours of flight time, FAA public documents say. The FAA reported the accident stemmed from "improper landing flare," as the plane pitched first up and then down into the runway of Purdue Airport, collapsing after its nose landing gear struck the ground.
Prior to takeoff, there were no pre-accident mechanical failures or malfunctions with the plane, the pilot reported to the FAA.
A legacy of pride
Part of the avid push to avoid changes to the program stem from the deep connections alumni feel to an aviation program steeped in history.
They're quick to point out the corner of Hangar 1 at the airport where famed aviator Amelia Earhart kept her plane, or to remind students that if the wreckage of her twin-engine Lockheed Electra plane is found, it should be returned to campus as PRF property.
As the first university-owned airport in the nation, the Purdue Airport enjoyed a head start in mixing the beginnings of commercial flight with higher education. Purdue's first annual "Aviation Day," a yearly celebration of flight, began just eight years after the Wright brothers flew the world's first aircraft in Kitty Hawk, North Carolina.
Purdue started offering the country's first aviation technology programs in the 1950s, and at one time even operated its own airline.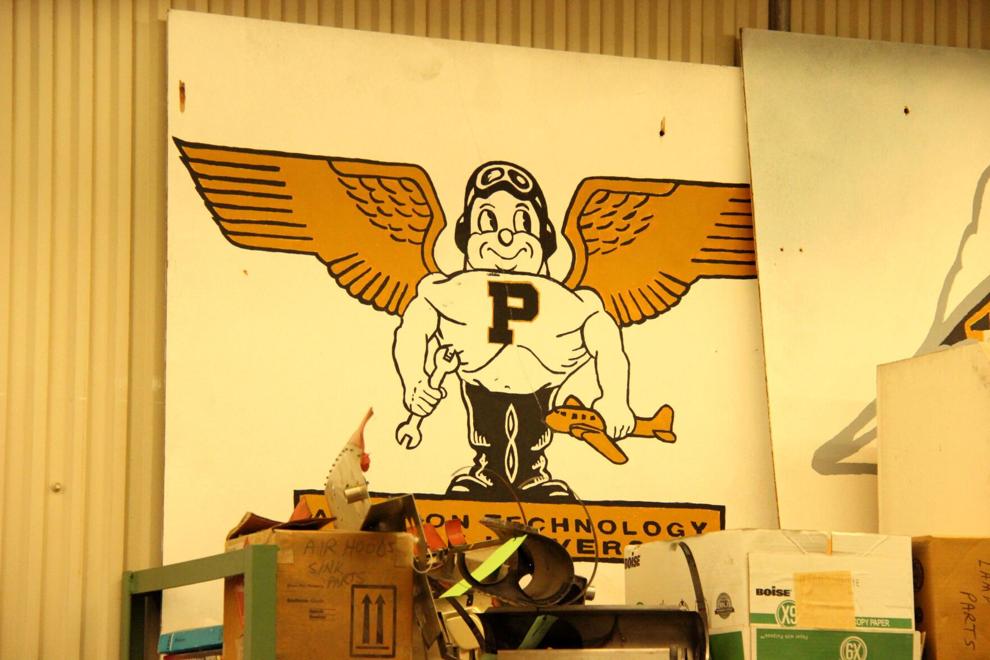 The University's flight program is now widely recognized as one of the best in the country.
Though the professional flight program is just one of the Polytechnic Institute's several aviation programs, it's one of the most visible. It's hard to cross campus without glancing skyward and seeing a passing plane.
Other top aviation programs can be found at colleges like Embry-Riddle Aeronautical University, which owns its own aircraft ramp, in Florida.
It's more difficult to find universities advertising programs where students are taught by third-party flight companies.
In 2019, Purdue University Global announced its plan to combine public and private instruction for flight students nationwide. The school, an online arm of Purdue that was renamed after Daniels led Purdue's purchase of Kaplan University in 2018, began partnering with Sterling Flight Training, a private pilot school, in Fall 2020.
Through the partnership, students will earn bachelor's degrees online through Purdue Global's aviation and general education curricula. Sterling will provide students flight instruction in Jacksonville, Florida, per a June Purdue News press release.
Though students won't be taking classes from SATT, the school has "provided its expertise in curriculum development, faculty hiring and accreditation by the Aviation Accreditation Board International," the release states.
Sterling Flight also works with other colleges, like Liberty University in Virginia, to provide private flight instruction to students earning their aviation degrees online.
Pro-flight from here
If Purdue's pro-flight program were to be completely privatized and outsourced to Niswonger's company, alumni worry the quality of the program would falter and pose risks to the students flying.
Five professors emeriti say they worry that higher education and for-profit motives can't mix without prioritizing one or the other. To them, Niswonger's motives seem like a looming blow to the pro-flight program's prestige.
"Moreover, the perception that a commercial interest is allowed to have improper influence and the ability to interfere with SATT organizational decisions that may have financial impact on SATT is alarming and unprecedented," the letter the professors sent to dean Bertoline reads.
The dean disagrees.
"I'm confident they can (work together) with proper oversight and working with the right people," Bertoline said.
He will soon move to a new role, however, stepping away from the Polytechnic Institute to become the senior vice president for Purdue Online and learning innovation, effective May 17. It is unclear when a new department head for SATT will be appointed to replace Frooninckx.
Hoyler said alumni hope to ensure that the committee appointed to select a new dean is free from Niswonger's influence.
Bertoline said in the two decades he has known Niswonger, during half of which he was dean, he has been a "very successful alumni." He said the vast majority of the concerns The Exponent related to him were based in rumor, and he finds them "hurtful."
"It saddens me that Scott is being portrayed this way," he said. "He's a businessman. He knows how to make money. That rubs people the wrong way sometimes, but this has nothing to do with safety, it has nothing to do with ethics or morality."
Niswonger's endeavor to create a public-private partnership is "different, it's a bold move, and people are just struggling with that," Bertoline said. "And I understand that."
The dean acknowledged the bent toward public-private partnerships is newer to the world of higher education. But he described the change as one that allows the aviation program to serve more students than it could without the extra space afforded by Purdue Aviation.
"When you have higher education that's been running in this nation for over 100 years where it's all state-supported, there's a certain mindset of everyone about how the world works," he said. "But in the business side of our society they're here to make money. And so, I don't know how you can have a negative connotation ...
"Obviously taking unfair advantage" is wrong, he added. "I get all of those things — but that's his job, is to make money."