Balancing classes and a part-time job is no different than balancing school and a mayoral campaign according to one Purdue junior and Illinois candidate.
Political science and accounting major Sebastian Nalls learned this firsthand since he is running for mayor in his hometown of Evanston, a city bordering Chicago and home to Northwestern University.
Until the pandemic, the 20-year-old was one of the undergraduate managers of Purdue's men's basketball team, he said, which provided him experience balancing 20-plus hours of work with courses.
Nalls is taking his courses remotely from Evanston and plans to continue his degree even if he is elected, and will finish out his time at Purdue from his hometown so he could be there to fulfill his mayoral duties. Many mayors have other jobs apart from their mayoral duties, and Nalls sees being a student as no different.
The first votes will be cast in February and could possibly lead to a run-off election in April. Despite his age, Nalls said he feels hopeful about his chances of winning.
Nalls said he may not have the name recognition of his opponents, former Illinois State Senator Daniel Biss and activist Lori Keenan, but he feels that he has been given the same respect. He also said he got positive reactions to his ideas from residents during public forums.
"It goes back to actually having those conversations, seeing or hearing me talk and just discussing some of these issues," Nalls said, "and the respect comes with that."
His platform
Nalls said he would describe his campaign as a progressive platform. Evanston tends to lean democratic, Nalls said.
Nalls said Evanston has record numbers of citizens campaigning for city council positions this year, which he believes is a sign of the grievances residents have with the current administration.
The city of Evanston has had many protests during the last year, motivated by the Black Lives Matter movement against police brutality. Last fall, Northwestern students held 30 days of protests, according to reporting by the Chicago Tribune.
"(My platform) focus is on racial justice, that includes police reform," Nalls said. "Re-envisioning how we police, not only just because it's a moral right thing to do, it's a fiscally responsible thing to do as well. We spend an insane amount on policing in Evanston."
Nalls said that there are other college communities of similar size that spend less than Evanston does on policing, yet have similar crime rates.
According to the Daily Northwestern, Evanston allocated 17.6% of its budget in 2020 to the police, which was more than the total amount allocated to Parks and Recreation, community development, health and library combined.
Some of Nalls' ideas for mitigating the crime rates without spending more on policing involve introducing more youth programs, specifically because a lot of Evanston crime stems from youth gun and gang violence, Nalls said.
Other areas his campaign is passionate about include climate action, such as implementing a climate plan that includes environmental justice. He is also passionate about fiscal responsibility, making sure Northwestern is paying its fair share when it comes to taxing and solving the affordable housing issues in Evanston.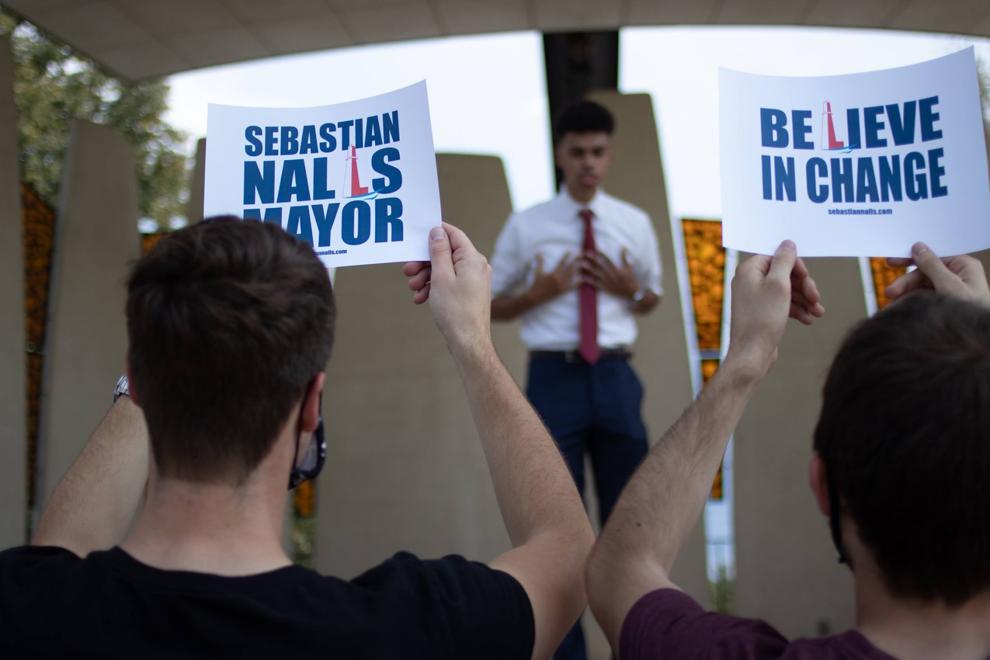 Gaining interest in politics
Nalls said he has always been interested in politics, which is why he decided to major in political science and accounting. He credited political science associate professor Melissa Will for influencing his decision to enter into the field.
Will said she encourages other students to follow Nalls' example and become politically involved.
"College students do periodically run in local government elections," Will said. "I think young candidates such as (Nalls) can bring an extraordinary amount of energy to politics. I expect he has some fresh ideas and new priorities that he is bringing to the Evanston mayoral race."
Being such a young candidate among an older field is not without its disadvantages, Will said.
"Young candidates have obviously not had as much time to build up community connections as older ones," Will said. "They also might not be as involved with local political parties yet."
But despite the challenges, Will believes that Nalls' campaign is a good sign that the younger generations are becoming eager for political change.
"Young voters turned out in great numbers for the 2020 presidential election," Nalls said. "I am hopeful that we will continue to see increased political engagement from this group."
Cameron Ball, a junior in selling and sales management, said he was surprised that his friend was running for mayor at first, but that the move was in line with the Sebastian he knew.
"I thought it was pretty on-brand," Ball said. "(Nalls is) an ambitious guy, especially for his age."
Ball said he and Sebastian have been close friends since their freshman year and the two have been roommates for two years. As Nalls' political involvement has grown, Ball said that he found himself learning from his friend.
"(Nalls is) very caring to people he is close with, always looking out for them and he's very passionate about things he is involved in," Ball said. "He's always educating me a lot. He's had discussions with me about certain issues and I've always come out of these conversations learning more."
Nalls said his family has also seen how serious he was taking the campaign as well and supported him every step of the way.
Building a team
Nalls' campaign team includes people from different parts of Evanston, of different ages and backgrounds, he said.
"My chief of staff, Mia, is a senior in high school," Nalls said. "She's been very active in terms of climate policy and some of the work that she's done in founding some organizations at a high school level."
Growing up, Mia Houseworth was Nalls' next-door-neighbor, she said. Now, she is helping to run his campaign.
"I helped him out with a lot of environmental stuff and connected him to a lot of youth organizations," Houseworth said. "But it all kind of worked out perfectly because he was looking for someone who understands the Climate Action and Resilience plan, which is Evanston's climate plan."
Nalls' social media campaign is run by an 11-year-old volunteer from Kansas, who found Nalls' campaign online and emailed him hoping to get involved.
"I didn't realize he was 11 until the Zoom call because his emails sounded like they were from any adult," Nalls said. "He's incredibly smart and talented, makes all of our graphics."
Nalls said he thinks getting people involved in his campaign from different ages and demographics is necessary for positive change to take place.
"There's often a disconnect between older people, younger people, along race lines, religious backgrounds," Nalls said. "If we continue to not listen to new ideas that people may have, then we won't have that meaningful change."
Houseworth echoed Nalls' hope for including young people in politics.
"What I love about (Nalls) is that he wants to include youth chairs within the local government," Houseworth said. "He really wants to hear youth voices because a lot of people in Evanston, especially the youth, are very driven.
"He has talked to all of the youth organizations, really trying to understand their needs, and he's been listening to everyone that has come to him, which is really what we need to see in a leader in Evanston."
Nalls believes his readiness for his current path comes from his experiences from growing up in Evanston and being at Purdue.
"I'm a product of my environment," Nalls said. "So you know I give props to Evanston for making me into the man I am today, and Purdue helping me on the journey as well."
His campaign to become Evanston mayor is the first step in what he said he hopes is a career in politics.
"I believe it's a means of making change," Nalls said. "Everyone always talks about the special interest groups and money in politics, but I've never cared about any of that. When you're a public servant, you do exactly what the name entails, serve the public."