Several students have organized a 24/7 sit-in organized in response to an error in reported suicides by Purdue University Police Department and the stress students have faced this semester. Read updates from the sit-in below.
4:00 p.m.
Cubes of sidewalk chalk, chip bags, totes of blankets and extra jackets were lying on the steps outside Hovde Hall and the crowd of student supporters had grown to around 50 students for the second rally of the sit-in on Friday afternoon.
Purdue Student Government President Assata Gilmore spoke to students at the protest and said she was sticking around on standby all day and planned to offer to buy dinner for the protesters, as well as help them brainstorm their next steps.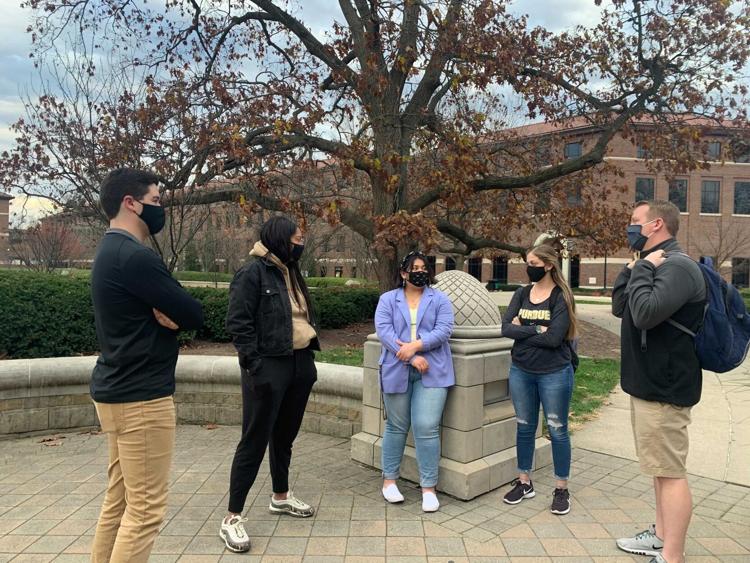 Students from the LGBTQ center also brought over free food for the students from Panera and a Starship robot delivered some extra snacks as well.
Many students paired off into groups among themselves to discuss how they were doing and feeling, as well as how they were handling the stress of the end of the semester.
Nevaeh Miranda, a freshman in the College of Liberal Arts, said she had been there the previous evening, and was back this morning at 6:30 a.m.
Miranda heard about the protest from one of her friends via social media, and came out to support. She said she plans to stay "as long as they need me."
"I personally struggle with mental problems," Miranda said. "It's a big issue, and any way that I can help someone else, prevent the things that have happened to me or the things that I feel, I want it to be better for someone else."
- Natalie Fedor, Executive Reporter
Noon
There are four occupiers left, with a combined 50 hours of occupation among them.
"You know, obviously we're physically tired," Lee said. "But what's keeping us going is the student body is tired too.
"We're tired of the fact that Purdue's not fighting for us, and that outweighs the physical tiredness we're feeling."
Lee said the response from student passersby has been overwhelmingly positive. At around noon, Adam Lechowicz, a senior in the College of Health and Human Sciences, passed by Hovde Hall of Administration and stopped to ask the occupiers why they were protesting.
After a brief conversation with Lee, Lechowicz left, later returning with a sign reading "student health over admin wealth" taped to a large tree branch he said he found in his front yard.
"I had a friend who took his own life," Lechowicz said. "This is something I stand by entirely. I'm someone with a history of mental health and loss of people who I love to suicide. It's not something that should be taken lightly.
"The stigma against mental health is still alive and well, especially through the very conservative administration that operates this university, and I hope to have some little part in changing (that)."
The protesters said there was one student who was vocal about his disapproval of the protest, saying "if we don't like it here we should just leave."
A student brought pizza and Panera, and when the protesters finished eating the pizza, they made signs from the cardboard as the All-American Band played "Hail Purdue" from the other side of the Engineering Fountain.
- Emily Primm, staff reporter
Midnight
A dedicated group of about 15 students remained in front of Hovde past midnight.
Along with a squad car and a few infrequent skateboarders, they were the only ones there. To pass the time they played Latin rap music off a stereo speaker and were huddled in circles, sharing stories and small talk.
"Bro, we showed up on the police scanners," one of the students said. "They were saying, 'Yeah, these kids are staying here for a long time.'"
Shortly after, the police cruiser drove off.
Noah Smith, one of the organizers, shared a reason he was still on the steps of Hovde.
"I, for one, have never heard a good story from CAPS," Smith said. "They don't have the resources to serve us. The psychologists are overworked and understaffed; meanwhile the help they can give to students struggling with mental health problems is deliberately limited."
The activists said they were self-assured and confident they had the support of the student body, as Smith said those who pass by the sign the group hung agreed with the sentiment. Passersby had come by earlier in the day and brought coffee and water.
"We're not like Mitch Daniels — or anyone up there on the top floor — where we do our job and go home when the day is over," said Mason Merkel, a sophomore in College of Engineering. "This is our home, and we're posting up here until shit happens.
"Most of us have wanted to go to Purdue our whole lives. It was our dream as a kid, right? Well, now that we're here we gotta make it better. We're a part of that culture now."
- William Alford, staff reporter
7:00 p.m.
As the sun began to set, the group gradually diminished to fewer than 15. The students said they were reluctant to leave because they wanted to support the cause.
Before departing, they passed their signs off to fellow students and some taped signs to the pillars and doors of Hovde Hall in their place.
The remaining students played music, while new arrivals brought food and a few let out their frustrations with conversations about the administration where campus police and administrators were referred to as "pigs" and, "b——-s."
Many students wished they could have stayed.
"I've been here since 4:30, but I'll be back later tonight," Ben Walters said, a sophomore in the College of Engineering, said. "I was able to get in there (CAPS) last year, only because I was high risk and suicidal."
Walters said the University needs to fund CAPS more, as well establish a Pass/Not Pass option for grades.
"Those are my No. 1 concerns," he said. "They're understaffed; I met with four different therapists."
Walters said he sees a personal therapist at home instead and feels as though the University hasn't provided enough in-person interaction for students.
"I go to class one time a week," Walters said. "I feel like they're doing the bare minimum … and I feel like the administration is going to say they tried and make the school look good at the expense of the students."
- Alex Brophy, staff reporter
5:00 p.m.
More than 50 students stood outside Hovde Hall of Administration for the start the 24/7 sit-in.
"The catalyzing moment of creating this movement was the fact that we lost a student," said Brian Lee, a sophomore in the College of Engineering. "The circumstances of an attempt versus a suicide are the same, and the University needs to recognize that.
"The clerical error of PUPD calls into question all their statistics. This error is not an exception, it's now a pattern."
Purdue spokesperson Tim Doty said the PUPD report is generated from information received in calls to police dispatch, not from the eventual outcomes of the calls, per previous Exponent reporting. Generally, those numbers are updated by campus police after PUPD receives further information as to the final classification of the call, PUPD Chief John Cox said.
"To avoid confusion moving forward," Doty said, "only the APRA and Clery logs, which list the outcome of the call, will be kept."
Prior to the start of the sit-in, Purdue Student Government sent out an email to the entire student body that addressed the suicide. President Assata Gilmore and Vice President Hannah Darr called for students to support one another, acknowledging that while the University is making progress, more change is still necessary.
Lee also mentioned that he and several other students were invited to a meeting earlier Thursday with several members of the administration, including the interim director of Counseling and Psychological Services, the dean of students, the chief of PUPD and the associate vice provost for teaching and learning.
"They definitely answered our questions, but they didn't tell us anything new," Lee said. "It felt like we were hearing the same PR statement and they were doing it just to appease us."
The event started with the entire crowd observing a moment of silence for the student who died by suicide over the weekend. Multiple organizers gave speeches and encouraged members of the audience to do the same.
"Purdue doesn't give a f--- about us," Noah Smith, one of the organizers, shouted in his speech. A sign several of the organizers put up repeated that message, as did several flyers the group posted around campus earlier this week.
Smith teared up during his speech, taking several pauses to compose himself before continuing.
"When we protested racial inequality, it took them five or six protests before we finally got to sit down with the administration," he said. "The fact that we heard from someone less than 12 hours after the flyer went live is very telling."
Jasmine Huizar, a junior in the Polytechnic Institute, said he heard about the event through a flyer in a group chat.
"I think that this is an important issue that needs to be highlighted," she said. "We all know that despite being advertised, CAPS isn't very accessible."
Students were also encouraged to upload testimonials to an anonymous Google form. These testimonials were being read out as the evening progressed.
"I went to CAPS because I was feeling suicidal because of my bipolar disorder" reads one such testimonial. "CAPS turned me away because my case was too serious and told me to go elsewhere."
One student spoke about a personal experience he had with the loss of someone close to him.
"My best friend killed himself last year, and I had to talk to people about why he died," said Patrick Siener, a sophomore in the College of Health and Human Sciences. "Purdue has done nothing to help establish a community where we can be here for one another in these times."
When asked if there was anything he wants to tell the administration, his reply was simple: "Help us."
PUPD Capt. Song Kang observed the protest from a distance, standing near the edge of the Engineering Fountain circle.
"We need to be prepared for anything," he said.
- Nidhi Shekar, Staff Reporter