Several Purdue students are trapped in Myanmar after a military-backed coup seized control of the government and arrested the de-facto civilian leader and many other opposition leaders.
Han Tun Oo, a junior from Myanmar, said he's close with many Boilermakers still in the conflict-ridden nation who are unable to return because of airport shutdowns and difficulties obtaining a U.S. visa.
Since the military takeover, a civil disobedience movement has gripped the country. Much of the nation is demonstrating in the streets and many have stopped working in protest of the coup, leading to a broad economic shutdown intended to "cripple the military's finances," Oo said.
The military-backed government has reacted harshly to any who oppose it. The senior general's forces have killed more than 700 civilians since the coup, and many who oppose the regime are being arrested, including medics and reporters, according to reporting by The New York Times.
Friends, family protest the regime
Oo, who's in the College of Engineering, said his friends and cousins in Myanmar were protesting, but stopped because the situation has become "extremely dangerous."
"You have to consider the immense amount of bravery that it would take (to protest), because these people don't have guns," Oo said. "And yet, despite the armed forces just opening fire on us with machine guns and flying over certain villages and bombing schools ... I'm proud to know that the people back home are not deterred by that sort of thing … and (are) going out every day courageously to make their voices heard."
Oo said at times he's felt "extremely stressed and extremely guilty" about being in the U.S. while people in Myanmar are suffering.
"I do want to stand up for what's right," Oo said. "I want to fight for our country and my future."
Ei Sandi Nwe, a doctoral student in the Krannert School of Management, said her cousins in Myanmar go out in groups every day to protest at different locations. After first hearing about the coup, Nwe said she was shocked.
"For the first two weeks I couldn't eat or sleep," she said. "I was so emotional."
Oo said he saw the coup coming, given Myanmar's history with military rule. The country had four coups before this year's overthrow. Oo said his father protested in the streets after the college he attended shut down as a result of the 1988 military takeover. Thirty-three years later, Oo's friends and family are doing the same.
The military rulers in Myanmar ordered internet service providers to shut down wireless broadband services near the beginning of April until further notice, according to reporting by Reuters. Oo said he worries about his parents' safety when he can't communicate with them online.
He said his parents are just trying to stay safe. Speaking to police has become common for them. They have learned to de-escalate situations when they hear a knock on their door.
From his upbringing in Myanmar, Oo said he also recalls many encounters with military police armed with automatic rifles.
"Honestly it's very terrifying," he said, "and I still have nightmares about some encounters."
Coping with crisis
Nwe and Oo both attended a vigil in Indianapolis on Sunday for those who have died resisting the coup. Burmese students from different universities, including Ball State University and Indiana University, showed up to sing, share stories and read poetry, Nwe said.
Asked about the vigil, Oo took a brief, tense breath. "It was difficult," he said, but he was glad the community was showing its support.
Nwe has had a similarly fatiguing experience since the coup began, saying she wakes up each day and looks at news regarding the crisis.
"I've been pretty involved and emotionally and mentally invested in this whole thing," Nwe said, "and it has been really difficult for me."
Nwe, who is Buddhist, said she'll often meditate to cope with news about the crisis.
For the Purdue students stuck in Myanmar, Oo said the dean of students was contacted to inform them about the situation and let them know that the students may need leniency regarding classes. Oo said when contacted, the dean responded with an email saying administration was aware of the situation and willing to help reach out to professors.
Regarding how many Purdue students are in Myanmar, Associate Dean Steven Yeagley said the Office of the Dean of Students doesn't track the number of students participating in classes from their country of residence.
The Purdue Data Digest showed that 17 students from Myanmar — labeled as Burma, the nation's English name that was dropped in the late 20th century, on Purdue's map — were enrolled at the University as of Fall 2020.
As part of the Myanmar Student Association, both Nwe and Oo are trying to spread awareness of the political crisis in Myanmar. Nwe said the association has raised $4,500 from selling T-shirts and masks. Proceeds will help those who are in financial need after losing their jobs or refusing to work in protest of the military government.
Oo said the money will go toward the Committee Representing the Pyidaungsu Hluttaw, which represents members of the democratically elected government, as well as the Burmese Red Cross.
How the coup came to be
While the coup is due to several factors, political science professor Joan Timoneda said it's typical of military regimes to try to retain some power while democratizing. Myanmar is an extreme example of that.
The Myanmar military regime designed the constitution prior to elections in 2010, allotting itself 25% of seats in both chambers, with 75% of support necessary to change the constitution.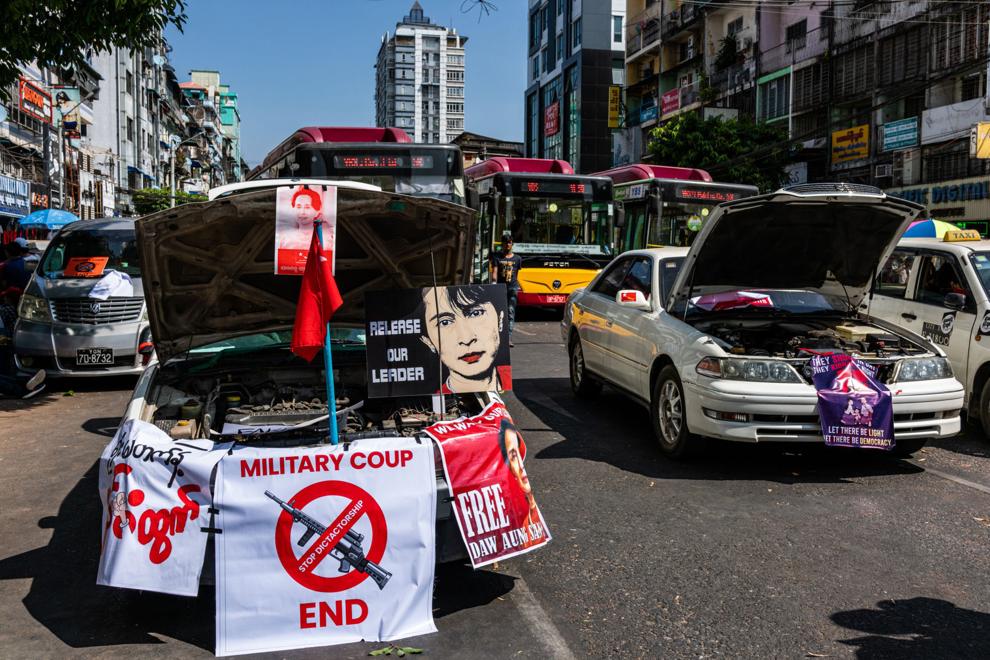 Following a landslide victory from the National League for Democracy, Timoneda said the military had been losing leeway within the government.
"I think the fear was if they keep losing support," he said, "the opposition will be able to reform the constitution."
Aung San Suu Kyi, who had been the country's leader until this year, was detained by the military. Several other leaders of the National League for Democracy, along with many opposition writers and activists, have also been detained, according to reporting by The New York Times. Kyi is now facing possible life imprisonment.
Kyi was not officially permitted to hold the title of president despite having won the election in 2015 because of a law Timoneda said was likely targeted toward her. To work around this, she created a new title for herself the following year and put a loyalist as the president.
But even as the de-facto civilian leader, she still didn't really have much power, Timoneda said. The military that arrested her still maintained control of defense and many other offices.
Timoneda said the regime's fate depends on how tightly the inner circle of military leaders stays together while imposing their harsh crackdown on any opposition.
If any in that circle begin to split or question the repressive response, Timoneda said that could weaken the military regime, leading to its downfall.
After not having visited Myanmar for the past two years, Oo said he hopes to return this summer. But he's not sure whether that will be possible.
"I hope that the situation does de-escalate and things get resolved," he said, "because I want to go home."