INDIANAPOLIS — Talaya and A.J. Jackson came to tour the new Purdue Polytechnic High School building on Monday for its grand opening. But they weren't there for a Purdue connection; the building to them is a symbol of progress, both said, for the Englewood neighborhood they've lived in for nearly a decade.
"We came to see their future," Talaya Jackson said of their two boys, 8-year-old Anthony and 6-year-old Andrew, as both wandered listlessly around the classrooms on the high school's third floor.
"I went to a community college and it was kind of hard for me," she said. "I see, with this school being right in our neighborhood, us being able to excel, our children being able to excel and have a better quality of life than we had."
A.J. Jackson is on the board of the Englewood Community Development Corp., an organization that partnered with the John H. Boner Center, the city of Indianapolis and Purdue to unveil the renovated PR Mallory Building that will house Polytechnic high schoolers come the beginning of the school year on Aug. 3.
Indianapolis Mayor Joe Hogsett and Purdue President Mitch Daniels shared the mic with community leaders on the brick pathway leading to the $38 million, 120,000-square-foot refurbished building during Monday's ribbon-cutting ceremony.
The building, a former industrial hub just more than two miles east of downtown Indianapolis, had been vacant for more than 30 years. It had become an "eyesore" for community members, Talaya Jackson said, and a place where drug users would commonly congregate and lines of tents denoted homeless camps.
"When we moved to this area, the area was run down," Talaya Jackson said. "(The building) was most definitely contributing to the drugs and that stuff in the area. It was helping bring the neighborhood down."
Scott Bess, Purdue Polytechnic head of schools, said the revamped school is viewed as a beacon for economic progress by community leaders he's spoken with over the past few years.
"They saw this as a linchpin to neighborhood redevelopment, with the emphasis being not gentrification, but true redevelopment," he said. "There's gonna be more than 1,000 people here every single day. That alone will start to spur more development, more businesses located here."
The more than 500 Polytechnic high schoolers Bess oversees in the Indianapolis district have bounced around from building to building, spending the school's first year, 2017, in a retooled factory building on the city's south side and the next two in the Circle Centre Mall downtown.
Bess said the majority of students live on the city's east side, and the ECDC's initiative to improve public transit and access to quality education made the school a desirable, decade-long development venture.
Polytechnic high schoolers will use the top two floors of the building, while another 500 students from Paramount Schools of Excellence, a charter school that offers 5th through 8th grade education, will occupy the bottom two floors. Paramount will align its STEM-oriented curriculum with PPHS to create a cohesive experience from middle school to the college application process, Paramount CEO Tommy Reddicks said.
Bess said the high school has around 25 teachers, or "coaches," as lead coach Drew Gooden refers to himself and colleagues. Gooden, in his third year at PPHS, says it's more than an unusual naming convention.
"We refer to our staff members as coaches just to really internalize the concept they are not the sole conveyors of content," he said. "They are instead on the sidelines coaching students to navigate through personal, school, community and global challenges."
Natural light pours into the building's array of large windows, shining on wide-open space dotted with lounge chairs, tables and plasma screens, all design features Gooden says are intentional to create a collaborative learning environment.
When the students return on Aug. 3, they'll be presented with 30 potential projects on topics from robotics and agriculture to the writing of children's books, Gooden said. From there, each student selects and pursues a project with a partner, balancing meetings and project pitches with lectures from experts in various fields.
The building's hands-on learning is most intensive in the "Makerspace" co-working area. The space is split between a prototyping lab soon to be covered with sawdust and power tools and a "clean Makerspace," where 3D printing, computer programming and video production will happen.
"We have had students dabble in app design and programming," Gooden said. "We're all really excited to have our first class of seniors on campus, because now it's becoming much more of a reality thinking about how can they take their experience as PPHS students and have that extend to their college and careers."
The seniors who graduate from the repurposed building in Spring 2021 will be Purdue Polytechnic's first-ever graduating class. The Indianapolis chapter is the first of three high schools, one which opened in Broad Ripple in 2019 and the other which will open in South Bend this fall, and is Purdue's primary bid to increase the number of underrepresented minority students at the West Lafayette campus.
The schools were created as a reaction to the minuscule fraction of high schoolers leaving Indianapolis Public Schools with test scores sufficient for admission to Purdue, Daniels said. Of the 115 seniors at the Indianapolis Polytechnic high school, nearly half are "college-ready," Bess said.
Around 30 high schoolers whose test scores qualify them to attend Purdue are already on campus until Aug. 7 for a four-week program meant to preview the college experience and earn them three credit hours. Daniels on Monday repeated a message he told the students in a meeting last week.
"If we only recruited those 30 students," Daniels said, "it would double the number of students we've been able to successfully get out of the entire Indianapolis Public School district."
About half of the students on campus for the summer program are students of color, and Purdue aims to incorporate large cities around the state into a pipeline for underrepresented minorities.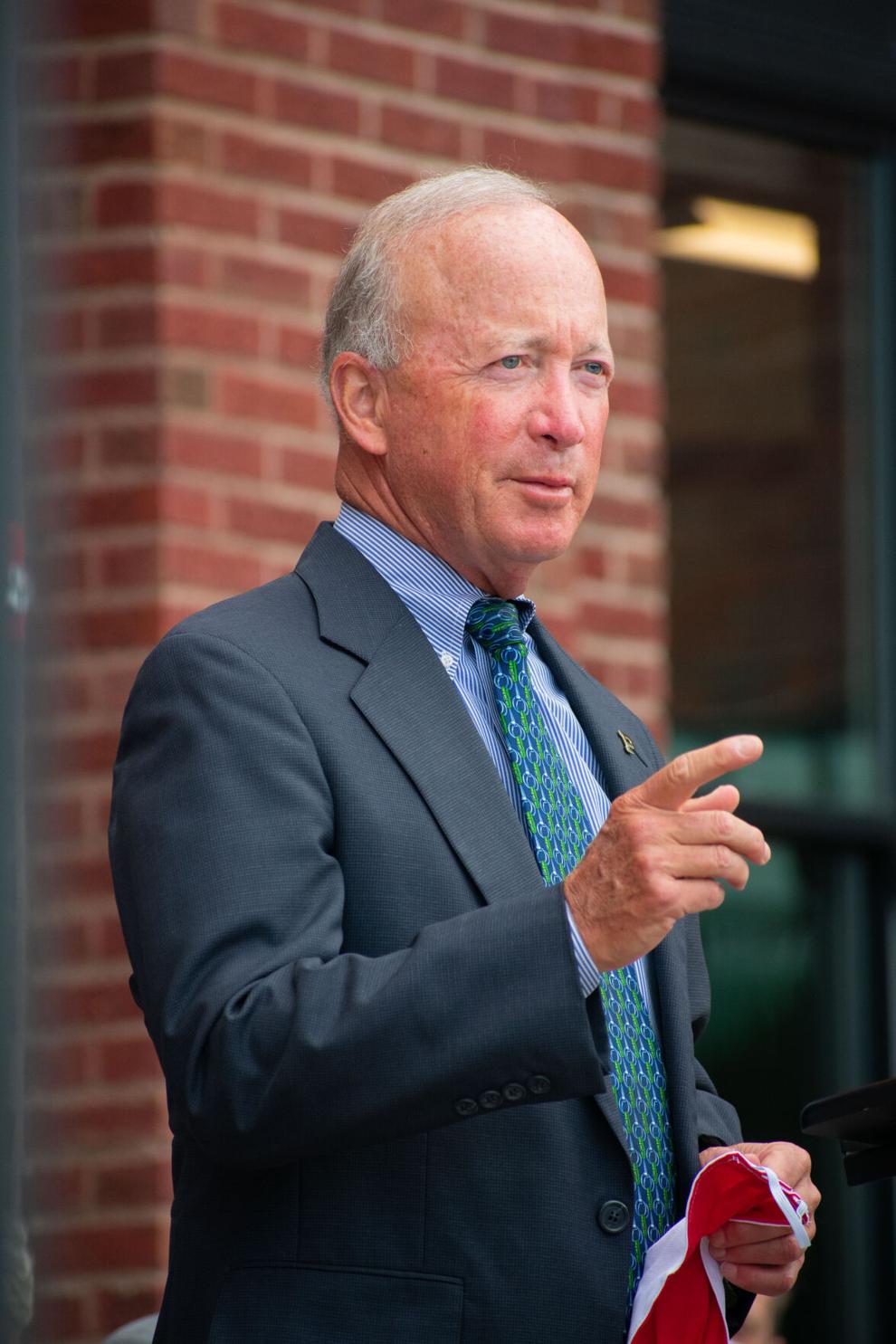 "It's always been my hope we would have a statewide network," Daniels said in a later interview. "Because the problems of not being able to recruit enough inner-city, first-generation and minority students are severe in Indianapolis and the other major cities in the state."
As A.J. Jackson's sons explored the second floor of the high school, opening and closing lockers and rolling from desk to desk in chairs, he spoke about their academic futures at PPHS.
Never did he imagine a school would enter his neighborhood and offer career counseling and a ready pathway from high school to an "A-1 college" like Purdue, he said.
"This makes it visual," Talaya Jackson added. "You can see the goal of higher education.
"You can reach out and grab it."