A member of a Purdue sorority was edited into a sexually implicit image last week by a member of a recently disbanded fraternity, prompting Purdue to investigate the sender's conduct.
On the night of June 2, Rebecca Mann posted to her Instagram story a call to action to her fellow members of Alpha Omicron Pi, of which Mann is the social chairperson: Publicly support the Black Lives Matter movement.
Once Mann challenged the sorority members, she said, many women from various sororities responded positively, sharing the image and reporting a similar lack of support in their own houses.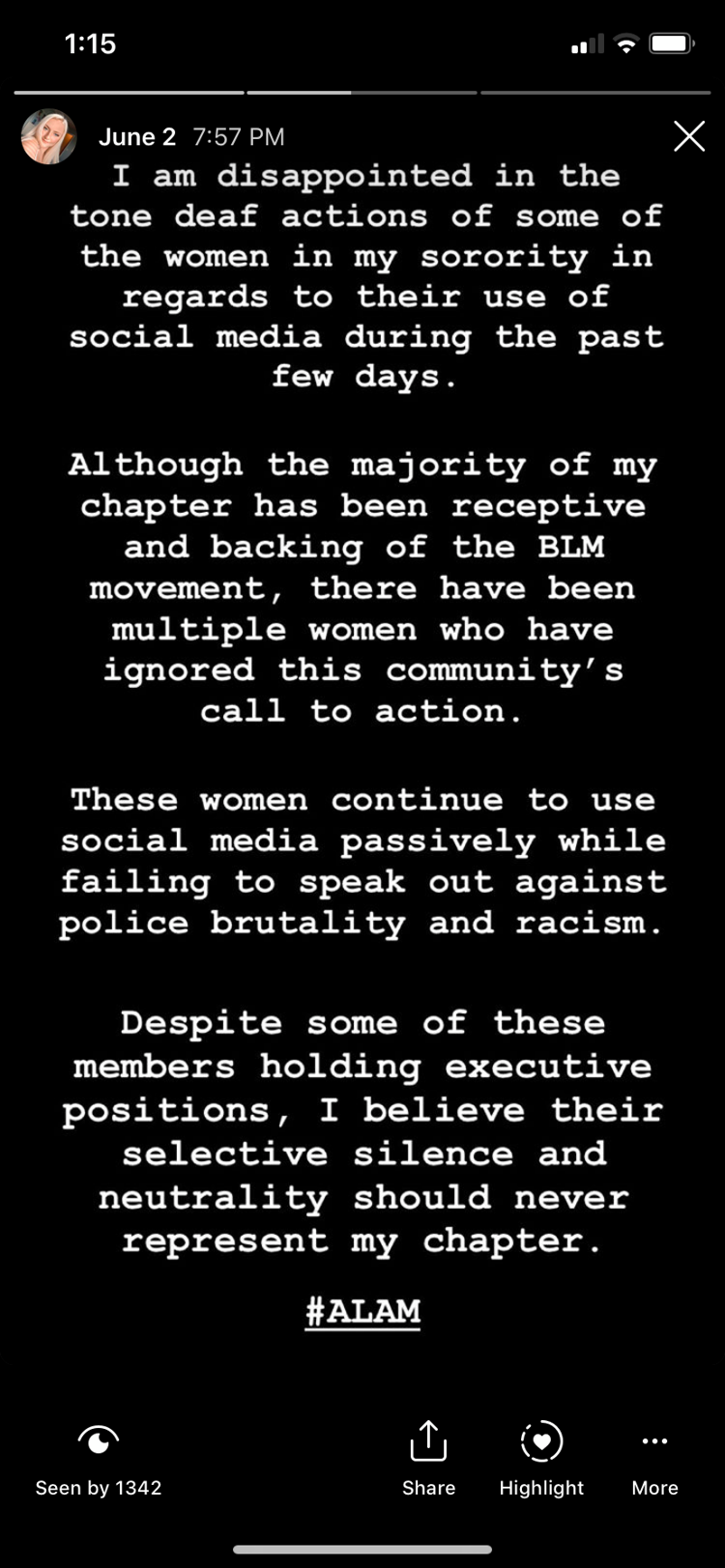 So Mann went to bed, pleased her peers were circulating the post. When she woke up the next morning, what she saw in a joint GroupMe between her sorority and Delta Chi fraternity "disgusted" her, she said.
Mann had been edited into the center of an image taken from a popular pornographic video featuring five African American men, wearing only white T-shirts and drawers, who surround and stare down at a blond white woman seated on a couch. Mann, who is blond and white, was edited in place of the woman in the video, who engages in an orgy with the men.
"It was supposed to relate to me being sympathetic to the Black Lives Matter movement and the black community," she said. "It was supposed to take a hit at that."
The image was sent by a member of Delta Chi whom Mann had never met. The member immediately left the chat after sending a message that reads, "Ope wrong chat," screenshots she provided show.
The Exponent is not naming the student because he has not been charged with a crime. He has not responded to repeated requests for an interview.
After blocking her face and the names of everyone in the group message, Mann shared screenshots of the incident to social media, writing, "I am disgusted with the conduct of members from @deltachipurdue." Members of her sorority began to circulate the post, prompting the student who sent the image to re-enter the chat with an explanation.
The fraternity member, who is African American, seemed to resent Mann's directive because of its force and the premise that she, as a white person, could not understand the issue.
"I'm calling her fake for posting obscenities about people not supporting (Black Lives Matter) on social media when the entire community has stated multiple times that we don't care whether you post shit on insta or snap, everyone's fighting racism in their own way," he wrote. "And the best way is going out and supporting at the riots and turning up at the polls. I'm saying we never asked you to speak for us, we're very capable of speaking for ourselves."
He also justified the move as a publicity stunt, Mann said, and claimed it was "undeniably effective" because people were now thinking about the issue whereas they might have glossed over more traditional posts.
"And again I'm sorry Becky I didn't mean to single you out like that, it was just there at the right time and place," the student wrote. 
Mann said the entire group chat was deleted by Thursday, one day after the incident.
She hasn't heard from the student since, she said.
She hasn't received a formal apology from Delta Chi, either, namely because the Purdue chapter was suspended on May 4 after violations of endangerment, hazing and drug use, according to the Office of Student Rights and Responsibilities.
David Mennen, the fraternity's former president, declined to comment on behalf of the chapter because it's no longer recognized by the University.
"I am not a member of Delta Chi … The Purdue chapter of Delta Chi is no longer an existent organization," he said. "I am not able to make an apology for an organization that I am not part of and that is nonexistent."
Mann said she'd observed "selective silence" from multiple peers regarding the movement, which has spurred protests nationwide after videos depicting deadly police tactics went viral. Her house has only one black member, she said, and an overall lack of diversity plagues Purdue Greek life.
After saying that the majority of her sorority sisters had been supportive of the movement, Mann wrote of a select few, "These women continue to use social media passively while failing to speak out against police brutality and racism."
Purdue's response
Brandon Cutler, director of Fraternities, Sororities and Cooperative Life, contacted Mann late Thursday to inform her of an investigation being conducted by the Office of Institutional Equity, she said.
That same day, FSCL advisers recommended she file a formal complaint of sexual harassment and defilement to frame the situation from her perspective, something she said she plans to finish this week.
Mann said as of Tuesday no one has updated her on the status of any investigation, despite promises to do so.
When asked for a comment on the ongoing investigation, Cutler said in an email, "We do not comment on student disciplinary matters due to federal privacy laws."
Purdue's Interfraternity Council cannot punish the student because Delta Chi is no longer governed by the 42-member body. Cutler said Delta Chi's suspension will last four years, throughout which the fraternity will not be recognized by the University.
"Their national office has been alerted and is investigating," he said.
Mann said she's concerned the issue will be dismissed or kept quiet, similar to previous incidences of sexual harassment. Sometimes it seems as if investigations remain inconspicuous to "avoid a PR nightmare," she added, rather than the stated reason to preserve privacy.
"I feel like this happens more than people would like to admit," she said about the culture of Greek life. "Boys like to harass girls and kind of look at them as objects, and I've definitely seen that in the community. I just don't want it to get pushed under the rug."
Formal complaints are meant to allow victims of harassment to state what happened in their own words and without public scrutiny. Within Greek life, many victims of harassment are deterred from speaking out by peer pressure, Mann said.
"A lot of times sorority women will not speak out against fraternities or against certain members because they're worried that, in turn, the fraternity system will lash out at them," she said, explaining a system by which people are blacklisted and ostracized.
"They don't want to lose that connection, they don't want to risk it all for their house, and risk getting a reputation for being snitches or being lame," she added.
Mann hopes administrators review the student's enrollment status, she said. She plans to further her advocacy for the Black Lives Matter movement and encourage diversity during future recruitment.