In a departure from precedent that has valued freedom of expression above student concerns about racist and hateful speech, Purdue President Mitch Daniels announced the decision Tuesday to expel Maxwell Lawrence after the student sent racist messages and pretended to run over protesters in a video.
"The president determined that, in addition to being racist and despicable, repeated statements posted on social media by Lawrence appear plainly intended to incite others and therefore create a risk of public safety issues in the current environment," Purdue spokesperson Tim Doty said in a statement.
The statement said other University officials thought otherwise, believing the student's actions taken on personal social media accounts to be protected under the First Amendment.
Daniels, one of four Purdue administrators who has the power to summarily expel students, moved forward with expulsion, regardless. He called Lawrence's conduct "completely and utterly unacceptable by a member of the Purdue community" and based his decision on the threat the conduct posed to public safety.
Doty on Wednesday declined to identify which other administrators, among them the dean of students, the vice provost for student life and the provost, decided against summary action for expulsion.
Summary action can forego a Community Standards Review Board, where the decision to expel is typically considered, in order to expedite the process because of unsafe circumstances. The student has 10 University business days from the notice of expulsion to appeal the decision and will know within five business days whether it will be lifted, modified or stand, per Purdue's bylaws.
Lawrence was further issued a persona non grata order Wednesday evening, barring him from the West Lafayette campus.
Lawrence posted a video on TikTok in which he pretended to run over Black Lives Matter protesters, captioned with, "Driving to your fishing spot and the protesters try blocking the road." He also sent a racist meme that referenced the lynching of black men and used racial slurs in an Instagram group chat comprised mainly of people of color.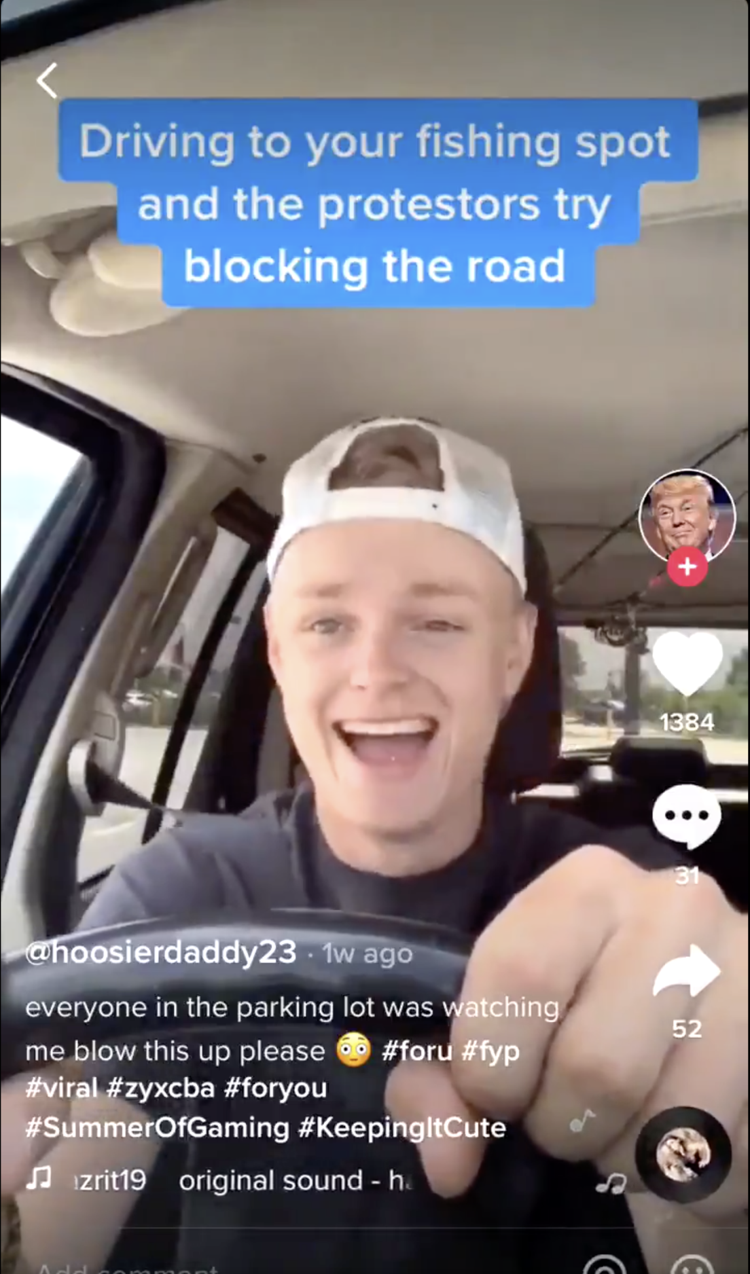 Purdue's initial decision, announced Friday in a statement made to The Exponent, said the University was committed to freedom of expression and administrators "do not control what people post on their personal accounts, nor can we punish their speech, no matter how offensive or vile."
Tuesday's reversal comes amid nationwide racial strife caused by police brutality against people of color, especially African Americans, and significant backlash from Purdue students who mobilized on social media to inundate the Office of the Dean of Students with Hate and Bias reports.
Hunter Spalding, an incoming sophomore who initially identified Lawrence's username on Instagram and attached his name to Purdue's investigation, said he's been through rounds of calls with students and faculty sharing their support about the decision.
"Oh, I was just so shocked, I couldn't believe it," he said. "I didn't think that action like this would be taken at all, and this soon.
"I think we just set the bar so high for things involving racial and social injustice. I think that we just did something so monumental, where we can finally see the change that everyone has wanted to see."
Spalding wrote more than 3,000 words documenting discrimination he's experienced at Purdue that he had planned to send to the University before the expulsion, at the urging of vice provost for diversity and inclusion John Gates. In it, he criticizes the breadth of protections against hate speech Purdue upholds, a message that still resonates despite Daniels acting independently to expel the student.
"This is just the first, and not the last, battle that we're going to have to fight," Spalding said. "This just gives us so much more momentum when we go back in the fall and can do more on campus."
A petition calling for Lawrence to be punished claimed victory Tuesday with over 2,600 signatures. The creator of that petition, Myracle Newsome, responded to Purdue's decision later that same evening.
"I'm glad action was taken and the voices of students, staff, and faculty were heard," Newsome said. "I will say, I am not going to give congratulations nor pats on the back. This should have been an unequivocal decision; the initial response remains as a reminder of Purdue's hesitancy in the face of danger.
"The 2019-2020 school year was incredibly bumpy in regards to race. I hope President Daniels's response is an illustration of his own personal growth as well as a promising vision of what's to come."
In October, then-Purdue Student Government President Jo Boileau criticized Daniels for his refusal to release a statement condemning discrimination when student Jose Guzman-Payano had his citizenship doubted at a local CVS because he presented a Puerto Rican ID. A month later, Daniels called a leading African American scholar "one of the rarest creatures in America."
Daniels has tended to allow freedom of expression in situations where physical violence is absent, Boileau said, a strategy that "doesn't protect vulnerable populations." The over-broad policy has enabled people to make racist and bigoted remarks with the knowledge they'll be protected, he said.
Boileau describes countless meetings last year with then-PSG Vice President Assata Gilmore in which he aimed to weaken protections on hate speech. He criticized the three administrators who declined to expel the student despite having the authority to, and said a University president shouldn't have to bypass normal procedures to expel a student who spewed hate speech.
"There are stories where this is happening, and just because they don't get a lot of traction, students remain on campus who deserve to be removed," Boileau said. He added that this discourages students from reporting instances of hate speech.
Gilmore, now president, said the decision is reflective of a nationwide willingness to listen to racial issues that have been routinely ignored. Policies are now being addressed that have for years actively oppressed people of color, she said.
As is documented by more than 100 posts on a new "blackatPurdue" Instagram account, students of color face microaggressions, racial slurs hurled out car windows and insensitive stereotyping regularly at Purdue. That it required hundreds of Hate and Bias reports to prompt action bothers Gilmore, she said.
"It does bring up, 'Why are you doing this?'" she asked. "Is it really because you have the best interests of the student body or because you don't want to be seen as an institution that isn't having the serious conversations or taking the necessary steps?"
Petitioner Newsome emphasized that Lawrence's views aren't unique, and that the issue of racism persists on campus.
"This is not an isolated incident," Newsome said. "There are a lot of people who feel the same way that Maxwell does. There are racists in this campus — be they students, staff, or faculty.
"I want to thank everyone who looked this issue in the eye and did what needed to be done. Every name on the petition, every share on social media, every private conversation had that advocated for safety in our community had a huge hand in what I can only call progress."