As the sun set on West Lafayette Friday night, students gathered with picnic blankets and camp chairs outside Gate A of Ross-Ade Stadium for a new kind of weekend entertainment: movie nights on the field.
The event, organized by the Purdue Student Union Board, partially originated from Exponent reporting, according to PSUB Director of Entertainment, Seth Workman.
"Over the summer I saw that there was an Exponent article about how the administration was talking about the possibility of doing movies in the stadium over the semester," Workman said. "So I immediately sent that article off to the PSUB advisers and we talked about it, (and) we reached out to the administration."
The prospect was uncertain in the first week of school, Workman said, but he attributed the eventual decision to proceed with the event to the success of Protect Purdue over the last month.
The inaugural weekend was set to feature screenings of "Jumanji: The Next Level" on Friday night and the 2019 "Aladdin" remake on Saturday. Friday night's event went smoothly, but heavy rain Saturday evening forced PSUB to delay the second screening by a week.
Students who attended the Friday showing found the event through BoilerLink and social media. Ella Stone, a freshman in the College of Science, said she had found the event through a post on the Exponent Facebook page.
Inside the stadium, attendees sat on the unpainted grass in a rough grid of blankets, like drive-in theater without the cars. Following Protect Purdue guidelines, the events are limited to 225 students per night.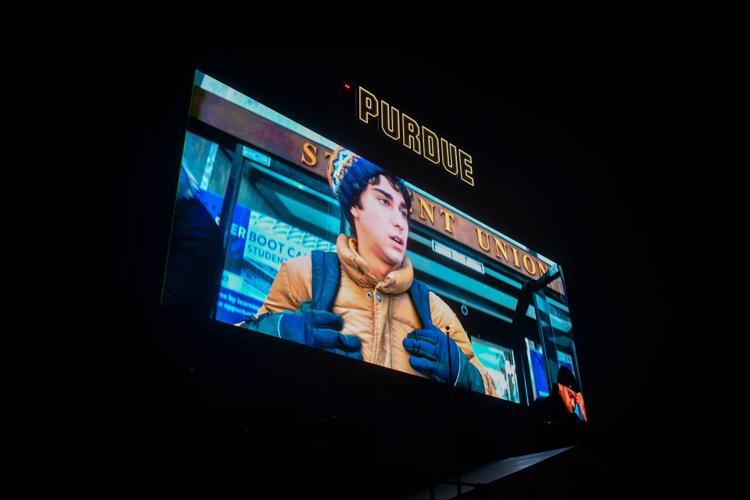 In addition to Protect Purdue guidelines, students must follow typical Ross-Ade policies. Bags and food are prohibited, and students may bring only resealable water bottles into the stadium. Other concessions will be sold inside the stadium during the movie.
"Chick-fil-A sauce on this (field) would be a nightmare," PSUB adviser Riley Cornett said.
Attendees must RSVP for screenings through BoilerLink. The board advertises all events through its social media profiles. The events are listed under "Movie in the Stadium" on BoilerLink.
Screenings will be held at 8:30 p.m. Friday and Saturday night each weekend, according to PSUB.