Pamela Fredericks checked into the Purdue Union Club Hotel on Dec. 30. By the next morning, she hadn't yet paid for her room and hadn't answered the phone. When she refused to let staff members enter the room, Purdue police was called.
Police found her sitting on the couch across the room with a large red dictionary in her hands.
"It was apparent that Pamela had placed most, if not all, of her worldly possessions inside the room and taken permanent residency inside," one officer wrote in the probable cause affidavit, including a small portable oven, kitchen spices, passport and other identification, a photo album and horse halters.
Police also wrote that Fredericks, who is homeless, made reference to being in a witness protection program and "was not making much sense."
She was arrested and banned from campus.
When The Exponent initially posted that story to Facebook on Jan. 4, Facebook comments flooded in, overwhelmingly in defense of the woman.
"She needs help, not jail," and "Clearly she needs psychiatric help. Instead she goes to jail, poor woman," seemed to sum up readers' feelings.
But homeless people being arrested for trespassing and other crimes is nothing new.
'There is no single-source answer'
Roughly 580,466 people nationwide experienced some form of homelessness in 2020. More than 34,000 of them were considered "youth" by the National Alliance to End Homelessness.
One in 10 adults ages 18 to 25 and one in 30 adolescents ages 13 to 17 will experience some form of homelessness in the course of a year, according to research by Chapin Hall at the University of Chicago. Around 29% of homeless youth report substance abuse problems, and 69% report mental health problems. Half of them have been through the juvenile system or jail, and 33% have been in the foster care system.
The main factors in youth and young adult homelessness, according to Chapin Hall, are race (Black and Hispanic people have a higher chance of homelessness than other races), sexual orientation (LGBTQ people have more than twice the risk of being homeless than their heterosexual and cisgendered peers), family dynamic, pregnancy, school problems and substance abuse.
Though more than half a million people were homeless in 2020, the number has been on the decline, dropping by 10.4% since 2007. The number of homeless youth has fallen by 8.4% since 2015.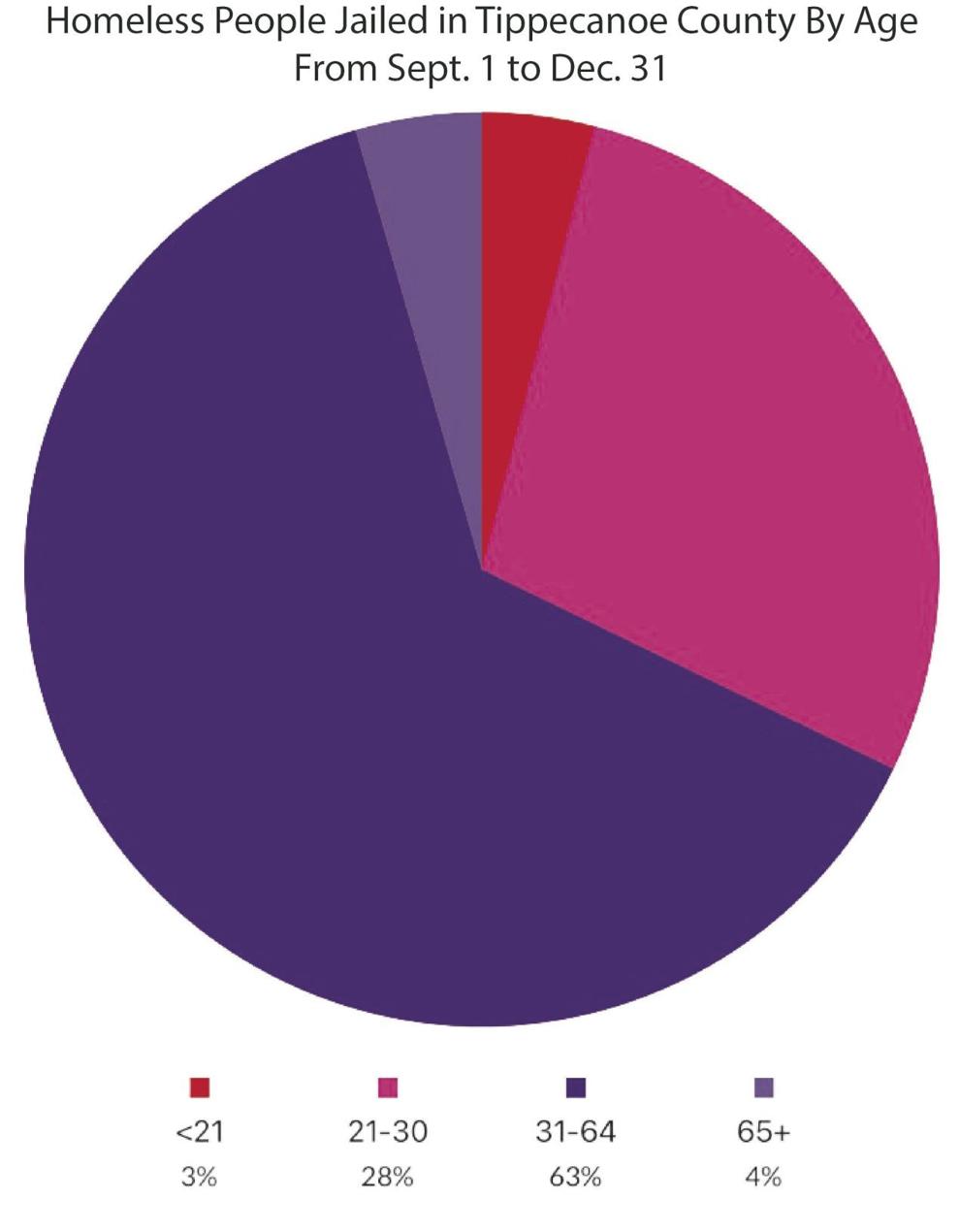 That trend, West Lafayette Mayor John Dennis said, is consistent with the last two decades in the Greater Lafayette area.
Dennis, who was a Lafayette police officer in the 1980s and '90s, said homelessness "was one of the best-kept secrets in the country."
"Law enforcement was ordered to do street sweeping," he said, sitting in his office at City Hall. "The homeless shelter was basically the jail. We weren't trained to deal with the mental health issues."
Dennis recalled a time as an officer when he found 14 men staying in an upstairs room of an abandoned building. He said nearly every vacant house would be occupied during the cold months.
Though homelessness over the years has improved by the numbers, the issue remains.
LTHC Homeless Services helped over 1,600 people last year, President Jennifer Layton said, and despite national trends, the number of 18- to 24-year-olds using LTHC services has noticeably increased.
On any given night in the Greater Lafayette area, more than 150 people are homeless, said Adam Murphy, who serves as homeless and community outreach for the city of Lafayette. Between 20 and 50 of those people spend the night outside, he said.
Layton said the most common reason for homelessness is simply financial challenges.
"People don't have the money to afford housing," she said.
Single individuals, though, are more likely to struggle with addiction and other mental health issues, she said.
Murphy stressed that the notion that every homeless person is addicted to drugs is a myth, though it is common. He said roughly 36% struggle with mental health issues, and the same percentage struggle with substance abuse.
"And there's overlap there," he added.
When it comes to chronic homelessness, though, "easily three-fourths of them have substance abuse and mental health problems," he said. "Those two kind of feed off each other."
The NAEH defines a chronically homeless person as someone who experiences homelessness for longer than a year, or at least four times over the course of three years. It defines homeless as living "in a shelter, Safe Haven or a place not meant for human habitation."
Most people are homeless for 30 days or less, Murphy said.
Men almost double the number of women who are homeless in the U.S., according to the NAEH. Those numbers remain consistent at places like the LTHC and other local homeless shelters, though the reason isn't by chance.
"Women tend to find someone that will house them," Murphy said. "Though that could be an abusive relationship."
Murphy said women are more likely to be forced into sexual favors in return for housing than men.
There are four largest homeless shelters in the Greater Lafayette area: LTHC, Lafayette Urban Ministry's emergency shelter, Family Promise and the YWCA. Seeds of Hope, Sycamore Springs, Recovery Cafe and more than a dozen other organizations offer mental health and drug rehabilitation services.
Faith-based groups like First Baptist and St. Thomas Aquinas churches have been known to give people food and shelter from time to time. St. Ann's Catholic Church soup kitchen is open 8:30 to 11:20 a.m. on weekdays. There are more than 20 food pantries, including one at LUM and an ACE pantry at the Córdova Recreational Sports Center and at the Baptist Student Foundation at Purdue.
Yet homelessness persists.
Layton said the answer is clear: People need homes.
But Dennis said it's more complicated than that.
"Housing (the) homeless is like putting a Band-Aid on a gushing wound," he said. "If they get out of the environment, the issues that got them there are still there.
"There is no single-source answer. It's a problem we all have to deal with."
'Homelessness isn't a crime'
From Sept. 1 to Dec. 31, at least 185 people booked into the Tippecanoe County Jail were listed as homeless, according to jail logs and online court documents. More than 15 were repeat offenders, typically for the same crime.
The two most common reasons for a homeless person to be jailed were drugs and trespassing. Thirty-eight people were between the ages of 21 and 30, and eight of them were younger than 21. Nine people were older than 65.
Purdue Police spokesperson Capt. Song Kang said PUPD interacts with homeless people "almost every day."
"A lot of the people aren't actually staying here," Kang said. "They're just moving around."
Lesley Wiete, PUPD deputy chief, said an officer's first goal when encountering people who may be homeless is to de-escalate the situation and move them to a safer spot off campus.
"You just want to find another place for them to go," she said. "Sometimes they're not causing any problems, sometimes it can be difficult. As officers, we want to do what's right."
Lafayette police Sgt. Ian O'Shields said LPD regularly offers what he calls a "courtesy transport." When police are called on someone with nowhere else to go, they will offer that person a ride to a bus stop, a homeless shelter or anywhere else nearby.
Kang said most interactions with homeless people on campus don't result in arrests, but when a crime is committed, or a business owner is made uncomfortable, an arrest and/or trespassing warning must be made.
West Lafayette police Capt. Adam Ferguson said police don't have much influence over businesses when it comes to trespassing. Regardless of whether a person is committing another crime, just trying to stay warm or something else, if a business owner wants a person "trespassed," police can't refuse.
"We can, as human beings, explain that the person's not a problem," he said. "(But) we can't say, 'No, we're not gonna do that.'"
But as Layton put it, "We can't arrest our way out of homelessness. They are human beings. They do need help."
Kang responded to that sentiment, saying sometimes, nothing more can be done.
"Our hands are kind of tied," he said. "We can't bring them into our homes. Are you willing to open up your bedroom? Somebody should do something, we all agree. But this is something you take to the city, county, state.
"The police station isn't a hotel."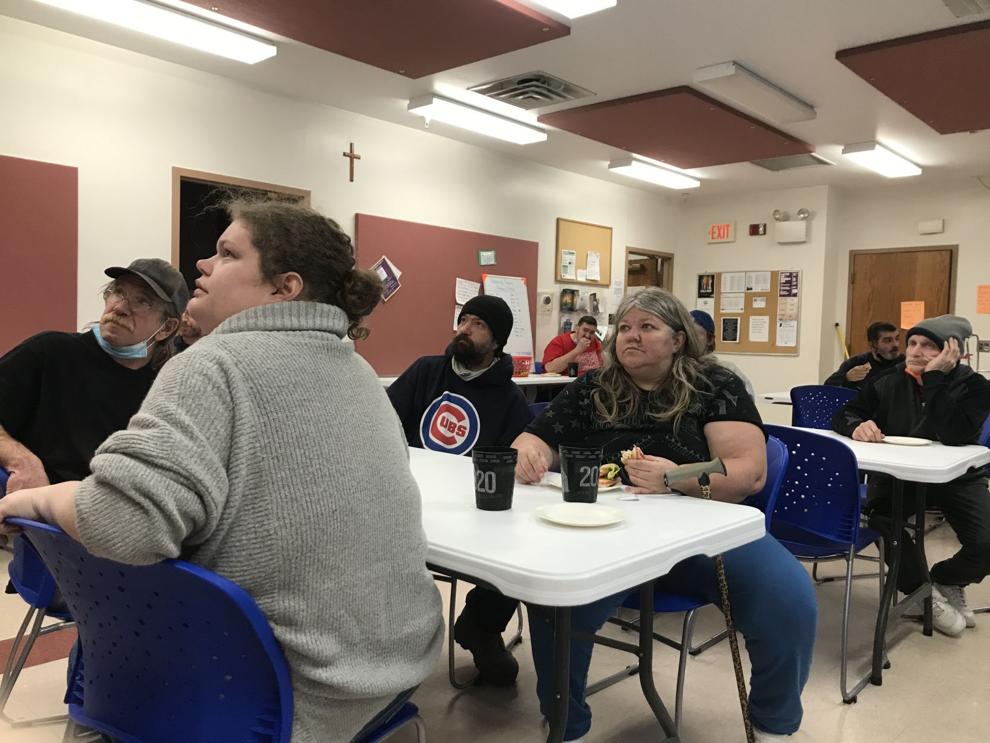 Taking people to jail isn't an officer's first instinct, O'Shields said, but police still have to do their duty.
"We're all still human," he said. But "we have a job to do. We do our part, and that individual has to do their part.
"Of course we can always do better, (but) I argue that we are compassionate."
County Sheriff Robert Goldsmith said some people will purposefully miss court dates or commit petty, non-violent crimes so they can go to jail and escape the cold.
The biggest misconception about police and homelessness, Wiete said, is that every person is immediately arrested when police arrive.
"The public doesn't see the whole story," she said. "They don't see the time the officers spend with somebody before it comes to (jail). (They) might need more but if (they don't) want help, we can't force (them)."
That help, Dennis said, has become a lot more available to those who need it.
"Law enforcement has transitioned from trying to solve a problem immediately to solving it permanently," he said. "(It now) has the resources to help find people housing."
Those resources include "a working relationship" between local police departments and homeless shelters, Layton said. O'Shields said he talks to Layton "on a weekly basis" to better solve the issues they face.
"Homelessness isn't a crime," Ferguson said. "Our first step is to get them engaged with local services to solve the homelessness problem."
One of the ways WLPD does that is through Devon Moore, the department's social services worker. Moore was hired on March 16 in response to nationwide scrutiny of the police.
Ferguson said Moore is WLPD's first contact when interacting with people who may be suffering from a mental illness. Because Moore isn't wearing a police uniform and isn't equipped with a badge and a gun, he said, she is better able to convey a message of goodwill than most police officers.
"She's really well-versed in dealing with this," he said. "It's a game-changer."
Even with a social worker on the team, Ferguson acknowledged that it takes more than policing to solve the homelessness issue.
"It's not just the police perspective," he said. "There are other agencies whose job it is. We are simply a tool, (but) we're not the best tool to solve the problem."
Kang said Purdue police haven't considered taking on a social worker of its own because the department already works closely with Purdue Counseling and Psychological Services.
"We don't want to duplicate that process," he said.
Kang said although homelessness is still a big issue, he's seen fewer people on the streets over the years.
"We like to think that it's a better system that's been helping homeless folks," he said.