The first 50 guests gathered Tuesday on the long-awaited connection between Columbia Street and John T. Myers Pedestrian Bridge: a 303-foot long winding pathway made of South American rainforest wood called the Riverside Promenade.
The promenade, tucked between the Marq Building apartments and the train tracks that run alongside the Wabash River, creates an overlook to the river and a new public green space complete with flower beds, Wabash River Enhancement Corp. Director Stan Lambert told the crowd gathered for the ribbon-cutting ceremony.
"Decades ago, people were talking about riverfront development," Lafayette Mayor Tony Roswarski said at the ceremony. "But the plans just kept getting put on the back shelf."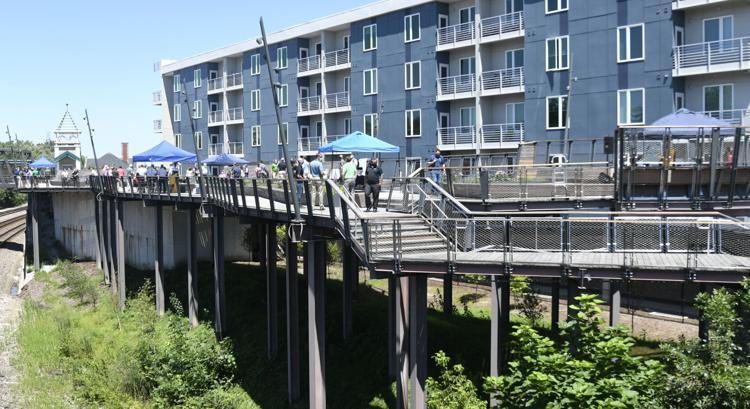 Symbolism is wrapped into the pathway for West Lafayette Mayor John Dennis.
The separation created by the Wabash River has long prevented a cohesive economic relationship between Lafayette and West Lafayette, he said. Both cities host annual downtown festivals along the river's banks, but each community has primarily kept to its own side.
With this first development project in the "Two Cities, One River" master plan, which aims to transform the river into a "healthy, beautiful centerpiece for a whole, interconnected community," according to the plan, Dennis sees an opportunity to compel more Purdue students off campus and into Greater Lafayette.
"Because of our population demographic — we're getting close to 200,000 people just in this urban corridor — it's significant," Dennis said. "With a natural resource like (the river) that just cruises through both communities, having something here that can be a destination point, having something here that actually brings people together instead of like most rivers that separate people, it's phenomenal."
Both Dennis and Roswarski are on the WREC board of directors, a 10-member group composed of parks and recreation officials and politicians at the city and county levels. The WREC contributed $485,000 to the nearly $3.3 million project, coupled with $600,000 from the city of Lafayette and $2.2 million from North Central Health Services.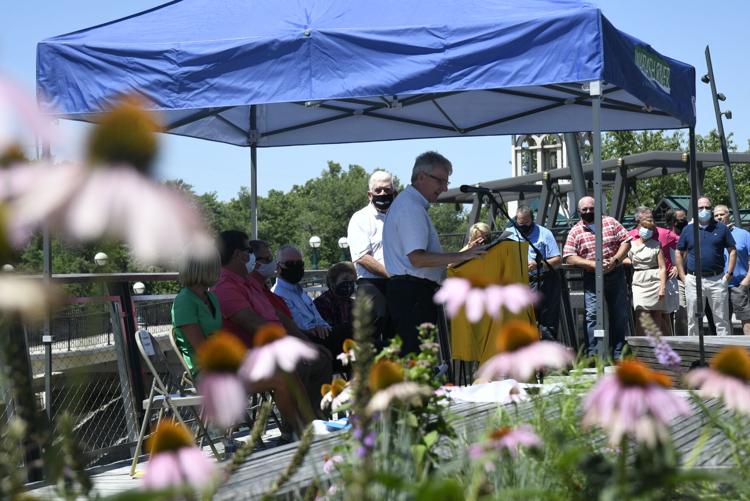 A continuous ramp spans the promenade, making the route accessible to people with disabilities.
"Our 2018 community health needs assessment identified the need to improve the health and safety of our community," NCHS CEO Stephanie Long said in a press release, explaining the rationale behind the health-care provider's grant. "This project promoted healthy lifestyle activities by increasing accessibility for our West Lafayette and Lafayette residents."
WREC has raised a few million dollars to finance improvements to bike trails, walking paths and pedestrian bridges along the Wabash River corridor since its formation in 2004, according to a group flyer. The group has paid $2.5 million into local watersheds to enhance the river's water quality.
Next steps for the "Two Cities, One River" plan include the Sky Link Bridge, a pedestrian walkway envisioned to connect Third Street Park in Lafayette and Tapawingo Lawn in West Lafayette.