In a lawsuit brought by a Tippecanoe County resident that argues the West Lafayette mask mandate should be struck down as unconstitutional, Judge Sean Persin on Tuesday dismissed all counts except for the plaintiff's charge that a mayoral executive order cannot require masks.
In the courtroom for a special hearing Tuesday evening, Michael Bryant and his attorney, Arie Lipinski, aimed to bolster their primary complaint that West Lafayette Mayor John Dennis should have called a special session of the city council to pass legislation that imposes fines for failing to wear masks in most public settings.
The city filed to dismiss Bryant's lawsuit on all five counts on Thursday, claiming it was unfounded and would reverse over a century of Supreme Court precedent.
Although a final ruling will not happen until the end of this week, likely on Friday, Persin said he would grant dismissal of the notions that Bryant's civil liberties are being violated; that his political speech is being infringed upon; that his ability to peacefully protest the mandate is limited; and that he might be subject to unwarranted searches and seizures.
"That leaves count three. That's the whole case," Persin said. "That's your strongest argument by far: Does Mayor Dennis have authority to do what he did?"
The judge said he will take the third count under advisement, allowing attorneys from each side to file additional evidence in favor of their argument by Friday. Much of his decision will rest on whether people ticketed for violations of the order are afforded due process in appealing the fines, Persin said.
Dennis, who did not appear in court, has said the urgency of the pandemic prompted him to issue the executive order, bypassing a city council that is overwhelmingly in favor of the mask mandate. Zachary Williams, an attorney for the mayor, said that a city ordinance might take up to 60 days for the council to pass.
Williams, the whole time wearing a mask alongside city attorney Eric Burns, said the executive order rests on the mayor's duty to enforce nuisance law rather than an effort to circumvent the lawmaking process.
The Indiana statute Dennis cites in his order declares "anything that is injurious to the health so as to simply interfere with the comfortable enjoyment of life or property is a nuisance," Williams said.
Based on this definition, the defendants say Dennis would be remiss in his duty as the city's executive if he did not require a policy that health organizations have overwhelmingly supported as effective in reducing the spread of COVID-19.
In his 13 years as mayor, Williams said, Dennis has never before issued an executive order.
"First and only," Williams said. "Because we're in an unprecedented time with the pandemic, he's never had to do this before. He's never had to say, 'Hey, there's something that is a dangerous nuisance in my city that is affecting people and we've got 40,000 kids from Purdue about to come back to school.'"
Michael Bryant, 54, said after the hearing that he believes the mayor's July 13 executive order violates his rights by forcing him to wear a mask when shopping in city businesses. Those in violation are subject to a $100 fine on the first offense and a $250 fine for each subsequent offense, according to the order, although no tickets have yet been given.
Lipinski, a 33-year-old lawyer based in Carmel, Indiana, said the removal of potential fines for failure to adhere to the policy would be a satisfactory ruling.
"As long as the citizens of West Lafayette are free to go into public places and not be under the threat of punishment by fine or fee," said Lipinski, "then we would be satisfied with that outcome."
Lipinski and Bryant both favor Indiana Gov. Eric Holcomb's statewide order requiring face coverings, which Lipinski coined as "more of a recommendation" because of its lack of financial or criminal penalties. Holcomb removed the penalties at the advice of Curtis Hill, the state's attorney general.
Bryant called Dennis to voice his grievances before he filed the suit on July 22, he said. The mayor returned his call once, but it was between the hours of 8 a.m. and 4 p.m., when Bryant works for the city of Lafayette's wastewater treatment plant.
"As soon as work was over I responded to the phone call and asked him to call me back after 5," Bryant said. "And I have not heard (anything) to this day."
Bryant has a West Lafayette address but lives outside official city limits in an unincorporated area near Montmorenci, Indiana, he said. This means Bryant cannot vote in municipal elections, including the November election in which Dennis, a Republican, was re-elected with three-quarters of the vote.
"My constitutional rights don't stop at the city line," Bryant added.
Bryant said he has recently begun shopping in Lafayette after being approached by people in its sister city about his refusal to wear a mask. Because the plaintiff respects people's individual rights, he said, he adheres to social-distancing requirements.
But masks strike him as ineffective.
"I believe honestly that masks do not stop a virus," Bryant said. "The CDC originally came out and said, 'Masks don't stop anything, masks won't help.' And now they come out and say masks will help."
Despite ambiguous recommendations in the spring, Dr. Robert Redfield, the director of the Centers for Disease Control and Prevention, called masks one of the most powerful tools to stop the spread of coronavirus in July. Tippecanoe County Health Officer Jeremy Adler has used similar language.
"We're asking people to modify their conduct to hopefully keep people from dying," Williams said in the courtroom.
An older woman with curly strawberry-blonde hair and a pink-and-white checkered mask looked down and shook her head disapprovingly at Williams' comment. She was sitting behind the plaintiff, listening intently.
The woman, Joan Billman, said outside the courtroom that she drove an hour and a half from Greencastle, Indiana, because she heard about the lawsuit and wished to lend her support. She brought two homemade poster-boards that trumpeted her opposition to masks, vaccines and shutdowns of schools and businesses.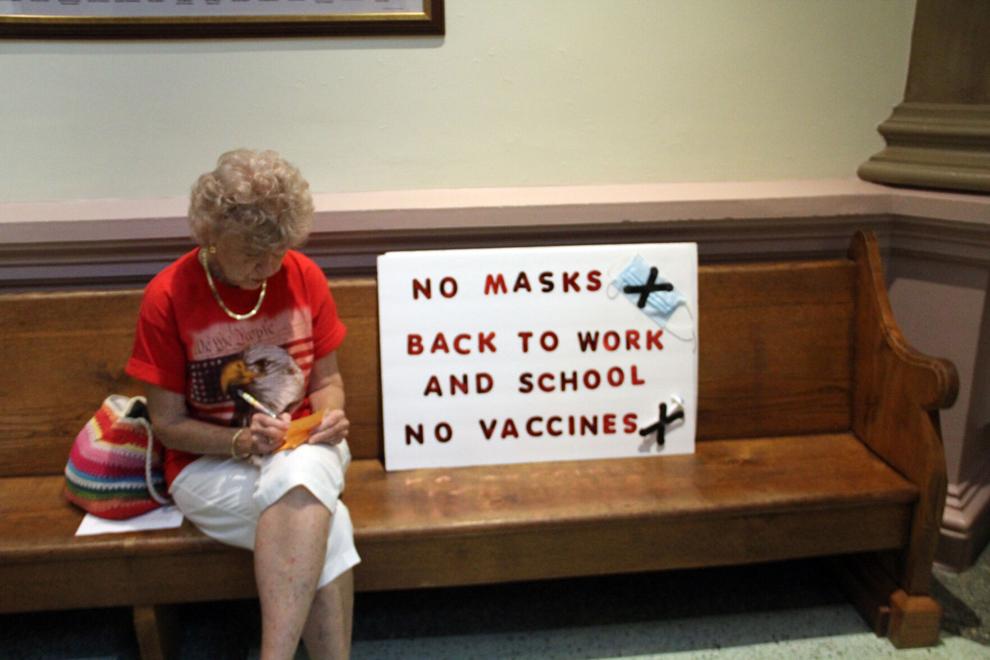 "I was here to protest," she said, a bald eagle shrouded by an American flag prominent on her bright red shirt. "I am against the mask, and I am against mandatory vaccinations."
Billman heard about Tuesday's hearing from a post made by a fellow member of an online group opposed to mandatory vaccinations. She says vaccines have adverse side effects, despite the CDC debunking that myth on its website, and advises her grandchildren against receiving them.
"A next step after the mask is that it will be required to have the COVID vaccination," Billman said. "And I'm not gonna do it."