Sept. 27, 2018
Amy Thomas got a call at work from her child-care provider: Her 4-month-old son, Cameron, was being taken to the hospital after being found unresponsive.
The child-care owner, Meagan Myers of Precious Moments Child Care, had placed him down for a nap, state documents say. She would later tell state investigators that later that day, he was fussy. When Myers patted Cameron on the back, she noticed his eyes were rolled back in his head, he was limp and blue, and vomit was coming out of his mouth and nose.
Myers called 911 and started CPR.
In the days that followed, Amy Thomas, 30, and her husband, Darcy, 29, learned that their son had suffered severe brain damage.
Cameron had acute subdural hemorrhages, bilateral chronic subdural hematomas, large areas of hypoxic-ischemic brain injury, cervical and lumbar spine subdural hemorrhages, bilateral retinal hemorrhages and interior left ear bruising, according to court documents. He's also blind in one eye, Darcy said.
Nearly two years later, the Thomases are still searching for answers. As part of that, they have filed a civil lawsuit against Precious Moments and the Myerses, accusing them of negligence.
But so far, it's not clear what happened to Cameron that day.
A few months earlier
When Cameron was about 3 months old, at the end of August 2018, he started going to Precious Moments with his brother. Meanwhile, his mother returned to work as a clinical coordinator at Cornerstone Autism Center in West Lafayette.
The Thomases chose Precious Moments for their first son, Rylan, on recommendation from a friend.
When Cameron was born, it made sense to send him there, too, Amy said.
"That seemed like the obvious natural transition," she said recently. "We came to be very close with the owners of the day care."
But after a few weeks at the day care, the Thomases noticed Cameron had started vomiting a lot. The parents and their youngest son were in and out of doctors' offices and the emergency room trying to figure out why Cameron was vomiting excessively.
At one point, they stayed in the emergency room overnight.
A week or so after the overnight visit to the ER, Amy dropped her sons off at day care at the usual time, around 7:45 a.m. Rylan hugged and kissed his mom bye, Amy said, and Cameron gave her a "big, wet smooch on the cheek." That morning was pretty normal for the Thomases. Earlier, Amy said, she had had trouble getting Cameron to eat because he just wouldn't stop giggling and smiling at her.
Later that morning, Amy got the call from Meagan Myers.
When the Thomases got to the Lafayette hospital, they were met with a team of doctors, including the same nurse they had had just the week prior. On the ambulance ride, Cameron had been placed on a ventilator, Darcy said.
"And then when he was hooked up, and there were doctors everywhere, they took us into a room, sort of asking us questions," Darcy said. "You know, 'How was Cam this morning?' like 'Do you guys know what happened to him?'"
The Thomases told them and a detective that as far as they knew, Cameron had been perfectly fine that morning before they dropped him off at the day care.
"It was probably around 11:30 a.m.," Amy said, "because they looked in his eyes and noticed something was off."
Doctors saw a brain bleed on a CT scan and didn't know how significant it was, she said, so they sent him by helicopter to Riley Hospital for Children in Indianapolis.
There they met a neurosurgeon who asked them similar questions: Was Cameron acting weird? Do you guys know what happened?
The neurosurgeon told the parents that there was a lot of pressure in Cameron's head. His brain was bleeding on both sides, too, which meant he had a bilateral subdural hematoma.
"They ruled it a nonaccidental injury," Darcy said, playing with his son's hands while he spoke. "So that's actually in the diagnosis. It was nonaccidental head trauma."
After an ophthalmologist looked into Cameron's eyes, they found retinal hemorrhaging, Amy said, which is medically similar to shaken baby syndrome.
"You don't get retinal hemorrhaging just out of a whim," she said. "You get it from being shaken or hit or dropped."
The day after the incident, Cameron had surgery to drill holes into his head to relieve pressure. Doctors found blood, old and new, in his head, enough new blood to suggest that injuries had happened within a short time frame of his being found unresponsive, they told his parents.
Then the Thomases discovered that the retinal hemorrhaging meant that Cameron is totally blind in one eye.
His brain injuries have affected the rest of his body as well, Amy said. Cameron's core muscles are loose, so he has trouble sitting up and supporting himself. He also has a condition called rocker bottom foot, where his heel bone grows downward as opposed to growing flat.
The doctors said a significant portion of the injuries were likely the result of Cameron lying unresponsive and untreated in the day care, Amy said: "It essentially killed a decent portion of his brain."
Since the incident, now 2-year-old Cameron has suffered from hydrocephalus, spinal fluid leaking into his brain. A shunt was put into his head, which led to a severe infection and a 26-day hospitalization. He's endured a total of nine surgeries, she said. He is completely fed through a tube now.
Still, the Thomases haven't learned what exactly happened the day Cameron was found.
"Never did we get an explanation of what had happened that day from" the day care owner, Amy said. "I don't even feel like we ever got an apology."
"She gave a statement about what happened," Darcy said, "and she gave her version of the story to the detective and we got that. I mean, but none of it lines up with the … medical evidence, and that's the biggest thing to take away from the case.
"Something happened, and we think something happened that day. And we think something happened there."
Child neglect in the Hoosier state
Amy said that when her family spoke with a child abuse doctor at Riley, he told her that Indiana ranks highest in the country for child abuse.
The Department of Child Services publishes an annual report of fatalities from child abuse and neglect in Indiana. In 2018, the most recent numbers available, DCS investigated 242 child fatalities, according to the report. Of those, 65 cases were found to be caused by child abuse or neglect. Children aged 3 or younger accounted for 52 of those cases.
A report from Indiana's Family & Social Services Administration denotes how many cases of serious injuries, "substantiated" abuse and fatalities occurred in different types of child-care providers. The report defines serious injuries as all injuries requiring treatment by a medical professional.
In licensed centers, there were 300 serious injuries in 2018. In licensed homes, there were 21 serious injuries, 12 cases of substantiated abuse and one fatality.
In Indiana, different kinds of child-care providers are subject to specific licensing regulations. For example, a person can operate an in-home day care in their residence without needing a license, if they're caring for five or fewer children.
Similarly, religiously affiliated ministries that provide child care have to maintain child-to-staff ratios and be registered with FSSA, but they don't have to be licensed. They may receive up to two state inspections a year, according to FSSA communications deputy director Marni Lemons.
"We take our guidance from the laws," Lemons said recently. "We will only encourage people to go to a licensed child-care provider."
The FSSA maintains an interactive map online of all licensed child-care providers in the state. The map includes providers' addresses, details on the types of programs, inspection records, complaints made against the facility and other information.
Of the nine child-care providers listed in West Lafayette, three are currently closed. Of the other six, only one didn't have any current critical violations listed.
Violations ranged from outdated lesson plans and unlabeled bags of food, to expired marshmallows and unsigned or missing documentation, to leaving infants asleep in swings and employees lacking required training.
One inspection of a licensed child-care center on Sagamore Parkway in March listed inappropriate discipline as one of the center's violations that day.
"Staff were telling children if they did not get on their cots, they would not get their snack," the website reads. "Staff member was putting child's shoes in trash." The file notes that the violation was resolved the next day.
The interactive map also lists complaints made against specific licensed centers.
Complaints against the above center include concerns over inappropriate discipline and one note from January that simply says "did not report suspected incident of child abuse," which was closed a week later.
The FSSA website also lists illegally operating child-care providers that have been issued cease-and-desist letters. Tippecanoe County has just one provider operating illegally according to the list, on Weaver Street in Lafayette.
Indiana's website does not, however, maintain a list of past infractions for providers that no longer operate, Lemons clarified.
What happened at Precious Moments?
While the Thomases were in and out of hospitals caring for Cameron, redacted public records show that DCS was just beginning to investigate Precious Moments Child Care.
In an Oct. 18, 2018, inspection of the home after the incident, FSSA child-care home licensing consultant Marleta Misch noted several findings.
"Provider uses time out for discipline," one licensing compliance document reads. "She has a stool for the children to sit on a minute per age of the child. Provider states that she does not discipline infants."
"There is an ongoing Child Protection Services investigation," one finding notes.
Another reads, "There were three children in the home at time of visit. Provider informed licensing that she had been advised by her attorney not to answer any questions about the incident. She has chosen to follow this advice.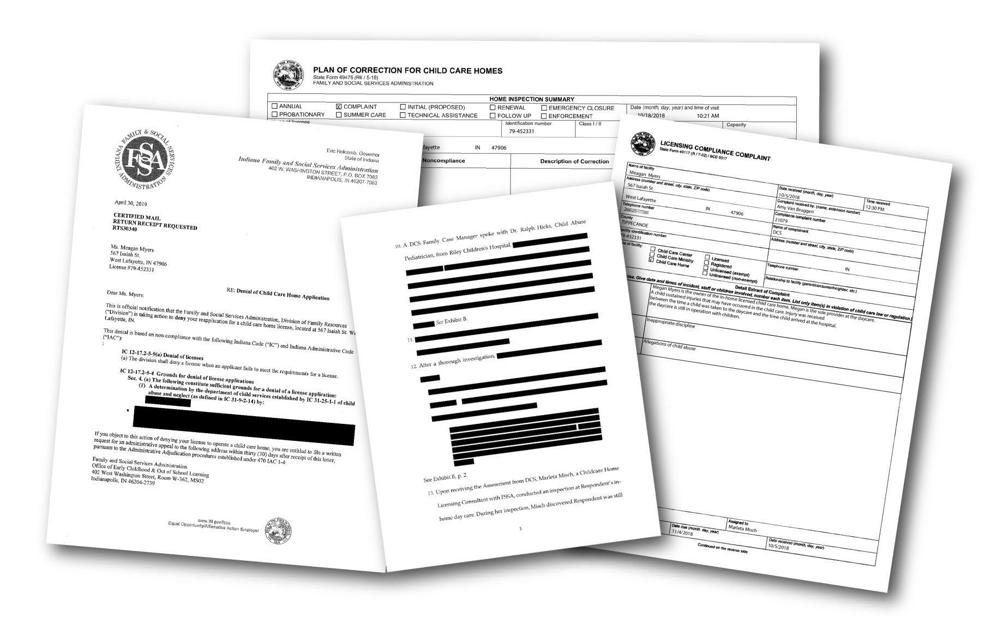 "There was another infant in her care, so licensing asked about how that child is cared for. Provider spoke of placing child in a pack n play to sleep. She was knowledgeable that the infant currently in her care could roll over during tummy time and stated that she uses sleep sacks on smaller infants but the infant currently in her care is 4 months old and big. She states that she will place the infant currently in her care in a swing when he is fussy but moves him to the pack n play if he falls asleep."
Misch found violations at then-operating Precious Moments, court documents read, and developed a "plan of action" for Myers, who refused to sign the plan.
In a letter from the Office of Early Childhood & Out of School Learning, the FSSA requested an injunction to stop Precious Moments from operating. The letter notes that Meagan Myers is the only provider in the home and doesn't work with any additional staff.
Because of that and the severity of Cameron's injuries, "we do not feel that children are safe in this home," the letter reads.
The letter also informed the Tippecanoe County prosecutor of its findings. The Exponent was unable to find any criminal case involving Myers. Though Prosecutor Pat Harrington said he cannot comment on specific cases, he confirmed that no charges have been filed in the incident.
An injunctive order filed on March 22, 2019, called for the child-care home to be closed.
"Though it took DCS more than four (4) months to conclude as it did all while (Myers) continued to provide care to children at her child care facility, FSSA acted promptly upon receipt of the report," the order reads.
Myers later filed a reapplication for licensure. That request was denied.
An April 30, 2019, letter from FSSA notes that the denial was based on non-compliance with Indiana law. The grounds that the reapplication was denied on "a determination by the department of child services … of child abuse and neglect."
Since then, Myers has moved from the West Lafayette home where she ran the day care.
Has the law caught up?
Sixteen bills in the Indiana 2020 General Assembly involved children.
Senate Bill 345 meant to start an interim committee on child services, to study the progress of DCS, review best practices and a whole host of other actions toward improving state legislation concerning children. Another bill hoped to expand the state's report on child fatalities.
Neither bill had been signed into law by the time this year's assembly ended.
One bill that made its way into Indiana Code details additional requirements for child-care providers. The law requires those on the premises of child-care facilities during open hours to submit to a national criminal history background check. Before this law, just those in direct contact with children had to submit to a background check.
The results of that background check can be used to deny or revoke licensing, registration or eligibility fund voucher payments, according to the law.
In December, Sen. Mike Braun co-sponsored a bill also meant to improve background checks for child-care providers. It passed the U.S. Senate in March.
What's in store for the Thomases?
The Myerses did not respond to a letter or to requests for comment through their attorney.
Since the incident, life has exponentially changed for the Thomases, Amy said.
Darcy is a software engineer and now works remotely. As Cameron requires more acute care, Amy left her job at Cornerstone and is a stay-at-home mom.
Not many nurses want to work with children, especially children who are tube-fed, Amy said. The current nursing shortage doesn't help.
"We've relied on, luckily, people that I used to supervise, training them," Amy said, "because I used to have clients that were tube-fed, so I know that at least they're comfortable with it. So really, we have a small, small handful of people that we could ever trust to be a carer, a secondary caregiver for him."
More than a year after the incident, the Thomases filed a civil lawsuit against Precious Moments and the Myers.
"At least by us filing this suit, we can hopefully get a small piece of justice for him, and make it so that he is taken care of," she said. "Because his medical costs alone are insane, it's ridiculous, and I would never want to — if something were to happen to either one of us — I would never want to put that financial burden on another person, or even our oldest son, if he becomes the primary caretaker of him if we cannot be."
The Thomases hope to see Cameron grow and move forward.
"I'd love to see Cameron make big strides and, you know, recoup some of that, the function that he's lost," Darcy said.
"They told us that he would never come off the vent," Amy said. "And, he did. They told us he'd never come off oxygen, and he did. He still has quite a bit of personality that we saw before his injury."
Amy said Cameron loves it when his father plays with his son's hands, and when Darcy plays the guitar. The music soothes Cameron, who during an interview in their home was set down for a nap in his dinosaur pajamas.
She's lucky, Amy said, because her field means she knows how important early intervention is for kids with disabilities. As soon as they could, the Thomases were signing Cameron up for therapies.
The Thomases say they aren't looking for revenge, or retribution, or anything other than an explanation and help for their youngest son.
"Ultimately, I'd love to have an answer for what happened," Darcy said. "We thought this was something medical when we first got to Riley and they told us, 'No, your son's been injured … he's sustained some kind of trauma to his head,' is what all the doctors told us. And they felt like they weren't getting to us, because I was like, 'No, there's gotta be something else … there's no way this happened to my child, nobody hurt him.' They all point back to something traumatic happened to him."
Amy agreed that their family just wants to understand what happened.
"We just want answers as to what had happened to him, and some type of respite for him," she said. "I mean, this is something that he's going to have to live with and overcome for the rest of his life."