Deborah Watkins sat in a chair on the porch of the home she rents in Lafayette's Lincoln neighborhood on Monday afternoon. A passing car slowed as it stopped to park in front of her house. Her 32-year-old niece, Crystal Duke, exited.
"Hey, put on your mask and come here a minute," Watkins, 53, called out to her niece, who first tested positive for the coronavirus on July 30.
"He filed an eviction on us today, and he filed it on 12 others," Watkins told Duke, whose eyes widened above her black mask. The virus has kept both household members from working the first two weeks of August. "He was trying to play make-a-deal last night, and I told him no, I don't have it," Watkins added.
The women's landlord, whose name reads as Charles in Watkins' phone, filed for eviction on Monday, the first day evictions were permitted in Tippecanoe County. He filed against the tenants of 13 properties he owns in Lafayette, according to court records.
The landlord's name is listed as Liu Chaofeng in public court records for each of the 13 eviction filings. He declined to speak on the record about the topic of evictions.
Chaofeng owns at least 41 properties in his name in Tippecanoe County, most of them low-end, according to county assessor records. Chaofeng owns and manages 24 additional properties in the county through the company Warmwell Real Estate, LLC, according to the records.
Indiana's statewide moratorium on evictions and utility bill shutdowns related to financial proceedings ended Friday, and more than a hundred tenants across Greater Lafayette have received eviction notices this week.
Tippecanoe Magistrate Judge Daniel Moore said normally Superior Court 4, the small claims court, hears about 50 eviction suits a week. He said exactly 113 were filed on Monday. Court records show at least 17 additional evictions filed Tuesday and Wednesday.
"We have added additional court time to process evictions," Moore said. "We are prepared to hear 100 to 200 evictions per week if necessary."
Watkins showed a text message exchange from Sunday night in which her landlord asked for payment and sent rental assistance phone numbers.
"No I can't. I'm trying, I'm only getting 127 a week," Watkins replied, referencing the $127 weekly unemployment insurance payments she'd been receiving for the past several weeks. Her niece has been receiving only $110 in unemployment dollars, she said.
"How about this, I file the eviction today and how we can pay the rent before the court date so I can cancel it?" her landlord texted her. "You know I respect you. Just too many tenants missing rent. I am almost broken."
The two tenants pay $850 a month total to live in the house on North 7th Street with Duke's two 18-month-old twin girls, Hazel and Harmony, who both also tested positive for the coronavirus in late July.
This is only the second time in 15 months they've been served an eviction notice, Watkins said. The first instance was with the same landlord in January, when Watkins said she was unable to work because of debilitating lung issues.
"It's ridiculous," Watkins said of the texts she'd received. "I'm telling you I don't have your $850 right now, but I'm gonna have it for you in the next 14 days. And now you're making me have to put out more money that I don't have."
Losing a foothold
Tippecanoe County added to its website a list of services meant to provide rental assistance and legal counsel to people at risk of being evicted. CEO of Greater Lafayette United Way Michael Budd said his organization's coronavirus rental assistance hotline, which heads the list, was established June 4 and has helped more than 500 people pay rent.
United Way refers callers to various organizations, such as Lafayette Transitional Housing and Fairfield Township Public Assistance, which are publicly funded and accept donations. Many organizations that chronically struggle to raise money have seen a substantial increase in tenants seeking help this week, Budd said.
"We're trying to get to people before (eviction) happens," Budd said. "If someone waits until an eviction is filed to resolve the challenge, then they incur legal fees and other fees that come up. Reach out sooner than later."
The end of the moratorium means immediate hardship for many, Budd said, but financial strife has been persistent for months among tenants constantly behind on payments. Falling behind even further in coming months will compound conflict between tenants and landlords.
Jennifer Layton, the executive director of the Lafayette Transitional Housing Center, said she expects the effects of August's evictions to ripple into a spike in homelessness this fall and winter.
"Our national partners are forecasting at least a 40% increase in homelessness from the flood of evictions," Layton said. She estimates around 200 people in Greater Lafayette are homeless. One hundred visited the LTHC Day Center on Tuesday.
"We can't take a 40% increase. We don't have the resources for the 100 that we have here now," she added. "I absolutely was hoping (the moratorium) would be extended because people really needed to get their footing back. Housing is one of the most expensive bills that people have."
For Watkins and Duke, their missed rent payment on Aug. 1 is a result of extraordinarily bad timing, both said.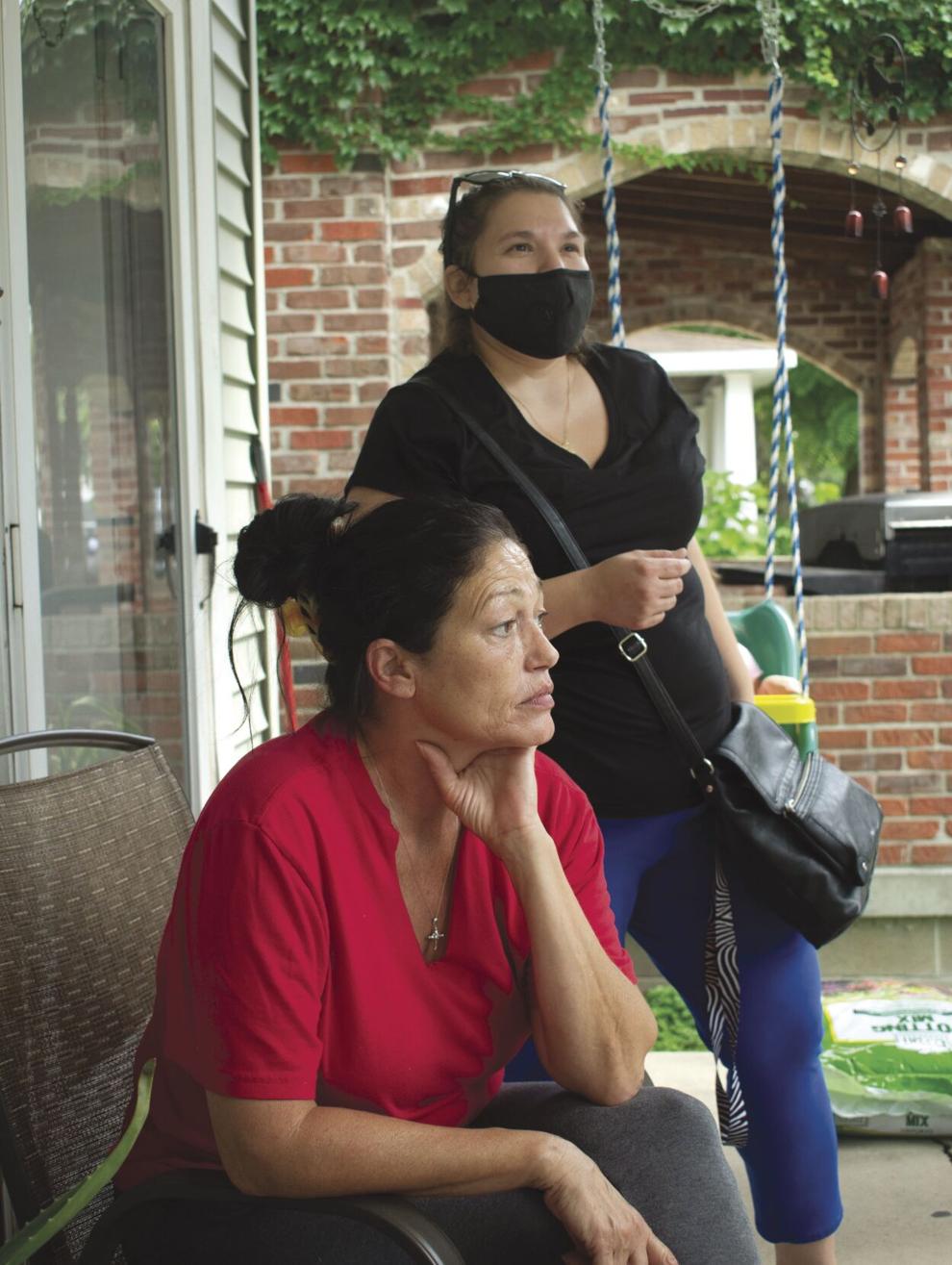 Watkins works at Toyota and makes around $550 a week, she said, while Duke's job at Wallenius Wilhelmsen Logistics brings in $730 weekly. Their jobs are part of the Subaru Indiana Automotive supply chain, which had its annual temporary shutdown the last two weeks of July, removing their steady streams of income.
And when Duke, 32, felt her head becoming clogged in late July, she assumed she had a sinus infection. "But it was more than that," she added, and soon her daughters became fussy and came down with fevers.
For the first 10 days of August, Duke was unable to work when WWL reopened. And although Watkins never tested positive or displayed symptoms herself, "They won't let me go back to work until (Duke) tests negative because I live in the household, and she's with me."
"I'm high-risk because I've got diabetes, lung issues and everything else," Watkins added, gesturing to various parts of her body. "So I just thought, you know what, this is a bad time. Because if I go in, I know I'm dying. I mean that's reality, because my lungs are already no good. I always have lung issues."
After receiving medical clearance from her physician, Duke returned to work Aug. 11. But the next day, she was sent home again.
She was tested for the virus the day before her return to work, and on Aug. 12, she again registered as positive for COVID-19. Because she'd gone back to work, her unemployment benefits stopped flowing, but now she couldn't work for at least another week.
Duke is set to receive sick pay for her time off, she said, but it's only 60% of her regular $18 hourly wage. That money is due to flow into her account in the coming week, so in the meantime she's been attempting to garner money from Fairfield Township Public Assistance.
"I was hopeful he would give me some time," Duke said of her landlord, showing the application for assistance she'd filled out Monday at 10:16 a.m. "It'll be a week until I get paid."
The landlord told Watkins over text Sunday that he'd wait an additional week to file for eviction if she could send $200 Monday.
"I don't have 200 extra dollars right now," she said, looking up from her phone. "I get 127 dollars on unemployment, (Duke) gets 110. We can't live off that."
Duke will return to work Friday after receiving medical clearance Monday, she said. Watkins doesn't expect to be able to work again until Aug. 31, at the earliest.
Both women feel slighted by the eviction but plan to arrive at their Aug. 31 court date to plead their case, confident the extenuating circumstances will sway the judge in their favor. And despite the risks, both say they're eager to return to work to replenish their incomes.
Will Duke be able to pay outstanding rent and court fees by Aug. 31 with the money she receives from sick pay and after resuming work?
Duke paused for several seconds as the twins burst through the front door and onto the porch, crowding around their mother's legs. She patted their heads as her brother, temporarily visiting from Georgia, lifted the girls into green swings attached by cords of rope to the porch's ceiling.
"I should," she said, the girls' temperaments shifting from upset to gleeful as they began to glide back and forth.
"Yeah, and I'll work over," Watkins added.
"He said that there's a lot of places that aren't paying their rent," Watkins said. "For her to be down with COVID and them not letting me work because her and the babies had COVID, that should be understandable."