More than 10,500 Tippecanoe County residents have applied for mail-in absentee ballots. The expected influx places a new focus on the United States Postal Service and raises questions regarding the efficiency and security of the process.
In an email to the press, Tippecanoe County Clerk Julie Roush wrote, "With the election a month away, we do not perceive any mail issues at this time. The USPS is working hard to deliver ballots."
Roush noted that although the county will accept mail-in ballot applications until Oct. 22, USPS prefers that voters apply at least fifteen days before Election Day, which means applying by Oct. 19. Any ballots that are postmarked by Election Day and arrive on or before Nov. 13 must be counted, according to a federal ruling in the U.S. Southern District of Indiana.
Roush also disclosed the security measures that Tippecanoe County and USPS are taking to ensure that ballots are legitimate.
"The voter's original signature must be signed in the red box on the outside of the envelope," she said. "We are verifying that the voter who requested the ballot is the one who voted. Voters and household members of the voter may drop off ballots during regular business hours, and are required to fill out an affidavit."
Mary Dando, the strategic communications specialist for USPS's Greater Indiana District, said the postal service has more than enough capacity to mail the volume of ballots expected this fall.
"The Postal Service delivers 433 million pieces of mail a day," she wrote. "Even if all Americans were to vote by mail this year, 330 million ballots over the course of the election would be only three-quarters of what the Postal Service delivers in a single day."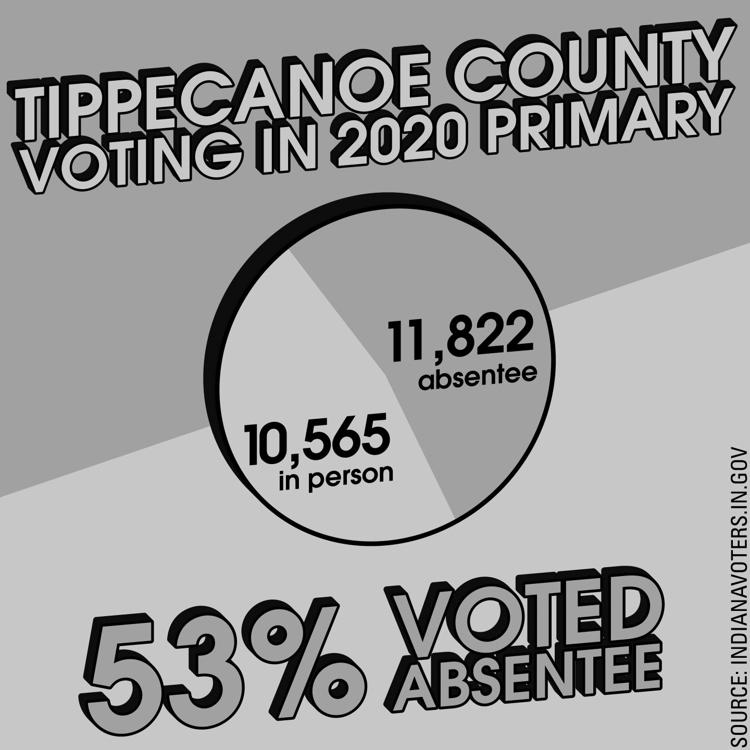 As an extra precaution, the Tippecanoe County Board of Elections designated a drop-off site for ballots at Edgelea Elementary School in Lafayette. This site allows voters to deliver their ballots in person rather than using the postal service. Voters can drop off their ballots at 2910 S. 18th St. on Oct. 25 from noon to 4 p.m.
Even so, Dando wrote, "the Postal Service has ample capacity – including high-speed mail processing machines and dedicated personnel – to process and deliver an expected surge in mail-in ballots."
This comes in the wake of Postmaster General Louis DeJoy's decision to freeze hiring of management positions at the postal service and remove hundreds of sorting machines from the streets in August.
"The post office has been in debt for decades," said one postal worker who chose not to be identified by name because he's not authorized to speak to the media. "(DeJoy's) just trying to save the post office money … It's a business and we have to make money."
Faith Camire, a freshman in Exploratory Studies who also plans to vote by mail, expressed her confidence in the system.
"(USPS) makes it as secure as possible, so I feel safe," she said.
Numbers from the county clerk's office as of Oct. 4 showed that out of 10,500 mail-in ballot applications, more than 3,800 ballots had been returned.