SOUTH BEND, Ind. — Joe Kernan, a former South Bend mayor and Indiana governor who was a dominant force in state politics and local causes for years, died early Wednesday morning.
Kernan, 74, who had battled Alzheimer's, died at 5:30 a.m., according to a release from his former gubernatorial chief of staff, Mary Downes.
"Distinguished isn't a strong enough word to describe him. Without regard for personal cost, Joe Kernan devoted every ounce of his life, time and again, to upholding the oath he took, and serving the country and state he loved Indiana," Gov. Eric Holcomb said in the release. "Through his decades of servant leadership and sacrifice, Joe modeled all the best of what it means to be a Hoosier and his legacy will continue to live on in each of us whom he inspired."
The governor extended those condolences on Wednesday in a Twitter thread.
Indiana mourns the loss of Joe Kernan, a bone fide American hero, decorated Navy officer, and truly selfless statesman who always placed the interests of his fellow Hoosiers first.

— Governor Eric Holcomb (@GovHolcomb) July 29, 2020
Undeterred after being shot down and tortured in Vietnam, Joe Kernan returned and led his beloved City of South Bend as mayor for three terms, and our state as our 47th lieutenant governor.

When duty called him to step into a role he didn't seek, he served as our 48th governor.

— Governor Eric Holcomb (@GovHolcomb) July 29, 2020
Janet and I ask Hoosiers across our state to join us in lifting up in prayer Mrs. Kernan, their incredible family, and all whose lives Joe Kernan touched.

— Governor Eric Holcomb (@GovHolcomb) July 29, 2020
Holcomb requested in a separate release that all flags be flown at half-mast "from now until sunset on Aug. 5." to honor his service to Indiana and the country.
Kernan served in the Navy during the Vietnam War, and he and and a co-pilot were shot down while on a reconnaissance mission in 1972. He spent 11 months as a POW in Hanoi.
After the war, he returned to his native South Bend and, in 1980, was hired as the City Controller by then-Mayor Roger Parent. Seven years later, in 1987, Kernan was elected to the first of three consecutive terms as mayor. He won his reelection bid in 1991 with 76% of the vote, and earned 82% of the vote in 1995.
As mayor, he led several key development efforts and helped establish the Center for the Homeless.
One notable mark on his resume was the city's efforts, especially a tax and financing deal, to lure and build the College Football Hall of Fame downtown. The museum fared poorly, eventually shut down — it reopened in Atlanta in 2014 — and now remains vacant.
Former South Bend Mayor Pete Buttigieg shared his memories of Kernan in a Twitter post on Wednesday.
There will not be another like Joe Kernan. South Bend will always be proud of his heroism in uniform and his leadership as our mayor and Governor. And his friends will always remember his exuberant joy, his compassion for the vulnerable, his ready smile, and his inimitable laugh. pic.twitter.com/UWW1clewRs

— Pete Buttigieg (@PeteButtigieg) July 29, 2020
In 1996, Kernan moved on to state politics, teaming with gubernatorial candidate Frank O'Bannon and becoming Indiana's lieutenant governor. They were reeleced four years later.
Kernan announced in Dec. 2002 he had no interest in running for governor and planned to return to South Bend when his term as lieutenant governor ended. O'Bannon's sudden death from a stroke on Sept. 13, 2003, though, changed those plans.
Kernan became governor and immediately appointed Kathy Davis as Indiana's first female lieutenant governor. Two Democratic candidates for governor dropped out to clear the field for Kernan, who agreed to seek a full term.
Woodrow Myers, the 2020 Democratic nominee for governor of Indiana, also took to Twitter on Wednesday to share his memory of Kernan.
Indiana has lost a true statesman in Governor Joe Kernan. Throughout his life, from his service in the U.S. Navy and his time as a POW, to his dedication and service as Mayor of South Bend and as Governor, Joe Kernan is the standard-bearer of service in America today. pic.twitter.com/aHNZfYaNKb

— Dr. Woodrow A. Myers Jr. (@DrWoodyMyers) July 29, 2020
Kernan lost the seat in the 2004 election to Republican Mitch Daniels, who gained an early lead in polls by pointing to economic trouble and job losses in the state. Kernan made up ground late in the campaign criticizing Daniels' plans to privatize, sell or lease state assets.
Daniels, now president of Purdue University, called Kernan a "friend" and "true leader" in a statement released Wednesday morning.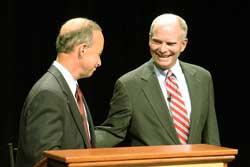 "Joe Kernan was at different times my ally, opponent, and advisor, but always a friend to me, and as far as I could tell to everyone he met. In wartime and in peace, he embodied patriotism and the goodwill toward all we associate with the term 'Hoosier,'" Daniels said.
"He was a true leader, and we have lost him far too soon. Those among us so ready to bear malice against those with whom they differ and either so ignorant or so ungrateful that they disdain those whose sacrifices gave them the freedom to express their views should pause and consider the life and character of Joe Kernan."
After his 2004 gubernatorial loss, Kernan returned home to South Bend and became involved in several community and political causes. One of his lasting legacies was keeping minor-league baseball alive in South Bend.
He led a group that bought the South Bend Silver Hawks in March 2006, preventing its sale to an owner who planned to move the team.
"We're safe at home," a visibly giddy Kernan said at the announcement of the sale. "Baseball is here to stay in South Bend." Finding his grandfather's business card as a scout for the Chicago Cubs served as one inspiration for the purchase, said Kernan, who played catcher and utility infielder for Notre Dame.
Kernan's team began renovations on the stadium, before Andrew Berlin stepped in as owner in 2011.
A Notre Dame graduate, Kernan also stayed close to the university, serving as an adjunct professor for years.
"Joe Kernan's many and noteworthy contributions to Notre Dame, our community, the state and our nation cannot be overstated," the university's president, the Rev. John Jenkins, said in a statement. "In addition to his government service, he was a beloved civic leader who never shied away from challenges. He was always a good friend to Notre Dame, and a friend and support to me personally. We were proud to have him as an alumnus, and as an adjunct faculty member in political science."
Kernan is survived by his wife, Maggie, and seven siblings.
Arrangements are being made by Welsheimer's Funeral Home in South Bend. Kernan has expressed a preference for Welsheimer's because the funeral home sponsored his Little League team in 1958 when he was 12 years old.
Because of the coronavirus pandemic, there will be no public services for Kernan at this time, Downes said in a news release.