Former Lafayette Police Department officer Joseph Zacharek was fired Saturday afternoon, less than a day after tweets documenting his past activity in a neo-Nazi forum were posted on Friday evening.
Zacharek, who was hired by LPD in June, made posts on the now-defunct racist forum Iron March. Zacharek said he had been "exposed to the vile 'culture' of the African and learned that everything I had been taught on race had been a flimsy fabrication which was not supported by real world evidence."
In an introductory post he made on the forum, Zacharek said he wanted to "engage in higher-level fascist discourse" than was found on 4chan, another online message board.
"I would now say that I am fully NatSoc," Zacharek said in reference to the National Socialist political ideology, more commonly known as Nazism. "I'm especially interested in NatSoc economics as a way of throwing off the chains of usury and Jewish owned banking."
"Our Internal Affairs Division opened an immediate investigation to determine if this report was credible," LPD Chief Patrick Flannelly said in a Saturday afternoon press release. "Officer Zacharek's comments were not in harmony with the spirit of cooperation and inclusion in the community that the Lafayette Police Department values."
Since he was still a trainee at the department, Zacharek had no exposure to the public as a police officer, Flannelly said.
The initial tweet publishing Zacharek's involvement with Iron March was made by unverified Twitter user @Ghosts_of_Past, who joined in October and whose bio says she "likes to dox fascists and racists." The user found an email address containing the officer's name that is tied to an Iron March account that posted several times in 2016 under a pseudonym.
Iron March has been linked to the violent neo-Nazi group Atomwaffen Division, according to the Southern Poverty Law Center.
The chances Zacharek appeals the decision and gets his job back are slim, according to the LPD rules and regulations handbook. The handbook states that members of the force who have not completed their year-long probationary period are unable to appeal their dismissal, unlike officers who have passed their probationary period.
The tweet garnered quick backlash aimed at LPD, as a petition titled "Immediately terminate Officer Joseph Zacharek, a self-described white nationalist and Nazi" garnered more than 1,300 signatures in about six hours.
The Instagram account @BlackatPurdue also posted a notice Saturday afternoon — before LPD's announcement of Zacharek's termination — of a protest planned at 4:30 p.m. at the Tippecanoe County Courthouse.
"Lafayette Police Department hired a Nazi," the post said. "Let's get him terminated, together."
How did a self-described Nazi bypass a background check?
When contacted for more information regarding LPD's background checks and hiring processes, LPD Lt. Matt Gard would not comment except to say there would be a press conference at 3:30 p.m. on Monday.
But Flannelly outlined the process in detail on June 3 — nine days before Zacharek was hired amid a national reckoning over police brutality.
"Over 90% of our applicants get screened out," he said. "So, 20 years ago, we used to get 200 to 300 applications for every single opening that we had. Today we're lucky to get 10.
"We already know that probably 20% of those people will fail the written test. We know that probably another 20% are going to fail the physical fitness test that comes right after.
"We've already lost almost half of our applicants, and that's not uncommon."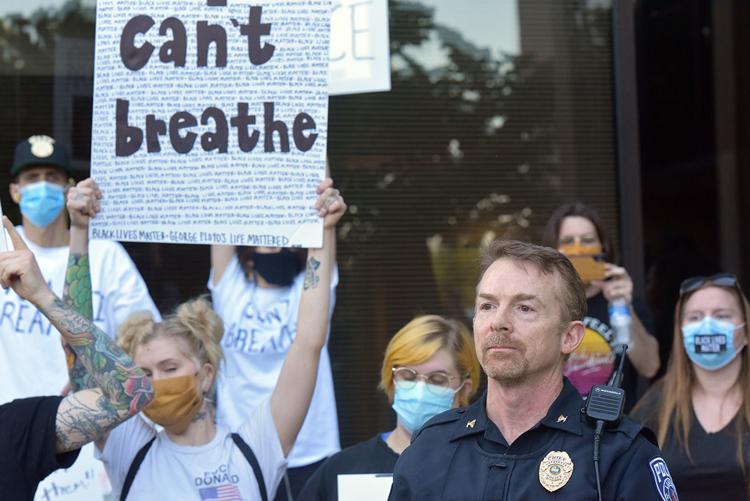 More start dropping when the department reviews their backgrounds.
"We're gonna find things that are automatic disqualifiers: felony convictions, a history of domestic violence," Flannelly said. "Those people don't even make it into the next part of the process."
Additionally, part of a candidate's initial eligibility includes exhibiting "good character," according to the Lafayette Civil Service Commission's rulebook.
"Then we're gonna run you through an interview board where we're gonna test your character and integrity. And we're gonna really press, it's not an easy interview," Flannelly said. "And then after that we're gonna do a background investigation. ... That web goes long and far, because we gotta be confident that we're hiring good people."
The background investigations which Flannelly touted in June as extremely thorough, involves talking to people who knew an applicant well, including parents, former coaches and former teachers.
"We talk to friends, and then we talk to references, but then we ask references: Give me the name of three or four people that you also know that know this person. We call them and we talk to them," he said in June.
The Lafayette Civil Service Commission, also known as the Police Merit Board, makes the final decision to hire an officer.
Zacharek's email was exposed in November 2019, when the entire neo-Nazi forum's database was posted on the Internet Archive. News of the breach was reported by The Guardian, Vice and independent news site Bellingcat.
In a Saturday afternoon statement, Flannelly reiterated that LPD conducts extensive background checks, including a complete review of a candidate's social media presence.
"While this information may not have been accessible through our investigative processes, we are appreciative that it was brought to our attention," he said. "We take great pride in our investigations and are extremely disappointed that we were not able to uncover this information in that process."
Managing Editor Jordan Smith and Editor-in-Chief Alex Weliever contributed reporting.