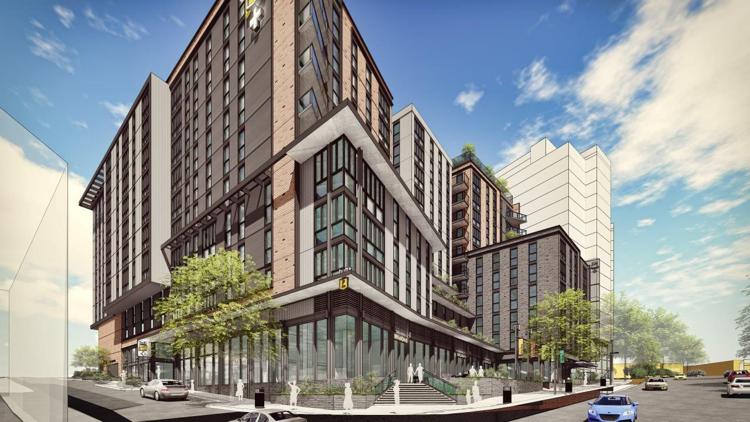 What will be West Lafayette's newest high rise, The Hub Plus, will be only 11 stories. Meanwhile, what will be the city's tallest building will stray from its original plan.
Developers Up Campus Properties and Core Spaces are building The Hub and are in the initial planning process for Hub Plus.
The Hub Plus will be next to the city's tallest building, The Rise. The Rise will be where the Lutheran Church is on State Street; Hub Plus will be where the current Citgo gas station is.
West Lafayette Director of Development Erik Carlson said that because the Hub is still in initial planning, there were originally two designs for the building.
"The developer of that is looking at another possible site," Carlson said. "Where, we don't know yet. He said he wanted to have some options. We have been pushing a lot for office space in West Lafayette, and he says he can do a new building that would have retail, office and student housing."
City planners are open to to talking about the new site but were waiting on the developer, whose answer came Wednesday night at the Area Plan Commission meeting. Ryan O'Gara, assistant director of the Area Plan Commission, said the developer decided to remove the option for 15 stories and just proceed with 11.
The Hub Plus will now need approval from the West Lafayette City Council in August.
The Rise, which has received final approval, will have to make a minor modification to the plan regarding what retail shops will be on the first floor.
The Rise is the product of the partnership between two Chicago-based companies, CA Ventures and R2 Companies, the same partnership that created Fuse.
Dan Hrankowsky, vice president of design and development for CA Ventures, talked about how the first floor's retail plan changed.
"We did have an opportunity for more of a big box community retailer that was going to be a familiar name to everyone, and that didn't work out," he said. "It doesn't mean that they won't come back to us, but as of right now, instead of being a single-user retailer, it looks like we're going to be chopped up into a few small community retailers."
Hrankowsky said possible retail options are a grocery store, a convenience store and a casual restaurant.
Carlson said the minor modification will need approval from the city.
"I think the single-use tenant is no longer looking at an expansion that they've planned," Carlson said. "They're going to have to do a little bit of an alteration. They're going to need a minor modification approval to do that."