91-year-old Claire Brigham had two Trump signs planted in her yard, one in the front and one out back, heading into last weekend. By the end of the weekend, she had only one.
"I did have a Trump sign, but it was stolen last week," said Brigham, who lives just south of Lindberg Road in West Lafayette. "I'm very sorry that someone took my sign and didn't accept my opinion. If they wanted to make a point I would have been happy to talk about it."
Brigham said she has voted for Republican candidates since Dwight Eisenhower won the presidency in the 1950s. She's lived in West Lafayette since Ronald Reagan was elected in 1980. She walks hunched over with a cane, watches C-SPAN religiously and Fox News often, and regularly attends a Methodist church.
"Something that really upset me a lot after Trump was elected, the first Sunday back at church, the minister we then had had us sing, 'We shall overcome,'" she said. "I thought that was a bit weird."
Her Trump-Pence yard sign now sits on her porch, almost out of sight of passersby in a neighborhood predominantly filled with Biden-Harris, Black Lives Matter or traditionally liberal political signs. Even during an election year fraught with partisanship, she said, she doesn't suspect her neighbors stole the sign.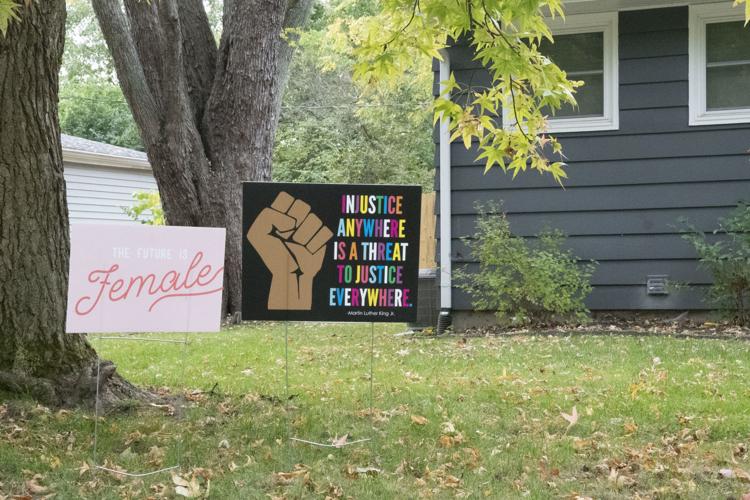 Brigham was one of 30,768 voters in Tippecanoe County who chose Donald Trump for president, according to historical data kept by the Board of Elections. Brigham originally voted for former Ohio Gov. John Kasich in the 2016 Republican primary. Trump surpassed Hillary Clinton by nearly 3,500 votes in the county, joining 88 of Indiana's 92 counties in choosing the Republican candidate.
Brigham said she considered voting for former president Barack Obama in 2008, when turnout was roughly 10,000 votes higher than 2016 in Tippecanoe County, according to the data. Indiana flipped to Obama that year, its first time having chosen a Democrat since Lyndon B. Johnson in 1964.
"Had the Democrats put up a different candidate than Hillary Clinton, I might have voted Democrat," she said. "I didn't like Trump so much. There was no way in this world I would ever vote for Hillary."
Conversations with Democratic voters, however, reveal an apathy toward Democratic presidential candidate Joe Biden and a burning urgency to remove Trump from office.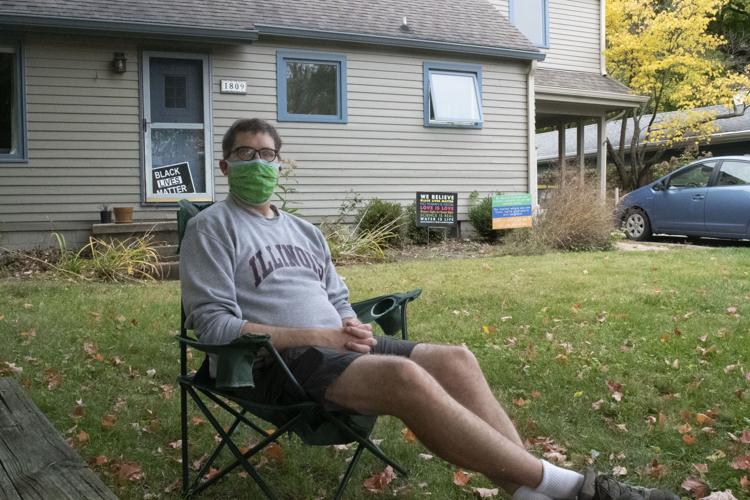 Stephen Hoffman, 48, lives a few houses down from Brigham and is the assistant head of Purdue's Department of Chemistry. A Black Lives Matter sign is posted to his front door. A sign from the left-leaning Unitarian Universalist Church, of which he is a member, signals "No human is illegal" and "Science is real."
Missing as of Saturday, however, was a Biden-Harris sign.
"Joe Biden is fine. I have no concerns about him," he said, sitting in a lawn chair as his 8-year-old son Simon stared out the front window. "With Trump — I disagree with almost everything he does. I can't abide by his cruelty to immigrants. And his cruelty to people who don't agree with him. And his bullying of people who don't agree with him."
Hoffman said he favored Kamala Harris, now the Democratic vice presidential candidate, and Minnesota Sen. Amy Klobuchar in the June primary election.
When Biden selected Harris, then, did Hoffman warm up to the presidential ticket?
He shook his head. "It didn't matter," he added. Whichever Democrat is on the ticket has his vote.
"What I'm hearing a lot of this time is just the total frustration with the current leadership," said Heather Maddox, the chair of the Tippecanoe County Democratic Party, who was born and raised in Lafayette. "The frustration with the lack of decency, decorum. We're definitely in a time where they're not seeing that kind of leadership we're used to in an American president."
A political mirror
About a half-mile south in the neighborhood, there are two blue houses less than the length of a football field apart. Each has a red, white and blue banner tied to two white columns hanging above the front door. One reads "Biden for President 2020," and the other asserts "Trump."
In one house, the resident was moved to tears recollecting Hillary Clinton's loss in 2016. In the other, the tenant said he hasn't doubted Trump since the businessman announced his candidacy.
"Maybe they did it in this neighborhood to irritate people," 78-year-old Andrea Williams said, adding that her Biden banner had been up for over a month. "It's their right to do it. And I feel very sorry for them in their beliefs."
Williams, a retired professor, said hanging the banner made her uneasy because someone might "egg our house," a historic home built during World War One which she has lived in for nearly three decades.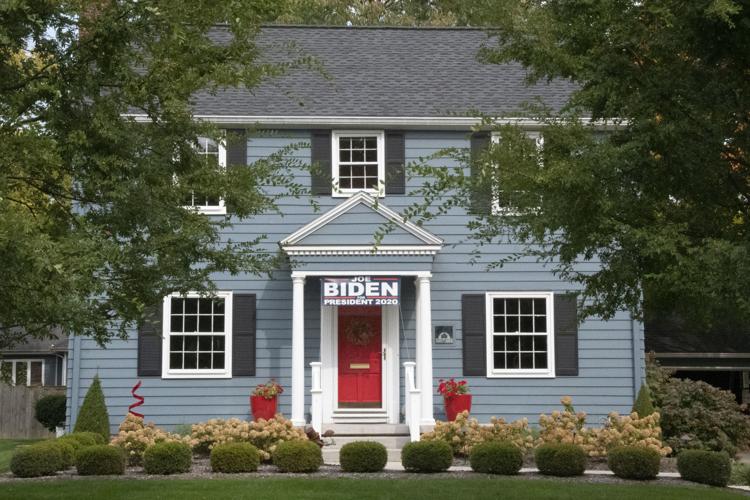 Trump jeopardizes the nation's democracy, she said, and she fears political violence following the election. Williams and her two sets of conservative friends entirely avoid the topic of politics because the disparate worldviews are dizzying, she said.
"I'm not frightened — I'm terrified with what's going on," she said. "And what really stuns me is how people don't stand up to Trump."
The tenant who hung the Trump banner preferred to remain anonymous. He's a 22-year-old Purdue student double-majoring in engineering and history. He said he's comfortable displaying the sign in his neighborhood, where fewer college students reside.
But he fears having his name in the student newspaper because of potential retaliation, he said.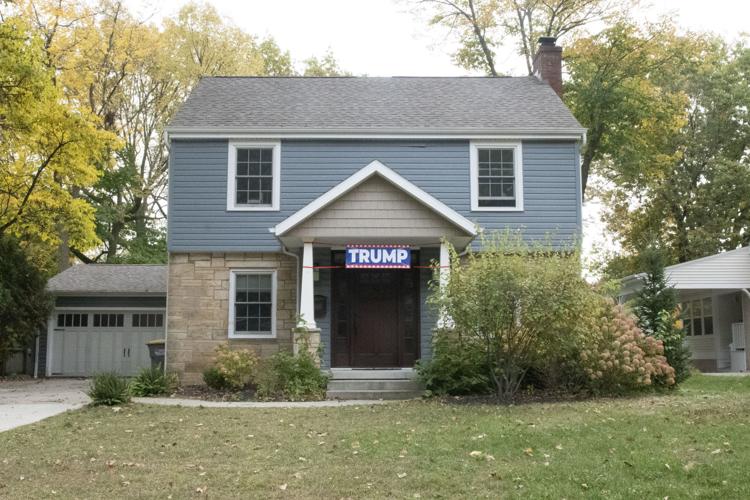 "If I lived in a dorm I wouldn't put up a sign showing any non-mainstream political views," he said. "People are really stressed out with the coronavirus and stuff. And if you pay attention to the news a lot, you're going to be living in this nightmare reality, where you think everyone on the left is gonna try and burn down your store and you think everyone that's on the right is a racist."
Born in the Middle East to American expatriates, the student said "America First" holds a different connotation for him. Policies that advance the U.S. on a global level matter most, he said, while hot-button domestic issues mainly function as media distraction.
Trump's dealings with Eastern European countries and North Korea, as well as his announcement in August of a peace deal between Israel, the United Arab Emirates and Bahrain, have all impressed the student. The nation has not entered a war since Trump took office, the student noted, another plus.
Regarding immigration from Latin America, the international issue Trump touted during his 2016 run by broadly labeling Mexican migrants "killers and rapists," the student said he finds it normal for leaders to view their countries as superior.
"I've seen racism like you would not believe," he said. "I don't think there's no racism in America, but I think that a lot of the racism that gets called out is pretty superfluous stuff.
"There are serious issues that could be addressed, no doubt. But I think the credibility of those serious issues is severely affected by everyone getting upset over name-calling."
To the student, Trump's often crass delivery pales by comparison to the execution of those ideas.
"In terms of delivering promises, in terms of delivering your platform, I'm 100% ideas, 0% presentation," he said. "I think it's much better to present your ideas and clearly and maybe offend people than it is to worry about the perception of your ideas to the point where it impedes you from delivering your message."
But from the moment Williams saw Trump berating contestants on "The Apprentice", she said, she was in awe of "what a wretched human being he was." The president draws a stark contrast to Obama's kind and respectful demeanor.
Her disdain for the president extends beyond personality: "I noticed he didn't have a plan for his presidency. He just wanted to destroy the previous administration's programs."
Williams acknowledged the fault in Clinton denouncing a portion of Trump's base as "deplorables." And as the former professor ticked off the houses with Purdue affiliations around her own, she described a bubble of support for Democrats in university towns that can seem to distort political realities.
"When you have a university, you are pretty isolated, and you forget that people grow up differently, have different ideas," she said. "And you tend to think that you're right and everybody else is wrong."
Do opinions translate into votes?
The student who displays the Trump banner was one of 15,093 Purdue students who voted in 2016, though not all in Tippecanoe County, according to data from the National Study of Learning, Voting and Engagement.
The Purdue Votes Coalition outlined goals this summer to increase the overall student voting rate from 47.8% in 2016 to 55% this year. Turnout in the county primary was subdued by the coronavirus, County Clerk Julie Roush has said, finishing below 20% among only registered voters.
Around 4,000 new voters have registered in Tippecanoe County since the June primary election, according to Roush, bringing the total to more than 118,000. The county had 113,548 registered voters during the 2016 presidential election.
The local Democratic Party canceled door-to-door canvassing efforts because of the coronavirus, Maddox said. The party also had to forgo any large political rallies. Fundraising dollars would surely dry up, Maddox thought.
A clear contrast between the two candidates, however, has proven to motivate Democrats and swing voters, she said. People have spontaneously walked into the campaign office to write checks worth hundreds of dollars. Michelle Richardson, the party's treasurer, said small donations from individuals have also increased.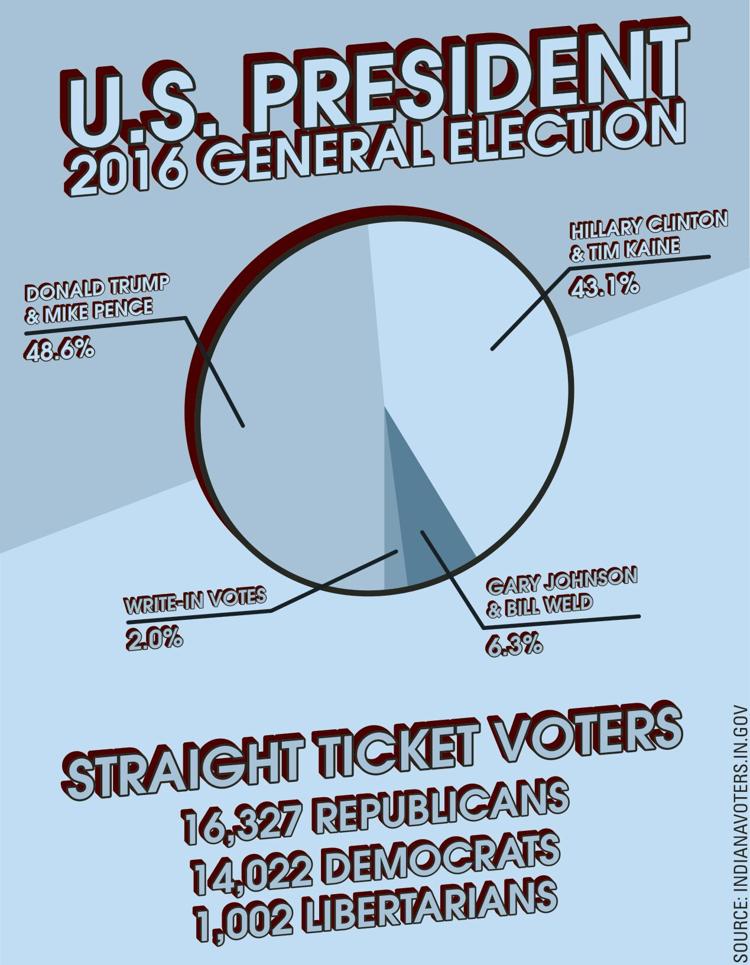 The 250 Biden signs the party initially ordered "flew out of here" after three days, Maddox said, and several hundred people are on a waiting list for the next order.
The Tippecanoe County GOP did not respond to multiple requests for comment about its fundraising efforts or other ways it has gauged excitement leading up to the election.
A record 1,024 early voters cast ballots Tuesday, the first day Indiana voters were able, the county clerk said. Combined with nearly 4,000 absentee ballots that have already been returned, last week's few-thousand early voters indicate a turnout likely to be higher than 57% among those registered in 2016.
Seeing lines of voters outside of polling sites won't help Maddox to relax until she sees which name is earning more check marks, she said.
"Another thing that happens when you've been in it as long as I have is you get a little jaded," she said. "But I've also learned that doesn't always mean what I think it's going to."