Brian Thieme co-owns Thieme & Wagner Brewery in Lafayette, a bar that opened in 2017 but stems from a family brewing business founded in 1863 that survived the Prohibition era. The Main Street shop's blue awning leads into an interior decorated with beer-themed art and antique bottles.
During this historic year, Thieme said he's dissatisfied with the county's handling of local bars and restaurants, which on Aug. 14 were required to close at midnight and discontinue bar-top service because of the fear an influx of Purdue students might spread coronavirus.
When Thieme saw an online petition requesting a rescinding of the Tippecanoe County Health Department's order, he signed on. If patrons feel uncomfortable attending bars and restaurants, Thieme said, they can simply stay home.
The restrictions seem doubly excessive to him because of the overwhelming percentage of incoming college students who have tested negative for the virus. The positivity rate was around 2.5% as of Wednesday, according to Purdue's dashboard.
"You've got a bunch of healthy students over here, and we're all still panicking," Thieme said. "I've just kind of been fed up with it all, and when the guy came around with the petition, I said, 'Hell yeah, I'll sign it.'"
"The guy" is Roger Stark, who owns Stark Investments, LLC in West Lafayette. He drafted the petition after networking with small business owners in Greater Lafayette and sensing how seriously the restrictions might affect them.
The petition had nearly 700 signatures, many of them from shop owners, bartenders and servers, as of Wednesday.
"Businesses have been completely compliant with the restrictions put in place, which include reduced capacity, extra cleaning measures, social distancing and requiring face coverings when not seated," the petition states. "This additional order will make local businesses struggle even more to stay afloat, and to be able to keep staff employed due to not being able to earn a living wage to provide for their families.
"This order will continue to put these bars and restaurants in a financial bind. (Paycheck Protection Program) funds have been exhausted, and these business owners are worried for their revenue, and how to keep their employees employed and paid in order to provide for their families."
County health officer Jeremy Adler, who made the decision to impose the restrictions, said the health department is instituting temporary stringent measures to protect businesses from being forced to close completely in the future.
"It is important to understand that the health department is taking these steps now to prevent a significant increase in COVID-19 in our community and help keep these businesses open," Adler said in an email.
"If COVID-19 cases continue to increase, we believe one of the first steps the governor will take would be reducing capacity further or even closing these establishments like earlier this year. We want to prevent that from happening."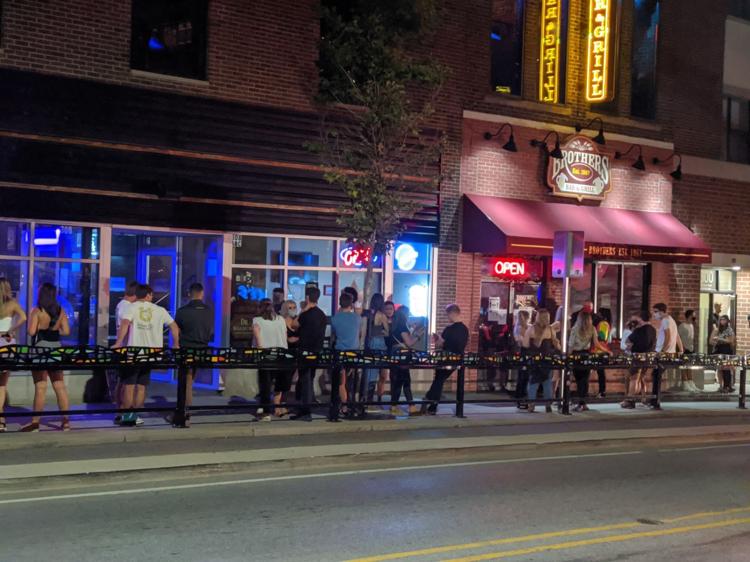 Khala Hochstedler, health department administrator, noted that the county's seven-day average of new coronavirus cases has steadily increased since mid-July. The average has lingered between 14 to 19 a day for most of the past month, according to the Indiana State Department of Health's statewide tracking.
Just last Friday, the county recorded 35 positive cases, tying its largest single-day increase.
"Our numbers are trending up instead of down," Hochstedler said. "They're a lot higher than when we were sheltering in place and when bars and restaurants were closed.
"We worked with the commissioners, both mayors, and our board to come up with a compromise," Hochstedler added. "Our goal is not to close restaurants and bars down again, but we need to keep the community overall as safe as possible."
West Lafayette Mayor John Dennis said he understands the difficulties that bar owners and patrons face in light of these restrictions. But to him, that doesn't outweigh the importance of the restrictions for suppressing the spread of the coronavirus.
"That puts bar owners under a lot of pressure," Dennis said. "And West Lafayette and Lafayette are totally different. Lafayette is dealing with people who don't get off work until midnight. And they want to go have a beer somewhere but they can't.
"It's basically asking everybody to make the appropriate sacrifices to make sure that we get through this intact, and get through this as quickly as possible."