A 'Welcoming Congregation'
Tucked beneath a canopy of trees near a bend in Meridian Street sits a church with a banner bearing all the colors of the rainbow. Printed in white block text on each stripe of color is an assertion; together, the statements preview a belief system brazen in its liberal skew.
"Love is love," read white letters printed onto the purple top row. "Black lives matter," the banner proclaims next, and further down, "All genders are whole, holy and good."
Stepping into Unitarian Universalist Church, one's eyes are drawn to a rainbow flag hanging on the wall near the entrance to the sanctuary. Though an in-person service hasn't been held since March, an assortment of items laid out on welcome tables helps to recreate what worshipers usually encounter on their way to the church's pews.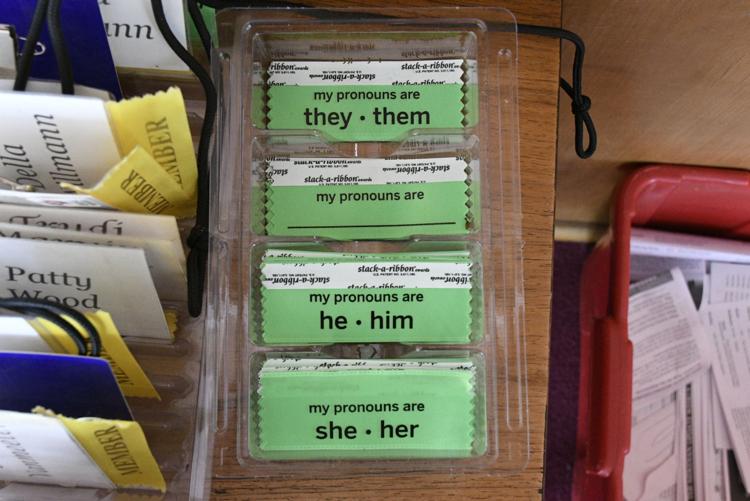 Guests might take pink or green stickers to indicate preferred pronouns. Signs point to all-gender restrooms down the hallway. Pamphlets explain the meaning of the church's "Welcoming Congregation" status, and offer scenarios to LGBTQ guests to portray the extent of their inclusion.
"If you are a transgender woman of color who is struggling with rejection by family and friends for who you are," one pamphlet reads, "you are welcome in Unitarian Universalism."
Monty Myszak, the office administrator and the only employee consistently working in the church these days, moved here from North Carolina in March when his husband took a job as a professor in Purdue's College of Pharmacy.
Myszak, 54, began looking for a part-time job, he said while standing in the sanctuary on Friday, and separately considered becoming a member of the church.
"I never want to come to church because a lot of churches don't accept you for who you are," Myszak said. "They didn't for me when I was growing up, and so I stopped going to church. And then I found out this church is very welcoming to gay people."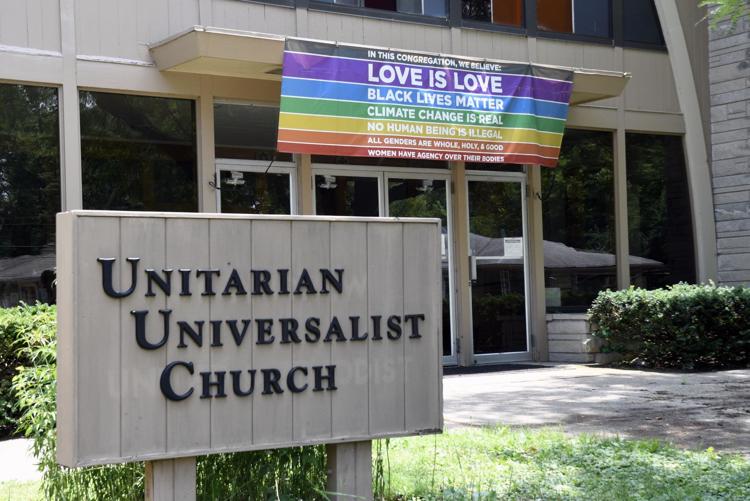 His job search and religious search coincided. While he hoped to find a balance between work and worship at the church, the chance never came; weekly services were canceled days after he earned the job, and online services don't replicate the sense of community he desires, Myszak said.
"I haven't been able to even come to church, or meet the people here," he said.
The people include New Chauncey liberals and community activists, who have established UU church as a social justice enclave and a space to constantly question gods rather than accept any single creed.
Worshiping uncertainty
Beth Misner, 66, leaned against a pew in the sanctuary, arms crossed, gazing toward the sunlight that poured through the stained-glass windows.
"Spiritually, I consider myself kind of a Buddhist," she said through a yellow mask dotted with pink flowers. "I consider myself spiritual but not religious."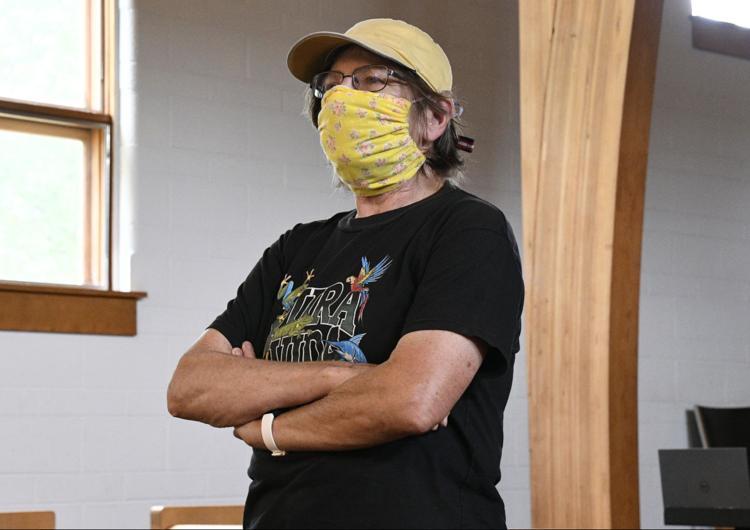 She's worshipped at the West Lafayette church for 26 years. Before she found Unitarian Universalism, a religion founded during the Reformation of the 16th century, "I was never going to go to a church," Misner said. "You couldn't get me in the building. I figured it would just plain burn down."
The high, wooden sanctuary ceilings meet at an arch, and hanging from the upper balcony are flags stitched with symbols from eight different religions. The Christian cross is represented, but so are the crescent moon and star, which denote Islam, the Star of David for Judaism and a green Dharma Wheel to symbolize Buddhism.
There is no single creed or received revelation Unitarian Universalism bases itself on, which separates it from many popular religions, Interim Minister Rosemary Morrison said during a phone call. Rather, congregants are encouraged to explore various belief systems, and choose whichever suits their individual perspective on life.
"Theology is personal. Theology is living and breathing, it's not stagnant," the reverend said. "I think about spirituality and personal growth as being almost the same thing."
During her sermons, which have been adapted to an online format the past few months, she offers a multitude of interpretations to include all religious perspectives.
She'll switch from Buddhist texts to the Hebrew Bible to the Daozang, the religious text common to Taoism. Her personal theology is Hamartiology, the belief that "we often miss the mark and we are ever able to say sorry and be brought back into a loving community."
"There is nothing in our literature or our services that say, 'You must believe in a particular way,'" she said. "I have my own personal theology, but that's not something where I'm going to say, 'Here's how I think, and here's how you should think, too.'"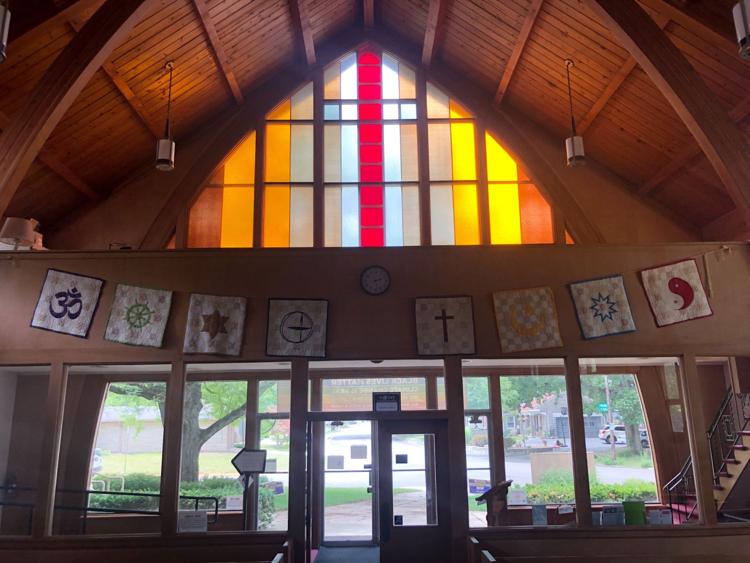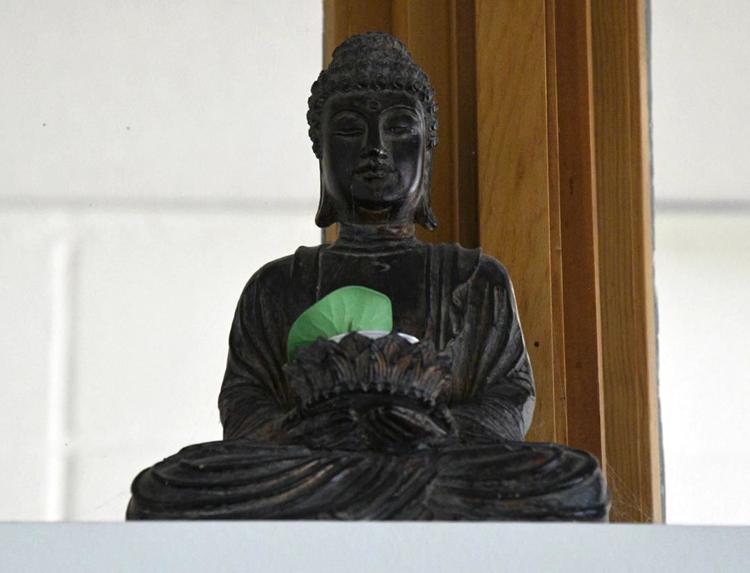 The inclusion of all perspectives led to UU's national organization resolving to become an "LGBTQ Welcoming Congregation" in 1997, a tag that commits each church to advocate for gay, lesbian, transgender and bisexual rights, according to the church's definition. The religion touts the highest percentage of LGBTQ clergy among all denominations, Morrison said.
Margy Deverall, 62, has been on the board of Pride Lafayette and is a member of Parents, Family and Friends for Lesbians and Gays. She's also been a member of the church for decades.
When either of her organizations receive frantic calls from parents whose children came out to them, or from LGBTQ kids worried they'll be ostracized by religious parents, Deverall said she points them to the UU church.
"They aren't just accepting, because that sounds like, 'Whether I like it or not, I will accept you,'" she said. "What they are is affirming. Like, 'That's who you are? I affirm that. I believe it. I support it. I'm not just accepting it.'"
Deverall was a "cradle Catholic" — born into Catholicism, later sending her son to Catholic high school — and didn't pursue different beliefs because she couldn't see a reason. That changed when her son, who had sworn throughout high school that he intended to become a priest, came out as gay at 19.
She was supportive, she said, and realized her son, now 42, had been hiding. He never dated, and often dismissed her questions about it by saying he was going to become a priest.
When he came out, he handed her a pamphlet for PFLAG and said, "You might want to check these people out."
It turned out that members of the group met at the UU Church, which promised spiritual support for people who now identified as "recovering" from hurtful ideologies they'd been exposed to at previous churches.
"I thought, this isn't working for me," she said about her fundamentalist, conservative religion. "I mean, this religion is disrespecting my family and I can't support it. I was without a church for a few years before it finally clicked, and I started attending the services at UU."
Other religions have grown more inclusive, Morrison said. Episcopal churches, such as the Chapel of the Good Shepherd three blocks west of her church, often welcome worshipers regardless of sexual orientation. But it differs, Morrison said, in its commitment to Christianity.
"I think the people who are drawn to UU say there's more," she said. "No one denomination has the market cornered on the truth."
Moreover, the church's commitment to social activism gives congregants a spiritual framework to counter societal issues such as climate change, gun violence and racial inequity with religious fervor.
Bastion for activism
Nicole McCabe is the director of religious exploration for the local UU church. She's also an atheist.
"My atheism isn't even something that comes up," she said in a phone interview.
But the church doesn't hide from atheism, agnosticism or deism, all belief systems that either break from or refute traditional theism. In one of its religious exploration rooms, where McCabe would meet with 10 or so young people when gatherings were permitted, a poster defines the four belief systems. Another contrasts nearly a dozen world religions.
"The main purpose of my job is, it's not like I have to be an expert on all these world religions," McCabe said. "My job is to facilitate the people who are the experts in those areas to get them to share their information and knowledge and experiences with the youth."
McCabe pursues monthly themes and develops curricula for kindergarteners through 12th graders, she said, mimicking the role of Sunday school at conventional churches. Often the curriculum centers on spirituality — McCabe tells of a year where each month was devoted to a deep dive into various world religions — but seemingly as often, activism is the focal point.
For June, the Sisters of Perpetual Indulgence, an organization of queer and trans nuns who dress in drag and use religious imagery to satirize beliefs about gender and morality, have shared stories on Zoom to celebrate Pride Month.
A curriculum formed around the protests and social activism that swept the nation, McCabe said. Her method is to mirror the concerns of the young people she works with, she said, and to provide them with resources to amplify their voices.
One service in 2018, organized by the teens McCabe works with, featured a "die-in" in response to a record number of people killed or wounded in mass shootings in 2017.
"The last part of the service was reading out the names of everybody who'd been killed by gun violence, and then just falling down on the floor," Misner said. "By the end of it you were crying."
"They have the ideas, they have the organization, they have the leadership," McCabe said of the teens. "It's better to have it student-guided and student-directed, to let them be free to kind of question and explore, not to steer them in any one direction."
The religious exploration rooms reflect the dual commitment to spiritual discovery and social activism.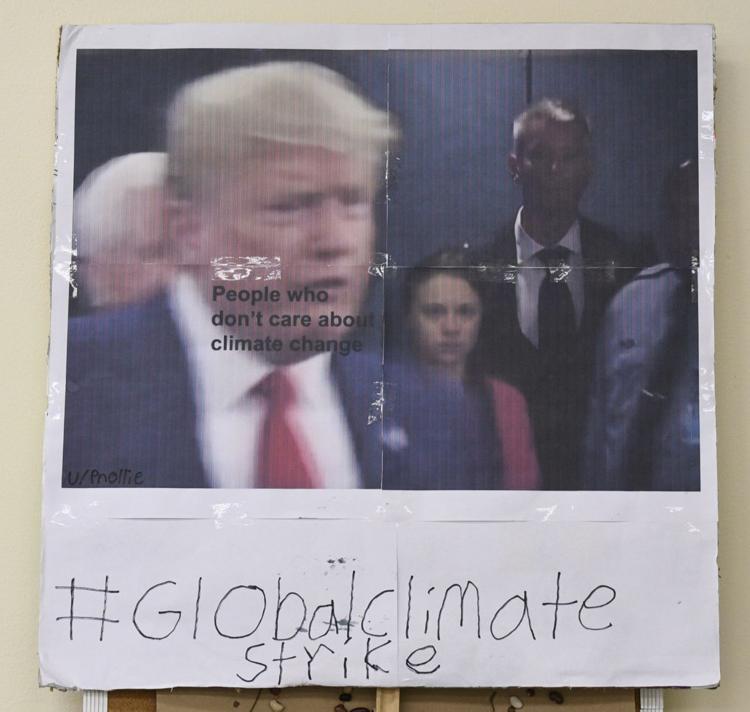 Posters and cutouts carrying messages of love and acceptance decorate the white walls, urging on spiritual voyagers. On the wall adjacent, climate activist Greta Thunberg glares at President Donald Trump in a photo captioned, "People who don't care about climate change."
July's conversations will be dedicated to dismantling racism, McCabe said, and the church strives to codify an eighth principle to guide its efforts.
"We … covenant to affirm and promote journeying toward spiritual wholeness by working to build a diverse, multicultural, beloved community by our actions that accountably dismantle racism and other oppressions in ourselves and our institutions," the proposed principle states, according to Morrison.
"I am a white, cisgender, heterosexual, old, white lady," Morrison said, "and I don't think I have any more right to be affirmed and celebrated than a transgender black woman."
'You cannot be a Nazi'
On the anniversary of Trump's inauguration in 2018, Greater Lafayette Indivisible hosted an event at the UU church to resist his "regressive" policies. The next morning, an eruption of hate speech was plastered onto banners hung outside the church prior to Sunday service.
Scrawled in red and black ink on posters attached to the fence surrounding the playground were calls for gay people to die, the use of racial slurs to ridicule the church's support of people of color and references to mass shootings at Pulse nightclub in Orlando and a country concert in Las Vegas.
"They threatened to shoot people," Misner recalls. "It was the whole right-wing idiocy."
Local politicians and fellow church leaders collectively condemned the actions, crowding out the hate speech by crowding into the church's sanctuary several nights later. But it was a stark reminder to Misner and others of the scorn their progressive views elicit in people with hateful mindsets, she said.
"One of our tenets is that you can find your own way," Misner said. "And so a lot of people find homes here because you don't have to believe in God, you do believe in community, you cannot be a Nazi.
"Which is something we never thought we would have to say!" she said. "Who would ever think you'd have to say that? 'You can't be a Nazi and belong to this church.'"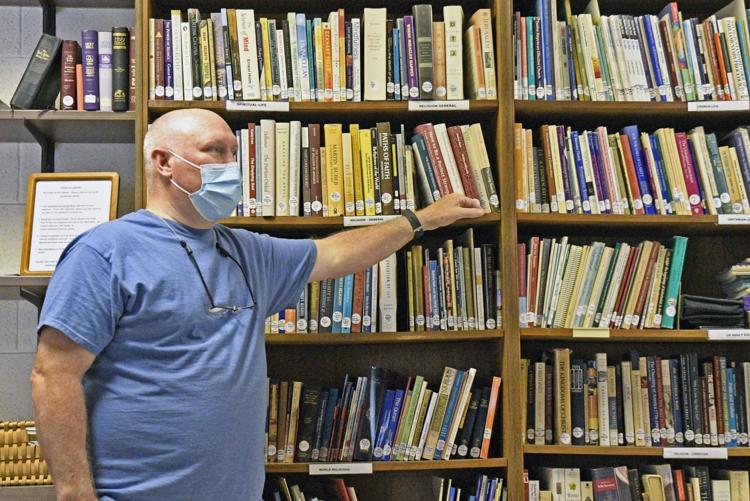 Misner toured the religious exploration rooms, opening doors and pointing to colorful posters bearing messages like "Love is stronger than hate." She scoured the shelves of the church's library, divided into sections on spirituality, history and social justice.
Her voice echoed as she stood on the red carpet of the empty sanctuary, a banner hanging overhead which read, "Love is the spirit of the church."
"The church is really — in a relatively conservative state — it's a home," Misner said. "It's a community that we need."