Victims of trauma are being encouraged to channel their suffering into the creation of art through a Lafayette-based group.
YWCA, an organization dedicated to empowering women and eliminating racism, debuted participants' paintings, pictures and collages on Thursday night in a new exhibit called "Expressions: A Survivors' Gallery."
Rachel Reynolds, the organization's creative expression director, started the program "Expressions" in 2017 after being "holed up" in her apartment and feeling dejected that she had no one to share her artwork with. After launching the group to establish a medium for artists to connect, Reynolds witnessed the healing power of creative expression.
"In the aftermath of abuse, survivors were showing up with their wounds, visible or invisible, and turning them into light," Reynolds said. "When their lives had been touched by the destructive forces of violence and trauma, they were choosing to create."
The group meets Fridays at 6 p.m. at the YWCA Advocacy Center in downtown Lafayette. The program is free to attend, open to survivors of all ages and does not require participants to have previous experience making art. A Spanish-speaking survivors' program is hosted at the center once a month.
The program is wrapped into YWCA's domestic violence intervention and prevention department, led by senior director Leah Giorgini. She was born in Indonesia and grew up in England, where she and her cancer-stricken mother were both victims of physical abuse at the hands of Giorgini's father.
She was trained as an occupational therapist and believes human beings are anatomically designed to create, with hands uniquely shaped to engage with objects in the environment. But Giorgini said the privilege is often denied to people in poverty, whether they lack the financial means or feel alienated from the culture of indulgence that surrounds art.
Giorgini said YWCA's objective is to give voices to people who feel oppressed by abusive or unjust environments.
"Creative expression is a radical act against the forces of destruction," Giorgini said. "If domestic violence and sexual violence are anything, they are forces of destruction. They are designed to diminish and demean a person who's been victimized, to make them lesser. Art can make you more."
Lucy, a YWCA employee and survivor of trauma who requested only her first name be used, said she inherited her proclivity to create art from her mother. She said she's been painting on her own for years and was intrigued by the opportunity to express herself to a group of women who could empathize.
Tracy Hurd, YWCA's grants director, said it is common for survivors to use only their first names or remain anonymous out of fear their abuser will track their activity. Hurd mentioned one Purdue student who changed her name to avoid being found.
Lucy created several pieces for the survivor's gallery, but her favorite depicts a hand reaching out holding two flowers. She said the piece is simple and contains ample white space to allow viewers room to project themselves into the scenario.
"The first (flower) is a daffodil and that means new beginnings," Lucy said. "A poppy can grow on war-torn battlefields, so it celebrates survivors and their new beginnings and being able to grow through destruction."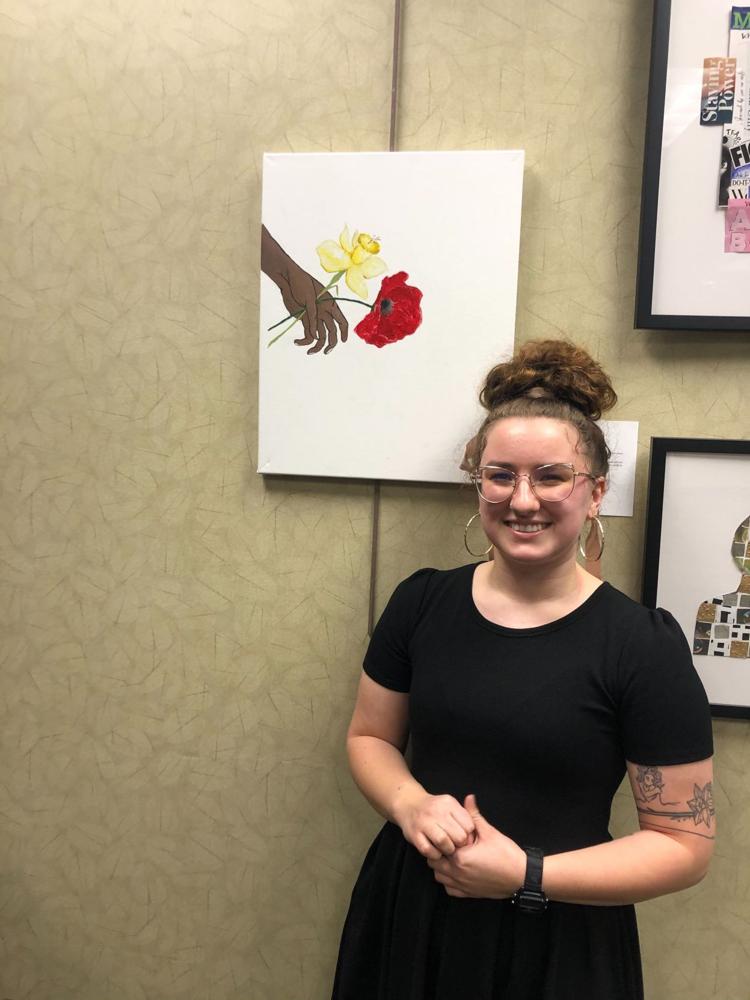 Giorgini said issues of domestic violence often remain hidden because of a societal framing that treats relationship issues as strictly civil disputes. She said art has the potential to be a powerful liberator for victims.
"Now it feels like an act of defiance to share it, because there is so much shame associated with domestic and sexual violence," Giorgini said. "I believe violence perpetrated against women and other marginalized groups is something that needs to be brought into the limelight."
"Expressions: A Survivors' Gallery" will be displayed at the West Lafayette Public Library until March 15.