Riehle's Neighborhood Bar and Grill owner Andrew Riehle stood outside his family's bar Wednesday while the bar's hanging sign, which reads "I guess we close at midnight now" and "thanks Dr. Adler," swung in the wind above him.
Riehle joked that he might need to change the sign, hours after the county health department loosened its grip on closing times for bars and restaurants.
Days after Purdue administrators urged the county to retain restrictions on bars and restaurants, Tippecanoe County health officer Dr. Jeremy Adler pushed the previous closing deadline from midnight to 1 a.m.
Adler announced the change to the prior mandate in a Wednesday press release. The new rule takes effect Friday, alongside a new rule that allows bars and restaurants to seat patrons outdoors at 100% capacity, up from 50% capacity for bars and 75% capacity for restaurants.
"It'll definitely help out sales," Riehle said, leaning against his bar's stone exterior. "It's a small compromise."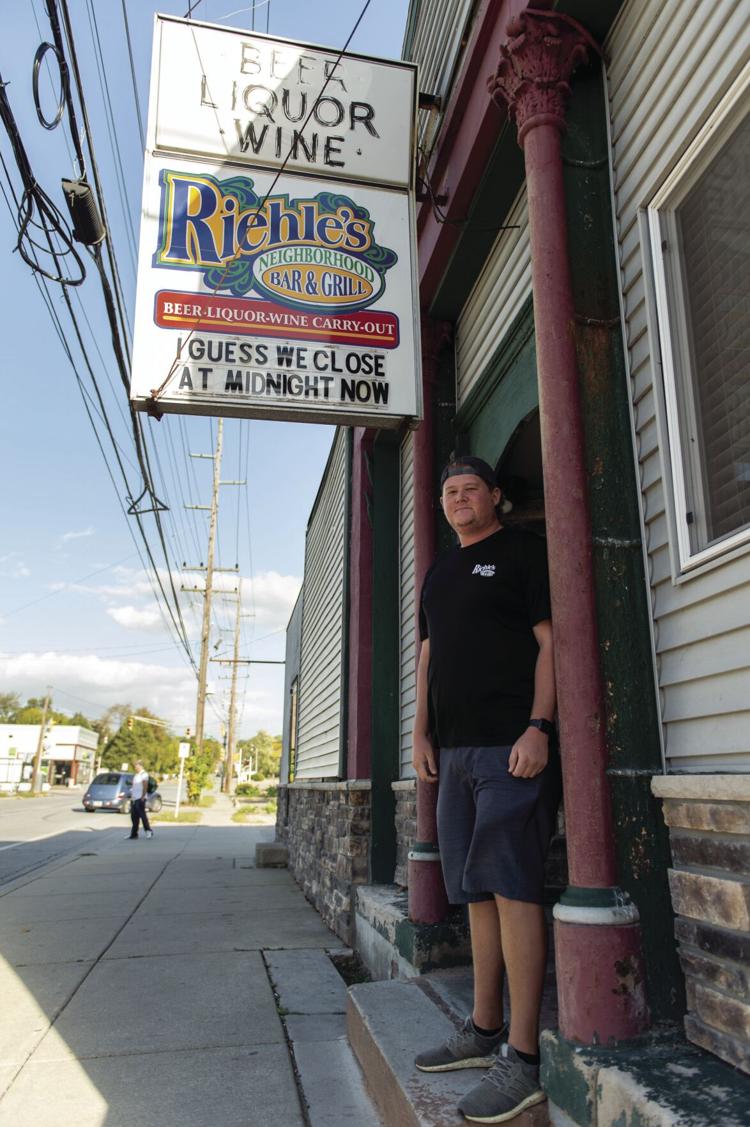 The owner said that, ultimately, he wants the 3 a.m. closing time back for his business, which doesn't enjoy the benefits of downtown eateries that can take advantage of Lafayette's Fresh Air Eats program. "Back to where we were" before COVID-19 restrictions would be the best possible outcome for his bar, Riehle said.
Members of the Protect Purdue task force, including Purdue President Mitch Daniels and Chief Medical Officer Esteban Ramirez, wrote an open letter to Adler on Monday urging him to maintain prior restrictions on bars and restaurants in the county.
"Our medical and scientific assessments tell us that any substantive changes in the county's position on the operation of restaurants or bars would likely have a significant, detrimental effect on Purdue and thus, the county as a whole," reads the letter provided by a Purdue spokesperson.
Adler has faced open calls during biweekly COVID-19 news briefings to alleviate the stress on businesses by pushing back the midnight closing time he mandated in mid-August for all bars and restaurants.
During a Sept. 23 briefing, Lafayette Mayor Tony Roswarski said people who work irregular hours like 3 p.m. to 11 p.m. are inconvenienced by restaurants and bars closing at midnight.
Tippecanoe County Health Department officials have previously maintained that stringent rules now will prevent full-scale business shutdowns similar to the one Indiana ordered in March. Purdue similarly made a financial argument, saying the University's ability to continue offering courses on campus directly affects the county's economic vitality.
"We are concerned that any relaxation of restrictions on restaurants and bars at this time could undermine our efforts to mitigate the spread of the virus on and off campus," the letter states, "ultimately affecting our ability to continue residential learning with the economic challenges that will bring to the community."
Roswarski, West Lafayette Mayor John Dennis and all three Tippecanoe County commissioners were CC'd on the open letter.
Alongside top Purdue officials, the letter was also signed by Dr. James Bien of IU Health Arnett and Dr. Daniel Wickert of Franciscan Health, who participated in the health department's more frequent news briefings this spring and summer. The two doctors lead the area's largest hospitals.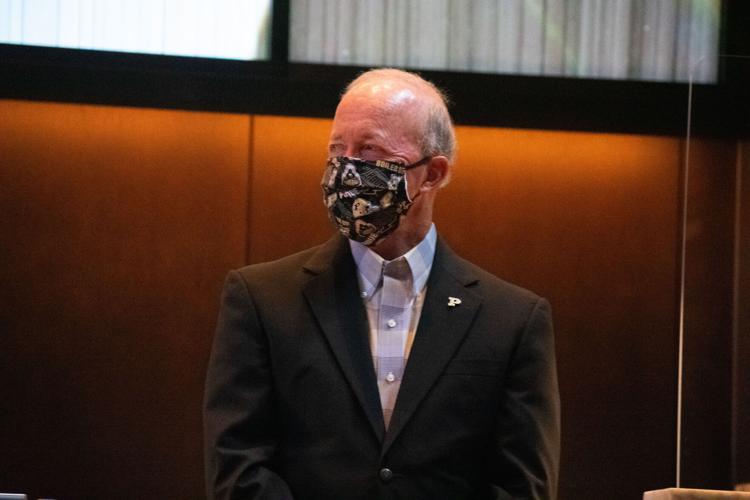 The open letter follows Indiana Gov. Eric Holcomb's decision to move the state to Stage 5 of the "Back on Track" plan, citing improvements in metrics such as the state's weekly positivity rate, its testing ability and its contact tracing, according to a Friday press release.
Following Holcomb's announcement the TCHD released a statement that its current guidelines will remain in effect despite Holcomb's changes. The governor's order allows counties to impose tighter restrictions than the state.
"We request delay of any major changes in restaurant and bar restrictions until the full impact of Phase 5 reopening can be assessed," the letter states. "As we approach October 31, we will have a clearer picture on the stability of COVID-19 cases on campus and within our community. If at that time our community health seems stable, a phased loosening of restaurant and bar restrictions might be warranted."
Purdue spokesperson Tim Doty said the administrators who drafted the letter were aware of the change and deemed it a "fair compromise."
Other rules imposed by Adler's mandate include:
Restaurants must continue to limit restaurant capacity to 75%, with outdoor facilities at 100% capacity.
Bar capacity must be limited to half-capacity, excluding outdoor facilities.
Bars and nightclubs are allowed to operate only from 5 a.m. to 1 a.m.
Facilities such as arcades, billiards tables and dart boards must be limited only to those using the facilities.
Dance floors are prohibited.
Adler did not immediately reply to requests for comment on the open letter Wednesday morning.
Alexandra Weliever contributed reporting to this story.