Outside apartment BB2 in the Spring Gardens apartment complex, Kylee Stinebaugh was moving out — but not by choice.
An unzipped black suitcase sat on the seat of a pink bike outside the apartment's door. A Lego pushcart sat next to multicolored plastic buckets, remnants from when Stinebaugh's two daughters, ages 11 and 7, would visit.
Her landlord, Consolidated Property Management, filed for eviction on Aug. 17, and Tuesday afternoon was her deadline to leave the complex on Teal Road in Lafayette. With a $2,545.88 judgment issued on Sept. 1 for missed rent payments and court fees, made possible by the expiration of Indiana's eviction moratorium, Stinebaugh scrambled for government assistance to no avail.
"I'm at this point homeless," she said, noting she would sleep on a friend's couch for the time being. Her girls are staying with their father.
Stinebaugh's red Kia sedan functioned as a moving unit, rods from her bed frame shoved into the trunk and piles of clothes folded into stacks on the backseat.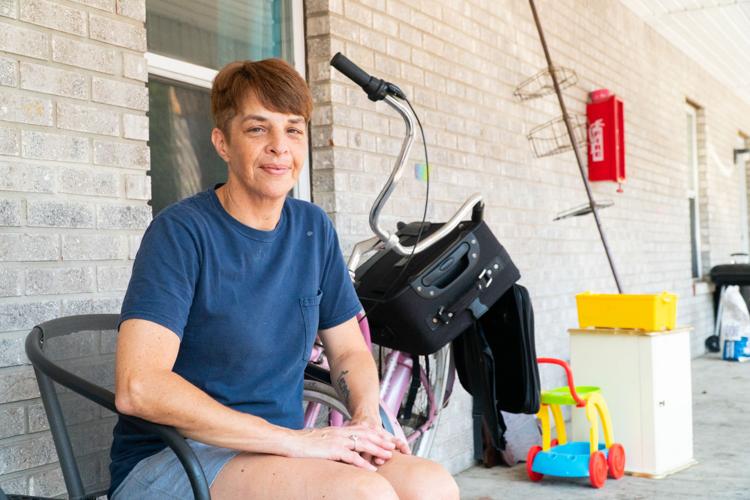 "I am currently packing and moving my stuff to a storage unit that I was given this year by a neighbor," she said. "Whatever I can pile in my car."
As of Friday, exactly 158 evictions had been set for hearing in Tippecanoe County's small claims court since Indiana's moratorium expired in mid-August, Magistrate Daniel Moore said. Average daily hearings have increased by roughly 60% as tenants reel from business shutdowns.
The Centers for Disease Control and Prevention issued an order on Sept. 4 that aims to prevent evictions through the end of 2020, a response to the potential for exacerbated spread of the coronavirus if thousands of renters are forced into communal settings like homeless shelters.
But landlords are still determining how the order affects their ability to proceed in court.
The CDC order notes five qualifications to receive assistance, which include requiring tenants to have suffered a "substantial loss" of income that prevented full rent payments and used "best efforts" to obtain money to pay rent. The most restrictive qualification says evictions cannot happen if the tenant would become homeless or be forced to move into a group-living setting.
But because nearly a third of renters nationwide report they would have to live in communal settings if evicted, the CDC stresses urgency and threatens consequences for landlords who ignore the order.
"A delay in the effective date of the Order would permit the occurrence of evictions — potentially on a mass scale … and endanger the public health," the CDC order reads. "Immediate action is necessary."
Stinebaugh gazed at the vibrant blue-and-gold paintings of flowers her 11-year-old, Devonna, had done on the sidewalk and walls of the apartment the 46-year-old mother moved into five years ago.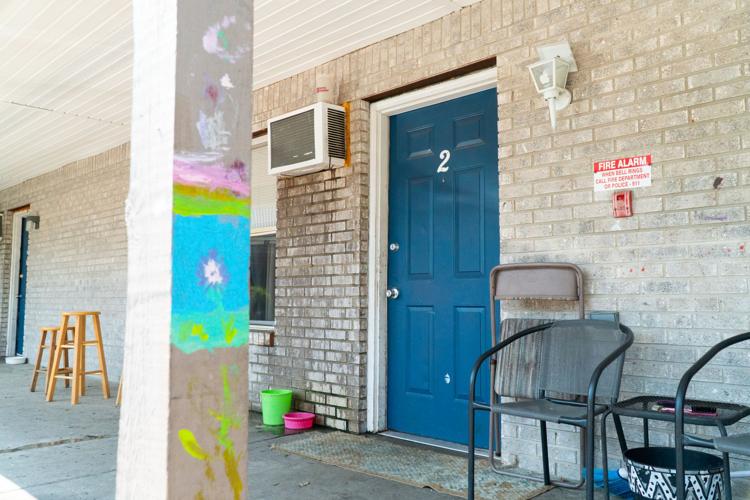 She was always catching up on $625 rent payments, she said, but this year she was forced to quit her job to care for Devonna and Ayana when schools shut down in March.
Her complex's former management company had been lenient. Consolidated Property Management took a harder line after acquiring Spring Gardens last year, Stinebaugh said.
"There's a lot of people in the same situation. I can only imagine…" Her voice trailed off. "I'm just blessed that my kids aren't here. They have somewhere they can stay."
Landlords weigh options, reluctant to budge
Just five doors down, Andre Neal, 32, was still processing his own eviction.
After losing his Steak 'n Shake job of eight years in March, Neal has been searching for a job since his manager stopped responding to his texts.
"They didn't say anything," said the 10-year Lafayette resident as he stood outside apartment AA3, where he's lived for four years. "They shortened our days and I went in on my days off, and I text (my manager) asking what's my next day in — never got any response."
Since then, Neal has been trying to pay off an accumulating rent balance while trying to work out a payment plan with Consolidated Property Management.
At 8:35 a.m. on Tuesday, he said, he was told by a Tippecanoe County Superior court judge he would be evicted in a week.
"I tried to set up a payment plan in June, and I have emails and all that, and I tried to show the judge," he said. "I had all this stuff under oath and they didn't even look at my paper. I told them what they had was wrong and the judge was like, 'Oh, we're not gonna go back and look at anything.'"
By June, Neal was behind $2,569 in payments, an amount he said was in part due to an excessive mold problem he had in his previous apartment. Before CPM acquired the Spring Gardens complex, Neal had lived in the unit next door, but was forced to move.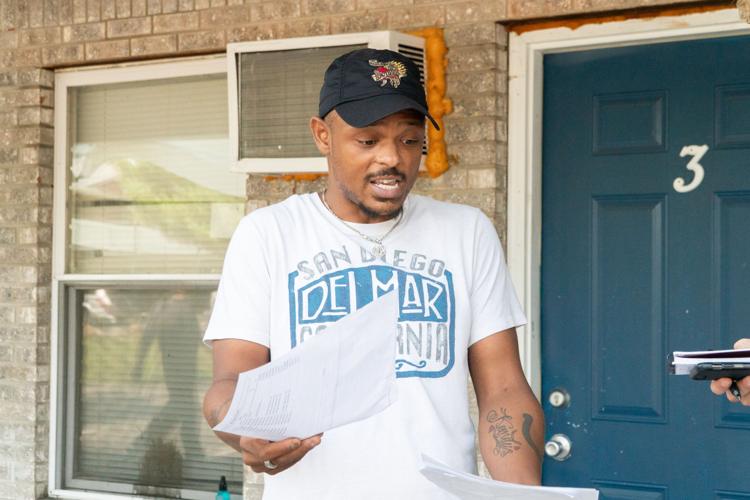 "Mold, mold, mold," he chanted as he scrolled through pictures of green and black patches clinging to the cabinets and floors of his former apartment. "It smells like a basement when you walk (in)."
In an email to CPM representative Chrisy Wicke in June, Neal told the complex he had spent $900 to move out of the old apartment, which a maintenance man had said "was unsafe for me to live in."
"I have all my paperwork that Kim signed, plus my receipts. I don't (owe you) guys anything for back pay," Neal said in the June email. "She never credited me for having to pay $900 like she said she would for me having to move out of that mold apartment."
He had been working with a lady named Kim, Neal said in the emails, but communication with her stopped on March 23.
"I told (you) guys that in April while sending y'all all my info on my unemployment I have all the information including pictures to prove that's true," the email reads. "I don't owe you guys anything besides the last four months in which (I'm) willing to pay but ... y'all need to get the rest out of Kim ... I'm not going to pay y'all something I don't owe."
Wicke didn't budge.
"What I see is rent that has not been paid and your ledger is not zero," she said in her reply to Neal's email. "If you are willing to pay the last 4 months of rent, I would recommend you doing so to avoid the eviction.
"You can seek the help of United Way, Salvation Army, LUM, the churches, the trustees of the townships — there is help to get rent paid. You are down to the last week to get this paid, otherwise your file is being pulled to be filed for 7/1 eviction. We don't want to do this so if you have the means, please get the balance current."
CPM filed for eviction on Aug. 17, the Monday after Indiana Gov. Eric Holcomb's moratorium on evictions expired.
When the CDC moratorium was released, Neal sent the documents affirming his need for assistance to his landlord. He received an email that same day from CPM saying he was in violation of his lease.
In an email sent from CPM operations assistant Grey Creed an hour after Neal sent the CDC application to the company, Creed said Neal had threatened him.
"On Tuesday 9/1/2020 during our exchange you threatened me," he wrote. "Specifically you said that I should look out if I see you off of the Spring Gardens grounds. As a result of this statement, you are not welcome at our offices. … Threatening anyone is a violation of your lease."
Creed also said in his email Neal had threatened him when he delivered a notice to vacate.
"That was the first time I had seen him," Neal said. "I don't know, he claims he's operations."
Criminal activity, threats to other residents' safety, damage to property and violations of contractual agreements beyond rent payments are still cause for eviction, the order clarifies.
"You never stated that it was a problem ever, but somehow after I sent them that moratorium thing it became a problem," Neal said. "The same exact day I sent (the moratorium) to him he like, 'Oh, you're in violation of your lease, you threatened me.'"
Aid organizations flooded with requests
The front office isn't the only place Neal has had trouble with the moratorium.
"The judge basically told me that they don't apply to me because they filed for eviction before it got implemented," he said. "And nowhere in the eviction moratorium does it say you have to be in a certain stage of eviction. It just says the eviction has to disenfranchise you."
Along with the eviction moratorium, Neal also attempted to get help from other organizations including Lafayette Urban Ministry. But nothing has worked for him thus far.
"It's just like 'no's' everywhere you turn," he said. "I've been trying to get help since the government started in July. I applied on July 23 and they filed for eviction on August 18. So between that timeline, what were you doing?"
Even when he requested funds through LUM's Good Samaritan Fund, he was rejected.
"After I spoke with you, the director called your landlord to verify exactly what your status is," a LUM representative said in an email on Aug. 21. "Unfortunately, the eviction has already been filed, and your court date is Sept. 1. Therefore, it would not do any good for us to pay any of your rent. I'm sorry that we are unable to help you."
Tenants can receive money through LUM's Good Samaritan Fund, director of the fund Linda Hicks said. In a few cases, LUM has prevented evictions when court proceedings had already commenced. But landlords have the option to reject the funding, especially if criminal activity is alleged, as in Neal's case.
Normally, families qualify for up to $200 a year from LUM, Hicks said. But now, using grant money freed up by Greater Lafayette United Way, entire rent payments are being covered on the condition that COVID-19 somehow depleted income.
Annual spending from the program through August more than doubled from last year to $136,000, she said. In August alone, spending tripled, according to data on LUM's website.
"In August we were really slammed," Hicks said. "Honestly, I think me and other organizations were just hoping that (the moratorium) would be extended again."
Hicks manages applications for aid with a few part-time volunteers, she said. LUM tries to process each form and contact the applicant within 48 hours, but 50 applications a week has derailed that timeline.
Tenants who applied on Tuesday wouldn't be contacted until Monday, she said.
"We have had to close the application a couple of times because there's only so much that I can handle. We were inundated with applications for assistance," Hicks said. "It takes a lot of time to get in contact with the client. Sometimes it's several phone calls back and forth."
United Way CEO Michael Budd said his organization, which directs the majority of private financial aid in Greater Lafayette, has paid a combined $200,000 to LUM and Salvation Army.
Roughly $300,000 remains in its COVID-19 response fund. After the federal moratorium added more stringent conditions for avoiding eviction, Budd has been coordinating with officials in the court system to determine how best to use that money.
'Give me a chance'
On Tuesday, 29-year-old Arlether Blakney stormed out of the Spring Gardens leasing office, waving down two Exponent reporters with a list of organizations she'd been directed to call for assistance. It was her last day to leave the two-bedroom apartment she had shared since October with her six children, a younger sibling and her mother, Vondetrice Blakney.
"I lost my job in March," Blakney said. "When they did try to tell me to come back to my job — because I'm high risk, because I have asthma — I cannot go back to work."
She had worked at Citi Trends, an apparel store in Lafayette, and then LUM, she said. The family fell behind on $780 monthly rent payments and the landlord filed eviction on Aug. 17. With no steady income stream, the nearly $2,950 judgment ordered feels impossible to pay without assistance, she said.
Blakney stood in front of the judge who presides over eviction hearings and pleaded her case. Government assistance around $2,000 was soon to come. LUM had offered her money.
"So then, when I go to court, (the judge) said the government money is not guaranteed, and if you don't have some type of payment by today at noon, you have to be gone," she said, her voice growing hoarse with strain. "So I went to the complex today to see if there was anything I could do to get one more extra day, and (the leasing agent) told me 'no, we're standing by our eviction.'"
With more time, she said, she could have received the money. But it was impossible to coordinate by noon that day.
The family's plan is to rent a storage unit and pay for a hotel room, Blakney said, adding that she "can't even afford that."
Neal and Stinebaugh stood next to Stinebaugh's red Kia, watching as Blakney told her story. The sun beat down, and sweat glistened on Blakney's forehead as she calmed herself down.
"She kicked this lady out, this man," Blakney said, gesturing to the two fellow residents. "Nobody is standing out here for us."
"Sometimes it kinda is my fault, because I should be on top of my business," she added. "But at the same time, give me a chance."